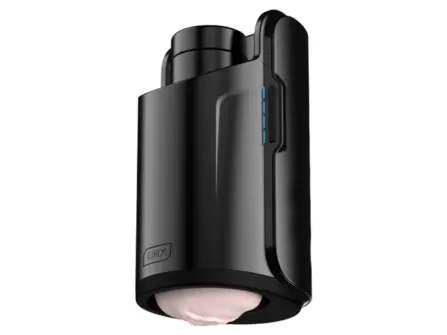 Kiiroo KEON
Overall Rating
4.88 out of 5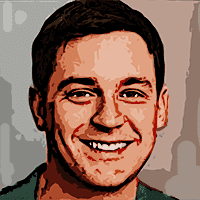 Written by
on , updated on
Kiiroo KEON Review
If you've followed my blog, you know that I own more than enough Fleshlight sleeves. Naturally, I have the famous Fleshlight Launch for an automated experience. Since it was discontinued, I found myself on a quest to find the best alternative automatic male masturbator for my readers. That's how I got my hands on the new Kiiroo KEON.
Update: Fleshlight introduced Universal Launch, a more universal version of the previous Launch, that works with more Fleshlight types and sizes. However, it's still a very simple device that's far away from what KEON can offer you.
Kiiroo KEON is an automatic male masturbator with interchangeable strokers. Just like with any other Kiiroo product, I expect it to be designed and produced with excellence, without any excuses. That's why when buying the KEON, I was expecting only the best from it.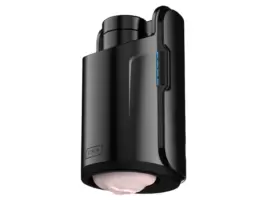 Order Now
After over a month of testing, here is my full and detailed Kiiroo KEON review.

Save 10% On KEON
Use this link and get 10% off sitewide while the offer lasts. Discount will be automatically applied at checkout.
Use Offer
Kiiroo KEON Benefits
Kiiroo, without a doubt, is one of the leaders in the male sex toys market. Especially when it comes to automatic male masturbators. That's why I expect nothing else but excellence from them and you should too. Here are the main benefits of Kiiroo KEON.
Feels Real
It seems like the former collaborations with Fleshlight didn't go to waste and Kiiroo learned a trick or two. The stroker sleeves made by Kiiroo are of great quality and intense sensations. Any sleeve that comes with KEON has a texture that's nearly identical to the one that Fleshlight STU ( Stamina Training Unit) has.
If you haven't read my STU review yet, let me tell you that the STU sleeve is something I believe that every man needs to experience. It's super exciting and basically helps you to train your penis into a fully functional soldier in the bedroom.
So, since the sleeves are similar, KEON might be able to do the same for you.
Interchangeable Sleeves
Another exciting thing about KEON is that it can be used with different Kiiroo FeelStars strokers. This means you can get different experiences with each sleeve. So, basically, you can turn your one toy into many different ones, just like you could with Fleshlight Launch.
Currently, Kiiroo has a constantly growing collection of FeelStars – exciting masturbation sleeves made in collaboration with famous adult entertainers.
Currently, there are around 15 different options to choose from. If you don't have your eye set on any particular choice, take a look at this comparison tool we built to find your perfect match.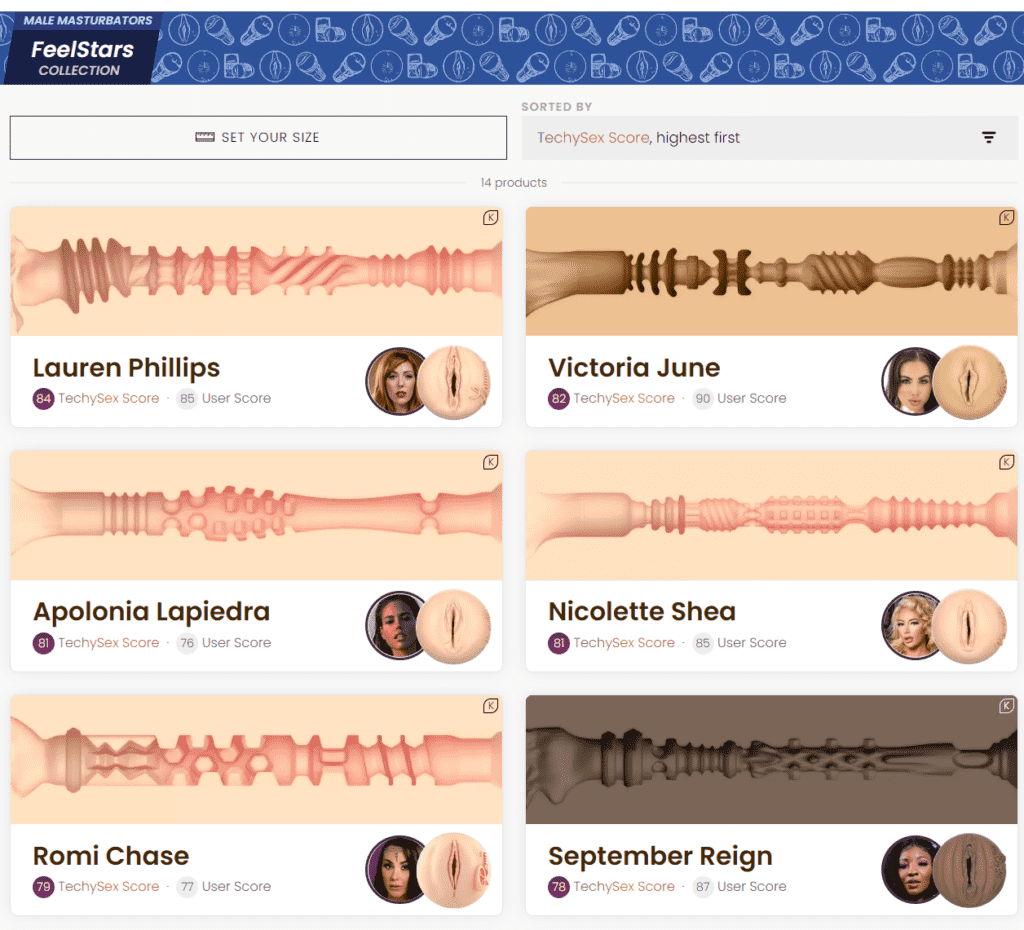 Up to 230 Strokes/Minute
Even though KEON weighs only several pounds (2.4 lb when empty / 4.2 lb with a stroker, to be exact), the device is super powerful.
KEON is capable of stroking your penis up to 230 times per minute. Imagine any human being doing that. Don't worry, the device is fully customizable and you can go as fast or slow as you like.
Long-Distance Friendly
Simply by pairing your KEON with another Kiiroo device, you and your long-distance partner could have an unforgettable night.
Sounds great, however, at the time of writing, this feature is not available yet. Kiiroo's website states that the feature is arriving soon.
VR Compatible
Virtual reality is becoming insanely popular. More and more erotic and pornographic content creators focus solely on VR. After all, the future is coming and VR will be a huge part of that.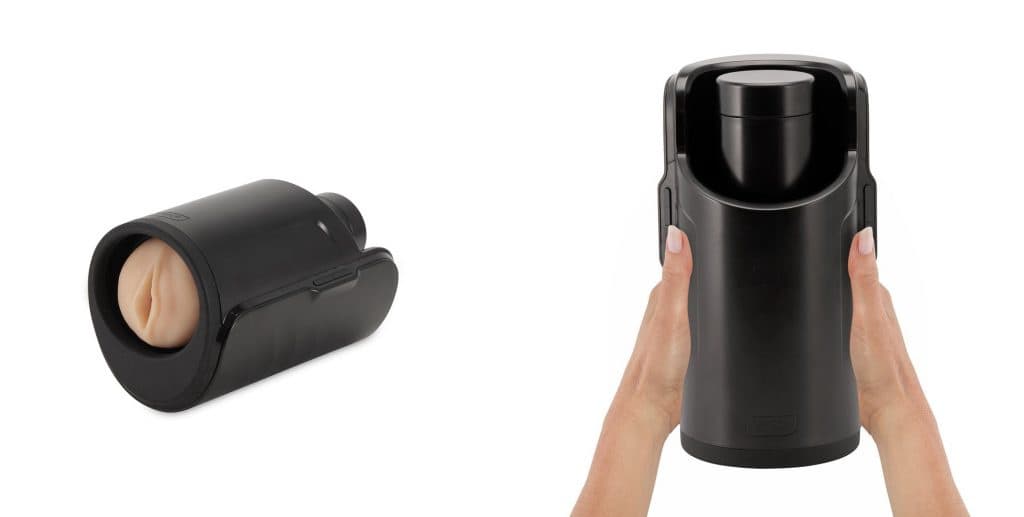 That's why it's a huge benefit that KEON is VR compatible and works perfectly with popular content platforms such as FeelMe.com
Ergonomic
Kiiroo KEON features a super ergonomic design. If you compare it to Fleshlight Launch, KEON is a lot thinner, therefore easier to grab. Yet, the most comfortable position (for me at least) of using it when lying down, you don't really need to use your hands that much.
Yet, comfort grip is a huge bonus. Holding something that's super uncomfortable for long periods of time is not something you want when you're giving yourself pleasure.
Long-Lasting Battery
KEON is capable of pleasing you for up to two hours. However, the battery life strongly depends on the settings that you are using.
If I compare it to Fleshlight Launch, the maximum it was able to give me was one hour. So, this is basically twice as much.
Easy to Control
Even though this automatic male masturbator is super complex, it's also extremely user-friendly.
The controls of the device are perfectly reachable from basically any position and the LED lighting makes it convenient to switch between modes and speeds. Also, it tells you how much battery you have left.
KEON Downsides
Kiiroo KEON is basically an upgraded version of Fleshlight Launch. In most cases, the new KEON has the edge over Launch. However, in some cases, Launch had more benefits. However, if you never owned the Launch – there's nothing to miss out on. Yet, if you did, here are the main Kiiroo KEON downsides.
Still Bulky
Even though the device itself weighs 2.4 lb (empty) and around 4.2 lb (with sleeve), it's still pretty bulky and requires you to find a comfy position so that you wouldn't need to hold it all the time.
From my experience, sitting or laying down are the most comfortable poses to use this automatic male masturbator.
Kiiroo KEON In Action
Here is the most important part of this Kiiroo KEON review. Time to talk about the device in action.
When it comes to the whole automatic experience, Kiiroo is very straightforward to use and has only 2 modes:
Manual mode – you have full control
Interactive mode – you don't have full control
Manual
Even though it may sound tricky to customize such a complex device to your own needs, worry not – Kiiroo made it super simple.
Overall, there are two things you can control: speed and stroke depth. Each of these functions has two buttons: up and down. Up is used to increase the speed/depth of the strokes and down is used to reduce the speed/depth.
Everything else is solely up to you, experiment and discover what works for you and what doesn't.
Interactive
If you are looking for something that can surprise you at each and every moment – you will enjoy the Interactive mode.
First, you will need to download the Feel Connect 3.0 app.
Once you pair it with your device, there will be 3 choices for you:
App control – similar to manual, yet the control can be more precise. In the future, there should be more functionality.
Partner mode – it's perfect for long-distance relationships. It allows you to control your partner's toy and vice versa (if the toys support the technology, of course). There's also a possibility to video chat with your partner via the app.
Website – you can use this to connect to VR and 2D content for the ultimate interactive experience.
The overall interactive experience was not ideal, yet, I can see how technology is moving forward and how hard Kiiroo works to improve your experience with each device they create.
Even though the sensations are not 100% accurate and sometimes are out of sync, KEON is without a doubt the best automatic male masturbator with changeable sleeves.
The Sleeve
When it comes to the sleeve, as I mentioned before, the texture of the sleeve that comes with KEON is very similar to Fleshlight STU. If you use the sleeve separately, the Kiiroo sleeve gives you a similar experience to STU's.
If you're not familiar with STU, let me start with the fact that the name stands for Stamina Training Unit. As you probably already understand from the title, it's designed to help you last longer and as a result, become a better lover for your partner.
Since Kiiroo's new sleeve has a pretty similar texture, it could actually serve the same purpose. So, it is solely up to you, whether you're in it only for the pleasure or for training as well.
Or, as I mentioned before, you can opt-in for a FeelStars sleeve that is made in collaboration with some gorgeous adult entertainers. You can see the whole collection here, enter your measurements and find your perfect match.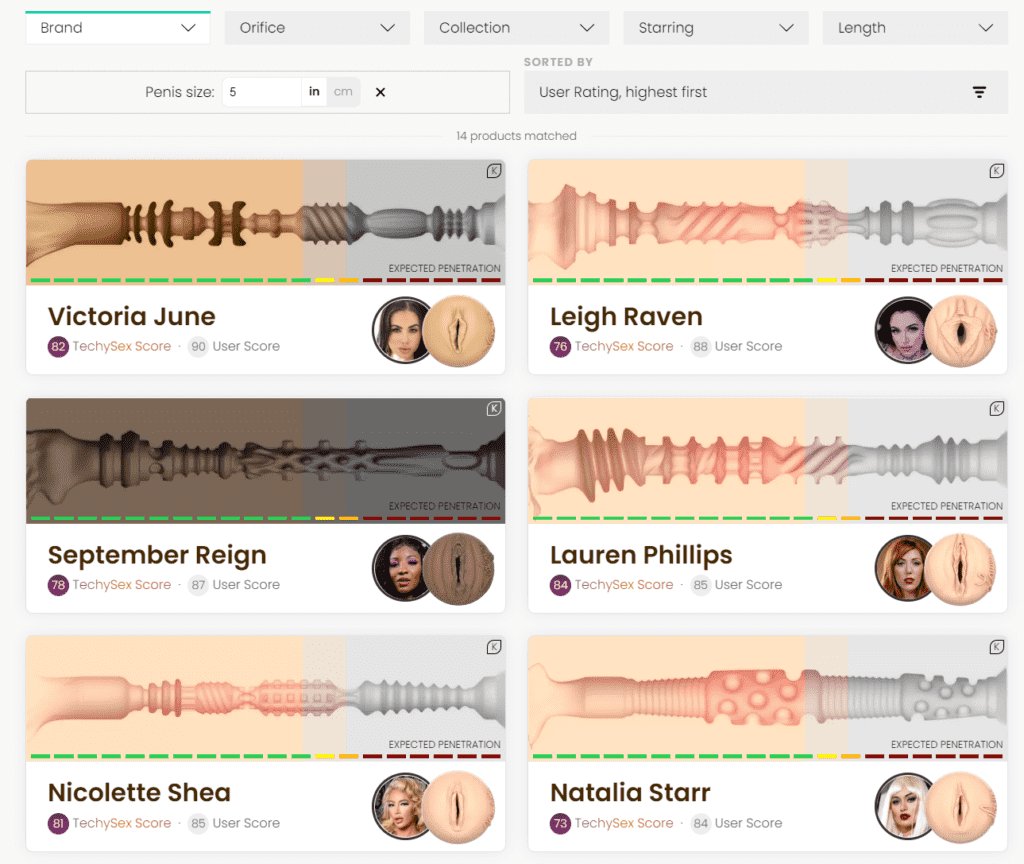 What You Get?
Knowing what arrives in the package is always useful so that you are ready. No one wants to be a pack of lube short from great pleasure.
When it comes to the package, Kiiroo is always discreet, so no one will be able to tell what you ordered without opening the box or without you telling them.
Here's the full list of items that you will be getting with your Kiiroo KEON:
Keon by Kiiroo
Feel Stroker (based on order)
USB Charging cable
Make sure you have some water-based lube to use with the stroker. Similar to Fleshlights, Kiiroo sleeves require proper cleaning as well, so if you don't have any at home, you can get cleaning supplies straight from Kiiroo.
Kiiroo KEON Reviews
Before you buy anything, it's always useful to see what other users are talking about a specific device.
Here are some reviews of KEON that I found to be useful when I was deciding whether to try it out or not.
The only issue that I have with the Keon is the sound that it produces. When I increase the speed of the machine, I feel conscious that my neighbors can hear me. However, it might just be in my head. Overall, the toy is great and I can recommend it in a heartbeat. It's way better than Launch.

– Reddit user
I wish they made more sleeves faster!!!!! KEON ftw.

– Reddit user
Well, the pandemic sucks less with keon… It still sucks but this baby is something to clear my mind after all day at computer dealing with work bullshit.

– Reddit user
As you can see from the Kiiroo KEON reviews that I collected, the users seem satisfied and enjoying their new automatic male masturbators.
Personally, I am delighted with my KEON and once they make more sleeves, I am 99.9% sure that it will fully (okay, maybe 80% of the time) substitute Fleshlight Launch at my home.
Update: KEON has in fact replaced Fleshlight Launch and there's no going back.
Kiiroo KEON vs Fleshlight Launch
Overall, Kiiroo KEON can easily be called an updated version of Fleshlight Launch. It's lighter, easier to use, and, of course, more comfortable.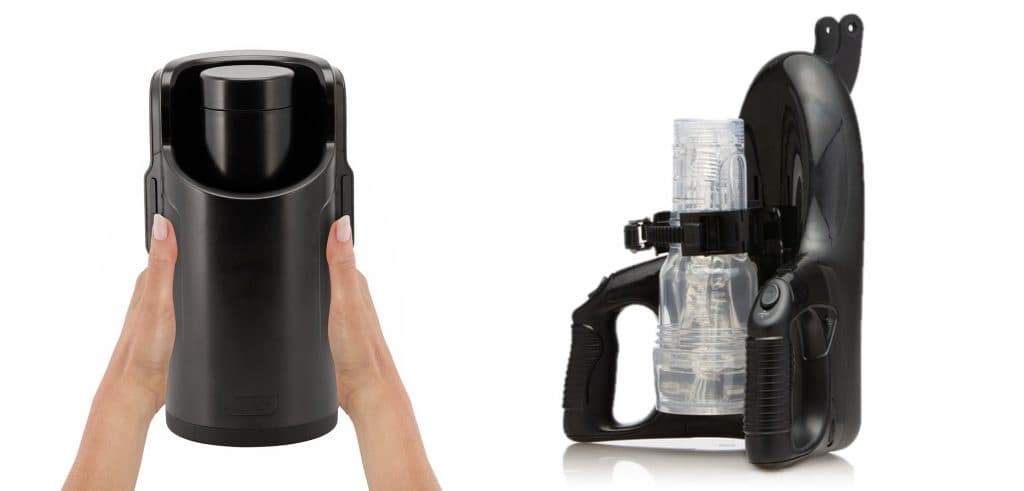 KEON's battery lasts around twice as much as Launches does and the stroke quality is many times better.
Contrary to KEON, Launch can't support VR entertainment, therefore it was a lot more limited.
However, Fleshlight has hundreds of sleeves to choose from, therefore it's like having a hundred toys in one place.
Yet, Kiiroo is catching up quickly and new strokers just keep on coming!
[Update] Kiiroo vs the Universal Launch vs Fleshlight Launch
The only differences between the older Launch and the new Universal Launch are speed and more compatibility.
In terms of speed, the new version is faster. In terms of compatibility, Universal Launch works with more Fleshlight sizes, while the older one worked only with standard-size items.
Yet, KEON compared to both is smarter, lighter, VR compatible, and a lot more advanced.
KEON Alternatives
The primary alternative to Keon is the Universal Launch. However, its only advantage is the variety of sleeves. Technologically wise and comfort-wise, the Universal Launch can't compete with KEON.
Also, since Kiiroo is collaborating with more and more adult entertainers, I'm pretty sure that they might actually have a larger collection of sleeves within a few years.
The Verdict
Kiiroo KEON is the best automatic male masturbator with interchangeable sleeves. It is indeed a great upgrade from Fleshlight Launch.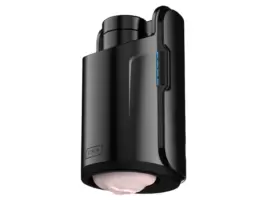 Order Now
With the constantly growing selection of masturbation sleeves, I'm pretty sure that soon they'll be able to cater to every single taste.
Kiiroo is a true leader in the automatic masturbator field and they have proved it once again with KEON.