Best Blowjob Machine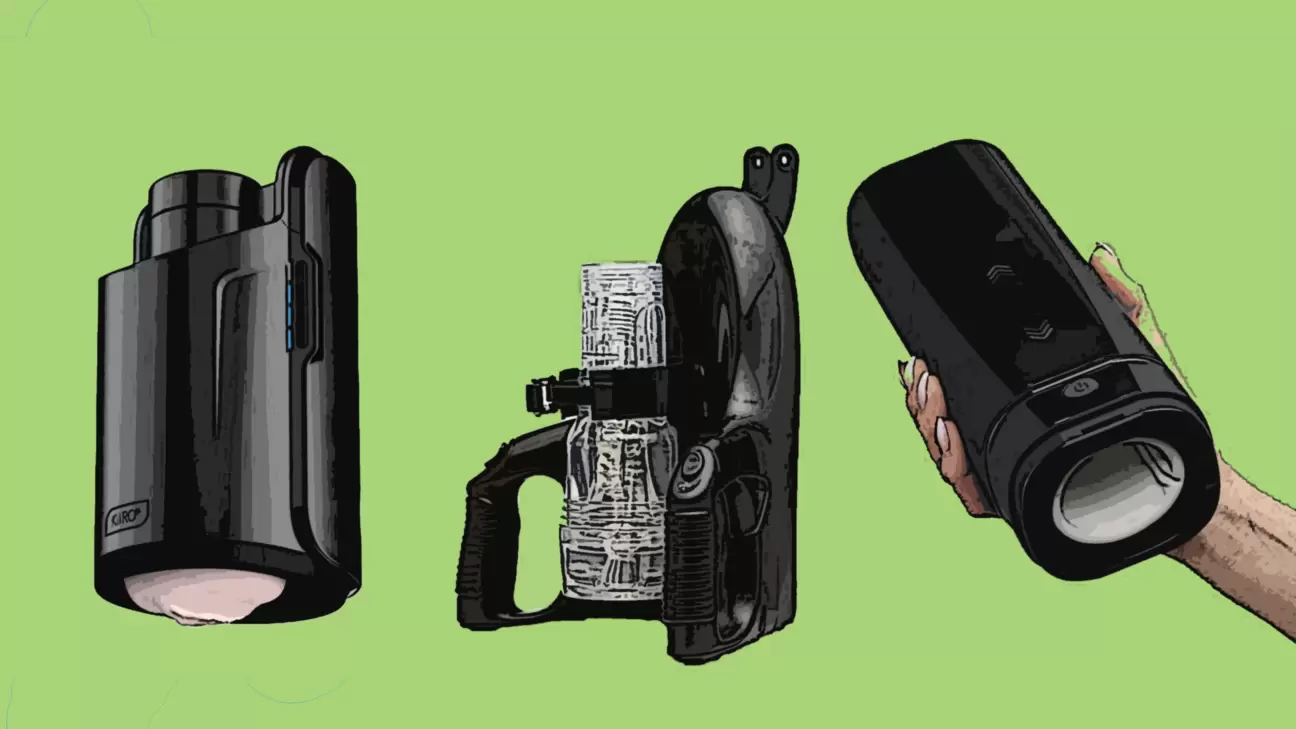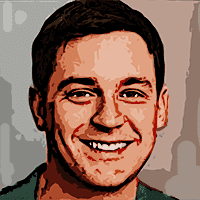 Written by
on , updated on
Who doesn't enjoy a relaxing blowjob every once in a while? What if I told you that you can get a blowjob machine that can give you mind-blowing orgasms on-demand? Oh yes, buddy, you can.
Today, in this modern-day world, some wise guys came up with this idea and helped all of us, dudes around the world, get on-demand oral sex. However, creating this solution demanded much high-tech input, yet the usage of the best blowjob machines is very easy and straightforward.
That's why I created this best blowjob machine list. To help all you BJ hungry guys get the ultimate experience. All of these automatic machines were personally tested by me and, believe me, they're capable of giving mind-blowing orgasms.
It doesn't matter whether you're single, in a long-distance relationship or just want to spice up your sex life with your partner, a blowjob machine is an amazing tool to give yourself some pleasure. However, you need to be mindful of this.
With great pleasure comes great responsibilities. Constantly giving yourself mind-blowing orgasms without a partner can lead to unrealistic expectations in bed. That can cause erectile dysfunction and other problems, such as addiction and not being able to support a healthy relationship.
However, if you do it once in a while, it won't hurt you. Quite the contrary. It can increase your libido and stamina. So, if you will be smart about it, an automatic blowjob machine is a great hands-free experience for you to enjoy.
Top Blowjob Machines
Here are the best blowjob machines today. All of them have been personally tested by me and I still continue using them. Even though they might seem pricy, however, look at it as an investment into top-quality BJs that you can get on-demand.
#1 Kiiroo KEON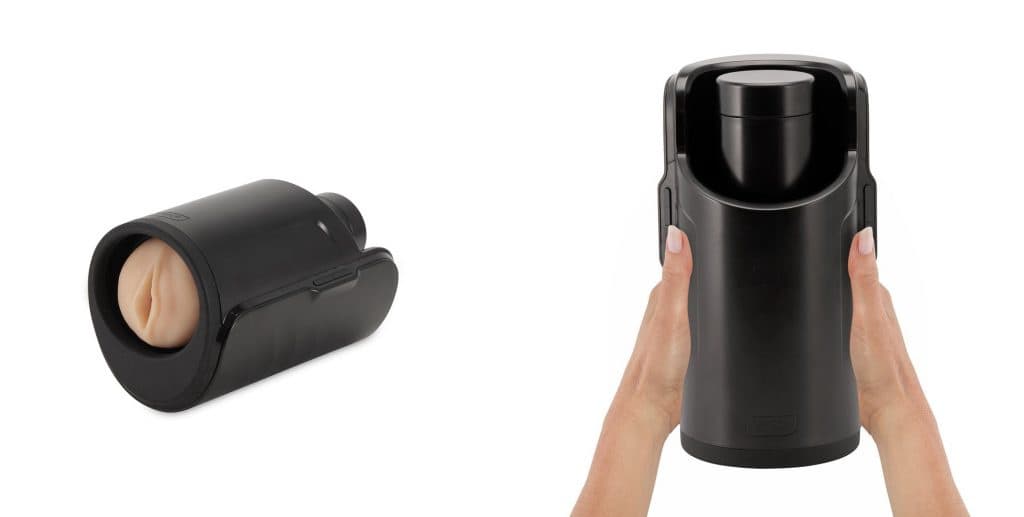 Kiiroo KEON is the most advanced blowjob machine in the market. There is no other that can do things that KEON can.
If you're not familiar with the Kiiroo brand, let me highlight the fact that they make the most innovative, smart, and advanced sex toys for men. KEON is their latest creation and is simply brilliant.

10% OFF Sitewide
Use this link or TECHYSEX code to get 10% Kiiroo products. Not compatible with other offers.
Use Offer
From the technological perspective, it's the most advanced sex toy for penis stroking on the market. KEON is VR-compatible, comes with the possibility to change sleeves, and can stroke your penis over 200 times per minute. The toy also works in sync with FeelMe video library, so you can actually watch a video and be pleased as you see it happening.
If that's still not enough to make KEON the best blowjob machine, let me tell you that it can also benefit long-distance relationships. Your partner can control the toy from anywhere in the world to tease and please you. Not only that, your partner can get a toy from Kiiroo themselves and you can pair them together to work in sync.
Pros:
Fully automated experience
Interchangeable sleeves (not included)
230 strokes per minute
VR connection
Easy to clean
Skin-safe materials
Rechargeable
Compatible with Android and iOS
Supports Bluetooth
FeelMe.com compatible
Long-distance friendly
Cons:
Additional sleeves come with an additional price
#2 Kiiroo Onyx+
This elegant and relatively small device is the perfect choice for people who like their sex toys discreet and quality-looking. Created by Kiiroo – a well-known company based in the Netherlands, Onyx+ is made from quality materials that are skin safe.
This tiny yet powerful device can give your penis 140 strokes per minute and provide you with the ultimate experience. Not only that, but its sleeve is manufactured by Fleshlight and it can be used together with VR goggles.
This elegant device is an excellent tool to get some of the best orgasms.
Pros:
Fleshlight-made sleeve
140 strokes per minute
VR connection
Easy to clean
Waterproof
Skin-safe materials
Rechargeable
Compatible with Android and iOS
Supports Bluetooth
FeelMe.com compatible
Cons:
Could seem pricey at first
No interchangeable sleeves option
#3 Fleshlight Universal Launch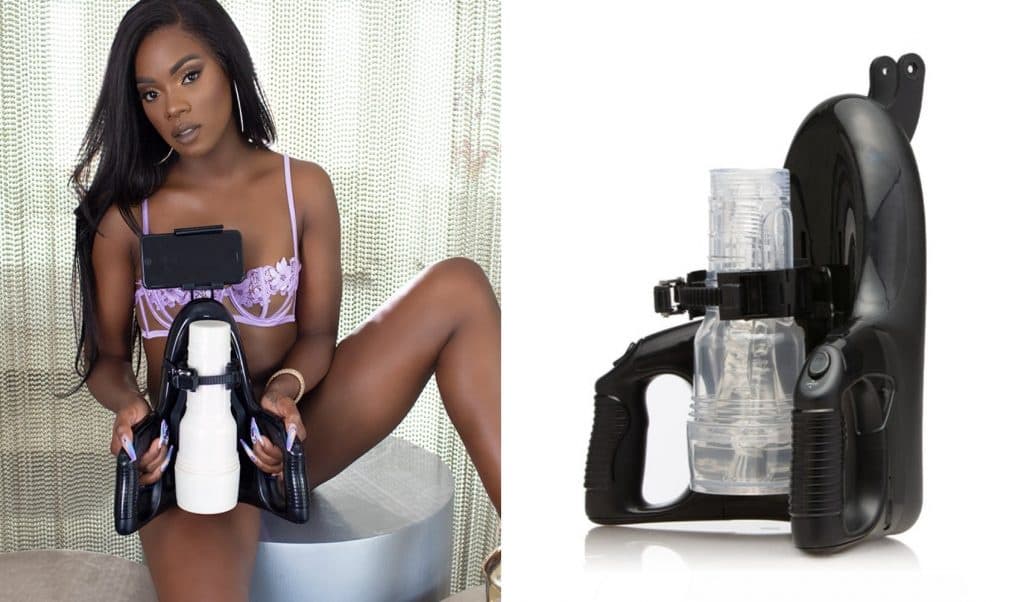 9% Off Universal Launch
Use this link to discover combo deals where you can save on Universal Launch.
Use Offer
If you're a fan of the Fleshlight products and already own a couple – this could be a great addition to your collection. The Universal Fleshlight Launch offers a great hands-free blowjob experience that comes with additional perks.
If you're familiar with the first edition of Fleshlight Launch, let me tell you that the new version is a lot better. Universal Fleshlight Launch is indeed universal. While the first edition only worked with standard-sized Fleshlights, the new one works with almost all other Fleshlight versions available to purchase.
Contrary to most blowjob machines and similar to KEON, the Fleshlight Launch is perfectly compatible with multiple sleeves. So, by using the Fleshlight Launch, you'll get one of the most realistic and diverse blowjob experiences.
However, even though both are similarly priced, KEON is a lot more technologically advanced and supports VR as well as long-distance experiences.
Pros:
Compatible with most Fleshlight sleeves
Easy to clean
Skin-safe materials
Rechargeable
Multiple speeds
Cons:
Fleshlight not included in the package
No VR compatibility
Bulky
Honorable Mentions
While these blowjob machines didn't make the cut for the best blowjob machine, they still deserve a mention.
Lovense Max 2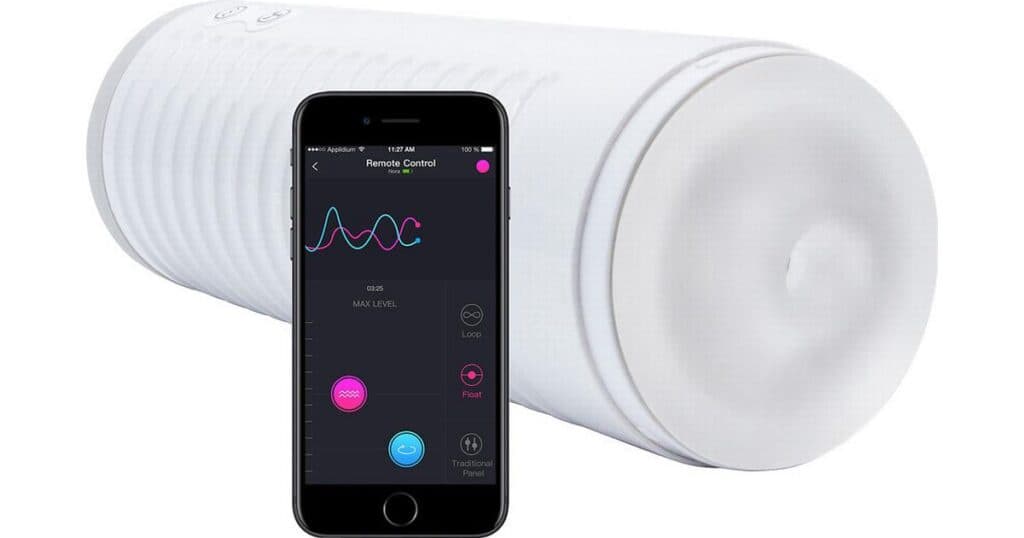 Lovense Max 2 is a compact blowjob machine that really brings its A-game to the table. It provides strong suction and a pretty quickly recharging battery.
The toy is long-distance friendly as well as suitable for solo play. The sleeve is made from body-safe materials. For an additional cost, you can get a vaginal sleeve and turn it into a penetrative sex automatic masturbator.
For its size and power, the toy is pretty noisy and could have a better cast – if you're not careful and get some lube or sweat on it, the toy can become pretty slippery.
Pros:
Strong suction
Easy to clean
Skin-safe materials
Rechargeable
Multiple vibrations and contraction settings
Cons:
Additional sleeves come with an additional cost
Mildly-noisy
The cast could get very slippery when it gets in contact with sweat or lube
The Handy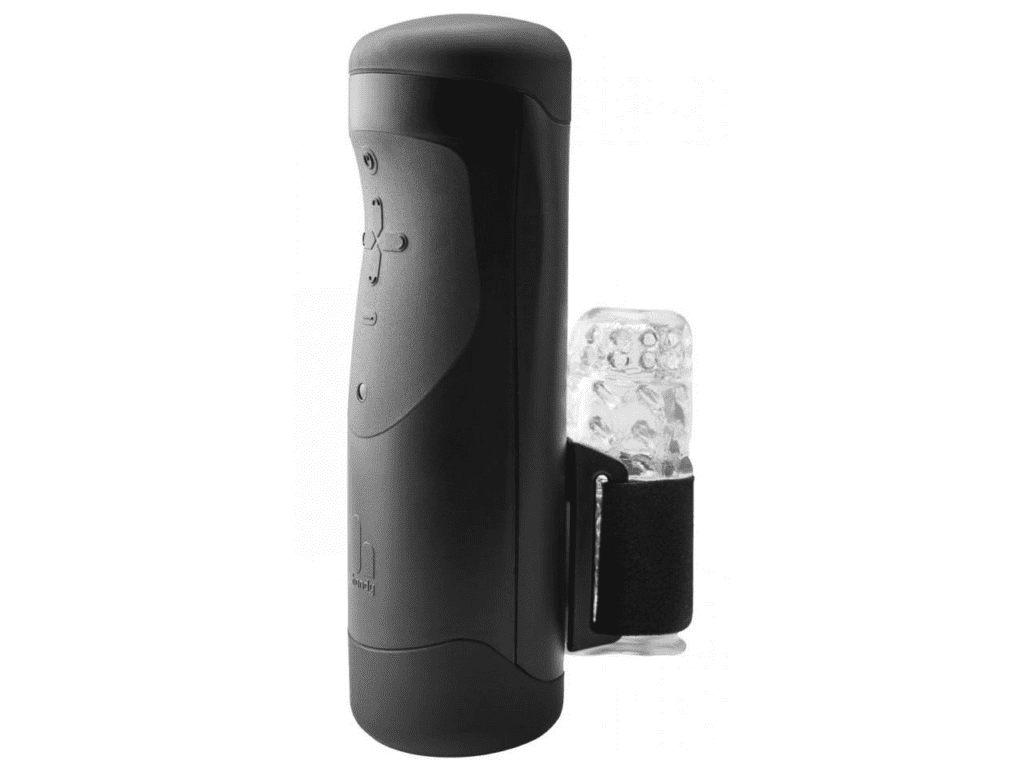 The Handy is an automatic penis stroker that can give you a realistic and satisfying sexual experience. It features a choice of 5+ textured sleeves that will feel lifelike as it strokes up and down your shaft. The sleeves are interchangeable and can be turned inside-out for easy cleaning. The Handy is easy to use, so you can enjoy it without worry in manual or automatic mode.
While the Handy offers video synchronization and VR compatibility, they still have a long way to go to match the level that Kiiroo offers. However, the price tag is not that different, which is a huge downside of the Handy. While the device itself is small, it's not very comfortable to hold at high speeds. Also, the device fully relies on electricity, so, you will need to be next to a socket if you wish to use it.
Pros:
5+ interchangeable sleeves
Video sync
Super easy to clean
Skin-safe materials
No charging time

VR-compatible

App-controlled
Cons:
The price is high and there are better manual/automatic choices for a lower price
Not compatible with full-size strokers
Needs electricity
Not ergonomic
Not comfortable on high speed
Tenga Flip Zero (EV)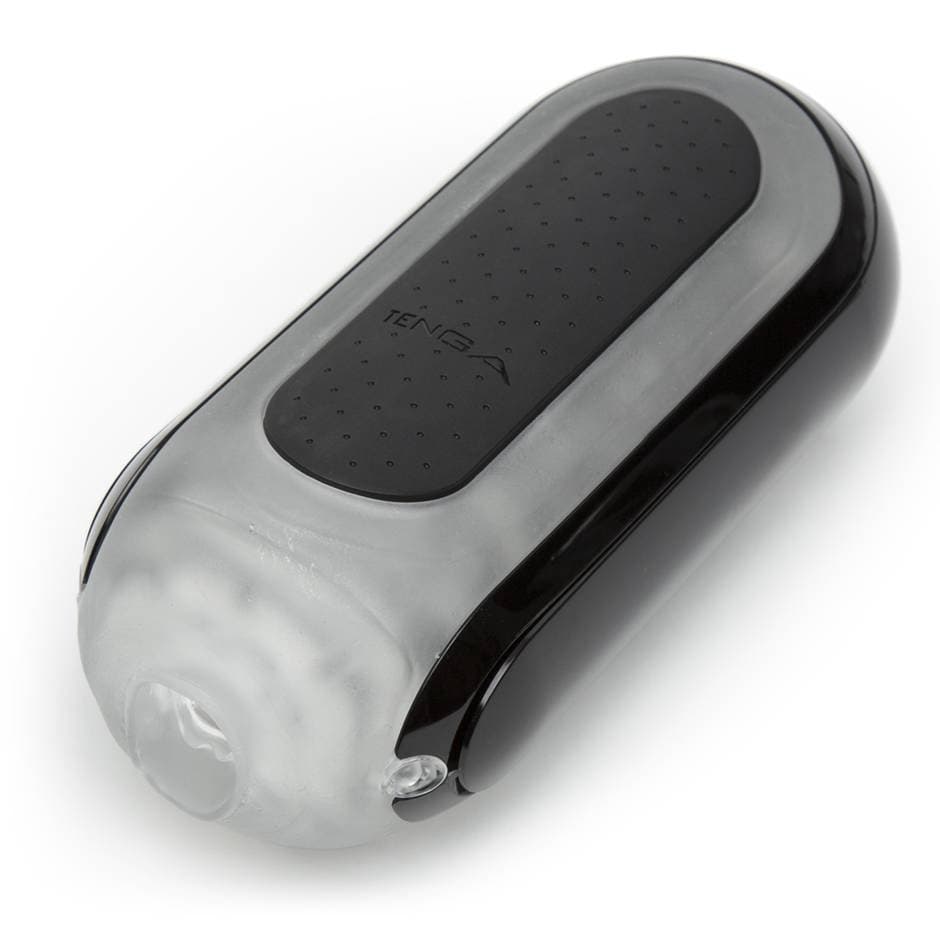 Tenga Flip Zero is a very lightweight and compact male masturbator. It can be purely manual or vibrating (EV edition). Both manual and vibrating editions have two sleeve choices for unique experiences.
The masturbator's price strongly depends on whether it vibrates or not – the vibrating edition is almost twice as expensive and costs around the same amount as any other blowjob machine.
In my opinion, the price for these toys is too steep and there are better choices for such money. However, a unique and great thing about the see Tenga masturbators is that you can open the sleeve and that makes cleaning super easy.
Pros:
Four unique sleeve choices
Super easy to clean
Skin-safe materials
Very lightweight
Options with or without vibrations
Travel-friendly
Cons:
The price is high and there are better manual/automatic choices for a lower price
Sleeves are not interchangeable
Autoblow AI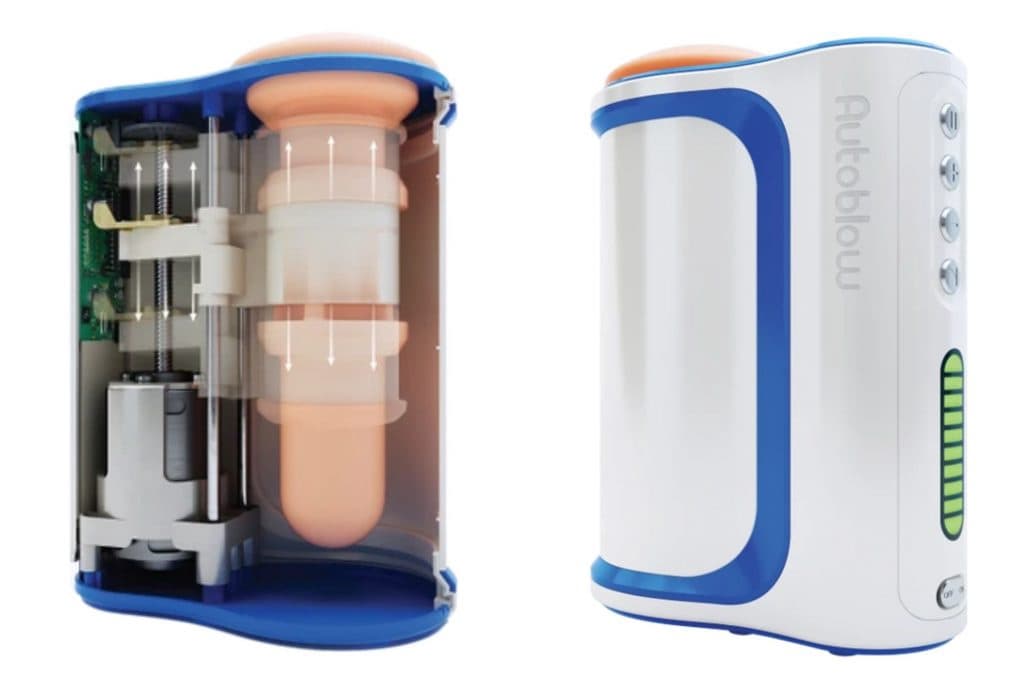 Crowdfunded by a campaign on IndieGogo, this blowjob machine raised over 300,000 USD in investments. So, it's a sex toy built for horny dudes and funded by horny dudes.
Backed by more than 6000 hours of BJ research, this smart blowjob machine is powered by AI technology. This means it's self-learning and can adapt according to your dick-sucking needs. It has 250 interactive gripping points that will tightly hug your penis and give it an exciting experience. It also comes with pre-programmed penis sucking modes.
Despite all of its great features, it has a few downsides. The Autoblow AI runs on A/C power rather than batteries. So, this means that you're dependable on being able to plug it in somewhere. However, today, you can find a plug almost anywhere.
Also, compared to the currently available alternatives, the designer is outdated and not very attractive. While it was an innovative choice some time ago, it's getting pretty outdated, in my opinion. Currently, there are smarter, more innovative, and more versatile automatic masturbators for a similar or sometimes even lower price.
Pros:
Automatically adjusts sucking
3 sleeve sizes
Skin-safe materials
Various speeds
It doesn't need charging
Cons:
The design needs a serious improvement
Is very loud
There are better alternatives for a similar price range
Bulky and heavy
Requires electricity to run
Non-portable
Choosing The Perfect Blowjob Machine
Just like with any other sex toy, you need to consider the possibilities and expectations that you have from the sex toy. That's why I made a list of features that played an important role when choosing the best blowjob machine. This list should help you make better purchasing decisions when choosing your BJ machine.
Size – since you're going to stick your penis in it – the blowjob machine has to fit. So, before you explore the market, take some time, and properly measure yourself. While most manufacturers make it compatible with everything around the average penis size, checking your dimensions before buying is a must.
Features – since automatic blowjob machines are a pretty tech device, they come with various features. So, you need to ask yourself, whether you're looking for something you can control remotely via Bluetooth or something a bit more simple. However, keep in mind that more features mean a steeper price.
Materials – be sure to get a blowjob machine that is hypoallergenic. this way you will protect yourself against any potential allergies or skin irritations. Also, be sure to get a matching lube. Water-based lubes are compatible with any type of material.
Design – choose something that's appealing to your eye. This way the sexual sensations can be even more intense.
Compatibility – since these gadgets are pretty techy, they can be compatible with other devices. So, before you buy, think about whether you'll use it solo or alongside other devices. Alone or paired with other sex toys, it can give you amazing sexual experiences.
Price – as you probably already understand, since it's a techy device, blowjob machines come with a price tag. Naturally, the more features it has, the steeper the price tag will be. So, see your spending limits. Also, keep in mind that you don't need to get the priciest device for the best orgasm.
Once you consider all these components, go ahead and get your personal blowjob machine for the ultimate experience. Trust me, you won't regret it.
Blowjob Machine FAQ
Below you will find answers to the most common questions about blowjob machines. Everything you ever wanted to know but maybe was too shy to ask is listed here.
What is a blowjob machine?
Even though it may be high-tech, it's a very straight-to-the-point device. In short, it's an electronic device that is used to mimic fellatio or in other words oral stimulation for the penis. Since these devices are pretty techy, trust me, they can give you a pretty good and intense orgasm. You can use them solo or with your partner.
Since these sex toys are pretty advanced, they use various automatic motions that mimic oral stimulation. Also, the sleeves come in various textures and have multiple ergonomic components.
Automatic blowjob machines work great for long-distance relationships. In terms of comparing them to male masturbators, those mimic vaginal/anal stimulation, while these work from the oral side. So, if you enjoy a good BJ every now and then – go for the blowjob machines.
However, be mindful of what you're doing. Some dudes get carried away and start a relationship with their masturbators, which results in bed trouble and not being satisfied with regular sex with their partner.
What are the pros of getting a blowjob machine?
Well, why shouldn't you? It's no surprise that the popularity of these devices keeps on growing. First, it can give you a hands-free orgasm experience. Second, orgasms can become more intense. Third, they're pretty similar to real-life experiences. Sometimes even better.
That's why with great pleasure comes great responsibility. You should be mindful of what you're doing and don't get carried away with your blowjob machine. If you get addicted to yourself, you may later have trouble in bed. But if you set yourself some limitations, you'll be perfectly okay.
Blowjob machine vs male masturbator, what's the difference?
The main difference between a blowjob machine and a male masturbator is the type of sex they mimic. As the name suggests, a blowjob machine mimics oral sex. A male masturbator mimics vaginal and/or oral sex. There are some male masturbators that can actually mimic both.
Can I hurt myself with a blowjob machine?
Only if you use it in a very irresponsible manner. Currently, there are very few accidents reported that involved a device that simulates oral sex. If you want to be safe and not hurt your penis, always follow the manufacturer's manual that comes with your device.
If your toys aren't waterproof – keep them away from water in order to keep yourself safe from getting electrocuted. Also, always use lube to make sure you don't irritate your skin. And, be sure to choose blowjob machines from hypoallergenic materials to prevent any skin irritations.
How to clean and maintain a blowjob machine?
Automatic blowjob machines are pretty easy to clean and maintain. Since most of them have removable masturbation sleeves they're pretty easy to maintain. Also, nearly all of them require only simple soap and warm water washing. Very rarely will you stumble upon a device that requires some sort of special material cleaning solution.
Are there any Do's and Don'ts with the blowjob machine?
You can play around with your automatic blowjob machine as much as want. Technically there are no restrictions. However, you should be mindful of how it could affect your real love life. Sometimes guys can get carried away and create a relationship with a machine.
So, don't do that. If you start feeling like you prefer the machine over a real person – you should stop using it immediately. Also, be sure to store it in a cool dark place, away from the public eye.
Can I use blowjob machines if I have erectile dysfunction and/or Peyronie's disease?
Most of the automatic blowjob simulators are designed only for penises that have only limited curvature and don't fall under the Peyronie's disease category.
If you have problems getting your dick hard, it could also be difficult to use your blowjob machine, as it requires some deep penetration. So, in both cases, your best choice could be to use a penis pump or a penis extender before you proceed with the oral stimulation.
Also, always talk to a physician if you have any concerns.
How often can I use a blowjob machine?
You can use it as long as you don't get carried away. In some cases, machines can get you off faster and bring you more pleasure. For some men that result in erectile dysfunction, poor performance in bed, and a more intense relationship with a toy than with a real person.
So, when it comes to high-tech toys – be smart about what you do because too much can lead to serious problems when the toy is taken away from the picture. However, an artificial blowjob or two every once in a while won't hurt you and you'll be more relaxed and could benefit from increased stamina.
Should I buy more than one device to experience interactive sex?
Only if you want to. In general, there is no need for you to own several interactive sex toys to have fun. Most porn is free, as you know. However, if you wish to go more interactive – you can always get yourself a VR set or additional sex toys.
So, this is completely your choice, if you want – you can have a hundred sex toys, if you wish, one is also perfectly enough. Remember, it's all about pleasure. So, feel free to experiment as much as you want but don't get too carried away, as sex toys are not people, so don't make a relationship with yours.
Is it difficult to set up my blowjob machine?
Any techy device that you purchase will come with instructions on how to set it up. It will also come with precautions and safety warnings. Since today many manufacturers are into nature protection, you may need to go online and get digital instructions.
What happens if my device breaks?
Before you buy make sure that your device comes with a warranty. If needed register it online. So, in case you have any issues with your device, whether it's a malfunction or if it breaks, you will be protected as a buyer and will be able to get replacement parts, a replacement device, or even your money back. Most providers will give you at least a 30-day warranty.
Do I need to wear a condom when using a blowjob machine?
With automatic blowjob machines, there is no need to wear a condom. The toys are made from quality materials that are hypoallergenic and won't cause any skin irritation. So, wearing a condom can simply cause a decreased sensation when using your blowjob machine. It could also be pretty hard to keep it on all the time. That's why going condom-less is the better way.
Blowjob machine vs automatic masturbator, what's the difference?
All automatic blowjob machines are automatic male masturbators. However, not all automatic male masturbates are blowjob machines. To put it in other words, blowjob machines are a subcategory of automatic male masturbators that are designed for a specific purpose.
The purpose of blowjob machines is to mimic oral sex experiences while an automatic male masturbator can do more and mimic other sexual experiences such as vaginal and anal sex as well.
What's better: a blowjob machine or an automatic masturbator?
It depends. As mentioned above, a blowjob machine is already an automatic masturbator with a specific purpose – to imitate oral sex experience. So, if you are looking for something that would resemble penetrative sex rather than oral – consider automatic male masturbators that are designed for that or multipurpose ones.
However, if you are looking for an automatic masturbator that imitates oral sex, then a blowjob machine is exactly that. As it is designed to mimic oral sex experiences.