Front View
The Orifice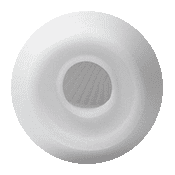 Side View
Sleeve X-Ray

About TechySex Score
TechySex Score is a relative score that is derived from TechySex Team reviews and user feedback.
We also use proprietary algorithms to analyze the shape and texture of the toy, which plays a role in boosting or reducing the final value.
User Rating Details
Quality & Durability
2.7

/5
Rate This Product
Loading...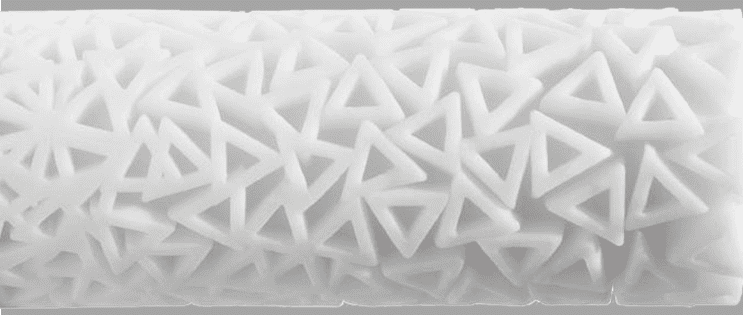 Set your penis length above and see the expected penetration depth.
What's good
Very discreet
Beginner-friendly
Low price
Easy to dry
Good price/quality ratio
Skin-safe materials
Water-based lube included
What's not so good
Difficult to clean
Might not be the right fit for very girthy penises
The texture is not very intense
Specs
Sleeve Length
* stretchable
4.6 - 9.8 in
11.6 - 24.9 cm
Orifice Type
Non-anatomical
Opening Max Diameter
* stretchable
Sleeve Material
Ag Antibacterial Elastomer
Tenga 3D Pile Review
The Tenga 3D collection looks more like mini sculptures rather than sex toys which makes them perfectly discreet. The Tenga 3D Pile comes with a texture covered with small triangles that doesn't overwhelm you and therefore is a great fit for sensitive penises.
*The 3D Pile was supplied to us by Tenga in exchange for an honest review. Whether the toy was gifted to us or whether we bought it ourselves does not impact our judgment.
3D Pile is Discreet and Beginner Friendly
Since the toy looks more like a fancy modern mini sculpture than a sex toy – it can easily be confused with one. Especially if someone is not familiar with the product. That's why, if you accidentally leave the toy out in the open, there's a great chance it won't catch any attention.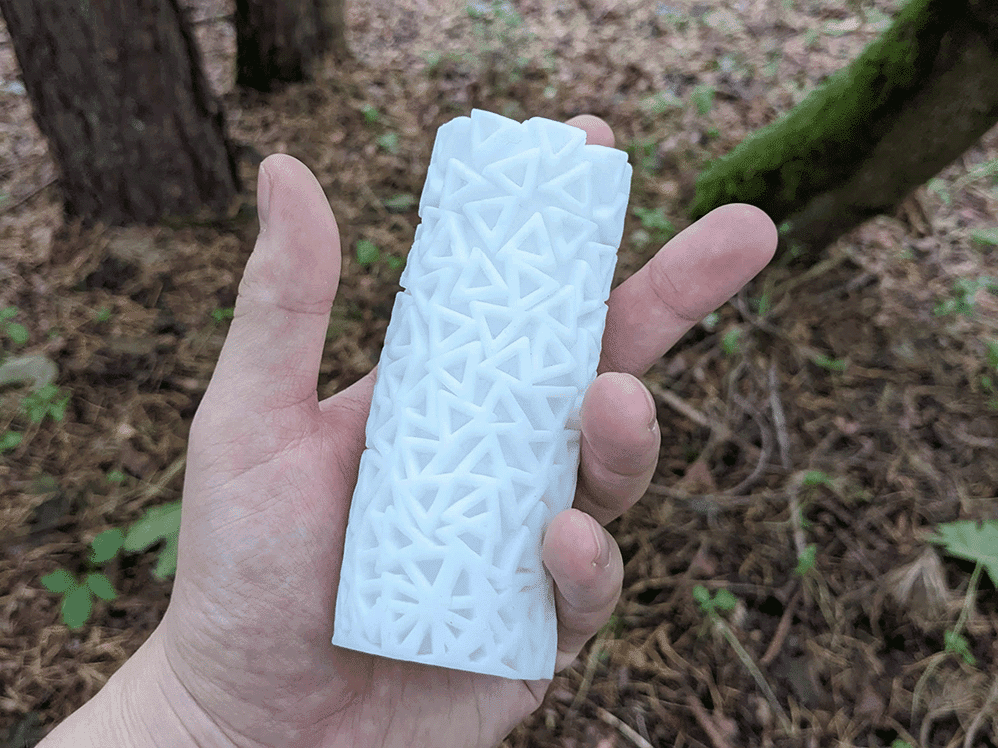 The toy is also extra-beginner-friendly since it doesn't have a firm case and you are fully in control of the intensity and applied pressure on your private parts.
However, if you have a very girthy penis, be careful with the entrance. Even though it stretches well, it's narrow and requires a generous amount of lube.
Note: A sample pack of lube will is included with the toy.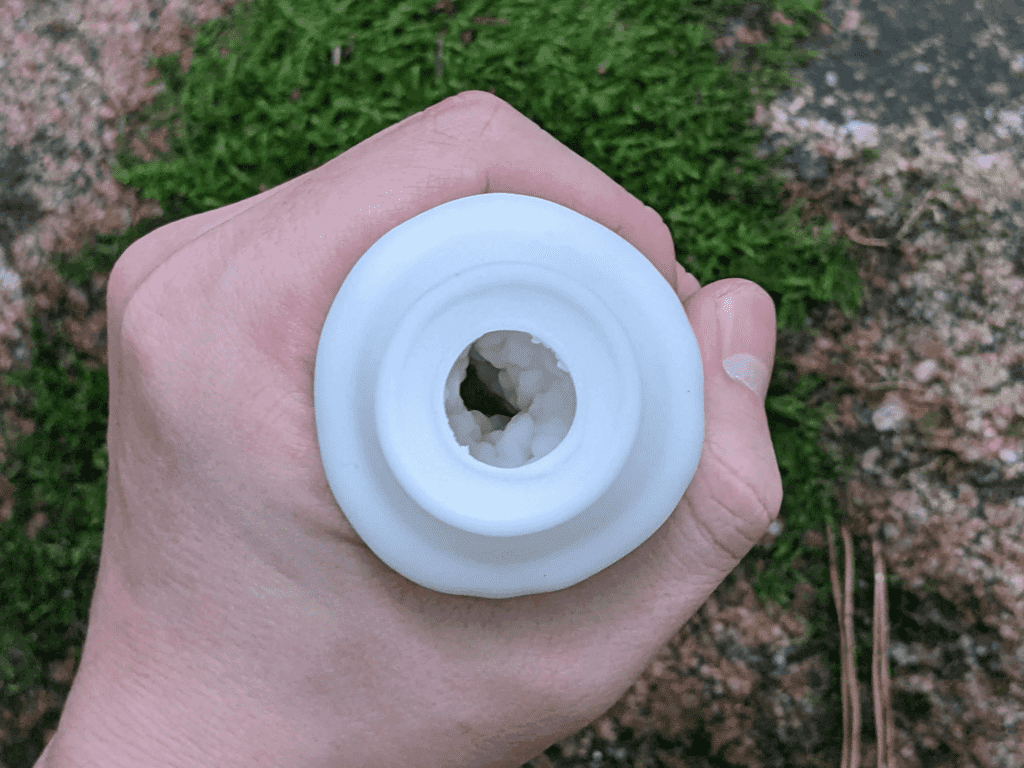 Skin-Safe Materials With Smart Design
The Tenga Pile 3D sells for $39, so it is budget-friendly. The toy is made from body-safe Ag Antibacterial Elastomer and won't cause any unexpected skin irritations or allergies.
Tenga 3D collection is constructed in a very smart manner. You'll be turning the sleeve inside out for use and then back again for cleaning and storing. This makes the whole maintenance a lot easier compared to other male masturbators.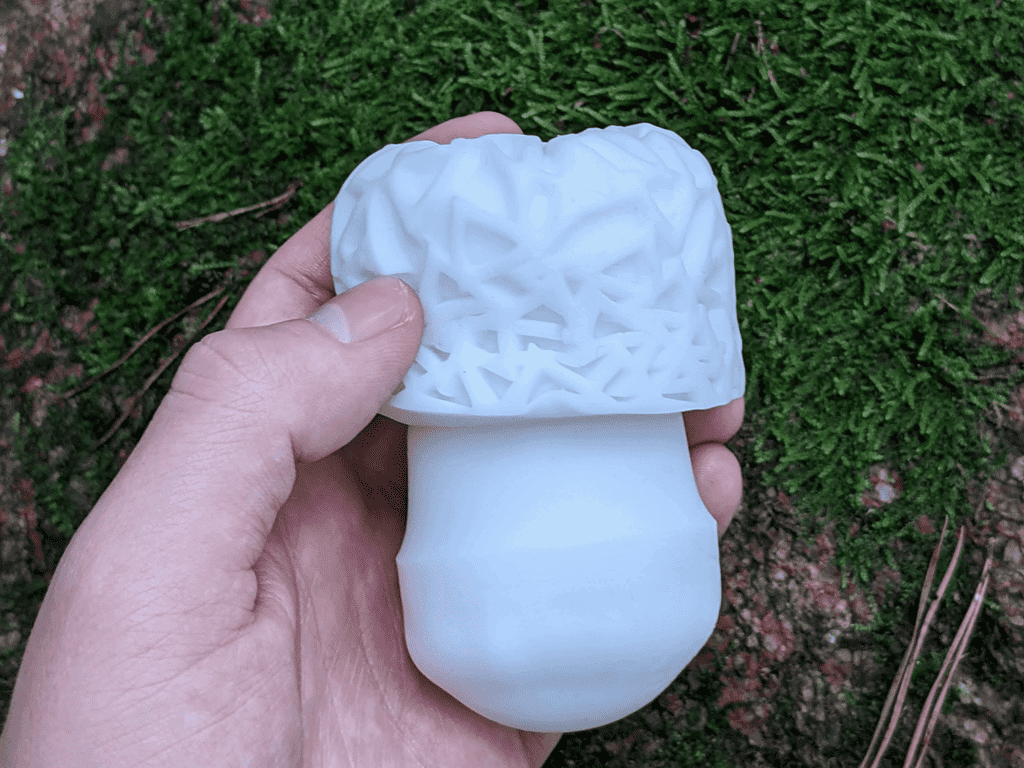 Using Tenga 3D Pile
In order o use the Tenga 3D Pile, you first need to turn it inside out to get that texture inside. Then generously lube it up and you're all set to go.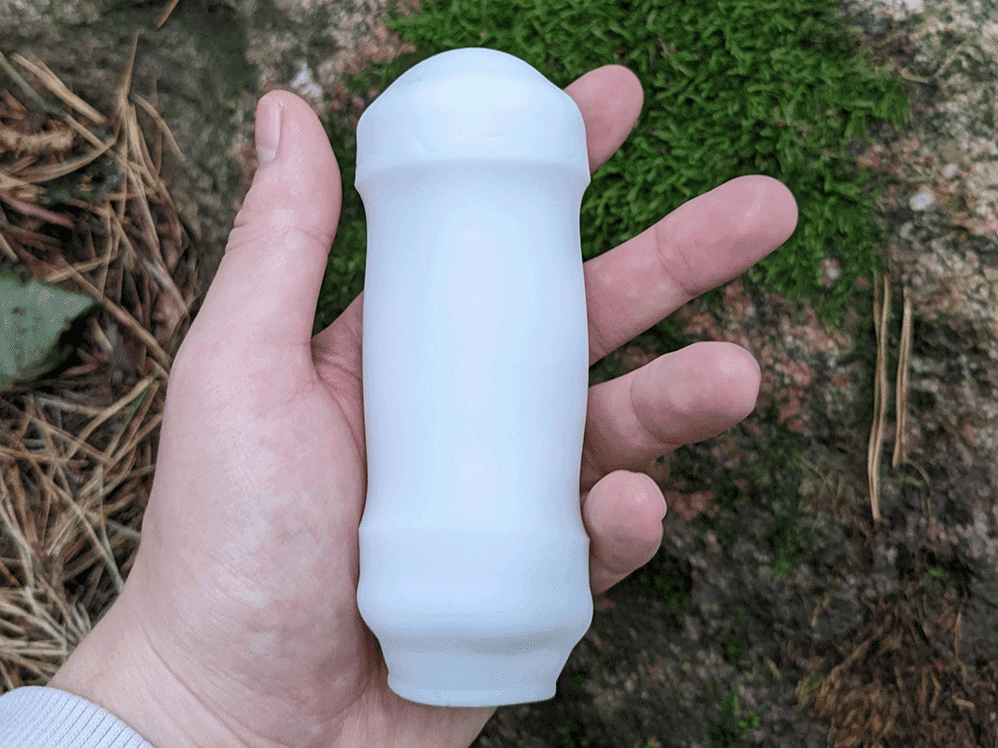 The amount of those small triangles make the sleeve look very intense, let's get that right. However, when turned inside out, it turns out that the texture is actually quite gentle and quite flat. So, the first impression turned out to be a bit misleading. However, in order to enhance the sensations, you have your hand to help you with squeezing and twisting.
The Tenga 3D Pile is a perfect fit for beginners or guys who have sensitive penises and like to take it slow. Therefore, if you are someone who needs a lot of spiky textures or intense suction to get off, the Tenga 3D Pile might not be the right toy for you.
Overall, even though the intensity of the sleeve is low, it's still a lot more fun than using your hand.
Once you're done with your session, all you need to do is turn the sleeve inside out and properly rinse it. While the ability to turn the sleeve inside out makes the cleaning easier, the small triangles on the texture did make it quite a challenge.
Things to Know About Using Masturbators
If it's your first toy, here are some very important things to know:
Never use the toy without lube – when two dry objects rub against each other, a lot of friction occurs. That friction can irritate the sensitive skin of the penis or break the sleeve. That's why you need to use lube to reduce that friction to a minimum.
Always wash and dry the toy – as lazy as you can be after an orgasm, you need to properly wash and dry the toy. Otherwise, various nasty bacteria may start accumulating inside it. Later that may end up causing irritation and infections of your penis.
What's In The Package of Tenga 3D Pile?
Here is a full list of items that you will be getting when ordering your Tenga 3D Pile:
Tenga 3D Pile male masturbator
A special tray with a cap to store the toy, help maintain its shape, and keep the dust away
A small packet of lube
Detailed instruction manual
As you can see, Tenga has you covered for the first session, however, I would recommend ordering extra lube for the future, if you already don't have some.
The Verdict
Overall, the Pile 3D is a good sex toy for those who have a sensitive penis and enjoy having a lot of control during masturbation. However, if you're the type of person who enjoys intense stimulation and bold textures, the toy is most likely not what you are looking for.
In such a case, You can still consider the 3D series but with a different texture. My suggestion would be to go for the Tenga 3D Spiral.
Buy Now
Use code TECHYSEX at checkout to get 15% off your order! US & CA orders only.
Thank you for supporting TechySex
Use code TECHYSEX at checkout to get 15% off your order! US & CA orders only.
Thank you for supporting TechySex