Front View
The Orifice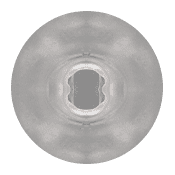 Side View
Sleeve X-Ray

About TechySex Score
TechySex Score is a relative score that is derived from TechySex Team reviews and user feedback.
We also use proprietary algorithms to analyze the shape and texture of the toy, which plays a role in boosting or reducing the final value.
User Rating Details
Quality & Durability
4.6

/5
Rate This Product
Loading...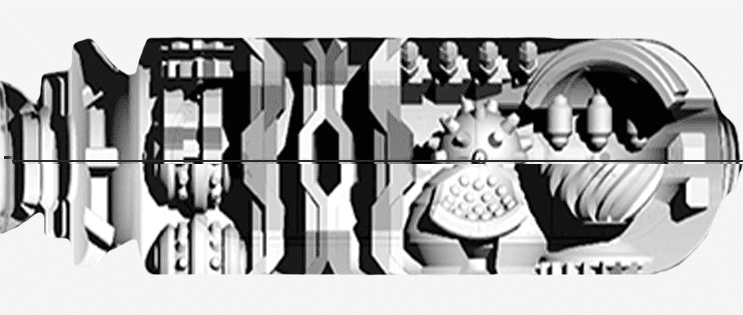 Set your penis length above and see the expected penetration depth.
Specs
Orifice Type
Non-anatomical
Opening Max Diameter
* stretchable
1.1 - 2.0 in
2.88 - 5.08 cm
Case Type
Tenga Flip Zero
Tenga Flip Zero Black Review (Strong Edition)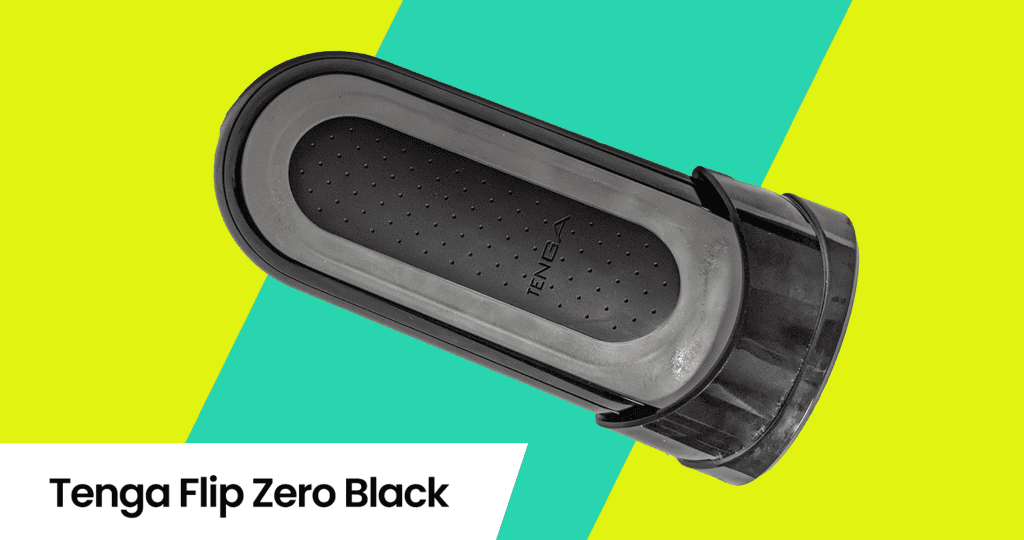 Tenga Flip Zero is a range of male masturbators that come in an oval shape and flip open for easier cleaning. They are quite compact (a bit over 6 inches or 16 cm) but are well-designed and come with a drying rack as standard.
The series is famous for unique textures and elaborate shapes on either side of the masturbator that works in unison to provide you with as much stimulation as possible.
Tenga Flip Zero Black (Strong Edition) is a member of this family and comes in a black case, as the name suggests. Inside, the masturbator is packed with orbs, ridges, flaps, and other shapes for a really intense masturbation session.
What's inside
I'd like to mention that when I first got my Tenga Flip Zero Black, I was quite surprised that despite its relatively compact size, it seemed to weigh significantly more than a Fleshlight or any other masturbator of similar size. Out of the box, this makes it feel like a premium product.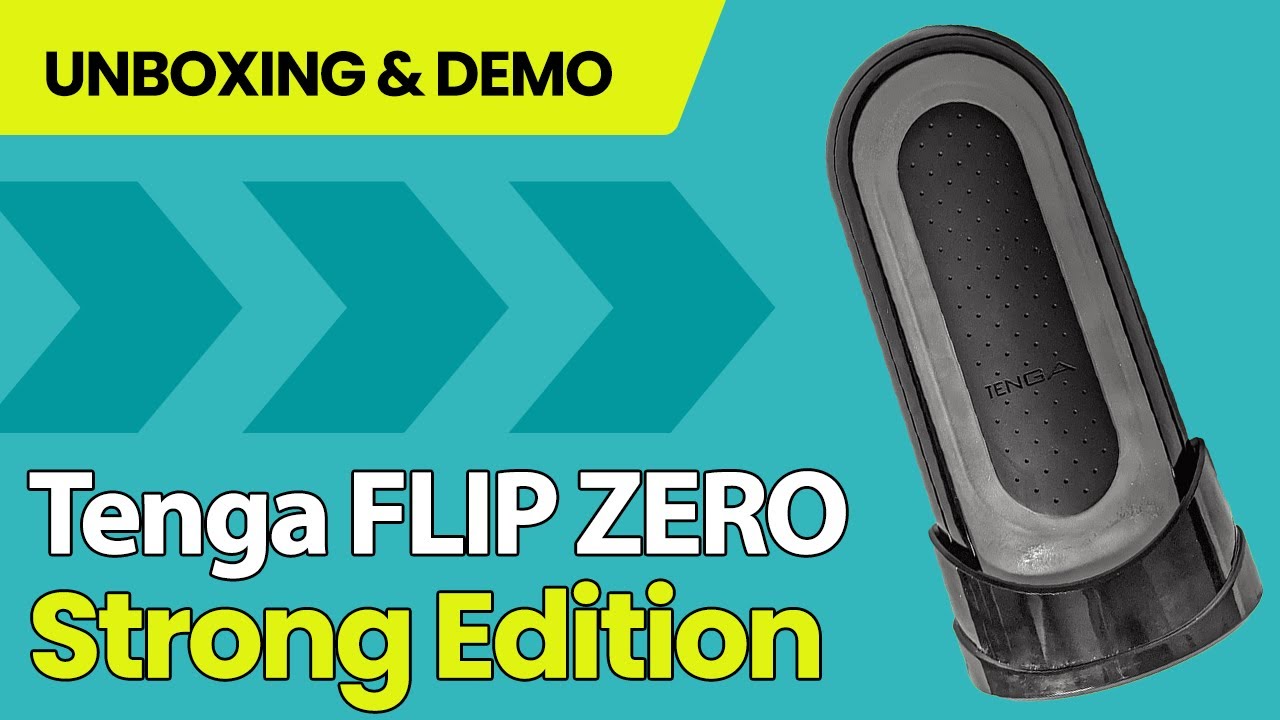 The toy comes shrink-wrapped so you know it hasn't been tampered with. As you unpack, you will find a couple of parts that are there only for transportation so they can be thrown away.
Besides this, inside the box you will find:
Tenga Flip Zero Black masturbator
A case that doubles as a drying rack
Two samples of Flip Hole lube
User manual
Texture and parts
Before we get into the mechanics of how this toy works, it's important to know that Flip Zero Black has three in three parts in total:
The masturbator itelf
The cap, which mounts on the masturbator during use and doubles as a rack for quicker drying
The base and a see-through cover, for storage
The masturbator texture is made from a very soft silicone-like material called TPE. The material is completely body-safe and durable.
The inner texture of this masturbator has intricate shapes which can be divided into four sections. Starting with the one closest to the orifice:
1. Geared edge
Shapes, similar to gears and cogs provide intense stimulation at the very beginning. This chamber also works great if you only want to stimulate only the head of your penis.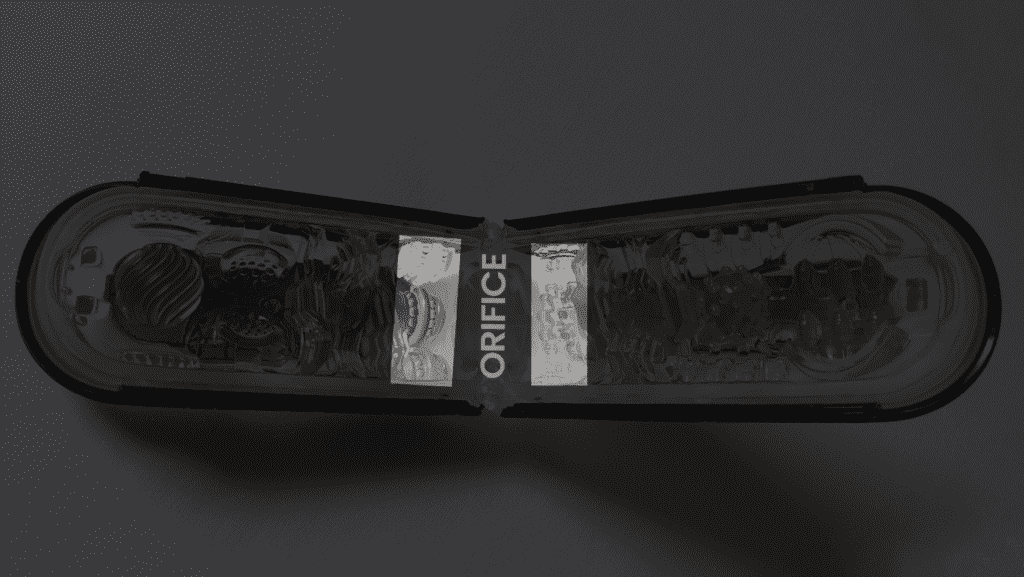 2. Cross Rampart
As you insert your penis further into the toy, you will push through alternating barriers that sort of resemble a wall. These sections are jagged, so they will be quite pronounced as you slide through them.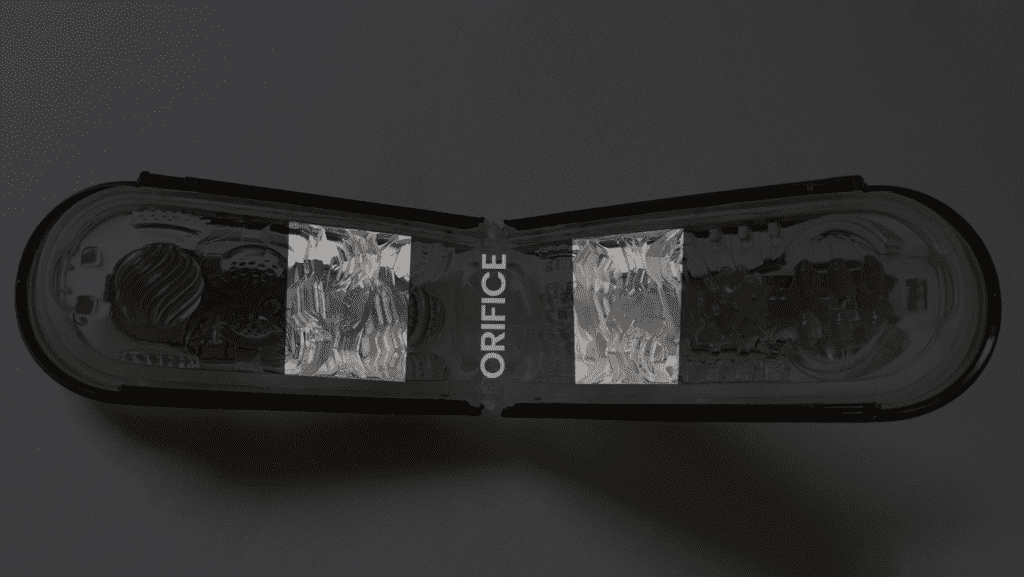 3. Dynamic Flip Orb
It's a semi-solid star-shaped orb that rests in its negative mold. This part will flick and move as you stroke your penis around it.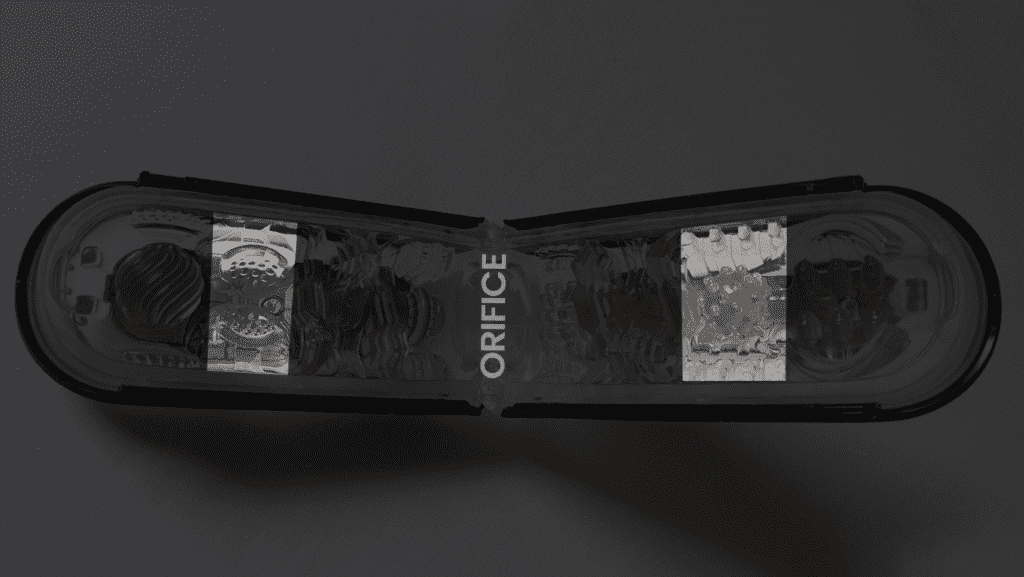 4. Solid End Orb
Yet another semi-solid orb that rets in its mold. This orb is larger, therefore much more pronounced. This is the last section which has its sides ribbed with smaller ridges for additional sensations when you're fully inserted.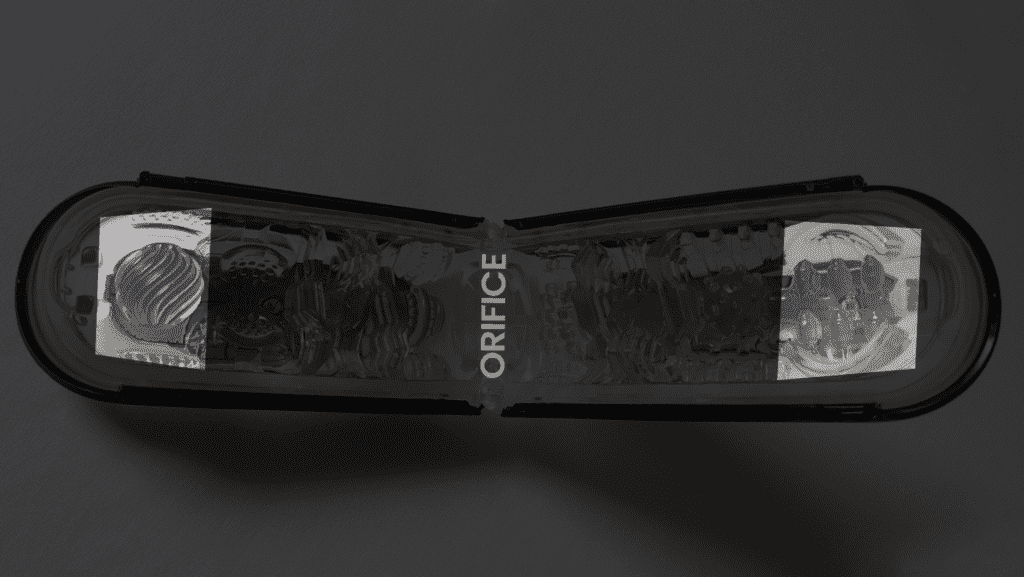 Opening the Tenga Flip Zero
To open the toy, hold the toy from the side and slide the cap off the top. This will allow you to flip open the masturbator.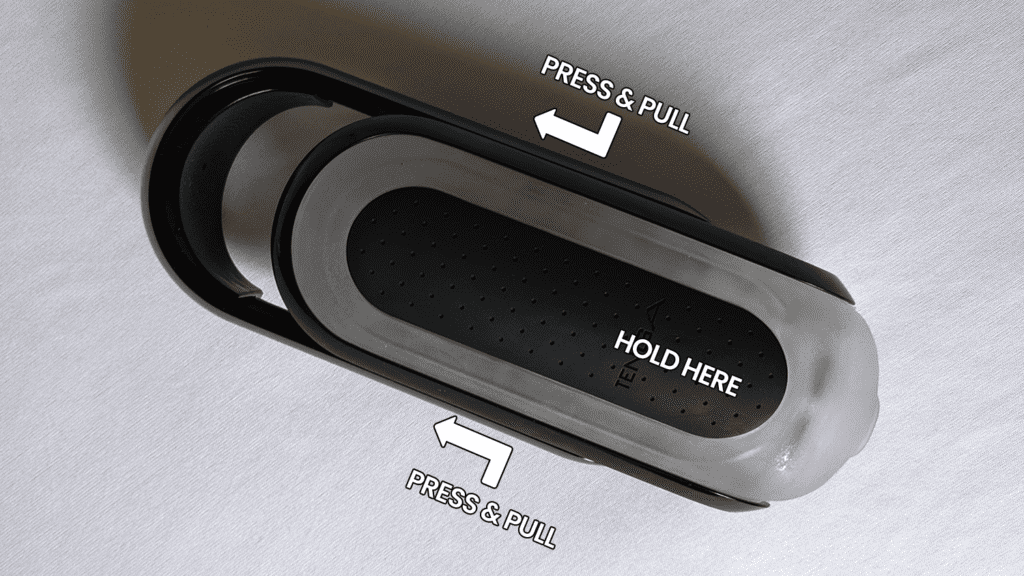 If it doesn't flip open by itself, apply gentle pressure to the sides where the cap usually rests. This will release little clips that hold the toy together.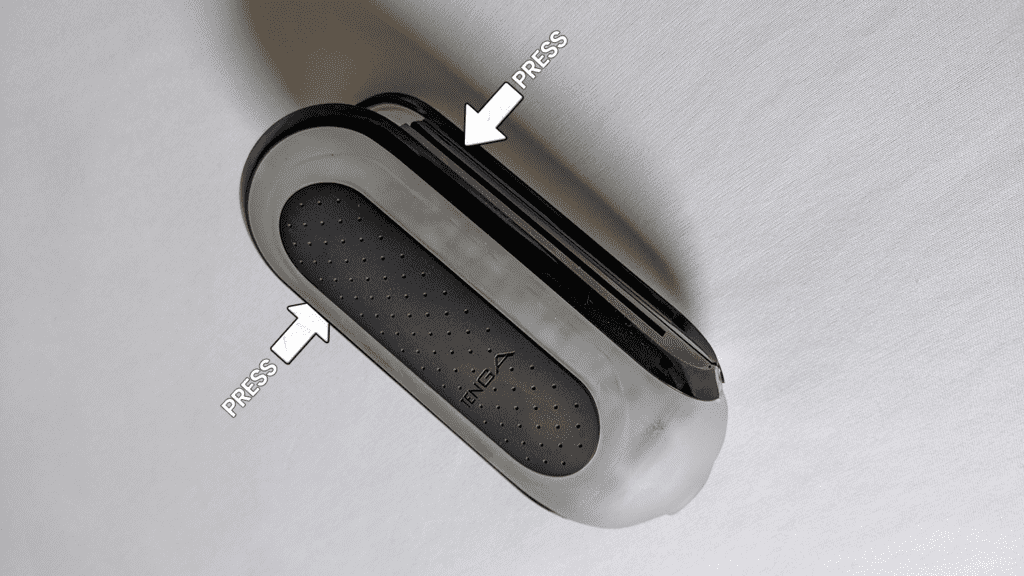 Lubricating The Toy
Before using your Flip Zero, you must properly lubricate it for maximum comfort. Lubricate both the inside of the sleeve and the orifice. You can also apply some lube to your penis.
Note that because Flip Zeroes have such elaborate shapes inside, it means that the toy requires a bit more lube than you might be used to with other toys. Each nook and cranny needs to be covered for the best experience.
The lube that you get with the toy will be enough for one or two sessions, so make sure you're stocked up on water-based lubricant for when you run out of samples.
The sample lubricants provided by Tenga are really good and very viscous (i.e. thicker than most water-based lubes). This means you can get away with less and it also tends to last longer as it doesn't dry out as quickly.
Tenga also sell their Flip Hole lube in larger containers, so I suggest ordering those if you want to continue using their lube and want to save some cash.
Using Flip Zero
Once the toy is lubed up, close the toy until you hear the two clicks on both sides. Then, slide the cap back on so it doesn't accidentally open during use.
Now it's time to use the toy. Put your penis inside through the orifice and enjoy! Try different stroking speeds and techniques so you can experience the different shapes and grooves.
You can use the pressure points on both sides of the toy to apply additional pressure during use. This will amplify the sensations that you feel.
Pressing on the pressure pads will also push out any excess air in the sleeve through a one-way valve at the top. This will form a vacuum, creating a strong suction effect.
From all of the toys that I've tried, I can honestly say that Flip Zero Black is at the front of the pack when it comes to intensity. The texture, the vacuum, and the pressure pads are a great combo to really push your penis to the extreme.
The good thing is that you can control it and reduce these effects if it gets too much. If you want to build your stamina, you can slowly work your way up.
For folks who have been struggling with other toys to give them a sufficient amount of stimulation & pleasure, I believe that Tenga Flip Zero Black will be a great fit.
Cleaning Tenga Flip Zero
After you're done, it's important to wash the toy. Lubricants and bodily fluids can become a breeding ground for bacteria and mold, so make sure to properly clean both the inside and the outside of the toy.
To clean the toy, reverse the steps and start by removing the cap by pulling it through the top. This will allow you to flip open the masturbator. Use warm running water to wash away any fluids. Be thorough and make sure you get into all of the nooks and crannies.
Once the toy is clean, use a cotton towel to remove excess water. You can also use paper towels as well, but make you use the kind that doesn't leave any lint, as lint can be really annoying to remove.
To completely dry the toy, take the cap and place it onto the base with the two sides sticking up. The end is magnetic so it will snap into its place.
When the masturbator is flipped open, you will see four small grooves near the hinge, 2 on either side, as pictured below.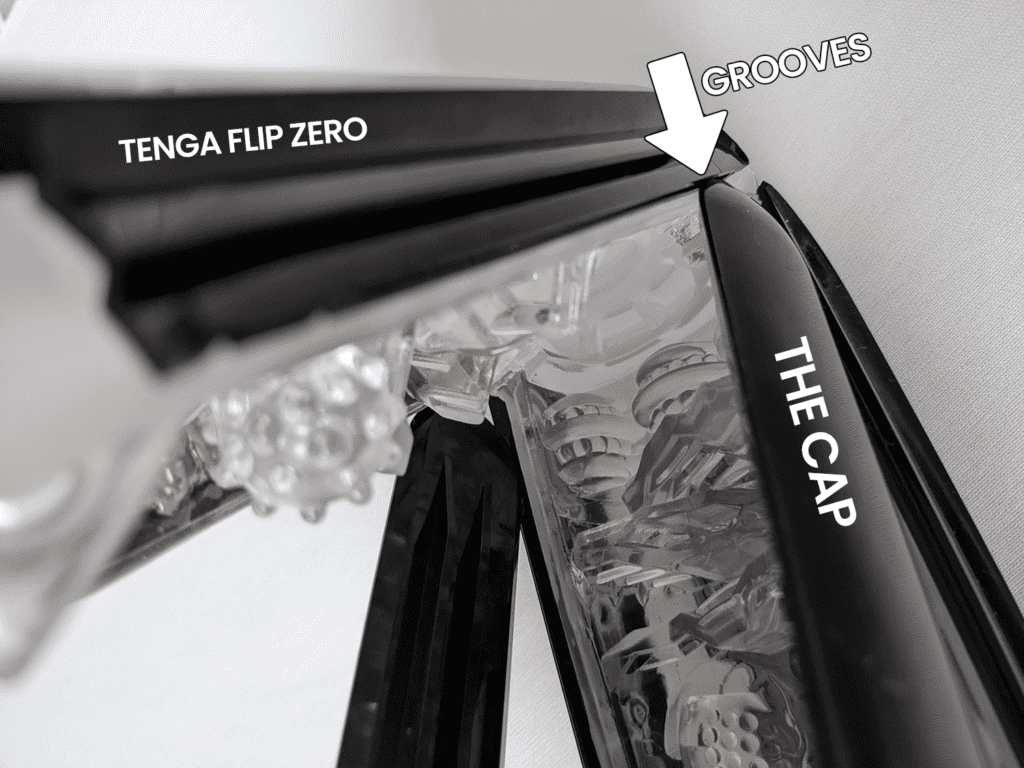 You can use these grooves to mount the toy onto the cap, keeping the texture open so it dries quicker.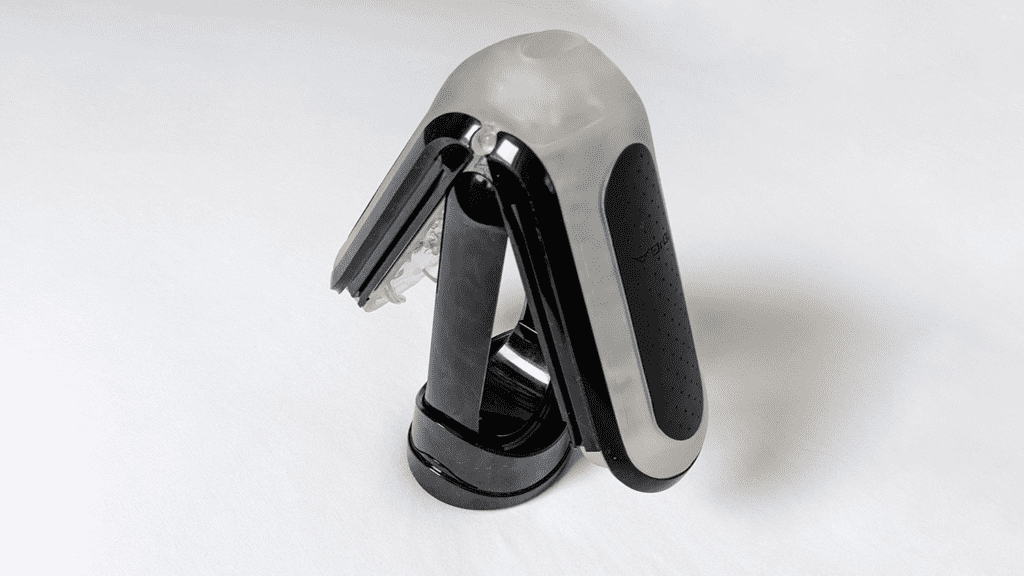 Once it's completely dry, you can close the masturbator, slide the cap back on, and put it into its case for storage.
The bottom line
Tenga Flip Zero Black is definitely a front-runner when it comes to its texture, quality, and features. However, all of these goodies come at a higher price tag, at least as far as non-powered masturbators go.
Nonetheless, if you're looking for top-of-the-line fun and you don't want to bother with charging or don't particularly enjoy automatic/vibrating toys, this is definitely one of the best products out there.
The only downside is that some people might find this toy too intense. Especially if you're uncircumcised or have very sensitive glans, Flip Zero Black may feel like it's a bit too much for you to take. If that is the case but you still want to enjoy Tenga Flip Zero products, I recommend going for Tenga Flip Zero Soft Edition which offers a similar experience but a lighter texture.
Another point worth mentioning is that this toy is limited in length as its end is closed. The insertion length is 6.3 inches or 16 centimeters. However, this shouldn't be an issue for the vast majority of the population. Even if you are on the longer end, you don't necessarily need to be able to fully insert your penis to enjoy this kind of toy.
To sum up, this toy by Tenga is a great product that does what it needs to do and offers intensity that is unmatched by the competition.
Disclaimer
We'd like to thank Tenga who sent us this product free of charge. Please note that this does not affect our opinion on the item.
Companies occasionally send us their products for us to review. This allows us to review a wider range of products, as well as get our hands on new releases which might be in limited supply.
Buy Now
Use code TECHYSEX at checkout to get 15% off your order! US & CA orders only.
Thank you for supporting TechySex
Use code TECHYSEX at checkout to get 15% off your order! US & CA orders only.
Thank you for supporting TechySex