Front View
The Orifice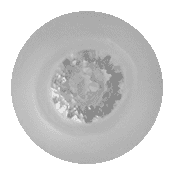 Side View
Sleeve X-Ray

About TechySex Score
TechySex Score is a relative score that is derived from TechySex Team reviews and user feedback.
We also use proprietary algorithms to analyze the shape and texture of the toy, which plays a role in boosting or reducing the final value.
User Rating Details
Quality & Durability
4.8

/5
Rate This Product
Loading...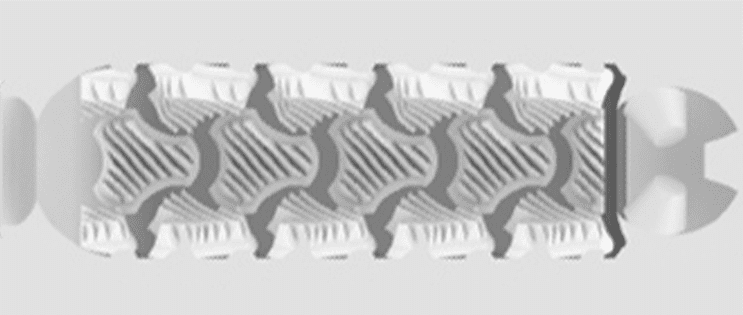 Set your penis length above and see the expected penetration depth.
Green areas represent lower intensity. Red areas represent higher intensity.
How does the sleeve heatmap work?
TechySex uses custom software to analyze inner sleeve texture, diameter variation and some other parameters to identify hotspots within the sleeve.
This data is represented as a heatmap, highlighting the expected intensity and the level of stimulation.
Areas that are more intense are highlighted in red, and areas that are less intense are mapped in green.
Depending on your personal preference, you may opt for either a light sleeve with smooth textures or a more intense counterpart with high diameter variability and rougher textures.
What's good
Unique twisting motion
Sleek & compact design
Great bang for the buck
Stretchable, should be good fit for most guys
Body-safe materials
What's not so good
While overall durable, the sleeve can to break early if you stretch it too much or too often
Can collect dust
Specs
Sleeve Length
* stretchable
Orifice Type
Non-anatomical
Opening Max Diameter
* stretchable
0.9 - 2.1 in
2.31 - 5.46 cm
Sleeve Material
Elastomer
Tenga Spinner 01 Tetra Review
Tenga is known to make male sex toys that do not fit the standard of what you might be used to. They innovate and they usually do it in the best way possible. The Tenga Spinner series is no exception: it brings out an exciting new twist on regular masturbators (pun intended).
*This masturbator was supplied to us by Tenga. This does not impact our judgement.
Spinner masturbators are specially designed in a way that causes the masturbator to twist as you stroke it around your penis. This spinning motion is definitely one-of-a-kind, at least as far as manual masturbators go.
There are currently six Tenga Spinners, conveniently numbered 1 through 6. Tenga Spinner 01 Tetra is the first one and it features a translucent sleeve with a light-blue core embedded inside.
The inner texture of Tetra Spinner is composed of protruding triangle-like shapes, where the surface of each triangle has very small grooves that go in the direction of the spin.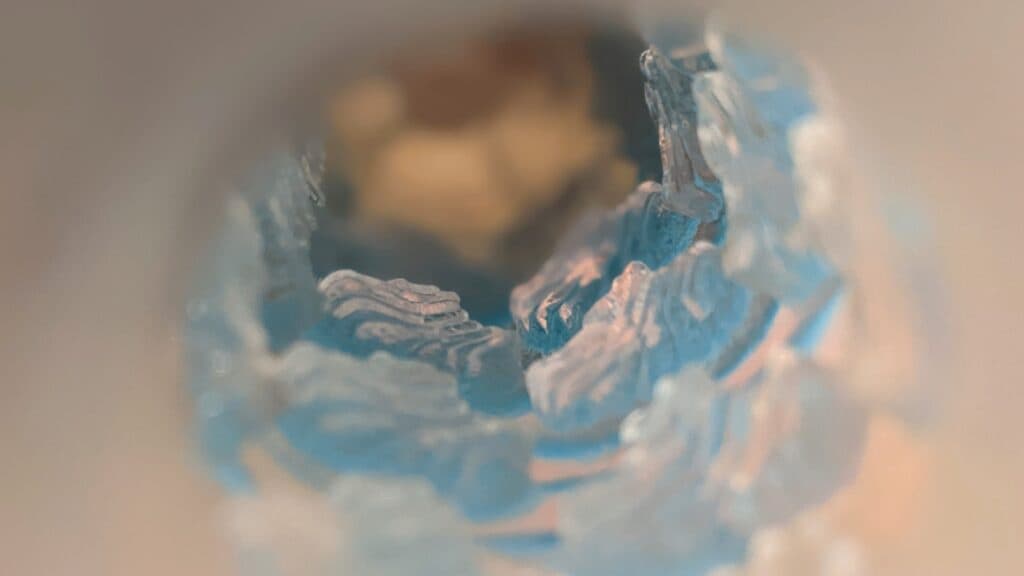 At the end of the sleeve, there's a chamber with a slightly different texture specially designed to stimulate the head of the penis. In the case of 01 Tetra, this chamber features several protruding cones.
How does it work and does it actually spin?
You use Tenga Spinner 01 Tetra in the same way that you do any other kind of masturbator: apply some lube, mount the toy onto your penis, stroke & enjoy.
The spinning action itself works thanks to that inner core that twists around the sleeve. As you insert your penis into the Tenga Spinner, the flexible core expands. Because of its elastic nature, the core wants to return to its initial state, so each time you do the upwards stroke, the core will spring back and cause the rest of the sleeve to twist.
We tested it and we can confirm that it works very well. Just make sure you are well lubricated for the best experience.
Size & Elasticity
The toy is U shaped, meaning it has a single orifice, with the other end closed. The insertable length is 5.1 inches (13 cm). Thankfully, Tenga Spinners are made out of a very elastic material (elastomer), allowing them to stretch quite a lot, up to 6.7 inches (17 cm), according to the manufacturer.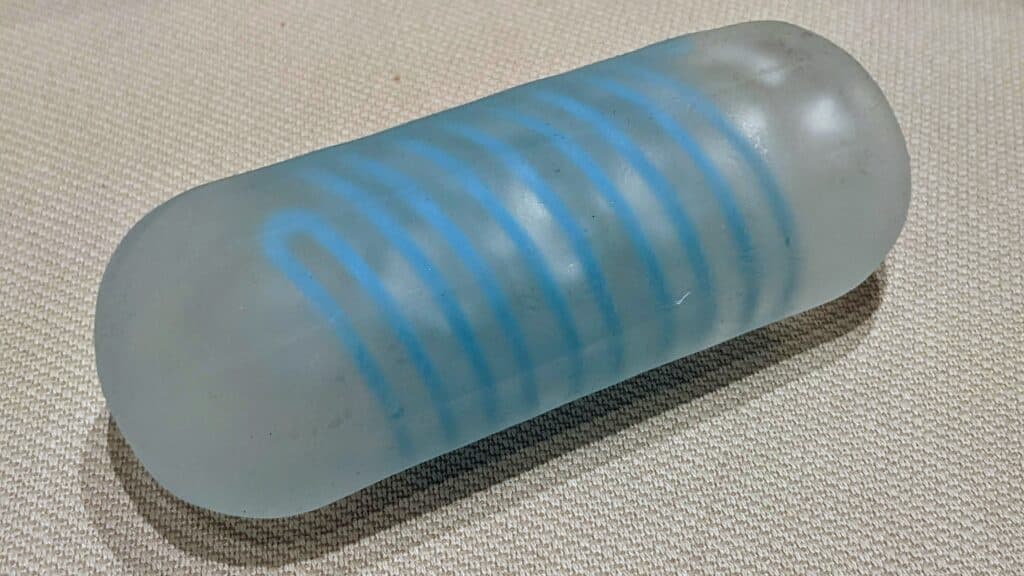 This means you can fully stroke it over most people's penises without too much trouble. This neat little feature also allows you to push the toy that "extra mile", whenever you want to stimulate your glans a bit more. Thanks to the special chamber at the end, this makes for an even better experience.
Check out our unboxing and demo video on YouTube: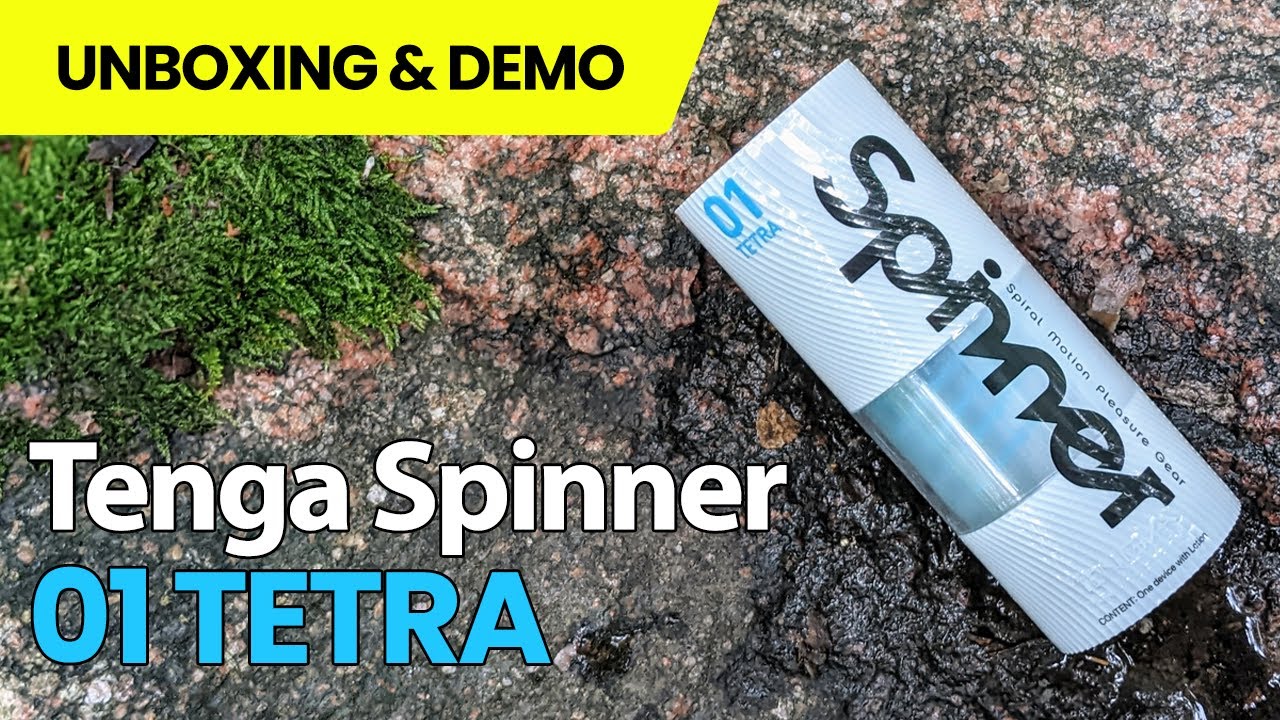 Two ways to enjoy it
As the Tenga Spinner 01 Tetra is a U-shaped masturbator, it means that you have the option to control the suction effect by either leaving some air in the sleeve or pushing it all out. Each approach has its own benefits, so choose what you like more.
If you leave some air in, the texture will feel a bit lighter. From our tests, the spinning motion also appears to work a bit better in this case.
The more air you leave in your Tenga Spinner, the more it will feel like the sleeve wants to slip off. It's up to you to decide if that's a good thing or not: some people really enjoy this feeling, and others want to keep a good grip on the toy themselves.
On the other hand, pushing out all air creates a vacuum. In this case, the spinning motion will feel a bit less prominent and the toy will want to spring back onto your penis.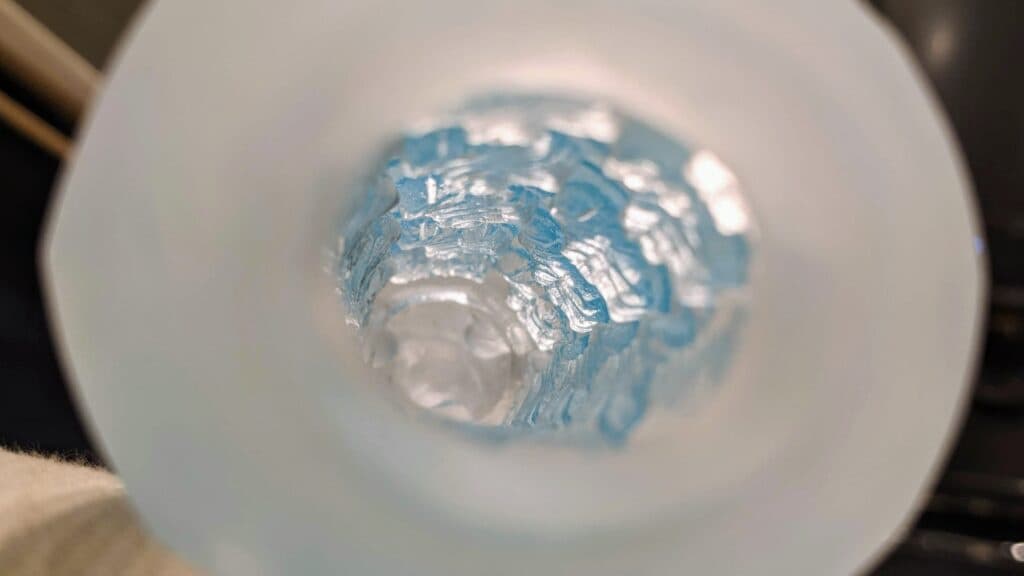 The vacuum within the sleeve also causes the toy to attach with a bit more pressure, allowing you to feel the inner texture better. In turn, this means that the Spinner will feel more intense, which is favorable for many folks out there.
Tips and tricks
It's pretty straightforward when it comes to enjoying and caring for your Tenga Spinner, but here are some tips we thought are worth mentioning:
Enjoy the spinning effect
We believe that this twisting motion is the best feature of this toy and you should definitely take advantage of it. Try to find a position that allows you to fully experience the spinning effect. From our experience, you can achieve the best results by leaving a little bit of air in and holding the toy with 2 or 3 fingers near the tip.
Lube, lube, lube
As with any toy, you want to lubricate both your penis and the toy. Lubricating the toy will also make it last longer, as it will reduce the chance of accidental tears within the sleeve.
Don't abuse its elasticity
While Tenga Spinners are very stretchy, we don't recommend abusing this feature too much. It's definitely exciting to stretch the toy and it feels great, but doing this beyond manufacturer specifications might cause the toy to break prematurely.
Wash & dry
All Tenga Spinners are reusable. After each use, make sure to properly rinse your toy and let it dry in the stand that you get with the product. This will prevent mold & bacteria from forming inside the sleeve.

The elastomer as a material can become a bit sticky when it's dry, which might cause dust to collect on your Tenga Spinner if it's left out in the open for too long. This sort of dust can be really annoying to wash off, so we recommend putting it back into its case when the toy is completely dry.
What do you get in the package?
The toy comes in a sleek semi-transparent hard case which almost looks like something you could put in your room as a decoration.
Inside this case you will find:
Tenga Spinner 01 Tetra masturbator — translucent sleeve with a light-blue core.
Flip Hole Lotion lube sample — plenty for one session. Make sure you have more lube handy for when you want to use it again.
A plastic perforated holder — for easier drying.
The Verdict
All Tenga Spinners are really good toys for both beginners and experienced users. The unique spinning motion that this masturbator offers makes it stand out from the competition and guarantees an experience that you won't be able to get elsewhere.
As far as Tenga Spinner 01 Tetra goes, it's a good starting point with a texture that's not too intense, but at the same time offers a decent amount of stimulation.
Maintenance is a breeze, as the toy has just one part that you need to wash. The included case makes drying simple.
The case is very compact and sleek, making it easy to stow the product when you no longer need it.
Tenga Spinners also make for an exceptional gift for your partner that won't break the bank.
The only real downside of this product is that it might not be a good fit for people who have longer penises (over 6.7 in / 17 cm) and wish to simulate the entire shaft. It will still work, but it can break sooner than you'd like.
For folks with longer penises, we recommend checking out open-ended toys (Quickshots) or larger masturbators (Feelstars, Fleshlights).
Buy Now
Use code TECHYSEX at checkout to get 15% off your order! US & CA orders only.
Thank you for supporting TechySex
Use code TECHYSEX at checkout to get 15% off your order! US & CA orders only.
Thank you for supporting TechySex