Fleshlight Universal Launch Review and Prices
Fleshlight Universal Launch is perfect for the fans of the brand or someone who is looking for a simple and durable stroker with interchangeable sleeves.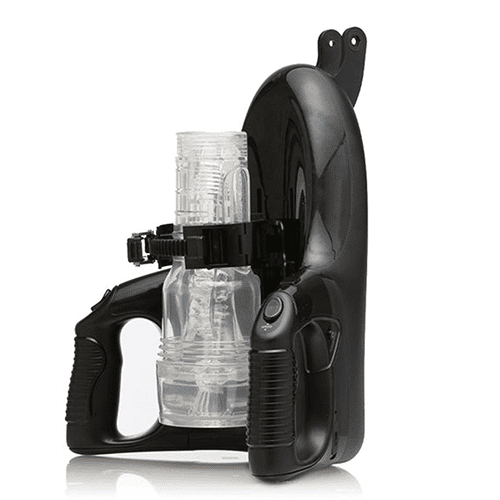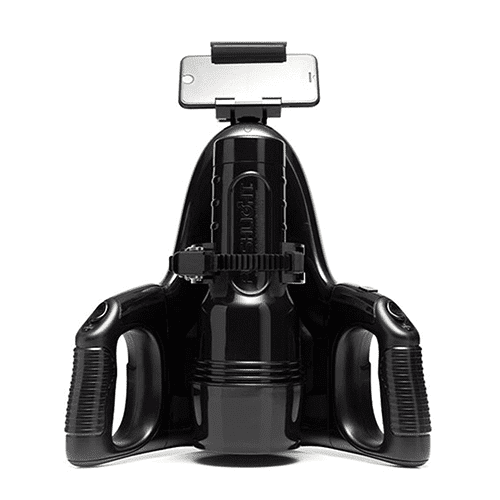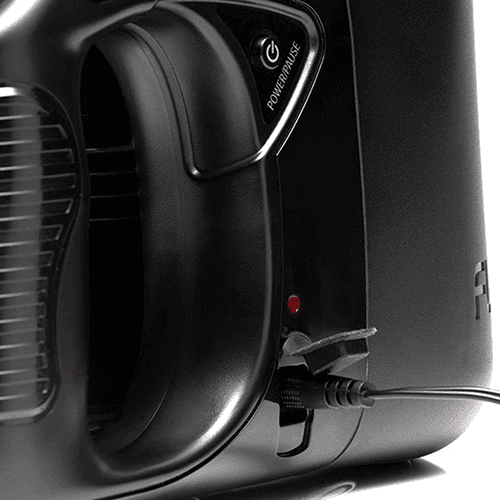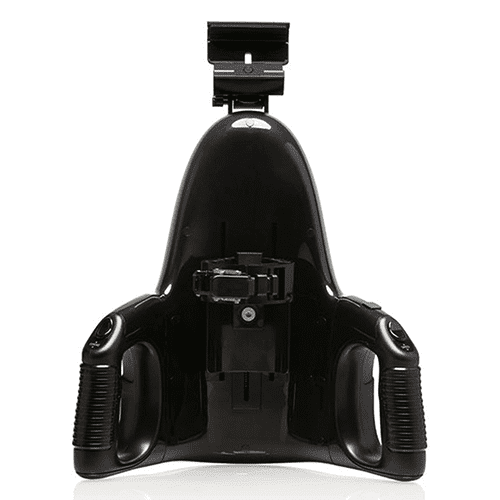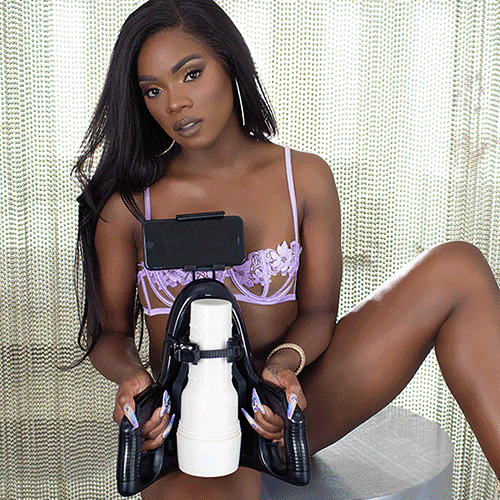 About TechySex Score
TechySex Score is a relative score that is derived from TechySex Team reviews and user feedback.
We also use proprietary algorithms to analyze the shape and texture of the toy, which plays a role in boosting or reducing the final value.
User Rating Details
Quality & Durability
4.2

/5
Rate This Product
Loading...
What's good
Compatible with most Fleshlight models
Simple and reliable
Comes with a smartphone mount
What's not so good
High price for a simple device
No interactive features
Strokers sold separatelly
Specs
Dimensions
11.5 ⨉ 7.5 ⨉ 14 in
29.2 ⨉ 19 ⨉ 35.5 cm
Max Stroke Speed
250 strokes / min
Charge Time
* empty to full
~ 1:30 h
Bluetooth Connectivity
no
Fleshlight Universal Launch Review
The New and better Universal Fleshlight Launch is now available for purchase on the official Fleshlight websites!
Here you will find all the info that you need to know about the new Launch and what makes it different from the discontinued edition.
So, it doesn't matter whether you got tired from manual labor with your pocket pussy or want to start your sex toys journey from a fully automated experience – Universal Fleshlight Launch is here to help.
Universal Launch is an automatic male masturbator that will spice up your solo time and lift it to the next level. With an impressive count of 250 strokes per minute, this baby will pleasure your penis good.
However, did Fleshlight do enough to get ahead of its current competition? Let's see.
Fleshlight Universal Launch Benefits
Just like the previous model, Universal Fleshlight Launch comes with many benefits that make it a great upgrade to your pocket pussy. So, without any further ado, here are the benefits of owning Fleshlight Launch:
Even More Compatible Sleeves
The new Universal launch is compatible with almost all Fleshlight models. You can find the full list on the official website. It's a big upgrade from the previous one since the former Launch was only compatible with regular-sized Fleshlights.

Different Sensations
With Launch, you'll be able to choose and experience numerous sensations. You will be able to control the speed and the intensity of strokes. Of course, since it's compatible with Fleshlight sleeves – there are plenty of different sensations to experience.
Just like with the previous model – I can't even describe how realistic using the Fleshlight Launch feels. Since it's able to stroke the full length of your penis, the sensations feel so real. Each sleeve with different gripping points can give you diverse realistic feels.
250 Strokes Per Minute
The new Universal Fleshlight Launch can reach the incredible speed of 250 strokes per minute, or break down the numbers – around 4 strokes per second. That's an impressive speed that no person could reach manually. The previous version could go up to 180 times per minute. So, if you're into ultra-fast and intense strokes, you should be super excited about this sped increase.
Even the most selective and spoiled dudes won't be able to control themselves and resist cumming and cumming hard.
Special Phone Holder
Unlike the previous Launch, the new version has a special holder for your phone. This means that you can comfortably place your phone into the device, sit back and enjoy your experience.
Ultra Silent
Even though it can stroke your penis 180 times per minute, the automatic masturbator is super silent and discreet. It's enough to close your room's door and no person behind it will be able to tell what's happening inside. Unless you moan from pleasure a lot. Trust me, with this beast it will be hard to resist.
Long-Lasting & Fully Rechargeable
Worry not, you won't need to buy hundreds of batteries to enjoy your Fleshlight Launch experience. Fully charged batteries can last you up for around 2 whole hours. I doubt you'll last that long, however, multiple rounds are also fun. So, I believe 2 hours are more than enough for a great fuck fest.
Once you're done with your Fleshlight – plug it in and charge and charge. Since it takes more than just a couple of hours to charge, feel free to leave it overnight.
Ergonomic and Easy to Clean
Even though it may look a little on the bigger side, actually it's very ergonomic. The Universal Launch itself requires very little cleaning, however, the actual sleeves that you use – need to be cleaned after each use.
Even if you don't have branded products for cleaning – you'll easily do it without them. However, for the longevity and durability of your Launch, I highly recommend using FleshWash or renewal powder.
Comes With a Warranty
Another great thing about quality sex toys is the warranties. This way, you as a buyer are completely protected. So, in case you want to return your automatic masturbator if it doesn't reach your expectations, doesn't work properly or malfunctions – you are free to do that. For a limited time, of course.
Pause / Stop Button
Well, a pause button doesn't sound like a benefit. However, when your penis is being stroked 180 times per minute, at some point it can get too intense, you'll want to stop for a moment to catch your breath.
How Universal Fleshlight Launch Works?
Once you unpack, assemble, and charge your Launch – time to get to work. I'll give you a quick step-by-step guide to your first time with Launch.

So, let's get started. Once you have your device nice and charged, insert your compatible Fleshlight sleeve and twist it to lock it in place.
Now, grab your lube and be generous with it. Spread it on yourself and inside your sleeve. You're ready, time to turn on the machine!
Press the power button and hold it tight for approx. 3 seconds. The Launch is now launched. This new automatic male masturbator comes with two handles that have controls of speed, length, and position.
Insert your fully erect penis inside and press the power button for a second. The automatic stroking will begin. However, you can try turning it on without the penis inside to see the speed and capabilities of this device.
That's it. Keep in mind that you can change your sleeves, so there's always a new experience to try. Also, Bluetooth connectivity is very useful for using additional devices. If you feel like you would like to last longer in bed, I would recommend trying the Stamina Training Unit. It works perfectly with Launch.
What's in The Package of Fleshlight Launch?
In general, there's nothing spectacular about the packaging of Launch. Naturally, just like any other Fleshlight device, it ships discreetly.
Once you open the plain box, you'll find a black box that looks like it could have headphones or a beard shaver inside. However, there's something way better in it. Once you unbox the black bow, here's what you will find:
Hands-free Launch device
Universal smartphone mount
Power Cable
So, as you can see, the Fleshlight sleeve is not included and you'll need to buy it separately to use the Launch. Totally worth it. As I mentioned before, the Universal Launch can be used with many Fleshlight models, unlike the previous version that worked only with standard-size Fleshlights.
The Downsides of Fleshlight Launch
Even though the benefits of Fleshlight Launch can be hard to count, the device does have a few downsides. Even though they're pretty minor, you should still know them before you make your investments into mind-blowing penis stroking.
Not Waterproof
One of the biggest drawbacks of Fleshlight Lunch is the fact that it is not waterproof. This means you'll need to keep your automatic masturbator away from water and damp places.
Long Charge Time
Even though it gives you 2 long hours of pleasure, it requires 6 – 9 hours of charging. So, I would recommend charging it overnight, so that you wouldn't risk missing out on some 'me' time if the device is not charged properly
Requires a Fleshlight Masturbator (Not Included)
Well, this is one of those devices that you can't use on its own and you will require additional purchase. However, the good part of it all is, that many different-sized Fleshlights are compatible with the new Launch.
Not as Advanced as The Competition Is
Don't get me wrong, it's a great toy. However, compared to its competition, Fleshlight Universal Launch is simply behind technologically wise. Brands like Kiiroo are already creating devices that can work in synch with video content. I mean, how crazy (and amazing) is that? Yet, if you're just looking for a simple device to do the job for you – Universal Launch is perfectly enough.
Fleshlight Launch vs Universal Launch
Let's compare Launch vs Universal Launch to see what changed:
Stroke speed increased from 180 to 250 strokes per minute.
Compatibility: the previous model only worked with standard-size Fleshlights, the new version is compatible with more models (including Fo, Flight, and others)
No interactive mode is available.
In general, the new Universal Launch is a super simple device. Its sole purpose is to make your experience with strokers automatic. So, if you're looking for something like this, yet with smarter technology – Kiiroo KEON is your answer.
Fun Fact: Kiiroo is actually the brand that created the first Launch for Fleshlight that became such a huge success and now they made something of their own. The Keon device can actually synchronize the strokes with videos from the FellMe library. How much better could it get?
Final Words
If you have a lot of Fleshlight sleeves and wish to make your experience automatic – Universal Launch is a good choice for you.
However, if you're just starting and want a smart masturbator that's compatible with VR and other great experiences – better consider Kiiroo KEON.
The new Universal Launch is a super-simple device, so don't expect advanced technologies and AI experiences from it.
Frequently Asked Questions
How much does Fleshlight Universal Launch cost?
Prices can vary depending on your country and the store from which to decide to buy. In United States, prices hover around 200 U.S. Dollars. For example, Fleshlight Online Store is currently selling Fleshlight Universal Launch for $199.95 (excluding discounts).
Is Fleshlight Universal Launch battery-powered?
Yes, Fleshlight Universal Launch is battery-powered and does not need to be plugged into a power outlet during use.
How long does it take to charge Fleshlight Universal Launch?
It can take up to 1.5 hours to fully charge your Fleshlight Universal Launch. The exact duration depends on battery level at the time when you plug it in and the type of charger you use.
Is Fleshlight Universal Launch waterproof?
No, Fleshlight Universal Launch is not waterproof and should be kept away from water.
How fast is Fleshlight Universal Launch?
Fleshlight Universal Launch is able to reach up to 250 strokes per minute (which is roughly one stroke every 0.2 seconds). Beware that some manufacturers officially post higher speeds but they typically refer to short-range strokes. This can be a bit misleading and can make it difficult to compare different products.
Buy Now
We may earn a small commission if you purchase items via some of the links on our website. It comes at no extra cost to you but it supports our initiative.
Thank you for supporting TechySex
Thank you for supporting TechySex