Turbo Core Fleshlight Review and Prices
Front View
The Orifice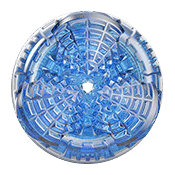 Side View
Sleeve X-Ray

About TechySex Score
TechySex Score is a relative score that is derived from TechySex Team reviews and user feedback.
We also use proprietary algorithms to analyze the shape and texture of the toy, which plays a role in boosting or reducing the final value.
User Rating Details
Quality & Durability
4.3

/5
Rate This Product
Loading...

Set your penis length above and see the expected penetration depth.
Green areas represent lower intensity. Red areas represent higher intensity.
How does the sleeve heatmap work?
TechySex uses custom software to analyze inner sleeve texture, diameter variation and some other parameters to identify hotspots within the sleeve.
This data is represented as a heatmap, highlighting the expected intensity and the level of stimulation.
Areas that are more intense are highlighted in red, and areas that are less intense are mapped in green.
Depending on your personal preference, you may opt for either a light sleeve with smooth textures or a more intense counterpart with high diameter variability and rougher textures.
Specs
Orifice Type
Non-anatomical
Sleeve Material
SuperSkin
Case Type
Fleshlight Classic
Fleshlight Turbo Core
If you're a person who's looking for an intense blowjob experience on-demand, there's a great chance that you're about to find it. The latest toy from Fleshlight – Turbo Core is all about those intense suckling sensations. As I like to say, the best gift you can give yourself, or someone you care about, is a gift of pleasure. So, Fleshlight Turbo Core could be the thing that would make your holidays that much more special.
Also, the Turbo Core sleeve is from that cool Blue Ice color material, which means you'll be able to see your private parts in action, which is, in some sense kind of satisfying.
Fleshlight Turbo Core Benefits
Here are the main benefits that you'll be getting from the Fleshlight Turbo Core sleeve.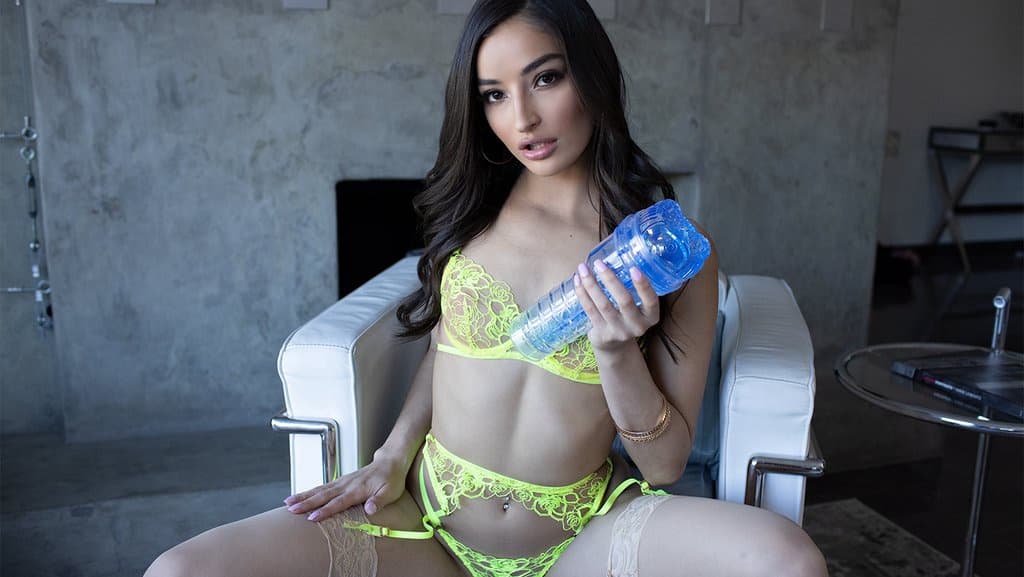 Unique Orifice
Fleshlight Turbo Core does have a very unique orifice that I have never experienced before. It is all covered in miniature geometrical bumps that are designed to add some stimulation when your whole penis is inside the sleeve.
Oral Sex Fantasy
Getting head is one of the best-liked sexual experiences for most men. However, there's a chance that your partner is not up to giving you some. Which is completely ok. Yet, if it's something you desire, you can consider getting a toy that mimics oral sex and incorporate it into your couple's play or use it during solo time. It's a great compromise for couples where one loves getting head, however, has a partner who doesn't like giving any.
Quality Materials
Fleshlight uses only high-quality and hypoallergenic materials for its sleeves. This means that you and your partner won't experience any unexpected skin irritations or allergies when using the toy. However, you need to use a lubricant to reduce friction between your private parts and the sleeve. Otherwise, you can irritate the skin of your private parts purely from friction. So, don't hurt your body and just get some lube.
Realistic Experience
When it comes to blowjob Fleshlights, this one is actually the most realistic one. At least it felt like that for me. The sleeve is constructed in a very smart manner, so it hits you on different levels the deeper you go.
However, it doesn't mean that you need to be able to reach the very end of the sleeve. On the contrary, the magic of this sleeve is at the beginning, less than 4 inches deep.
Intense Suction
If you're a fan of intense oral – you're gonna like what Fleshlight Turbo Core can do for you. The suction is one of the most intense that I have experienced from a Fleshlight.
The suction comes from multiple layers and hits you on multiple levels. Also, if you've ever owned a pink Fleshlight, you know that the clear ones (like this one) are better suited for intense suction, since the material feels more jelly-like, while pink ones are more about the textures, bumps, and ridges.
Discreet Shipping
Many people are scared to order sex toys online because they're afraid that boxing will reveal their private life. However, Fleshlight values your privacy. That's why each and every item you order from them is going to be packed and shipped in a discreet manner. There will be no large identification signs screaming about a sex toy inside the box. All items will arrive in pain carton boxes.
How Fleshlight Turbo Core Feels?
The new Fleshlight Turbo Core promises you pleasure to the core. Let's see if the toy delivers on what it promises.

The sleeve of this Fleshlight is built in a very smart way and has multiple layers for the most exciting inner stimulation. Fleshlight Turbo Core comes with several suspended entry points that each provide a different unique sensation and intensify the whole experience.
When you get your penis inside of the sleeve you'll feel different textures rubbing against the head and the shaft, the deeper you go. Also, the suction intensifies as well to the maximum point when all your erect penis is fully inside.
Compared to other Turbo sleeves, this one is more intense and a lot snugger. So, for those who enjoy intense experiences – you're in for a treat.
The only downside – cleaning it can be a bit annoying. However, equally as annoying as any other textured sleeve.
Fleshlight Turbo Core Alternatives
Here are several alternatives to Fleshlight Turbo Core that are with checking out:
Fleshlight STU – while it's not all about BJs, it's about stamina training. So, for a pink Fleshlight, it does have quite a lot of suction. Also, can help you learn to last longer in bed.
Fleshlight Turbo Thrust – it is one of the best choices for oral-like stimulation. This Fleshlight has a three-part entrance that is perfectly built for mimicking the sensations of getting a blowjob. I'm pretty sure that Turbo Thrust will surpass most of the deep-throats that you have ever experienced.
What's In The Package?
Here is a full list of items that you will be getting together with your Fleshlight Turbo Core:
Clear Turbo Case
Core Orifice
Core Texture
Instructions for use and care
As you can see from the list above, the only thing that is still missing is the lube. If you already have some water-based ones in the store, there are no additional items that you need to buy.
Fleshlight Care Tips
Taking care of a Fleshlight is easy and doesn't require a lot of effort. However, there are several essential rules that you do need to follow in order to keep your toy in mint condition as long as possible:
Always wash the toy – if you don't wash your Fleshlight, it will start accumulating dirt, dust, and various nasty bacteria. That means that when you'll use it, you will get that stuff on your penis. That's simply gross and can also cause a nasty infection on your penis that will take a lot more time to heal than washing the toy. So, just ash it.
Always use lube when you play with the toy – I can't stress enough how important it is o use lube when you're playing with your toy. Lube reduces friction, therefore you get a smooth experience. Not using lube can result in riping the sleeve and actually hurting your penis skin. Private parts are a lot more sensitive than most other body areas, so be gentle with them.
Felshlight's Complementary Items
Here are some complimentary items for your Fleshlight sleeves that can enhance the experience or help maintain the toy in
Fleshlight Sleeve Warmer is the most convenient way to heat up your fleshlight sleeve to 105° Fahrenheit / 40° Celsius. No overheating, just the perfect temperature for your experience. After that, the warmer automatically shuts off. You need to feel it to understand how much the heating-up part enhances the experience.
Fleshlight Shower Mount – what's better than a hot shower? A shower with a happy ending, of course. If you enjoy having fun in the shower, it's an ideal accessory for you. Once you mount your Fleshlight on your shower wall, you can enjoy a hands-free experience as many times as you desire.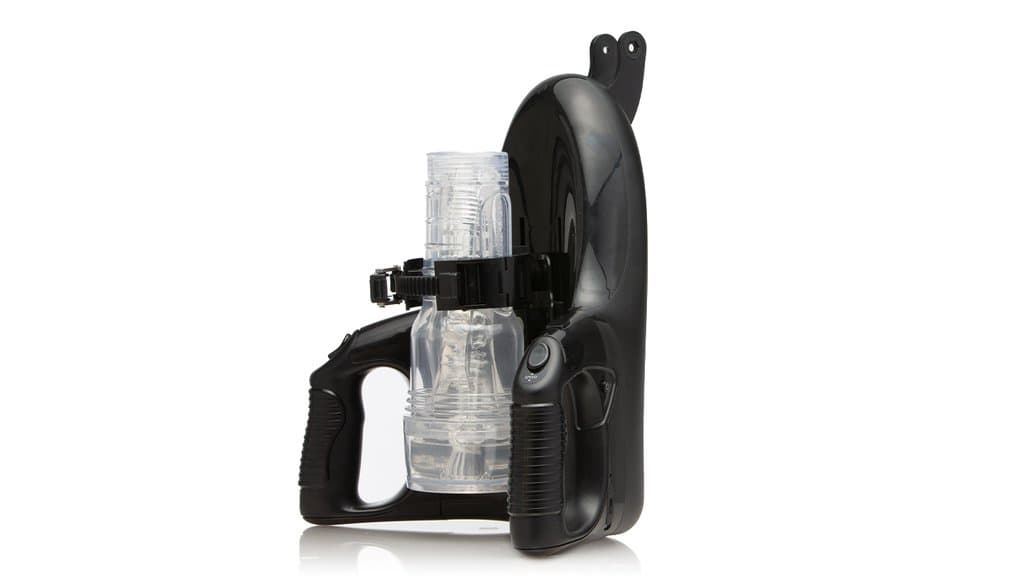 Fleshlight Universal Launch – the best way to take your Fleshlight Turbo Core to the next level. It's an automated male masturbator that will stroke your penis until you cum, without any interruptions (unless you forget to charge it, of course). Even though it comes with a price tag, Fleshlight's Universal Launch is worth every penny.
Fleshwash and Fleshlight Powder are excellent for cleaning and keeping your sex toy in mint condition.
Overall Verdict
Overall, Fleshlight Turbo Core is the most intense blowjob sleeve. It is constructed in a very smart manner, to give you the highest suction effect that I have experienced from a Fleshlight. Also, the sleeve itself is tight and highlights the sensations even more.
So, if you're the type of person who enjoys an intense blowjob experience, with A LOT of suction involved – I'm pretty sure that you will enjoy the Fleshlight Turbo Core experience.
Related Products
Available Add-Ons
Fleshlight Launch Automatic Masturbator
Cell Phone Holder
Comfort Grip
250 strokes / min
Supports Most Fleshlights
TechySex team recommends this addon with Turbo Core Fleshlight
Fleshlight Warmer
Reaches 105°F / 40°C
Automatic Shut-off
Supports Most Fleshlights
Fleshlight Dryer
Quick & Quiet
Supports All Fleshlight Products
USB-Powered
Fleshlight Shower Mount
Suction Cup Mount
Most Flat Surfaces
Hands-Free Experience
Buy Now
We may earn a small commission if you purchase items via some of the links on our website. It comes at no extra cost to you but it supports our initiative.
Thank you for supporting TechySex
. . .
Discover Fleshlight Girls
Scorecard
Interested in this
Fleshlight
?
Buy Now