Flight Commander Fleshlight Review and Prices
Front View
The Orifice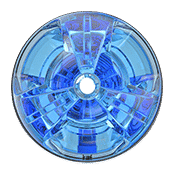 Side View
Sleeve X-Ray

About TechySex Score
TechySex Score is a relative score that is derived from TechySex Team reviews and user feedback.
We also use proprietary algorithms to analyze the shape and texture of the toy, which plays a role in boosting or reducing the final value.
User Rating Details
Quality & Durability
4.3

/5
Rate This Product
Loading...

Set your penis length above and see the expected penetration depth.
Green areas represent lower intensity. Red areas represent higher intensity.
How does the sleeve heatmap work?
TechySex uses custom software to analyze inner sleeve texture, diameter variation and some other parameters to identify hotspots within the sleeve.
This data is represented as a heatmap, highlighting the expected intensity and the level of stimulation.
Areas that are more intense are highlighted in red, and areas that are less intense are mapped in green.
Depending on your personal preference, you may opt for either a light sleeve with smooth textures or a more intense counterpart with high diameter variability and rougher textures.
Specs
Orifice Type
Non-anatomical
Sleeve Material
SuperSkin
Case Type
Fleshlight Flight
Fleshlight Flight Commander
Fleshlight Flight Commander is the newest compact Fleshlight model available online. It was introduced to the public at mid-June 2020 and I finally got the chance to try it out.
If you're familiar with Fleshlight, you probably already know that the Flight series are very popular among frequent travelers who search for compact and discreet male masturbators.
Before the Commander model, the Flight series already had two models: Pilot and Aviator. You can learn more about them here.
And now, let's go back to discussing the Fleshlight Flight Commander.
Fleshlight Flight Commander Benefits
The Fleshlight Flight Commander has changed visually and improved sensation-wise. In my opinion, Fleshlight has seriously stepped up their game. Here's what you will be getting with your Commander:
Lighter, More Compact Case
The new Fleshlight Flight Commander comes in a smaller and lighter case than your regular Fleshlight.
The models from the Flight series are only 8 inches long. The regular size Fleshlights are almost 2 inches bigger. Flight models have an insertable length of 6 inches, while regular-sized Fleshlights can accommodate penises that are up to 8.5 inches.
So, Flight models are more compact and perfect for traveling as they can fit into nearly any suitcase.
Increased Suction
Contrary to previous Flight models, the Flight Commander has two entry points. This means twice the suction effect.

If you're looking for an intense experience with double the strength – Fleshlight Flight Commander should be on top of your list.
Ideal for Traveling
If you have a job that requires frequent traveling and staying away from your partner, Commander is an ideal travel partner.
It's super compact, light, and fits into any suitcase. So, you can take the Commander wherever you like and use it after stressful days at work or those lonely evenings away from home.
Hypoallergenic Materials
Fleshlight uses only the highest quality materials for its products. The SuperSkin material used for the sleeves is completely hypoallergenic.
This means that it won't cause you or your partner any unexpected skin irritations or allergies.
Real Feel
Not only is SuperSkin hypoallergenic, it's also very realistic. When it comes to sex toys, it's as close as it gets to having a real one.
If you want the ultimate experience, make sure to warm up the sleeve before you actually use it.
Discreet Billing + Shipping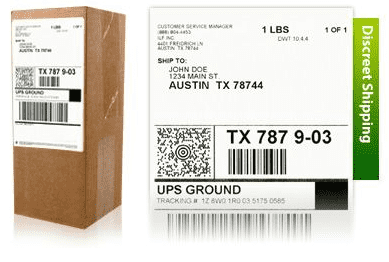 Fleshlight values and respects your privacy. That's why each and every one of your orders will be handled in a discreet manner.
There will be no mention of Fleshlight on your credit card report and on the package itself. The package will look similar to the one in the image.
How Fleshlight Flight Commander Feels?
The new Fleshlight Flight Commander is 8 inches long and has an insertable length of 6 inches. This Fleshlight comes with a clear case and a crystal clear blue sleeve.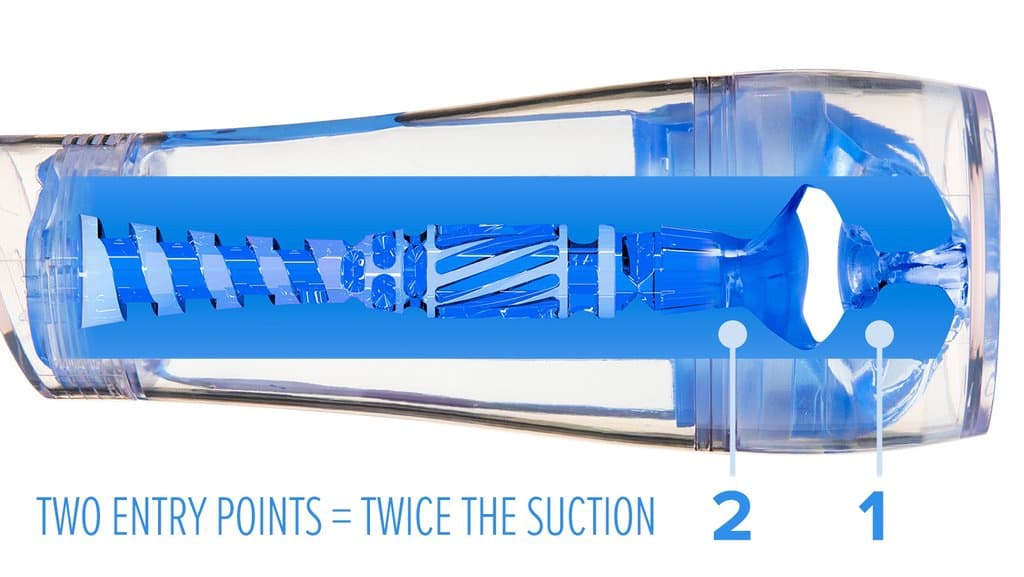 What's new about these Fleshlights, is the two entry points. Naturally, you double the entry points, you double the suction.
It's a very simple, yet very effective upgrade and it is quite a game-changer.
The sleeve itself is unbelievable and feels very similar to getting an intense blowjob. So, compared to other blowjob sleeves, I would have to say that this one is the most intense one.
The textures inside are twisted and narrow. Even though the Fleshlight has an insertable length of 6 inches and could be too small for some, Fleshlight Flight Commander is definitely worth your attention.
In general, I could easily recommend this sleeve for anyone who enjoys an occasional BJ or two. Especially, if you enjoy getting sucked on hard.
Fleshlight Flight Commander Alternatives
Even though Fleshlight Flight Commander is an excellent male masturbator, there is a chance that you're looking for something slightly different.
That's why I came up with several suggestions that could suit your needs better.
Here are your best Fleshlight choices, if:
Fleshlight Care Tips
Fleshlights are very simple sex toys. Taking care of them isn't hard either.
If you want to have a long-lasting sex toy that is good as new, you need to remember two essential things.
First, lube is a must. If you don't use lube, you could accidentally rip the sleeve or even irritate your penis skin. However, that irritation has nothing to do with the material of the Fleshlight itself. The irritation can happen solely from friction that appears when two dry objects are rubbed one against the other. In this case, it's the penis and the Fleshlight Flight Commander.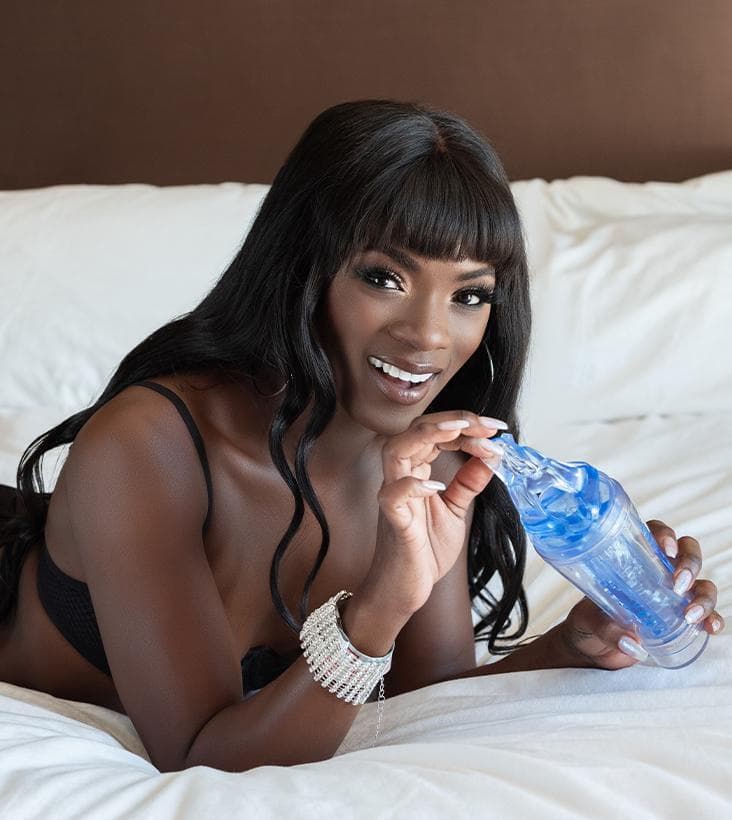 Second, you need to wash the Fleshlight after each use. If you don't clean the sleeve properly, it can become the perfect place for various nasty bacteria to grow. You can even end up having mold in the sleeve. If you want to learn how to properly clean your Fleshlight, check the guide here.
If you're new to Fleshlights and wish to learn more, check out my ultimate Fleshlight guide.
What's In The Package?
Here is a full list of items that you will be getting along with your Fleshlight Flight Commander:
A clean Fleshlight Flight case
Clear Commander sleeve with Turbo Tech (two entry points)
Special mount that makes Commander compatible with Fleshlight's shower mount.
Instructions for use & care
If you order directly from Fleshlight, your order will be handled in a discreet manner. This means that you'll be sure that you're getting a 100% original item that is packed and billed in a discreet manner. You can visit Fleshlight by clicking the button below.
Additional Items
As great as Fleshlights are on their own, there are ways you can make your experience even better. Here are some essentials for proper Fleshlight care, as well as some upgrade items.
Fleshlube – water-based lube that is 100% compatible with SuperSkin material. Use it for a silky smooth experience.
Fleshwash – a special cleaner that won't compromise the sleeve's material and make your sex toy sparkling clean.
Renewal powder – a special powder that helps preserve the sleeve and keep it good as new.
Sleeve warmer – the most convenient way to warm up your Fleshlight sleeve to human body temperature.
Shower mount – the perfect choice for those who enjoy long showers and hands-free orgasms.
Overall Verdict
Overall, the new Fleshlight Flight Commander is an exciting and intense compact pocket pussy.
Having two entry points is a true game-changer and lifts the whole experience to a new level.
Even though it has an insertable length of 6 inches and could be too small for some, I still recommend it to you as a travel companion. The double entry point is a simple upgrade but a VERY big game-changer.
Related Products
Available Add-Ons
Fleshlight Launch Automatic Masturbator
Cell Phone Holder
Comfort Grip
250 strokes / min
Supports Most Fleshlights
TechySex team recommends this addon with Flight Commander Fleshlight
Fleshlight Warmer
Reaches 105°F / 40°C
Automatic Shut-off
Supports Most Fleshlights
Fleshlight Dryer
Quick & Quiet
Supports All Fleshlight Products
USB-Powered
Fleshlight Shower Mount
* Requires An Adapter
Suction Cup Mount
Most Flat Surfaces
Hands-Free Experience
Buy Now
We may earn a small commission if you purchase items via some of the links on our website. It comes at no extra cost to you but it supports our initiative.
Thank you for supporting TechySex
. . .
Discover Fleshlight Girls
Scorecard
Interested in this
Fleshlight
?
Buy Now