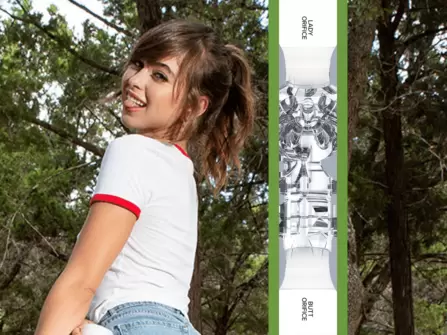 Riley Reid
Overall Rating
4.23 out of 5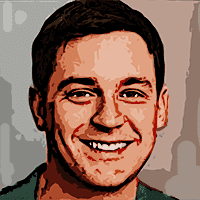 Written by
on , updated on
Riley Reid Quickshot
Great news to all Riley Reid fans – there's a compact version of her pocket pussy. The new Riley Reid Quickshot features a vagina-like orifice from one side and a butt-like orifice from the other. What more could we ask for?
Right from the day, the original Riley Reid Fleshlight saw the daylight – it quickly became a best-seller among the Fleshlight Girls.
Yet, it shouldn't come as a surprise. Riley has hundreds of thousands of fans from all over the world who were more than excited to get her pocket pussy.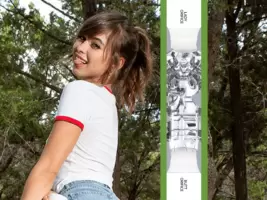 Order Now
Now, there's even more of Riley Reid for you to experience. So, let's see in more detail what the new Riley Reid Quickshot by Fleshlight has to offer.
Riley Reid Quickshot Benefits
Since the original Riley Reid Fleshlight was (and is) such a huge success, naturally, I expect the Quickshot version to be at least equally as good or even better. Here are the benefits of Riley Reid Quickshot:
2 in 1 Deal
While the new Riley Reid Quickshot features a mini version of the Utopia sleeve, it comes with two orifices. One that looks like a vagina and the other one that looks like her butt.
So, with this new Fleshlight, you no longer need to decide whether you want to take her from the back or from the front. Now both your fantasies can become real.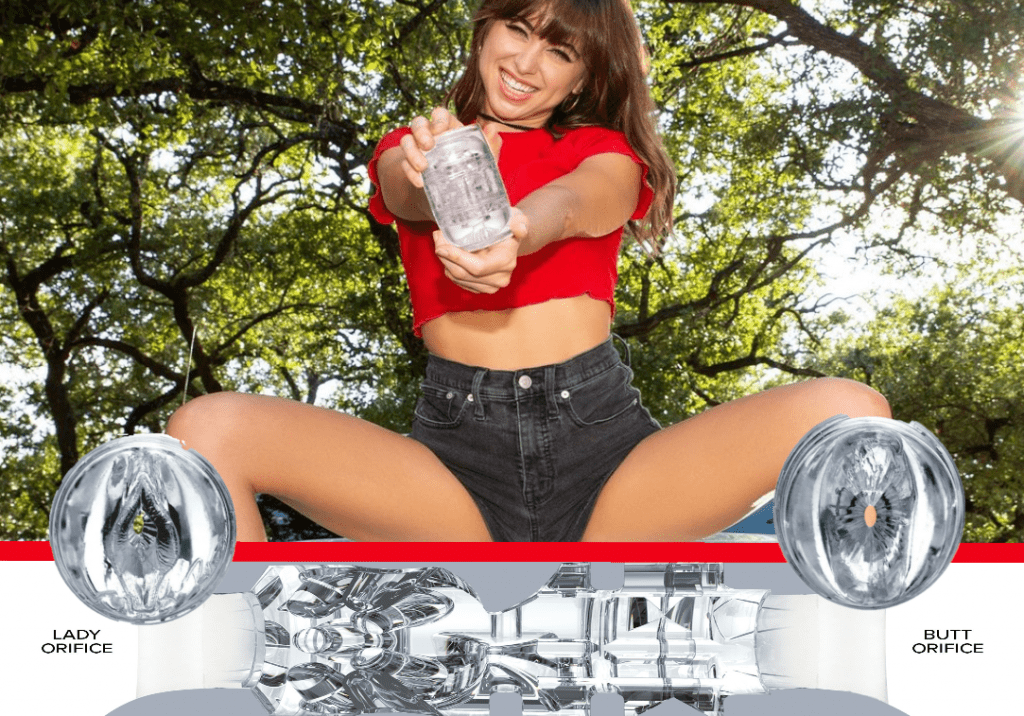 Ideal For Traveling
Packing a regular size pocket pussy takes up quite a lot of space in your suitcase. When you're traveling with a cabin bag only, usually there's no space for Fleshlights in it.
Not anymore. If choose the new Riley Reid Quickshot, you'll be getting a compact version of your favorite porn star's pocket pussy that will fit any suitcase.
Make your business traveling and solo trips more exciting.
Fits Any Penis Size
Since the sleeve is open on both ends – your penis size doesn't matter.
It's not important whether your penis is on the smaller side or on the bigger one – you will still be able to enjoy Riley to her full potential and experience every part of the sleeve's texture.
Intensifies a BJ
The good thing about this compact pocket pussy is that you can use it with your partner.
Especially for blowjobs. Using the Riley Reid Quickshot sleeve will enhance your fellatio experience as well as allow your partner to take breaks when the jaw gets tired.
Intense Sensations
If you're red the previous paragraphs, there's basically not much to add. This Quickshot sleeve is an excellent addition to your solo sex life and when in a couple.
Even though the sleeve is on the smaller side, it's super tight and ill earn a special place in your heart.
However, you have a super long penis – be ready for some work as it will require serious stroking.
Besides that, squeeze it, twist it – enjoy as you like.
Clear SuperSkin Sleeve
Just like any other Fleshlight, Riley Reid Quickshot is made from the SuperSkin material. If you're not familiar with SuperSkin – it's a hypoallergenic material used by Fleshlight for nearly all of their toys.
SuperSkin is well-known for its super-realistic feel that resembles human skin. It simulates the look and the sensation as well.
It is super easy to clean and maintain. Also, it comes with such benefits as heat retention. So, you can warm it up to make Riley Reid feel even more real.
Discreet Billing and Shipping
Fleshlight always gives their customers only the best treatment. So, no matter what you order on their website, all of your selected items will be discreetly packed and shipped in unmarked boxes.
This means that they won't have any Fleshlight branding on them or anything else that could help identify what's in your package.
How Riley Reid Quickshot Works and Feels?
This compact pocket pussy based on Riley Reid is very simple to use. All you will need is a quiet place and some water-based lube.
First things first – hygiene. Before and after each time you use a sex toy – you need to wash it properly. Not washing your sex toys can result in some nasty bacteria on your private parts that can cause infections.
I'm sure that is not something you want.
Besides the hygiene, everything is very simple and straightforward. Simply use a generous amount of water-based lube on the pocket pussy and your penis. Once everything is lubed up, turn on your favorite Riley Reid videos and enjoy. 😉
TIP: water-based lube works perfectly with nearly any sex toy material you can imagine!
How Riley Reid Quickshot Feels?
Since it's a mini Utopia sleeve, part of you already has an idea of what the new Quickshot feels like.
However, since the sleeve is open on both ends – you're in for some new sensations.
The sleeve itself is smaller, yet it does the job. If you asked me to compare it to the original Utopia, I would have to say that the Quickshot version is way better and cheaper as well.
Firstly, you get two entrances, so you get to experience the sleeve from both ends.
Sometimes I actually hope that Fleshlight will start making double-entrance regular-sized pocket pussies.
Overall, it's a fun pocket pussy that enjoy having in my collection. It's intense enough to satisfy me pretty quickly, yet not too tight that I couldn't extend my private sessions.
Using it with my partner was kinda fun for me but not for her. She said it wasn't comfortable and she couldn't get proper access to my penis. So either it's a bit too long for BJs or I need to start using a penis pump ASAP. 😀
What's Included in The Package?
Knowing what comes with your package is useful. This way you can get yourself prepared and buy additional items if they're required.
Once you unbox your newly ordered Riley Reid Quickshot, here's a full list of items that you will find in the box:
Patented clear SuperSkin sleeve that is open on both ends
Compact-size clear case
Riley Reid's mini-size Butt orifice
Riley Reid's mini-size Lady orifice
A compact version of Utopia texture
Sleeve Caps for each end (great for convenient storage)
As you can see from the list above, all you need to do is take care of the lube. Most likely you already have some at home, so just check if you're not running low.
Riley Reid Quickshot Downsides
While there are many great things about Riley Reid's Quickshot, there are a few that are not as great.
Here is a list of the potential downsides of this compact pocket pussy.
Be Careful Where You Cum
Since the Riley Reid Quickshot is open on both ends, you need to think in advance about where you want to cum.
Otherwise, you could end up making a mess of your newly acquired computer keyboard.
Too Small For Super Long Penises
If you have a super long penis and prefer bigger than palm-sized strokes on it – you should consider a regular-sized pocket pussy.
Even though it's intense, the Riley Reid Quickshot is on the smaller side and a super big penis will require super big work.
Riley Reid Quickshot vs Regular Quickshot
If you are not very familiar with Fleshlight, let me tell you that there are a couple more other Quickshot versions available. Unfortunately, they're not made in collaboration with porn stars. You can read more about them here.
Overall, I would choose Riley Reid Quickshot over the regular Quickshot in a heartbeat. It's more intense and more fun. Nothing more to add.
However, if you already have some Quickshots at home, be sure to buy Quick Connect. Using it, you'll be able to connect several Quickshots and have a nearly full-length pocket pussy. Enjoy.
Riley Reid Quickshot Alternatives
Since we're talking about Riley Reid and Quickshot, basically you have four alternatives for this compact pocket pussy. Two that come from the Quickshot series and two regular-sized Riley Reid Fleshlights.
Quickshot Alternatives
There are two models in the Quickshot series for you to choose from. Both of them are super compact and super discreet since they come with neutral orifices.
While I prefer the Riley Reid version, the other two have textures that you will enjoy at least from time to time. If you're more of a butt guy, choose Pulse. If you're more of a vagina guy – go for Vantage. You can read more about the textures here.
Riley Reid Alternatives
As I mentioned before, there are two full-sized pocket pussies made in collaboration with Riley Reid.
If you choose the Utopia one, you're basically getting a bigger version of Riley Reid's Quickshot with only a vagina-like orifice.
If you're choosing the Euphoria sleeve, you will get a butt orifice and in my opinion, a more intense texture than Utopia has.
You can read my review of both Riley Reid pocket pussies here.
Overall Verdict
If you're looking for a compact toy that will enhance your business trips and if Riley Reid occupies a special place in your heart – then Riley Reid Quickshot is exactly what you're looking for.
Since it's open on both ends, it can welcome any penis size inside of it. Made from SuperSkin material, the Riley Reid Quickshot feels super real and nice against the skin.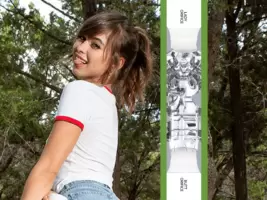 Order Now
So, she's definitely worth your attention.
If you decide that she's the one, be sure to order the new Fleshlight directly from the manufacturer's website. This way you will get your items packed discreetly! You can do that by clicking the link below.