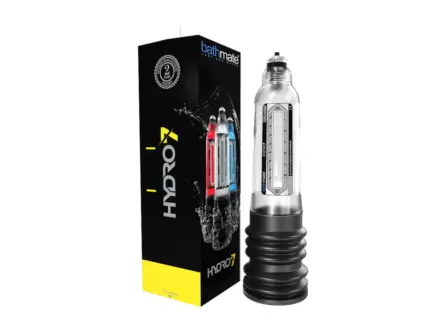 Bathmate Hydro
Overall Rating
4.33 out of 5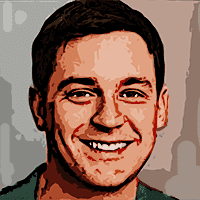 Written by
on , updated on
Bathmate Hydro7 Review
In this Bathmate Hydro7 review I will talk about what's great and what's not so great about this beginner-friendly penis pump. Make better purchasing decisions by finding out whether Bathmate really works and what results you can achieve.
If you don't know much about Bathmate penis pumps, let's start with a short overview. Bathmate specializes in creating quality penis pumps to help men around the world increase their penis sizes, boost stamina and lead a satisfactory sex life. The manufacturer has three main series, designed for users with different experience levels:
HydroXtreme – advanced penis pump for those, who know their way around a penis pump
Bathmate Hydromax – ideal for intermediate users who have some experience
Bathmate Hydro7 – perfect for beginners.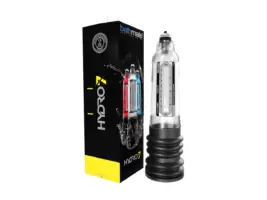 Order Now
Today, I'm going to share my experience with using the Bathmate Hydro7 penis pump. So, if you're about to purchase your first penis pump, pay close attention. Maybe this one is exactly what you're looking for.
Bathmate Hydro7 Benefits
All Bathmate products have multiple benefits. Even though Hydro7 is their simplest device, designed for beginners – it won't disappoint you. Here are some of the main Bathmate Hydro7 benefits that will help you decide whether it's a good fit for you:
Perfect For Beginners
Bathmate Hydro7 is an ideal solution for beginners. Based on its parameters, it provides less intense suction than the other Bathmate series which may seem too intense for a first-time user.
However, I have collected some testimonials from men where they stated that Hydromax, which is designed for intermediate users, worked perfectly for them, even though they were just beginners.
Helps With Erectile Dysfunction
Living with Erectile Dysfunction can be very tough. That's why finding ways to cope with it and improve your situation is essential for getting your confidence and sex life back.
It's not a secret that everything penis-related is one of the most sensitive topics for men. Whether it's size, functionality, or even the trim around it. So, serious health issues that result in not being able to perform in bed can end up causing some serious mental issues.
Devices like penis pumps are designed especially for men who suffer from Erectile Dysfunction. It's one of the fastest ways to get your penis up and give a brilliant performance in bed.
Also, did you know that Erectile Dysfunction can be a result of prolonged stress and other mental issues? It's very important to find the underlying cause. There is a great chance that not getting it up can be a temporary problem. You can learn more about ED and the causes behind it here.
I know that it's not pleasant but talking to a healthcare professional can be very helpful. So, I encourage you to be strong and do the right thing.
Visible Results
Even though the penis pump is designed for beginners, it works better than I expected, to tell you the truth. The first time I used it, it was only 25% less effective than Hydromax. Once I used it after a month, it gave only 20% lower results than Hydromax.
So, I can tell from my personal experience, that even the beginner's pump edition is pretty intense. While each man witnesses different results, from the data I collected, it became clear that nearly 9/10 are satisfied with the Hydro7 pump and found it to be a valuable addition to their sex lives.
Easy to Use
The Bathmate Hydro7 penis pump works in a very simple manner and is easy to use. So, even though you're just a beginner right now, I am sure that you'll face no trouble using it.
However, if you don't believe me, don't worry, you'll get detailed instructions along with your newly acquired penis pump.
Waterproof
Since Hydro7 is designed to be used in water and with water – of course, it is waterproof. So, you can use it in the bathtub or in the shower.
Actually, that's one of my favorite features of Bathmate products. You simply don't need to spend extra time cleaning it, as you can do everything at the same time while showering.
Money-Back Guarantee
Just like all Bathmate products, Hydro7 comes with a 60-day money-back guarantee. No questions, no explanations – if you don't like your newly acquired penis pump or if you're not satisfied with the results you got, you can get all your money back.
Also, Bathmate secures you with a two-year warranty. This means that if during this time your penis pump breaks or malfunctions, you won't face any additional expenses and will receive spare parts or a replacement product.
How Bathmate Hydro7 Works?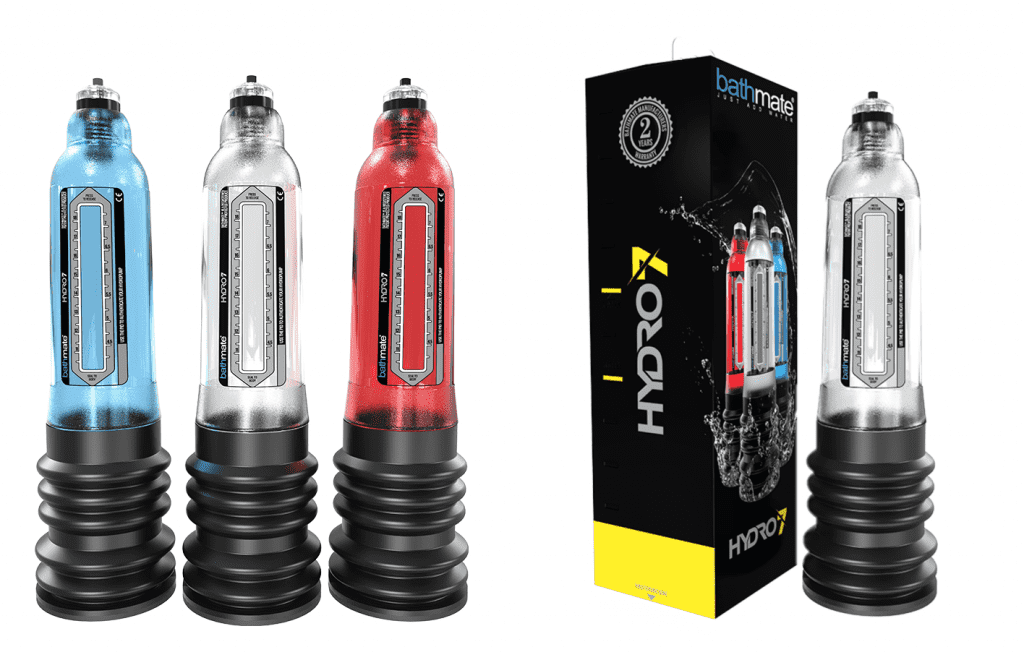 Hydro7 penis pump is based on penis suction principles. Once the penis pump is on your penis, it slowly gets surrounded by a water-like vacuum that increases the blood flow to your penis and creates tension.
Due to the additional blood, your penis becomes visually bigger but only for short periods of time. After a while, once the penis pump effects wear off, the penis returns to its regular size.
However, with frequent and regular usage of Bathmate, some men witnessed some longer-lasting results.
Bathmate possesses complete clinical approval. Currently, it counts over 1 million penis pumps sales worldwide.
Just within a month's use, over 72% of users report gaining measurable growth. According to a study from 2018 in which participated over 100 customers – Bathmate products received an 85% satisfaction rate.
How to Use Bathmate Hydro7?
Step 1. Start by filling the cylinder part of your Hydro7 pump with water. Then insert your non-erect penis into the cylinder. Remember to press the Bathmate against the groin to properly seal it.
Step 2. Now, slowly pump Hydro7. This way the pressure in the penis chamber will increase. Increased pressure in the cylinder will cause additional blood to flow to your penis. More blood in your penis means it becoming bigger in size.
Step 3. Keep pumping until the water stops pouring out of the end of Hydro7. Now you can be calm that the job is done right and maximum pressure is reached. Keep it like this on your penis for 5-6 minutes. Then flick the quick-release valve. Repeat the process up to 3 times.
That's it! It will only take you 15 to 20 minutes per day. I would recommend doing this routine before sex. Since the most visual effects of penis pumps are more likely to be short-term, you will arrive to your partner with a morale boost, better sex drive, and will impress him or her with the size of your penis.
Also, if you're looking for permanent penis enlargement results, consider using a penis extender. They take a longer time to show visible results. Yet the results they give you are semi-permanent to permanent.
TIP: if anyone ever asks me, I always recommend choosing the best out of both worlds. Use both, a penis pump for the short-term and Penis extender for the long term. This way you'll always have a huge dick on demand.
Penis Pump vs Penis Extender
If you're not familiar with penis extenders, let me give you a short introduction. Unlike penis pumps, extenders don't help with ED and are used solely for vanity purposes. So, if you're buying a pump just to appear bigger in size, an extender is something you may consider as well.
Using a penis extender is similar to taking your penis to the gym. However, the device does the exercises for you.
An extender uses penile traction therapy. To put it in other words, the device applies a light constant stretch to the penis for prolonged periods of time. That stretch is completely pain-free and causes micro-tears in the penile tissue. The body then starts healing itself by splitting the cells and filling those micro-tears. It's a completely natural process called mitosis and it constantly happens in your body. When you exercise, that's how your muscle grows as well.
However, just like seeing results from sports takes time, seeing results when using an extender takes time as well. It's a commitment of around 6 months with daily use.
So, if you think that it's something you want to do, check out some penis extenders that actually work, tested, and reviewed.
Bathmate Hydro7 Results
As I mentioned before, I did achieve results with Hydro7. Around an inch per use and the effects wear off within around 15-20 minutes. However, they were less significant than with the more intense version – Hydromax. So, if you want real results I would recommend you to go for the alternative. Here's what other men have to say about it:
I've been using the Bathmate for about 4 or 4 ½ months and have seen and 1 ¼ inch in girth with a gain of an inch in length. I exercise with Bathmate 3 days on and 2 days off and after 30 days I take a break for a week

Before and after results: Increased girth of 1 ¼" and length 1" with the Hydromax
As you can see, for a very similar price, you can get very significant results. So, keep this in mind before you make the decision of which penis pump to buy.
What You Get in The Package?
Unboxing a new penis pump or an extender is always exciting. It doesn't matter how many unmarked boxes I have already opened, I still get the element of surprise once my package is delivered.
This time again I wasn't disappointed. Just like Bathmate promised, Hydro7 arrived in a discreet box, without any info about its contents.
Once I revealed what's in the mystery box, here's what I found:
Bathmate Hydro7 penis pump of selected color
Detachable comfort pad
Detailed instruction manual
Even though the penis pump comes just in one size, you can still choose the color from their standard palette: clear, blue, or red. So, pick your favorite.
From the contents of the box, you can see that you get the essentials that you need to start your penis enlargement. So, don't wait and get a bigger dick now.
Bathmate Hydro7 Cons
Bathmate Hydro7 is a decent penis pump. However, besides the good things I've said about it, there are some not-so-great ones. In this case, in my personal opinion, the downsides win against the good things and I would suggest getting an alternative in a similar price range. Here's what I didn't like about Hydro7:
One Size Only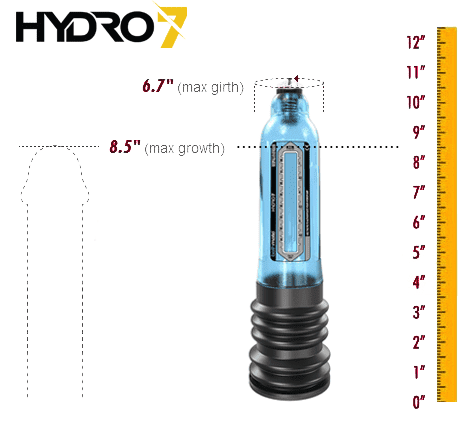 While other Bathmate series have multiple-size versions of the same penis pump, Hydro7 has only one size that should fit all options. However, it doesn't. Hydro7 will work for your penis if it's 5 to 7 inches long when erect and its girth is lower than 6.5 inches.
Even though they used to have more sizes of this pump, most likely Hydromax is pushing Hydro7 out of the spotlight. Since many beginners find Hydromax to suit their needs well, there's no need to have two things for the same purpose.
Price Bites
As I mentioned before, I believe there are better alternatives to Hydro7 that come in a similar price range. That's why based on the selection you have and what you get for over a hundred dollars, I would recommend throwing in an additional 50 and buying a better penis pump.
Bathmate Hydro7 Alternatives
In general, there are some great alternatives to Hydro7. My personal recommendation would be Bathmate Hydromax. Even though its original target audience is intermediate users, it's perfectly suitable for beginners.
Even though Hydromax is slightly more expensive (price varies from 129 to 199 USD, based on size) than Hydro7 (110 USD), it gives you more significant results as well.
Also, Hydromax comes in multiple sizes, so it has options for nearly any penis size, from Hydromax3, designed for penises that are up to 3 inches long to Hydromax9 which suits massive dicks of up to 9 inches.
If you wish to see more alternatives from other providers as well, you can take a look at my best penis pumps suggestions.
The Verdict
Overall, Bathmate Hydro7 is a decent penis pump that can give you visible results. However, there are other alternatives that are beginner-friendly as well, yet can provide you with more significant gains.
Among such, my personal recommendation would be Hydromax – another brilliant product from Bathmate. Originally designed for intermediate users, yet most beginners didn't find any trouble using it.
Not only will Hydromax give you more visible results at the same time, but it also comes in different sizes. So, if you don't match the required 7 to 9 inches for Hydro7, Hydromax could be your perfect choice.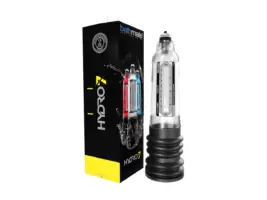 Order Now
If you're curious to learn more about Hydromax, you can read by detailed Bathmate Hydromax review here. If you would like to see my top recommendations for penis pumps, you can see the list here.
Be sure to buy your Bathmate directly from the manufacturer. This way you will know that you're getting the original product along with all of its warranties.