Front View
The Orifice
Side View
Sleeve X-Ray

About TechySex Score
TechySex Score is a relative score that is derived from TechySex Team reviews and user feedback.
We also use proprietary algorithms to analyze the shape and texture of the toy, which plays a role in boosting or reducing the final value.
User Rating Details
Quality & Durability
4.5

/5
Rate This Product
Loading...

Set your penis length above and see the expected penetration depth.
Green areas represent lower intensity. Red areas represent higher intensity.
How does the sleeve heatmap work?
TechySex uses custom software to analyze inner sleeve texture, diameter variation and some other parameters to identify hotspots within the sleeve.
This data is represented as a heatmap, highlighting the expected intensity and the level of stimulation.
Areas that are more intense are highlighted in red, and areas that are less intense are mapped in green.
Depending on your personal preference, you may opt for either a light sleeve with smooth textures or a more intense counterpart with high diameter variability and rougher textures.
Feel Leigh Raven
With holidays right around the corner, I decided to give myself one more gift of pleasure. As you can guess from the title, involves Leigh Raven, or to be more precise – her collaboration with Kiiroo.
Leigh Raven is well-known for her performance on screen. During her career, she already played key roles in various adult movies and tv series. Also, she was a director of one. You can review her career on screen here.
Leigh Raven is one of the latest Kiiroo FeelStars. Their collaboration resulted in a new pocket pussy that comes with a unique texture and an orifice that looks exactly like the opening of Leigh's vagina.
The Benefits of FeelLeigh
Well, if it's your first pocket pussy from Kiiroo, let me tell you that it comes with numerous benefits that you will experience on a physical, as well as mental level. If it's not your first one, feel free to skip this section, since most likely you already know what I'm about to say.
Leigh Raven Herself
When a sex toy is based on someone or something real or fictional that you're sexually attracted to, it stimulates you on a mental level that a regular sex toy couldn't. So, if Leigh Raven is the one that gets you hard, it's time to put those feelings into action with your very own sleeve of her.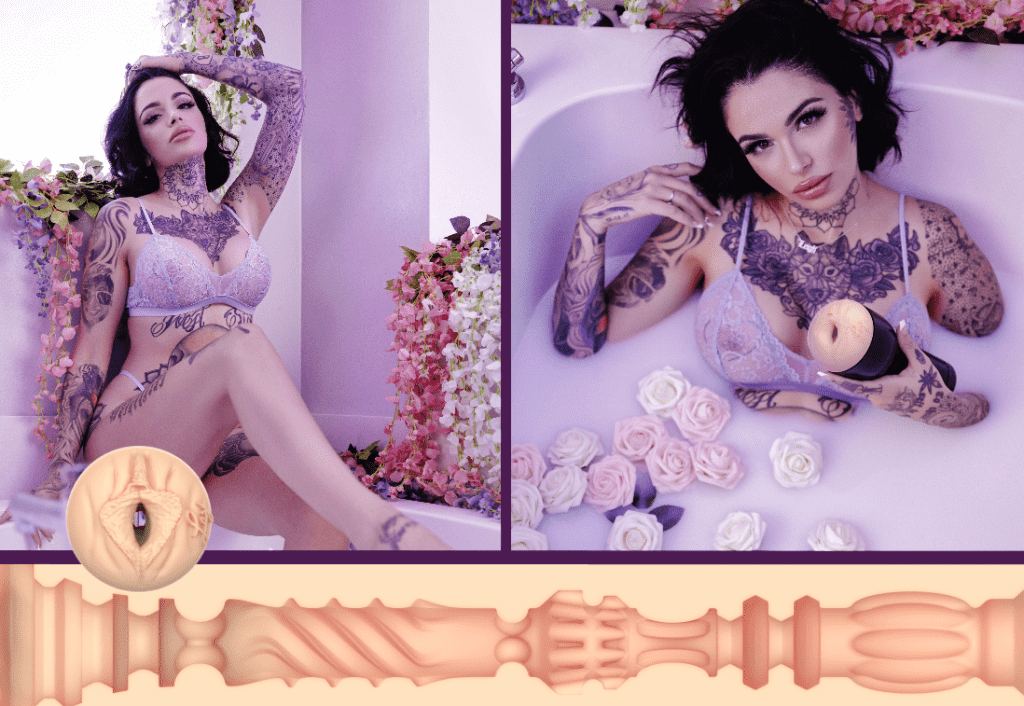 Also, there's the benefit of upgrading the sleeve to the Keon experience and truly bringing your fantasies to life. Well, at least as close as it's currently possible. If you're not familiar with what Keon is – keep on reading because you're in for a treat.

Save 10% On FeelLeigh
Use this link and get 10% off sitewide while the offer lasts. Discount will be automatically applied at checkout.
Use Offer
The Upgrades
By investing additional money, you can upgrade the manual labor required for masturbation to a fully automated experience. Your penis could be stroked over two hundred times per minute without any interruptions. Unless you forget to charge the beast, of course. This automatic machine is called Keon and it works with all FeelStars sleeves.
If the automated fun is still not enough, then you can get yourself a pair of VR goggles and dive into virtual reality masturbation. You can also get access to interactive content that works in sync with the toy and take yourself to what I like to call the masturbation on steroids experience.
Real-Feel
With technologies advancing, big players like Kiiroo managed to create sleeves that are very close to resembling real vaginal tissue. If you warm up the sleeve to human body temperature and add a generous amount of lube, with some sleeves it's pretty hard to tell the differences. However, some of them have such intense textures and ridges that it would be hard to call them very realistic. Don't get me wrong, they do feel similar, yet there's something different.
Durability
High-quality masturbators, such as Leigh Raven's sleeve, are made to last. This means that your sex toy won't break after a couple of uses and will be just as good for many sessions. Even though they're not eternal, they're more durable and long-lasting than I expected them to be.
However, for a masturbation sleeve to remain in its best condition, you need to take care of it. This means that washing it and using lube is a must. Without lube, you will have a lot of friction that could damage the sleeve. Without washing it properly, the sleeve will simply become nasty and unusable. Could also cause various infections that I'm pretty sure you don't want to deal with.
My Experience With Her (Manual)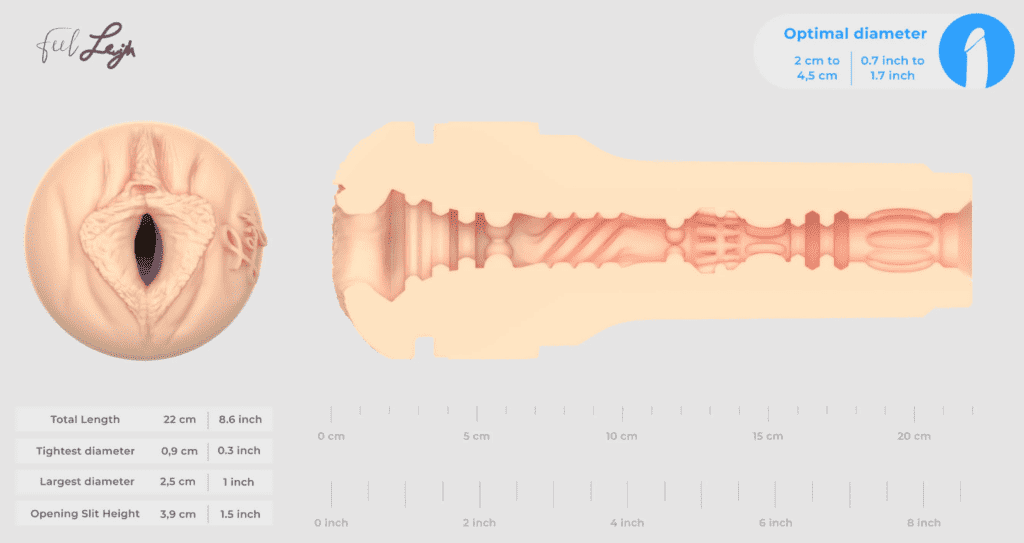 It's not a secret that in many cases, the good or the bad experience with a masturbation sleeve depends on your penis length. Sometimes, the manufacturers decide to 'save the best for last' and end up with masturbation sleeves that half of the men can't enjoy to the maximum because they can't reach the last chambers.
Luckily it's not the case with Leigh Raven. From what I experienced, the best part of her is in the first half of the sleeve. Or, to put it in other words – in the first two chambers. However, let's not get ahead of ourselves, and let's discuss the sleeve from the entrance.
The entrance to when the sleeve is mid-width, so not too tight and guys with wider penises don't end up at high risk of riping it accidentally when going strong with it.
The first chamber is a ribbed corridor that narrows down when getting in deeper. This increases the sensations and makes the whole stimulation more intense. The texture is well pronounced and exciting. Even though it's a regular texture that you can find in many sleeves from various manufacturers, it's very well executed in this sleeve tightness and stiffness wise.
The second chamber has spiral walls that help create a more intense suction effect. So, this chamber should appeal to those, who are all about BJ sleeves. While the texture isn't as pronounced as it is in the first chamber, the suction components that and in the end, you have a well-balanced experience between the two chambers where suction mixes with sensations of touch and grip.
The second part of the sleeve has four small chambers with different textures. The textures are pronounced, however, I felt like the first part o the sleeve made more sense to me. Especially since these chambers don't have a pronounced suction effect that I very much enjoyed in the previous chamber.
So, the brilliance behind this sleeve lies in the first two chambers. That means there's no need to have a super long penis to enjoy Leigh Raven to the maximum.
Paired With Keon
When you pair Leigh Raven with Keon, you will get a completely different experience. Don't get me wrong, the texture remains the same, however, all chambers simply melt into one big pleasure corridor.
What I particularly like about automatic male masturbators is how they completely change the experience you had previously and make your sex toy shine in a completely different light.
FeelLeigh is a very well-executed sleeve, no matter how long your penis is. As I mentioned before, the first two chambers make a great duo that will lift you to new heights of pleasure.
If it was me making the sleeve, I would have simply repeated the first two textures for the remaining part of the sleeve. Yet, the ones that are there are still pretty good.
Other than that, Keon or no Keon, the sleeve is great and I very much enjoyed it.
Overall, it's a great choice for nearly any man, since it's not too little, nor too much. Also, doesn't require a super long penis to be enjoyed fully.
Alternatives to Leigh Raven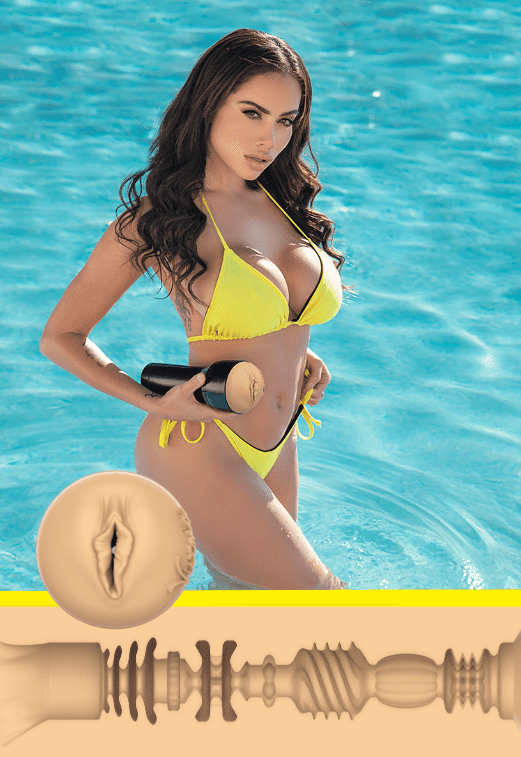 As I mentioned before, Leigh Raves is a brilliant choice for a first sex toy, or if you're not exactly sure what you want but want something balanced and pleasant. However, there's a chance that you that you know what you're looking for. So, here I selected some of my personal favorite FeelStars, among which you may find exactly what you want.
FeelVictoria – currently, it's my favorite sleeve from Kiiroo. The sleeve has numerous chambers full of exciting textures for your penis. Victoria is one of the most intense sleeves from the manufacturer. Just when you feel like you can't handle it anymore, she gives you an even tighter grip.
FeelNicolette – one more brilliant sleeve, designed for those who don't enjoy the high intensity and prefer taking it slow. The Nicolette Shea sleeve is perfect for beginners as well as more experienced users. It's not overwhelming and is nicely balanced.
Maintenance 101
If it's the first masturbation sleeve for you, make sure to read this. In this section, I will point out several important things about using and maintaining your new sex toy. In general, taking care of sex toys is easy, especially those that are not battery operated.
First, you need to remember that hygiene is very important. Especially since the toy has a hole inside where all the action happens. Since drying and cleaning of an inner surface require more attention than the outer one. Especially when it'll be textured and ribbed. So, take those several extra minutes and do a proper cleaning. Before putting the sleeve to its string place, make sure to dry it as well. Various bacteria, dust, and other nasty stuff tend to accumulate in warm, dark, and moist places. Getting that stuff on your penis can cause serious infections that will make you regret not spending those extra minutes on cleaning.
Second, you need to use lube each time you play with Leigh Raven sleeve. This helps reduce friction between your penis and the toy. The friction that occurs between two dry objects rubbing against each other can result in certain damage. In this case, you may accidentally rip the sleeve or you could hurt your private parts. As you know, the skin there is a lot more sensitive than in most body parts. So, you need to be gentle with it.
Other than that, sex toys are all about fun and pleasure – enjoy.
The Verdict on Feel Leigh Raven
Overall, FeelLeigh could be the perfect choice for anyone who is buying their first sleeve. Or someone, who isn't exactly sure about what they want.
The sleeve is mid-intense, well balanced and, as I mentioned before, doesn't require a very long penis to be enjoyed to its fullest.
The best part of this sleeve is the first half. It incorporates the best of both worlds: suction and texture. So, if you want something fun but not sure exactly what – Leigh Raven is your girl.
Available Add-Ons
Kiiroo Keon Automatic Masturbator
Speed & Stroke Control
Remote Control
VR Support
Video Sync
Save up to 20% by buying a combo deal: FeelLeigh Sleeve + Kiiroo KEON.
Note: full discount will be applied on checkout page, when buying through links on this page.
Buy Now
Use this link to get 10% off your order. Automatically applied at checkout.
Thank you for supporting TechySex
. . .
Discover More Kiiroo Feelstars
Leigh Raven
November 11, 1991 (31 y.o.)
Interested in this
FeelStar
?
Buy Now
Note: Use our links to get 10% off your order. Discount will be automatically applied at checkout.
Thank you for supporting TechySex