Front View
The Orifice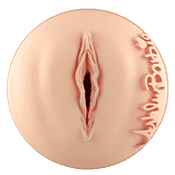 Side View
Sleeve X-Ray

About TechySex Score
TechySex Score is a relative score that is derived from TechySex Team reviews and user feedback.
We also use proprietary algorithms to analyze the shape and texture of the toy, which plays a role in boosting or reducing the final value.
User Rating Details
Quality & Durability
4.6

/5
Rate This Product
Loading...

Set your penis length above and see the expected penetration depth.
Green areas represent lower intensity. Red areas represent higher intensity.
How does the sleeve heatmap work?
TechySex uses custom software to analyze inner sleeve texture, diameter variation and some other parameters to identify hotspots within the sleeve.
This data is represented as a heatmap, highlighting the expected intensity and the level of stimulation.
Areas that are more intense are highlighted in red, and areas that are less intense are mapped in green.
Depending on your personal preference, you may opt for either a light sleeve with smooth textures or a more intense counterpart with high diameter variability and rougher textures.
Ashley Barbie x Kiiroo: FeelAshley
This curvy beauty who you know as Ashley Barbie is yet another brilliant actress to join the Kiiroo FeelStars team. The collaboration between Kiiroo and Ashley Barbie resulted in a unique masturbation sleeve that comes with an orifice that looks exactly like Ashley's vagina. The sleeve is called FeelAshley. This allows your fantasies to come closer to reality.
Kiiroo is known for its advanced and exciting sex toys, so let's see what this collaboration will bring to us and our penises, of course.

EARLY BLACK FRIDAY DEAL
FeelStars up to 56% off. Buy Kiiroo KEON get a stroker for free!
Use Offer
FeelAshley Benefits
Kiiroo sets high standards for themselves, which means you can always expect the best from them. Some of the main benefits of choosing Kiiroo FeelStars and Ashley Barbie include high quality, durability and:
Unique Sensations From Unique Textures
Every FeelStars sleeve is unique and special, with its own texture that provides unique sensations – some with more suction, some with more pressure and tingling sensations.
Just from looking at it, I knew that this toy has a sleeve texture that is unlike anything I have experienced before. I was really looking forward to trying it out.
Each FeelStars sleeve comes with an orifice that looks exactly like the featured star's private parts. Plus, when you combine it with Kiiroo's brilliant new-age technologies, you can get an automatic masturbation session with VR goggles. But more about that later.
Fantasy Element
Well, if you've ever fantasized about sex with your admired porn stars – toys like FeelStars can get you one big step closer.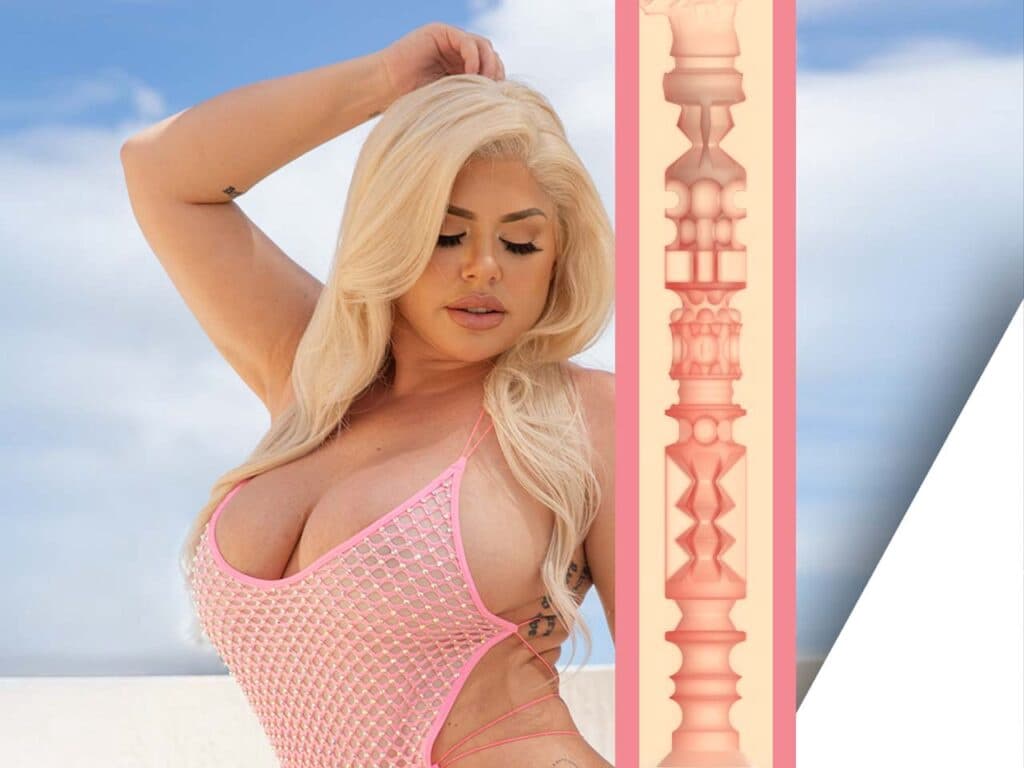 Every masturbation sleeve comes with a unique orifice that looks exactly like the vaginal lips of the featured actress. So, such a sleeve will surely trigger your fantasy even more.
Quality Materials
Kiiroo makes top-quality products, without a doubt. They only use high-quality durable materials to ensure the longevity of your toy. Not only that, those materials are hypoallergenic.
This means that you won't experience any unexpected skin rashes or allergies. Your private parts will be in good hands. Even though the world advances each day, the sex toy market is still unregulated. So be mindful about your purchases and always read the labels before you buy anything.
Real Feel
Not only are the sleeves made from high-quality materials, but they're also super realistic and feel similar to real human flesh when touched. However, if you want the royal treatment and experience the most realistic sensations – warming up the sleeve to human body temperature would be the way to go.
Discreet Shipping
Kiiroo values your privacy. That's why each and every order you make on their website will be handled in a discreet manner. Your items will be shipped in discreet simple carton boxes. So, no one will be able to tell what's inside just by looking at the box. Your intimate life is private with Kiiroo.
How Ashley Barbie Feels?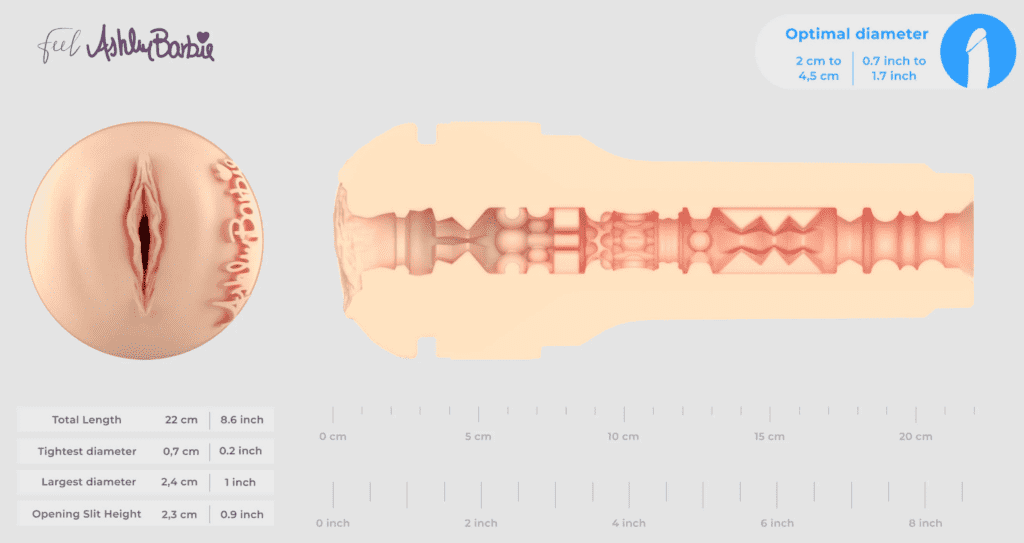 The Ashley Barbie sleeve is one of the most intense ones that Kiiroo has produced so far. I could say that in some sense it's a little too intense.
FeelAshely is tight and comes with an intense suction sensation. Not only that, all chambers are very textured, so there are no breaks with her. It's actually a great way to test your stamina.
Spoiler alert: after going through so many masturbation sleeves, this one still managed to surprise my penis. Don't know if I was having a sensitive day or if the sleeve is actually that intense – but it's not to be joked with.
I was actually a little intimidated to pair it with Keon, however, I did that a few days later.

Save 10% on FeelAshley
Use this link and get 10% off sitewide while the offer lasts. Discount will be automatically applied at checkout.
Use Offer
FeelAshley + Keon
My second try with Ashley was a little better. Maybe because I knew what to expect, or maybe because before I was actually having a sensitive day down there.
Just like with any other masturbation sleeve, trying it with an automatic masturbator makes the sleeve shine in a completely different light.
Don't get me wrong, this sleeve is still super intense and very tight, so if you have a wide penis and/or have never tried a toy like this, she may be too much.
So, I would recommend starting with a lighter alternative. However, if you feel like no grinding is too much for your penis – FeelAshley is the lady for you.
Ashley Barbie Alternatives
While Ashley Barbie is an excellent sleeve to play with, there is a chance that you are looking for something slightly different. Most likely something less intense. Here I selected for you some of my favorite FeelStars. I've selected them based on how well the sleeves are balanced.
FeelVictoria – so far, it's still my favorite sleeve that comes from Kiiroo. She is intense and has many different textures for your penis to experience. When you feel like you've had enough and can't handle it anymore – she rubs you just a little bit tighter. However, not as tightly as Ashley does. So, in my opinion, FeelVictoria has a better balance sensation-wise.
FeelNicolette – one more brilliantly executed sleeve. It is a great choice for those who prefer lower intensities and taking their time to orgasm The sleeve will not overwhelm you with sensations, nor will it feel boring. The Nicolette Shea sleeve is friendly for beginners as well as more experienced users.
Masturbation Sleve Care Tips
Taking care of a masturbation sleeve is actually very simple and doesn't require a lot of effort. In general, there are two essential rules I always recommend following. I do so as well.
The first is related to hygiene. Keeping your sleeve is crucial to the longevity of the sleeve and your health as well. If you don't wash your sleeve after each use, it will start accumulating dust, dirt, bacteria, and other nasty stuff. Next time you use the sleeve all of that nasty stuff will get transferred on your penis. Doesn't sound like anything you would like, right? Also, an infection of the penis can be very painful and may take weeks to heal. So, better wash the toy.
The second important rule is using lube. Lube is used to reduce friction that can occur when two dry objects rub against each other. If the friction is not reduced to a minimum, the sleeve could break and your penis could get hurt. Private parts are very sensitive and need to be treated delicately. So, do yourself a favor and be generous with lube.
What's In The Package?
In general, you can buy the sleeve alone or in a combo deal. Kiiroo has some great offers however, your choice depends on what you need.
If you wish for the automatic experience, consider buying an Ashley Barbie sleeve bundle, together with Keon. This way, you will pay less than buying the toys separately.
Another thing to keep in mind is lube. If you don't have any at home, make sure to order some together with the toy or buy it before the toy arrives. After all, if you don't get the lube in advance, your private time with Ashley is going to get delayed.
Additional Items
As you probably already know, there are some additional items that you can get for your newly acquired FeelAshley sleeve. Some of those items will help you increase pleasure while others are perfect for keeping the toy clean.
The upgrades for masturbation:
Kiiroo Lube – there are three options to choose from regular, heating, or cooling – so pick your favorite and enjoy. The brand has some of the most amazing water-based lubricants for intense experiences. Also, you can get a bundle of lubes and try them all.
Kiiroo KEON (and maybe some VR goggles) – that's the ultimate upgrade for your penis sleeve. It's the most advanced sex toy for the penis that exists in the market. KEON is VR-compatible and video-responsive. Today gets you as close to doing it with Ashley Barbie as most guys (including me) will ever get to. So, use it to your advantage.
The cleaning supplies:
The combination of these two is an excellent way to ensure proper cleaning of FeelAshley and keep her in mint fresh condition as long as possible.
Overall Verdict
Overall, FeelAshley is an intense and exciting sleeve that can actually be too intense. It was for me, at first at least. The Ashley Barbie masturbation sleeve is perfect for men who don't have sensitive penises and take a lot of time to orgasm.
However, if you're a beginner and never experienced a toy like this, the FeelAshley sleeve could be too intense. Getting a too intense sleeve as your first toy may ruin the whole experience and cause bad memories, so I would suggest trying something lighter and building up the intensity gradually.
Available Add-Ons
Kiiroo Keon Automatic Masturbator
Speed & Stroke Control
Remote Control
VR Support
Video Sync
Save up to 20% by buying a combo deal: FeelAshley Sleeve + Kiiroo KEON.
Note: full discount will be applied on checkout page, when buying through links on this page.
Buy Now
Use this link to get 10% off your order. Automatically applied at checkout.
Thank you for supporting TechySex
. . .
Discover More Kiiroo Feelstars

Interested in this
FeelStar
?
Buy Now
Note: Use our links to get 10% off your order. Discount will be automatically applied at checkout.
Thank you for supporting TechySex