Front View
The Orifice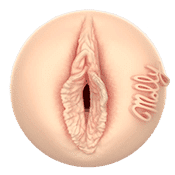 Side View
Sleeve X-Ray

About TechySex Score
TechySex Score is a relative score that is derived from TechySex Team reviews and user feedback.
We also use proprietary algorithms to analyze the shape and texture of the toy, which plays a role in boosting or reducing the final value.
User Rating Details
Quality & Durability
4.4

/5
Rate This Product
Loading...

Set your penis length above and see the expected penetration depth.
Green areas represent lower intensity. Red areas represent higher intensity.
How does the sleeve heatmap work?
TechySex uses custom software to analyze inner sleeve texture, diameter variation and some other parameters to identify hotspots within the sleeve.
This data is represented as a heatmap, highlighting the expected intensity and the level of stimulation.
Areas that are more intense are highlighted in red, and areas that are less intense are mapped in green.
Depending on your personal preference, you may opt for either a light sleeve with smooth textures or a more intense counterpart with high diameter variability and rougher textures.
Molly Stewart FeelMolly
Last week I finally got my hands on the new FeelMolly sleeve. Molly Stewart is known for many things, let's get that right. You may recognize her from Playboy, her podcast, or TikTok videos, or maybe you've subscribed to her OnlyFans?
It doesn't matter where you know her from, this incredibly athletic (I mean wow, have you seen those muscles) and sexy star Molly Stewart is now a FeelMe girl and you can experience her from A LOT closer.
FeelMolly Benefits
Here are the main benefits you will be getting with Molly Stewart's sleeve:
FeelMolly's Unique Texture
Each sleeve from Kiiroo has a unique texture and a unique orifice that is made to look exactly like the featured star's private parts. So, let's be realistic, it's basically as close as most of us will ever get to doing it with Molly – don't miss your chance!
The Fantasy of Molly Stewart
Another amazing thing about masturbation sleeves that are made in collaboration with real people is the enhanced fantasy element.
If you compare a regular sleeve with one that is based on someone real, you can actually put a face to the lips, which in my opinion is amazing and super sexy.

Save 10% On FeelMolly
Use this link and get 10% off sitewide while the offer lasts. Discount will be automatically applied at checkout.
Use Offer
Quality Materials
Each and every masturbation sleeve made by Kiiroo is body-safe and does not contain any toxic ingredients. This means that you won't experience any skin irritation or allergies.
Your private parts are in good hands with Kiiroo products.
Real Feel
The material the masturbation sleeve is made from has a very skin-like feeling to touch. It gets even better when lubed up.
If you want the most realistic experience – warm up the sleeve to human body temperature. You can use a sleeve warmer if you have one, or simply put the sleeve into a plastic bag, seal it tightly, and put it into lukewarm water (similar to human body temperature) for several minutes.
Make sure the water isn't very hot or boiling! You could end up ruining the toy or burning your skin.
Discreet Shipping
Kiiroo is serious about your privacy. Everything you order from them arrives in plain carton boxes that have no brand markings. So, no one will be able to identify where your items came from just by giving the box a quick look.
How Molly Stewart Feels?
The FeelMolly sleeve has a nice and tight opening.
The sleeve itself is slightly wider in the first chambers, where you can feel the bumps rubbing against the penis. However, despite the textures at the beginning, the sleeve is all about the suction.
As you can see from the image below, it has long and narrow chambers which means that the suction effect will be strong. Worry not, since the stroker has a removable lid, you can control the suction by loosening it and reducing/increasing the airflow.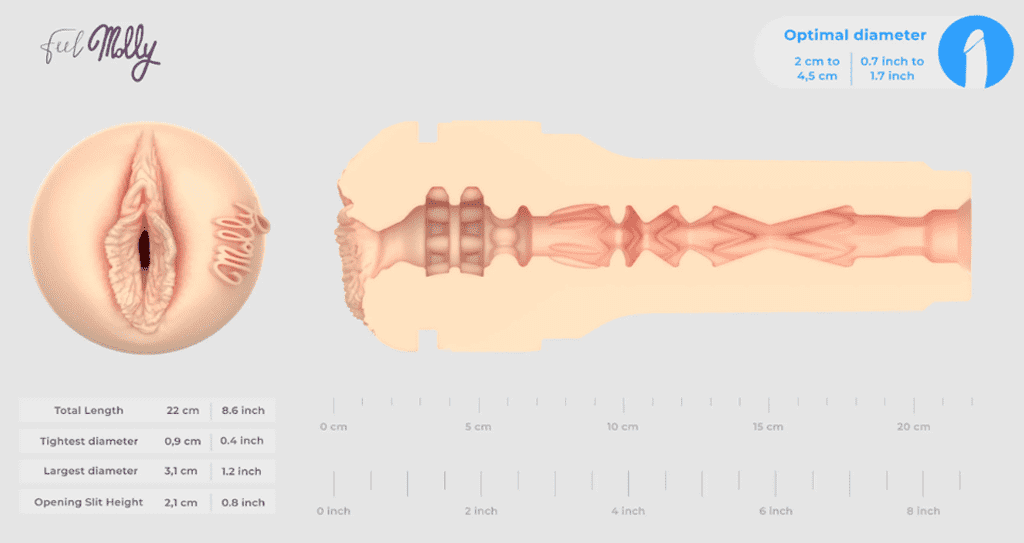 The Molly Stewart sleeve is perfect for those who enjoy blowjob-like experiences that involve a lot of suction. Since the intensity of the suction can be controlled, the sleeve shouldn't be overwhelming even if it is the first one you try.
My tip is, to try using it with the cap loose and increase the suction as you go.
FeelMolly x KEON
As good as some sleeves are on their own, using them with KEON is a whole new universe to explore. For those who are not familiar with KEON – it's an automatic masturbator with interchangeable sleeves. So you can use it with Molly, or with any other compatible sleeve that Kiiroo has produced.
KEON allows you to control the speed and length of the strokes, or go into a video-synchronized experience. Just like with other sleeves, KEON brings out the best of them. Since all the work is done for you, you can relax and enjoy the experience. Somehow, when you don't need to do anything, the texture feels more pronounced and intense.
Molly Stewart Alternatives
Each sleeve from Kiiroo is unique and sometimes works for some penises better than for others. So, if you feel like Molly is not exactly right for you, here are some alternatives for you to consider:
If you want more texture and bumps – Victoria June is the one for you. The sleeve comes with a super intense texture mix that will seriously please you.
If you are looking for something light – Apolonia Lapiedra is a great choice for beginners and those who like to take in nice, light, and slow.
Masturbation Sleeve Care Tips
If you already have a few sleeves and you know how to take care of them, feel free to skip this section. However, if you've never had a toy like this, take a few minutes and read this. It will make your life easier.
In general, there are only a couple of essential rules that I always follow and recommend my readers to do the same.
#1 Hygiene Matters
Keeping your masturbation sleeves is very important. That's why you need to clean and dry them properly after each use. If you don't do so, you will create a perfect environment for various bacteria to grow. Some dudes even manage to reach the level where they find mold growing inside their toy. So, be mindful and take care of your body.
It's normal to feel lazy after an orgasm but take the time and clean the sleeve. If you won't clean it and will end up with an infection or irritation of any kind, there is an inevitable chance that it will take a lot more time to cure it than it would have taken to clean the sleeve in the first place.
#2 Lube is Essential
Each time you use the sleeve, use water-based lubricant with it. Based on the texture, some sleeves may require more frequent re-application than others.
Don't even consider using it dry. This could hurt the skin of your penis and might even damage the sleeve. As you probably remember from physics lessons, two drying objects rubbed against each other cause a lot of friction and that's definitely not the treatment you want for your penis.
What's In The Package?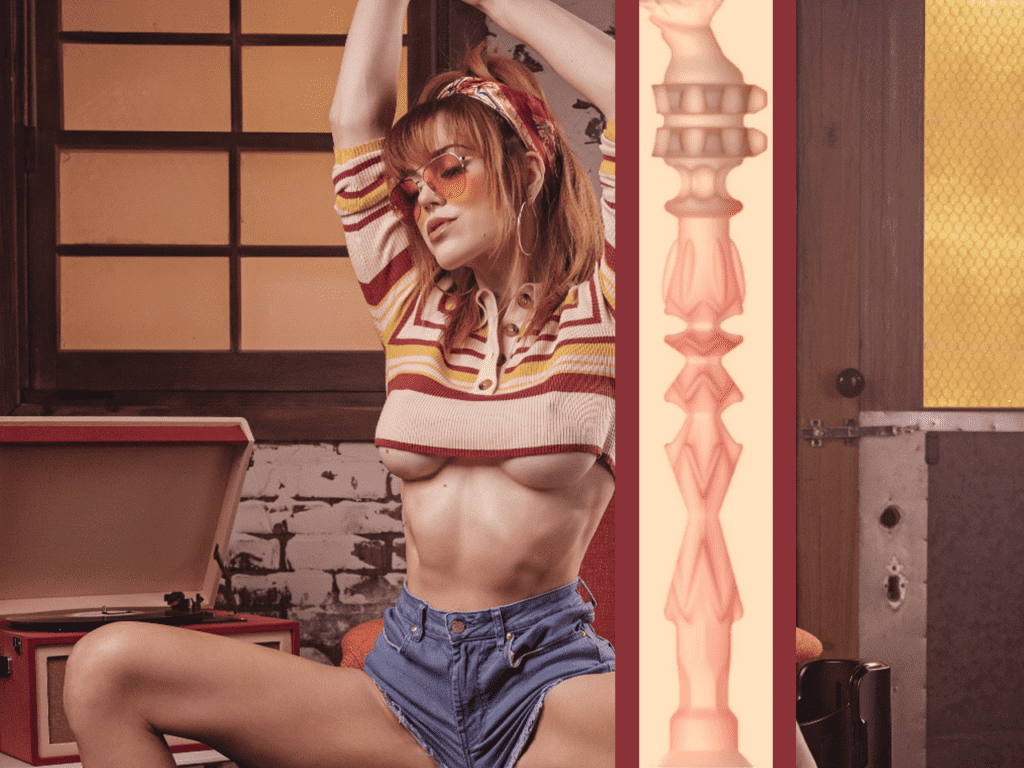 Here is a full list of items that you will be getting when you order the FeelMolly sleeve:
Brand new Molly Stewart FeelMolly sleeve with a unique orifice that looks exactly like her vaginal lips
A FeelStroker wither removable caps that help regulate suction while using and to clean once you're done.
You can also consider buying a bundle that includes some lube or even an automatic stroker. Bundles are usually cheaper than buying included items separately.
If you've never owned any kind of masturbation sleeve, I would like to use the opportunity and highlight that using lube with such toys is a must. Using lube helps reduce friction to an absolute minimum and prevents any damage to the skin of your penis or the sleeve itself. As you probably already know from school, two dry objects rubbing against each other can be quite destructive.
Additional Items
While the only thing you really must get in order to use the sleeve is lube, there are additional items to consider for enhancing your experiences or making maintenance easier.
Here are the available masturbation upgrades:
Kiiroo Lube – choose your favorite water-based lubricant from regular, heating, or cooling options. You can also buy them in bundles and save some money. If you have never tried a heating or cooling lubricant – I recommend doing that at least once. There's a great chance that you might like it. They do actually spice up the experiences and show you a whole new level of pleasure.
Kiiroo KEON – is the best male masturbator that money can buy. You can control the speed and length of the strokes or go completely automatic and synchronize it with the video content of your favorite adult entertainers. Fully VR-compatible and pairable with other Kiiroo toys for long-distance romance, what more could you ask for, right?
What I can say from my personal experience Kiiroo Keon has it all to give the most exciting masturbation experiences possible in the 21st century. They released the device last year, and so far there is no one who could come even close to competing with them.
The maintenance supplies:
These two items are a perfect combo for properly taking care of your newly acquired Molly Stewart sleeve.
Overall Verdict
Overall, FeelMolly by Molly Stewart x Kiiroo is a well-balanced sleeve that can work for beginners as well as more advanced users. The sleeve is all about suction that can be controlled with the removable lid at the back of the stroker.
Just like with any other masturbation sleeve from Kiiroo, if you want to truly experience the best of it, you need to try the hands-free automated sensations with KEON. It's a whole new level of pleasure.
Available Add-Ons
Kiiroo Keon Automatic Masturbator
Speed & Stroke Control
Remote Control
VR Support
Video Sync
Save up to 20% by buying a combo deal: FeelMolly Sleeve + Kiiroo KEON.
Note: full discount will be applied on checkout page, when buying through links on this page.
Buy Now
Use this link to get 10% off your order. Automatically applied at checkout.
Thank you for supporting TechySex
. . .
Discover More Kiiroo Feelstars

Molly Stewart
September 5, 1991 (32 y.o.)
Interested in this
FeelStar
?
Buy Now
Note: Use our links to get 10% off your order. Discount will be automatically applied at checkout.
Thank you for supporting TechySex