Clone a Willy to Bring Fun into Relationship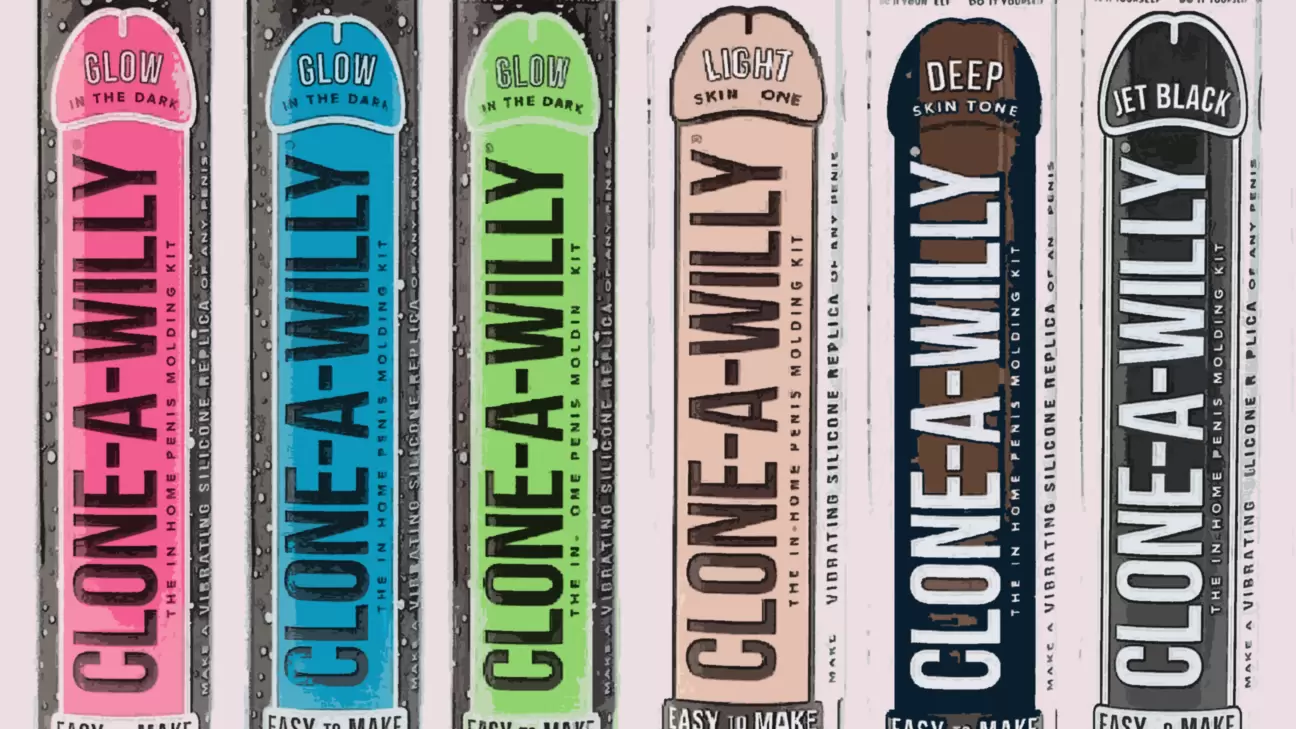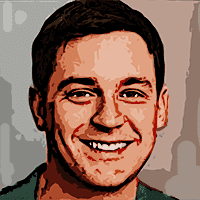 Written by
on , updated on
Well, this won't be your traditional Clone a Willy review. While making your penis mold is fun – it does get pretty challenging and requires focus. Especially when your girlfriend is laughing at the background and you need to keep your original Willy hard.
Getting the Clone a Willy kit was my girlfriend's idea, as she believed that making a glow in the dark penis replica is the best way to spend Saturday's afternoon. Yes, I know, I am a lucky man and she's a keeper.
Before getting into more details in this Clone a Willy review, I can tell you that even though she does't use it (at least that's what she tells me), the Willy kit was totally worth the money and we had a super fun afternoon.
Clone a Willy Kit Pros
Let's start by listing the benefits that you get from purchasing the Clone a Willy kit. Before I got one myself, I didn't realize how many great benefits this kit comes.
Skin Safe Materials
Clone a Willy kit consists of casting mold powder that is made from high-quality materials. The platinum cured silicone used for it is medical-grade, so it's completely safe to the penis model and the person who will be using it afterward.
So, if you want a skin-safe penis mold, Clone a Willy should be on the top of your selection list. Also, it doesn't have latex in it, so if you or your partner are allergic, Willy cloning won't be an issue.
Includes a Bullet Vibrator
If making your own penis replica is not enough for you, worry not. Each Clone a Willy kit comes with a bullet vibrator that you can integrate into your new penis mold.
However, don't expect different vibration levels, the bullet vibrator that comes with the kit is very simple.
Glows in The Dark
Currently there are eight different Clone a Willy colors and sizes for you to choose from. Three of them glow in a dark. So, if you want your penis mold to glow in the dark, you'll have to make a blue one or a pink one, or a purple one, or go for the neon green. My girlfriend chose the neon green.

Fun Couple Day
Well, this benefit is one of my favorite ones. If you and your other half share the same sense of humor, you'll surely have a fun day when you clone a willy.
So, you don't need to take this experience super seriously, you can just have a fun afternoon that will result in having a penis-shaped memory that glows in the dark (or not).
Strengthen Relationship
The relationship is mostly about friendship. Sex is just a great bonus. So, have fun with your significant other and strengthen your relationship by making a dick mold.
Trust me, it will require some teamwork to keep the penis model hard to make the mold perfectly.
Trophy and/or Dildo
Well, once you're done with cloning the willy, you will end up with either a trophy, a dildo, or both. You can literally find out what it would feel like to fuck yourself.
It doesn't matter how you will decide to use it, in the end, if you do all of the steps right, you will have a mold that looks like your favorite penis.
Clone a Willy – Ideal Gift Idea
You can give it to your friend as a joke, you can gift it to your other half. There's no way this gift can go wrong if you give the Clone a Willy kit to the right person.
So, if you know a person who doesn't take himself or herself too seriously, this could be a great gift. Also, if you're in a long-distance relationship, your penis mold or your partner's penis mold could spice up the virtual sex life.
Clone a Willy Downsides
Even though Clone a Willy kit has many benefits, there are some downsides to it. So, if you're serious about making your penis mold and using it as a dildo, you need to know about them.
Requires Erection
To properly make the mold, you will need to keep your erection for at least 90 seconds.
If you're serious about this, it won't be a problem. However, if you're doing it solely for entertainment purposes, it will become a challenge.
It's hard to keep yourself hard when your partner is laughing in the other corner of the room. However, it's manageable.
Could be Too Small
When choosing your Clone a Willy kit, be sure to choose the one that fits your penis size. Numerous men reported that their kit didn't have enough silicone, so they lost an inch of their penis or more.
Not a Luxury Dildo
Well, if you're used to Fleshlight, LELO, Kiiro, and other luxury sex toy brands, Clone a Willy may strike you as a bit of a disappointment.
Remember that it's a DIY kit, so you are not buying an item that has 6 different vibration levels or a luxurious design.
In this case, you're buying supplies to make a glow-in-the-dark (optional) penis mold.
May Not Work Out as Expected
Just like with any other DIY project, you need to keep in mind that getting the supplies not necessarily means success.
So, keep in mind that stuff could go wrong and you might not end up with the perfect penis mold that you intended to make in the first place.
How Willy Cloning Works?
Making your penis mold sounds complicated, however, with Clone a Willy kit it's pretty easy. I will guide you through it. Also, worry not, each kit comes with detailed instructions if something remains unclear.
So here's a step by step guide on how to Clone a Willy:
Mix the molding powder with water
Insert your erect penis and hold it until the mold becomes firm
Remove the mold from your penis
Fill the mold with medical grade silicone
Insert the vibrator into the silicone
Enjoy your brand new penis mold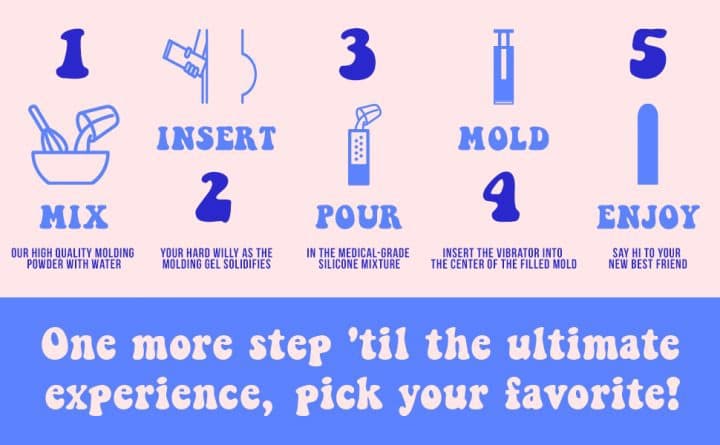 As you can see, cloning your penis is pretty easy. The tough part is keeping the erection and getting the temperatures right. So, be sure to have a food thermometer before you start. Also, the job is quite messy, so be ready for some hand cleaning.
What You Get In The Clone a Willy Kit?
Knowing what you get in your package helps you prepare and get the additional items that could be required.
So, here's a full list of items that you will get with your Clone a Willy kit:
a bag of molding powder
a small thermometer
a wood stick
a bullet vibrator
two jars of silicone gel.
The package contents arrive in a plastic tube which you will use for the molding mixture in which you will dip your erect penis.
Even though it sounds like you have yourself fully equipped, there are several items that you should have prepared at home, as they won't arrive in the Clone a Willy kit:
a measuring cup (to measure molding powder and water)
a mixing bowl (to mix the ingredients)
a timer (to follow your erection)
a pair of scissors (for tube size adjustments)
a disposable container (for silicone mixing)
As you can see, almost all additional items that you will need when you're cloning your willy can be found in nearly any home. So, it shouldn't be a problem even if you don't prep.
Clone a Willy Alternatives
I browsed the internet and found that there is some Clone a Willy kit alternatives. However, none of them are made from medical-grade silicone, so I wouldn't recommend using them.
So, if you want to clone your penis, I recommend staying with Clone a Willy. It doesn't matter whether you're planning to use it or make your penis clone a joke, I strongly advise not to stick your dick in anything that could hurt it. So, if you want a cheaper alternative, you will have to search for it yourself.
Clone a Willy Reviews
Knowing what people say about certain products helps make up your mind and decide whether the item is right for you. You already know my opinion on the item, so let's take a look at other Clone a Willy reviews. All of these reviews were published on Amazon:
Everything is ok, a little messy, but manageable. The biggest problems are, if you have a "bigger member" say 7″ or more there isn't enough silicone mix, so you will lose some length. I'm not super girth, but I'm around 8″ and so I lost an inch or maybe more. Also the tube is too small.

Directions say don't let your Penis touch the sides of the tube, but if you're girth or have a curve in your Penis, forget it. I think the best thing to do if you really want to complete a willy, especially if you're decently endowed, is to find your own material to cast a mold in rather than the tube, something with a bigger circumference and then buy extra mold and and extra silicone so you can make it what you want or should I say need.

Also I recommend running your sink water once you got all set up and getting your temp set and just leave the water running, check temp once more before you apply water to mix. And if you can find away to lay down when putting your member in the mix rather than standing you will Def do way better. Good luck

– John
And here's what a happy lady is saying:
This is so cool! Especially if your one of us lucky gals…… And have one you wanna clone! ?? it was simple. Not at all what I thought it was going to be which was a hassle. I will say…. make sure u have every thing within reach. Including him! Read direction. And i recommend a ring at the base…? yes! A c@@k ring. It was suggested and I'm actually glad I did. NICE!!! Obviously it's not like today's " toys" just a bit hard …. But deff worth putting your trophy up and within reach! This price is actually as cheap as I was able to find. You have option to add vibrates ( comes with kit) or not. I did. That could be why it's a little harder that most.

– JoAnna
Actually, using a cock ring is a great idea in order to keep yourself or your partner hard.
The Verdict
Overall, Clone a Willy kit brought me and my girlfriend an unforgettable day filled with laughter and great emotions.
Making your own penis mold is fun and it can be beneficial if you're in a long-distance relationship or just want to have a fun day with your significant other.
However, you should keep in mind that it's a DIY kit and you are not getting a luxurious vibrator with 6 speeds. Clone a Willy kit is more of a project.
In the end, I would give Clone a Willy a 10/10 evaluation. Solely for the experience and the glow-in-the-dark bright green penis mold that eventually will end up in the trash. However, for now, it proudly stands on a shelf in my bedroom.