Front View
The Orifice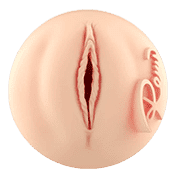 Side View
Sleeve X-Ray

About TechySex Score
TechySex Score is a relative score that is derived from TechySex Team reviews and user feedback.
We also use proprietary algorithms to analyze the shape and texture of the toy, which plays a role in boosting or reducing the final value.
User Rating Details
Quality & Durability
3.8

/5
Rate This Product
Loading...

Set your penis length above and see the expected penetration depth.
Green areas represent lower intensity. Red areas represent higher intensity.
How does the sleeve heatmap work?
TechySex uses custom software to analyze inner sleeve texture, diameter variation and some other parameters to identify hotspots within the sleeve.
This data is represented as a heatmap, highlighting the expected intensity and the level of stimulation.
Areas that are more intense are highlighted in red, and areas that are less intense are mapped in green.
Depending on your personal preference, you may opt for either a light sleeve with smooth textures or a more intense counterpart with high diameter variability and rougher textures.
Romi Chase x Kiiroo: FeelRomi
Enjoy being seduced by Romi Chase? Well, it's about to get even better. Romi Chase is now part of the Kiiroo FeelStars and you can now experience the new FeelRomi sleeve.
Just like any other Kiiroo masturbation sleeve, FeelRomi has a unique texture that you won't experience anywhere else and a unique orifice that looks exactly like the vagina of the featured star. In this case, it's Romi Chase.
FeelRomi Benefits
Kiiroo strives for excellence, so you can always rely on them to provide quality products Some of the main benefits of choosing Kiiroo products include high quality, durability, and pleasure.
Unique Textures
No two sleeves from the FeelStars collection are alike. Each one brings its own unique sensations – some provide more suction, others offer more pressure and tingling sensations.
This toy has a sleeve texture that is unique and new to me. I was really looking forward to trying it out. No matter how many sleeves I try – a new one is a mini celebration to me.
Fantasy Element
So, you've probably fantasized about doing it with your favorite porn star plenty of times. Well, now you can get something that's a little more realistic.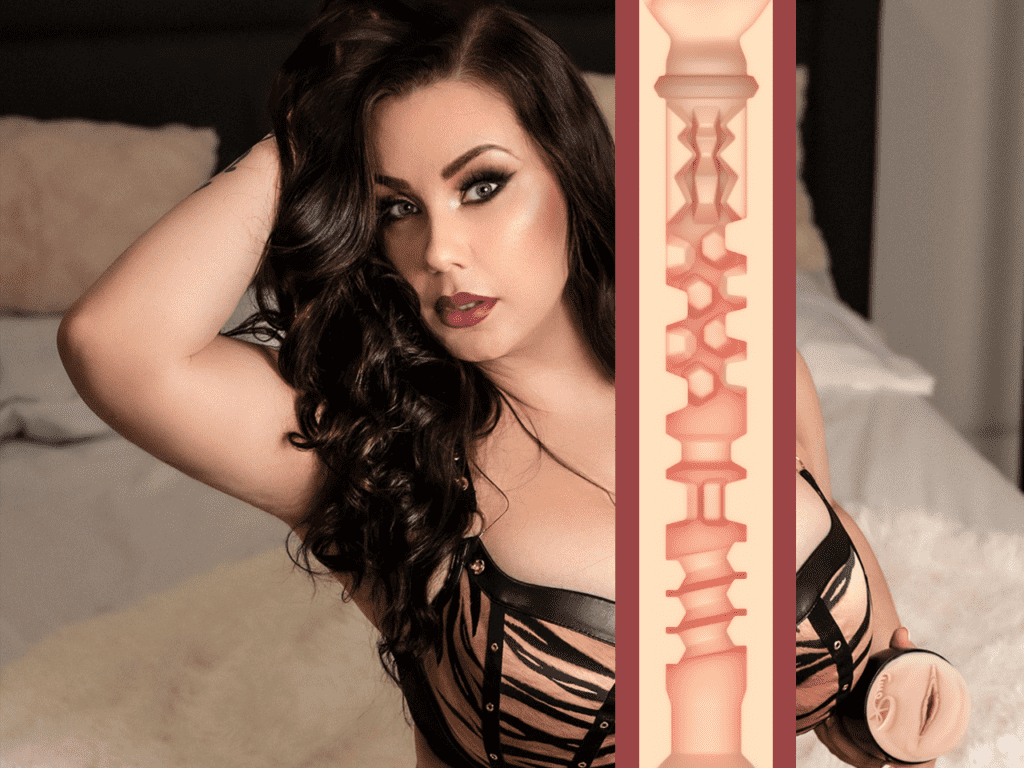 Fantasy is an essential part of masturbation for many people. It can help to create an immersive and stimulating experience. For some, fantasy can involve imagining themselves in certain erotic situations, while others might use fantasy to conjure up specific images or scenes. No matter what someone's fantasy might be, it can help to add an extra layer of excitement and pleasure to masturbation.
So, just imagine that combined with a sleeve of your favorite pron star.

Save 10% On FeelRomi
Use this link and get 10% off sitewide while the offer lasts. Discount will be automatically applied at checkout.
Use Offer
Quality Materials
Each and every masturbation sleeve produced by Kiiroo is made from high-quality materials that are body-safe and won't cause any unexpected skin allergies or irritations. This means that your health is in good hands when you choose Kiiroo.
The sex toys market is still very unregulated, therefore you need to be very careful when you're choosing your providers.
Real Feel
There is no denying that Kiiroo masturbation sleeves feel incredibly realistic. This is thanks to the advanced technology used to create the sleeves, which allows them to replicate the feel of real skin. Whichever sleeve you choose, you will be amazed at how realistic it feels. The sleeves are also designed to be tight, which enhances the feeling of realism even further.
Discreet Shipping
Kiiroo is a company that focuses on the production of interactive sex toys. These sex toys are designed to be discreet and to allow for a more realistic experience. The company also takes care of the discreetness of the packaging. Customers and their privacy is a strong focus of Kiiroo. They send its products discreetly, and it does so in a way that does not draw attention to the package.
How Romi Chase Feels?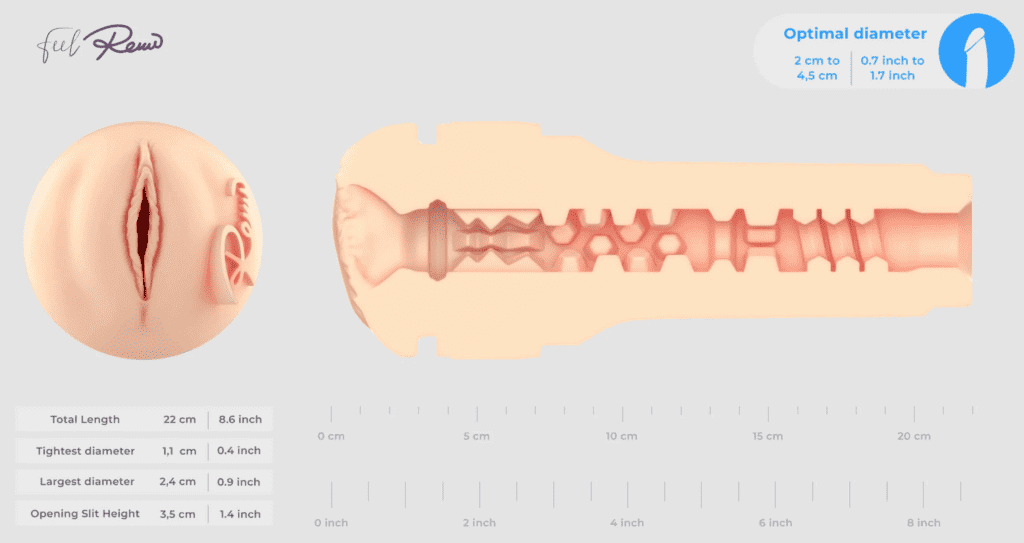 In short, the intense masturbation sleeve of Romi Chase feels amazing! The textures and bumps inside the FeelRomi sleeve feel fantastic as they rub against your penis. The feeling is intense and exhilarating, and it feels amazing to plunge in and out of the sleeve. The sensations are mind-blowing and will leave you feeling incredibly satisfied.
A masturbation sleeve with bumps and edges can contribute to a more intense orgasm. The bumps and edges can stimulate the penis in a way that is different than a smoother pocket pussy. This can lead to a more intense and satisfying orgasm.
Romi Chase FeelRomi + KEON
There is something about the feel of a pocket pussy that just feels better with an automatic masturbator. The combination of the soft, realistic material and the hard, fast thrusts of the machine just feels better than using your hand alone. Not to mention, it is a lot less work! You can just set the machine going and let it do all the work for you, while you relax and enjoy the sensations.
Manual vs Automatic
There are pros and cons to both automatic and manual masturbation. Automatic masturbators are great because they are typically faster and more consistent than manual masturbation. However, they can be more expensive and less personal than manual masturbation. Doing the deed yourself is cheaper and more personal, but it can be more time-consuming and less consistent. Ultimately, it comes down to personal preference.
Romi Chase Alternatives
Even though Romi Chase is a great sleeve, she might not be exactly what you are looking for. The great thing is that I'm here to suggest you some alternatives.
If you are planning to get the KEON for automatic experiences, then get your alternative from FeelStars. So, if you're looking for a very intense and exciting sleeve, full of diverse textures, FeelVictoria by Victoria June could be perfect for you. Another great and a little less intense texture comes with the FeelNicolette sleeve made in collaboration with Nicolette Shea. Yet, if you're looking for the most intense and overwhelming experience – Ashley Barbie is the one.
However, if it's not KEON and VR compatibility you're looking for, Fleshlights are a great alternative as well. They have many regular masturbators and even more made in collaboration with porn stars (around several hundred). Here is a list of 36 great sleeves, categorized according to user types and their needs. You can also upgrade the Fleshlight experience, however, it's a simple stroker, without synced video compatibility.
Masturbation Sleve Care Tips
Adding lube to a masturbation sleeve is important because it helps keep the sleeve wet and makes it feel more like the real thing. Lube can also help prolong the life of the sleeve. Lube is essential when using a masturbation sleeve as it greatly reduces friction. Without lube, the sleeve can feel quite harsh and can cause irritation. Lube also makes the experience more pleasurable as it makes the sleeve more slippery.
A masturbation sleeve is a sex toy that should be regularly washed with proper cleaning supplies to ensure optimal hygiene. By regularly I mean it's a must after each use. Not washing the sleeve can cause bacteria to build up and lead to infection. It's also important to let the sleeve dry completely before storing it away.
If you don't clean your masturbation sleeve, you run the risk of developing bacteria and fungus. This can cause an infection in your genitals and lead to some pretty serious health problems.
What's In The Package?
You can buy the sleeve alone or in a bundle. Buying a combo ideal helps you save money, especially if it contains items that you already considered buying.
In this case, the best advantage you can take is buying the Romi Chase sleeve together with KEON. It will save you a pretty nice amount of money. Unless, of course, you already have the toy or you don't really care about automatic experiences that sync together with content.
However, whether you buy the sleeve alone or in a package deal, you still need to take care of lube. You can order some from Kiiroo or simply get one that you like. Water-based lubes work best with such types of toys.
Additional Items
There are some additional items that you can get for your Romi Chase sleeve. The first type of items are for cleaning and the second type is for increasing pleasure.
The cleaning supplies:
This combo is great for keeping your FeelRomi in mint condition for as long as possible.
The masturbation upgrades:
Kiiroo Lube – pick your favorite from regular, heating, or cooling –and enjoy. The brand has some of the most amazing water-based lubricants. You can buy them in bundles or alone. However, if you've never tried heating or cooling lubricants, I recommend doing so. They actually spice up the experiences.
Kiiroo KEON – is the ultimate upgrade for your Romi Chase masturbation sleeve. VR-compatible and video-responsive, what more could you ask for, right? It's as close to doing it with Romi Chase as most guys (including me) will ever get to.
What I can say from my personal experience and what I've heard from other people – Kiiroo has it all to give the most exciting masturbation experiences possible in the 21st century. If you want innovation and memorable experiences – Kiiroo's KEON is the best choice.
Overall Verdict
Overall Feel Romi is an exciting and intense masturbation sleeve that most guys will enjoy. However, if you're a beginner, she could be a bit too intense and overwhelming. Or, you can consider this experience with her as your stamina training. In such a case, you'll experience intense orgasms while working on lasting longer in bed. How great is that?
Other than that, it's one of the best sleeves that Kiiro has produced so far.
Available Add-Ons
Kiiroo Keon Automatic Masturbator
Speed & Stroke Control
Remote Control
VR Support
Video Sync
Save up to 20% by buying a combo deal: FeelRomi Sleeve + Kiiroo KEON.
Note: full discount will be applied on checkout page, when buying through links on this page.
Buy Now
Use this link to get 10% off your order. Automatically applied at checkout.
Thank you for supporting TechySex
. . .
Discover More Kiiroo Feelstars

Romi Chase
January 27, 1993 (30 y.o.)
Interested in this
FeelStar
?
Buy Now
Note: Use our links to get 10% off your order. Discount will be automatically applied at checkout.
Thank you for supporting TechySex