Front View
The Orifice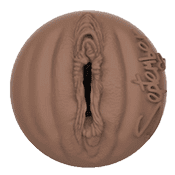 Side View
Sleeve X-Ray

About TechySex Score
TechySex Score is a relative score that is derived from TechySex Team reviews and user feedback.
We also use proprietary algorithms to analyze the shape and texture of the toy, which plays a role in boosting or reducing the final value.
User Rating Details
Quality & Durability
4.5

/5
Rate This Product
Loading...

Set your penis length above and see the expected penetration depth.
Green areas represent lower intensity. Red areas represent higher intensity.
How does the sleeve heatmap work?
TechySex uses custom software to analyze inner sleeve texture, diameter variation and some other parameters to identify hotspots within the sleeve.
This data is represented as a heatmap, highlighting the expected intensity and the level of stimulation.
Areas that are more intense are highlighted in red, and areas that are less intense are mapped in green.
Depending on your personal preference, you may opt for either a light sleeve with smooth textures or a more intense counterpart with high diameter variability and rougher textures.
Feel September Reign
With the year heading towards the end, seems like Kiiroo decided to finish it strong by introducing a couple of new sleeves to get us excited. Well, they succeeded and I simply couldn't resist getting familiar with a couple more new ladies. One of those ladies is September Reign.
Now you can get yourself a FeelSeptember sleeve and let your fantasy go wild with your own September Reign vagina. While at first, I was a little scared that it might not be as brilliant as most of their sleeves, I was pleasantly surprised with how the whole experience turned out.

Save 10% On FeelSeptember
Use this link and get 10% off sitewide while the offer lasts. Discount will be automatically applied at checkout.
Use Offer
Benefits of FeelSeptember Sleeve
Naturally, when you buy something, you expect that thing to give benefits added to your life, right? Buying a sex toy is and should be all about that. After all, they are designed for pleasure. Here are the main benefits that come with owning a September Reign sleeve.
You can Feel September Reign
First and most important, you can feel September Reign. When it comes to sex toys that are made in collaboration with an actual person, the fantasy element plays a key role in the whole experience. Just imagine, for years you have been fantasizing and pleasuring yourself to an image of a certain person, and now you can actually take a big step closer to the whole experience. How great is that?
Brilliant Upgrades
Not only can you fantasize even harder with the September Reign sleeve, but you can also actually get an upgrade that would give you a VR experience with her. Just imagine, her sleeve on your penis, an automated masturbator stroking the penis and you. Oh, and that's not it, the automated device works in sync with a video featuring her riding a penis. Add a pair of VR goggles and you're pretty much doing it with her. So, are you ready for that ride? Then grab Keon together with the sleeve.
High-Quality Manufacturing
Kiiroo is known for its excellence when crafting sex toys. How else would they have built the most advanced automated masturbator? However, that's not our main focus now. When it comes to FeelSeptember, the synthetic material used for the sleeve is very durable and stretches properly to comfortably enrobe your penis. So, unlike cheap sex toys that break after a couple of uses, you'll be able to enjoy September Reign for many orgasms. Just don't forget to use lube!
Unique Texture
There are no two FeelStars that feel the same. So, naturally, you'll be getting a unique experience when using the sleeve. FeelSeptember has a pretty balanced texture with several surprises hidden inside. While it seems that there are so many sleeves produced from numerous sex toys and they can no longer surprise you, using a different pocket pussy is like eating the same dish you like that you make without a recipe – each time it tastes just a little different.
Real-Feel
Having a high-quality pocket pussy means getting one made with quality materials and not just a cheap plastic toy that rips after several uses. It also means that the people who made it took their time and thought about the experience that they will be giving their users. So, you can expect some pretty realistic sensations that mimic penetrative sex.
However, if you want to take one step forward and take the sleeve as close as possible to the realistic experience – warm it up. Such a small thing that takes a few minutes makes a huge difference. However, keep in mind that you don't need to boil it. You need normal human body temperature. However, my favorite temperature is several degrees higher and resembles a fever. If you heat it too much, you could hurt your penis and burn it. Remember, the skin down there is more sensitive than in most of your body parts.
Using The Sleeve and Taking Care of Her
If you want your sleeve to stay around for a long and please you – you will need to take good care of her. The good thing is – FeelSeptember is not needy. All she needs is lube and proper cleaning after each use.
Lube helps reduce friction to a complete minimum during penetrative sex. When you're masturbating with a sleeve, lube serves the same purpose. Unlike a vagina, a sleeve is not self-lubricating and could break from intense stroking. Such potential breaking is unrelated to the quality of the material. Enough friction when two dry objects rub against each other can destroy any sleeve. So, use lube to protect September Reign and your penis from injuries.
The second thing about the sleeve that is essential is hygiene. If you don't wash your sleeve, you'll end up just like this person who got mold inside his Fleshlight. Nasty right? Not only it's disgusting to look at, but it can also cause serious infections to your body. So, simply clean it properly after each use and let the sleeve dry out completely before placing it in storage. If you do so, you will not only prevent potential molding and bacteria growing, you will also ensure the longevity of Feel September Reign or any other toy that's of similar origin.
How FeelSeptember Feels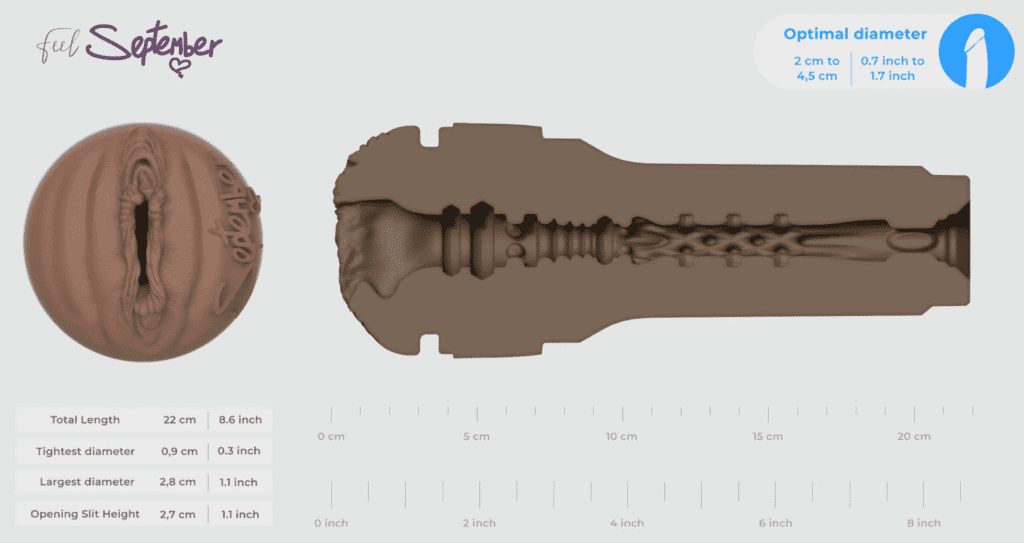 The FeelSeptember sleeve comes with an orifice that looks exactly like September Reign's vaginal lips and a signature on the side. Let's see how using it alone worked out for me, then we'll move on to the Keon experience.
Just by looking at the picture, you can immediately tell that the entrance is on the wider side, so it's perfect for men who are on the wider side.
At first, it got me a little worried due to my experience with Alexis Fawx (FeelAlexis) that also has a wide entrance, and that kinda felt like a stretched-out vagina. However, this is not the case with FeelSeptember.
Even though the entrance is wide, the chambers following it are narrower and textured. Your penis will soon feel the rings and ribs that vary in intensity surrounding it. Suction here is pretty okay, however, you get more of it when you travel deeper into the sleeve.
Once you're done with the ribbed part, you'll start experiencing more suction and fewer textures. However, the experience still remains on the more intense side.
Overall, the construction of this sleeve makes sense and it turned out surprisingly well-balanced. Even the wide entrance point works with it. So, even on its own – it's a good toy. Men who enjoy taking their time will particularly like it. September Reign is not overwhelming and is perfect for those nights when you want comfort and no rush.
How September Reign Feels With Kiiroo Keon
Pairing the sleeve with Keon is always exciting. Why, well mostly because this automatic machine brings the sleeve to life. And that happens not only because of the VR but because of hands-free continuous stroking that doesn't run out of energy. Unless the battery dies, of course.
Keon helps September Reign to shine by deleting the sense of moving your penis from one chamber to the other. Mostly, it unifies the sleeve and turns it into one long and exciting corridor for you to feel and experience.
While the sleeve is great on its own, Keon definitely takes her a step forward and makes the penetration feel more real-life-like.
So, if you're planning to use your sleeve for a long time and also get additional ones, it's definitely worth considering getting a combo.
Alternatives to September Reign
While September Reign is an excellent sleeve to play with, there is a chance that you are looking for something slightly different. Here I selected for you some of my favorite FeelStars, based on how well the sleeves are executed.
FeelVictoria – so far, it's my favorite sleeve from Kiiroo. It's intense and has a large number of textures for your penis to experience. When you feel like you've had enough and can't handle it anymore – she rubs you just a little bit tighter.
FeelNicolette – another brilliantly executed sleeve, perfect for those who prefer lower intensities and taking their time to orgasm. The Nicolette Shea is suitable for beginners as well as advanced users. She won't overwhelm you, nor get you bored.
The Verdict on September Reign Sleeve
Overall, the September Reign x Kiiroo collaboration showed some great results and I'm pretty sure that this sleeve will find many fans.
FeelSeptember is perfectly suited for an average penis, that's neither too wide, nor too narrow. I feel it's important to put an accent on that since she has some pretty narrow spaces as well as some wider chambers. So average would work best, in my opinion.
When it comes to the texture, the sleeve is pretty well balanced and has a decent amount of suction. So, even if you're new to this – you shouldn't get too overwhelmed. When it comes to automatic experiences, Keon makes the sleeve shine and brings pleasure to a whole new level. However, she also is good enough to be enjoyed on their own, without being left feeling disappointed. So, if you feel like she's the one – you got a green light from me.
Available Add-Ons
Kiiroo Keon Automatic Masturbator
Speed & Stroke Control
Remote Control
VR Support
Video Sync
Save up to 20% by buying a combo deal: FeelSeptember Sleeve + Kiiroo KEON.
Note: full discount will be applied on checkout page, when buying through links on this page.
Buy Now
Use this link to get 10% off your order. Automatically applied at checkout.
Thank you for supporting TechySex
. . .
Discover More Kiiroo Feelstars

September Reign
September 15, 1990 (33 y.o.)
Interested in this
FeelStar
?
Buy Now
Note: Use our links to get 10% off your order. Discount will be automatically applied at checkout.
Thank you for supporting TechySex