Front View
The Orifice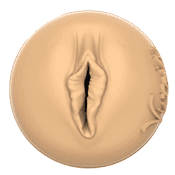 Side View
Sleeve X-Ray

About TechySex Score
TechySex Score is a relative score that is derived from TechySex Team reviews and user feedback.
We also use proprietary algorithms to analyze the shape and texture of the toy, which plays a role in boosting or reducing the final value.
User Rating Details
Quality & Durability
4.2

/5
Rate This Product
Loading...

Set your penis length above and see the expected penetration depth.
Green areas represent lower intensity. Red areas represent higher intensity.
How does the sleeve heatmap work?
TechySex uses custom software to analyze inner sleeve texture, diameter variation and some other parameters to identify hotspots within the sleeve.
This data is represented as a heatmap, highlighting the expected intensity and the level of stimulation.
Areas that are more intense are highlighted in red, and areas that are less intense are mapped in green.
Depending on your personal preference, you may opt for either a light sleeve with smooth textures or a more intense counterpart with high diameter variability and rougher textures.
FeelVictoria – Get to Know Victoria June
Victoria June is now one of Kiiroo FeelStars and a sleeve that comes with an orifice that looks like her pussy lips is available to purchase. According to Kiiroo's official website, FeelVictoria is one of their most intense sleeves. This statement made me super excited since I'm all about the textures. Let's see whether FeelVictoria lived up to the promise.

EARLY BLACK FRIDAY DEAL
FeelStars up to 56% off. Buy Kiiroo KEON get a stroker for free!
Use Offer
Victoria June Sleeve Benefits
Kiiroo is known as one of the few luxury sex toy manufacturers. Their products come with exceptional quality and many benefits for their users:
Fantasy Becomes Real
Let's admit it, all of us have fantasized about having sex with our favorite porn stars. Well, that's what we do when we're watching their work on screens.
Sex toys, such as FeelStars sleeves can make those fantasies a lot more realistic. Now you can have masturbators that come with orifices that look like your favorite porn star's pussy lips.
If that's not enough, upgrade it to automatic experiences with Kiiroo KEON, ad some VR goggles, and discover just how realistic it can get.
Unique Sleeve Textures
Each and every Kiiroo FellStars sleeve has not only a unique orifice but a unique texture as well. You find two sleeves that feel the same.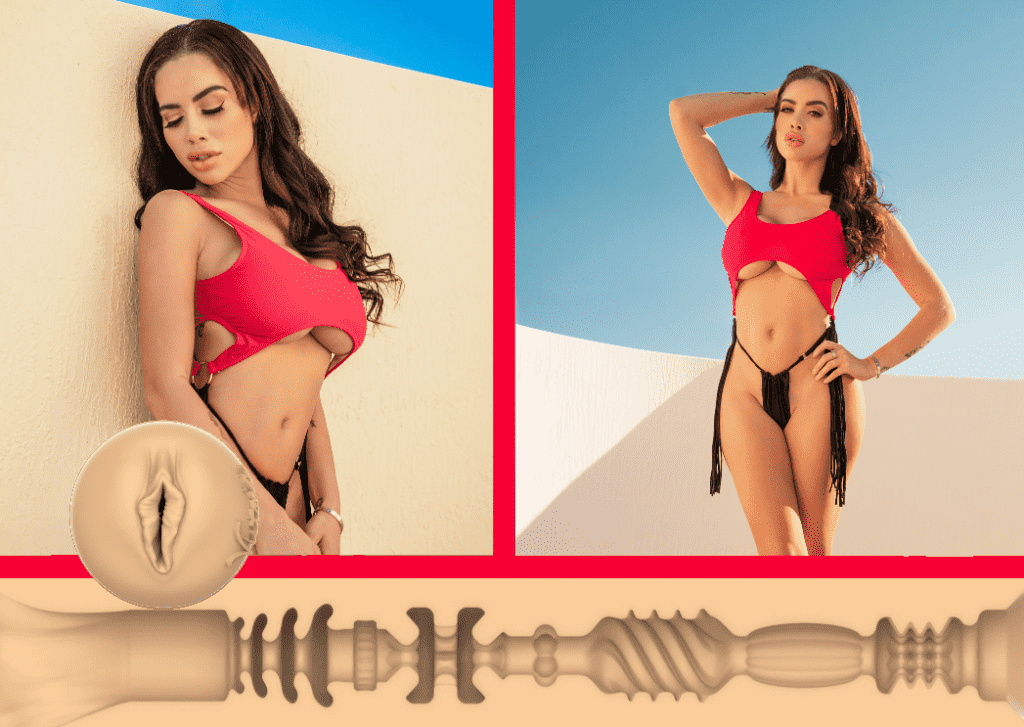 FeelVictoria, made in collaboration with Victoria June is one of the most intense (maybe even the most intense?) sleeves that Kiiroo can offer you. So, if you're ready for some strong sensations – give Victoria June a chance.

Save 10% On FeelVictoria
Use this link and get 10% off sitewide while the offer lasts. Discount will be automatically applied at checkout.
Use Offer
Quality Materials
Getting skin-safe materials from Kiiroo won't surprise anyone, since it's their standard. However, if you've never encountered the brand, let me tell you that they use only the highest quality materials that are completely hypoallergenic.
This means that you and your partner won't experience any unexpected skin rashes and /or allergies. Your private parts will be in good hands with every Kiiroo product.
FeelVictoria Feels Real
Not only is FeelVictoria sleeve made from the highest quality materials, but she also feels very realistic. The trick is warming up the sleeve to human body temperature. You can use the same heater that is designed for Fleshlight sleeves (if you have one), or simply put it in a sealed bag and put that bag in a bowl filled with warm water. Warm is the key word here. Don't put it in boiling water. You may ruin your sleeve accidentally.
Another important thing to make it realistic – using lube. Using lube is a must and not a choice. No lube can result in a lot of friction which can cause your sleeve to rip. Water-based lube is the ideal choice for FeelStars masturbators. You can use the ones that are manufactured by Kiiroo, or you can use whichever one you like, as long as it is water-based. Other types of lube could compromise the materials, be too thick for it and make the cleaning of the sleeve a type of torture.
Discreet Shipping
Just like you would expect, Kiiroo offers discreet shipping and, depending o the value of the order, even free shipping.
Your items will be discreetly packed and no one will be able to tell what's inside without actually opening the box. So, your secrets are safe with Kiiroo.
How Victoria June FeelVictoria Feels?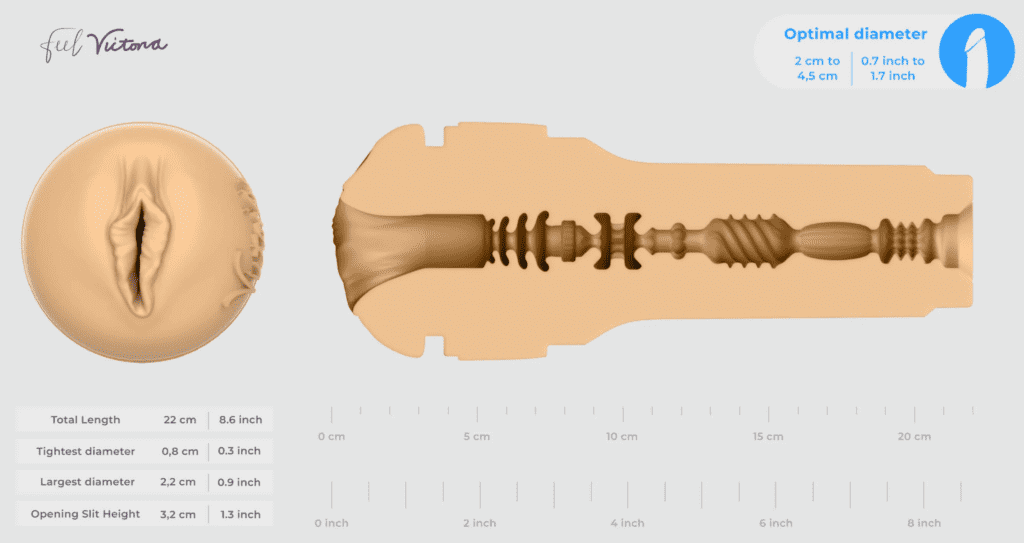 FeelVictoria by Victoria June comes with over 7 textures. That is a large number for a masturbation sleeve. Therefore, there is a lot to experience.
Let's discuss the sleeve from the very beginning – the entrance. Victoria June has a very balanced entrance that is not too tight, yet is tight enough for you to feel some suction on your penis.
However, after that, she will surprise you with a very intense section that requires an extra push to put your penis in. I really liked this part.
The sleeve is followed by a less intense chamber that is surrounded by two narrow corridors that tickle the tip of your penis, especially when you're pulling it out.
Once you pass this maze, your penis will reach a chamber with a twisted texture that is less intense than the previous one. This is pretty smart as it lets your private parts take a break before going back to maximum intensity.
If you can reach even deeper, your penis will arrive in a horizontally ribbed chamber. The chamber is tight, yet doesn't do much texture-wise.
At the very end, you will reach a small ribbed and a slightly spiky room that feels very intense. However, since only the tip of my penis could enjoy it, the sensations were not overwhelming.
Overall, this is one of the best sleeves I experienced from Kiiroo and FeelVictoria is definitely worth the price. I would recommend it to guys who already have some experience with pocket pussies and don't have a penis that is super sensitive to stimulation.
FeelVictoria + KEON
Now that I described and experienced each chamber one by one, time to see what she feels like when you no longer have so much control and KEON is in charge.
Just like with all FeelStars, KEON definitely helps Victoria June's sleeve to shine. I could actually say that she is my new favorite.
KEON helps unify the textures and most time you don't understand which chamber you're feeling but you're definitely feeling good throughout the whole time.
The first time I tried it, I really had to focus to last longer than a few minutes. Somehow, this sleeve worked very well on me. Good job Kiiroo – I wonder what will come next.
Additional Items
As great as miss Victoria June and her FeelVictoria sleeve are, there are ways to upgrade your experience. You can do that by getting an automatic masturbator – KEON. KEON is compatible with all FellStars sleeves and can stroke your penis up to 230 times per minute. Impressive, huh?
If that's not enough, simply get yourself a pair of VR goggles, pair them with KEON, turn on your favorite video of Victoria June and see your fantasies come true. Well, not only but experience them as well. 😉
Other additional items include Kiiroo's Premium Toy Cleaner and Refresh Powder. These two are perfect for cleaning your sleeve and keeping it in mint condition.
What's In The Package?
I always say that it's good to know what comes in the package with your ordered items. This way you will know whether you need any additional items or no.
If you don't buy a bundle, most likely you will be getting only the FeelVictoria sleeve. This means that you need at least some lube and some cleaning supplies.
Other than that, you're good to enjoy your newly acquired sex toy.
Victoria June FeelVicoria Downsides
As exciting as Victoria June is, FeelVictoria sleeve is not for everyone. Here is the biggest downside to this sleeve.
Too Intense For Beginners
As exciting as intense sleeves with pronounced textures are, they can be too overwhelming for beginners. Especially those who never had a similar sex toy and already have a sensitive penis.
Of course, you can start from a toy like that, yet, the experience can be very overwhelming and instead of pleasure bring you pain. So, it is better to level up step-by-step.
There are so many sleeves to choose from, so don't start your journey from expert mode. Consider it a game and level up step-by-step.
FeelStars Care Tips
If you wish to have a long-lasting sex toy, you need to take care of it properly. Luckily, it's pretty simple and doesn't require a lot of your energy and time.
First, you need to use a lot of water-based lube with your FeelVictoria masturbation sleeve. This way you will reduce the friction between the sleeve and your penis to a minimum. That's the best way to prevent accidental rips of the sleeve.
Second – you need to clean your Victoria June sleeve after each use. If you don't, a lot of nasty stuff, such as sweat, dust, and cum will start accumulating inside. Your sleeve will get infected or even get mold. I'm sure you don't want anything like that transferred on your private parts. It could cause some pretty nasty infections. So, do yourself a favor, wash and dry your sleeve properly.
Top cleaning suggestion: Kiiroo Premium Toy Cleaner + FeelNew Refreshing Powder.
Victoria June FeelVictoria Alternatives
FeelVictoria is one of the most intense sleeves from Kiiroo. So, if you are just starting and feel like she could be a little too intense for you, there are some alternatives. If you're planning to get the KEON, you should get a sleeve that comes from the FeelStars collection. If not, you can also consider Fleshlights and the possibility to upgrade your experiences with Universal Fleshlight Launch.
Since there are over a hundred sleeves of Fleshlight, here are my top 36 choices. I know, 36 sounds a lot, however, this list is categorized based on user needs and experience.
If you are looking for an alternative from FeelStars, a lighter version would be FeelNicolette made in collaboration with Nicolette Shea.
If you are just a beginner and are looking for something exciting, yet not overwhelming to start, FeelKenzie by Kenzie Taylor would be a brilliant choice.
Overall Verdict
Texture-wise, I find FeelVictoria by Victoria June to be one of the most successful Kiiroo sleeves. She's intense, exciting, and unpredictable.
This sleeve is perfect for those who already have some experience with pocket pussies and enjoy intense sensations. If you're a guy who is all about pronounced textures – Victoria June is the girl for you.
Pair her with Kiiroo KEON and a mind-blowing experience is basically guaranteed. Oh, also a pair of VR goggles and some of Victoria June finest work is another recipe for an exciting evening after a long day at work.
Related Products
More From Victoria June

FeelVictoria Mouth

Collection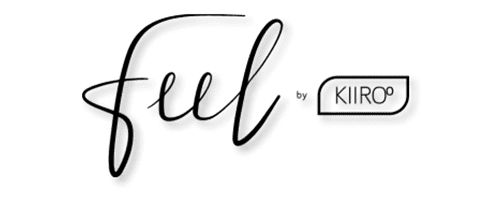 Kiiroo Feelstars masturbators are made together with famous female entertainers of the adult industry.
View products
Available Add-Ons
Kiiroo Keon Automatic Masturbator
Speed & Stroke Control
Remote Control
VR Support
Video Sync
Save up to 20% by buying a combo deal: Victoria June: FeelVictoria Sleeve + Kiiroo KEON.
Note: full discount will be applied on checkout page, when buying through links on this page.
Buy Now
Use this link to get 10% off your order. Automatically applied at checkout.
Thank you for supporting TechySex
. . .
Discover More Kiiroo Feelstars

FeelVictoria
FeelVictoria
Interested in this
FeelStar
?
Buy Now
Note: Use our links to get 10% off your order. Discount will be automatically applied at checkout.
Thank you for supporting TechySex