Double Headed Dildo Might Just Be What You Need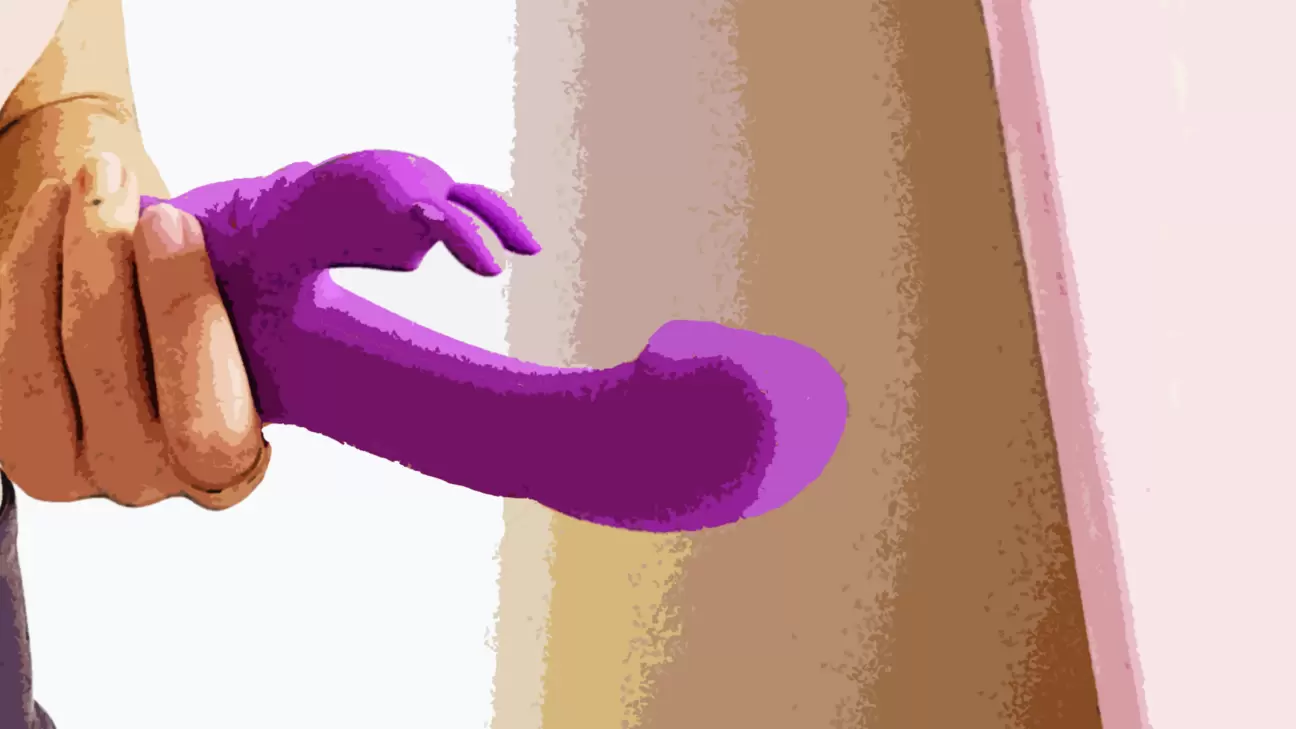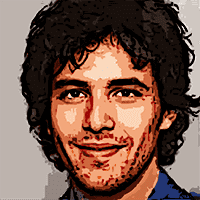 Written by
on , updated on
In one of the previous articles, I wrote about a suction cup dildo. I gave a tip for usage to lesbian couples. You can read up that article on suction cup dildos to know more about it and check out the 5 most top-rated and best suction cup dildos. That tip (attaching two suction cup dildos together and using it as an ultra-long double-headed dildo) led me to think about double-headed dildos. Double dildo, double-ended dildo, double-sided dildo, or double-headed dildo, call it what you may, but as I sat and thought more about it, ideas started coming into my head about how we can make the most of a double-headed dildo.
Double-headed dildos can be used in multiple ways. They have two heads and can be either used by two people, or even solo. We know that the more flexible dildos can be used both in the vaginal and the anal cavity. Other than that, lesbians and gays usually use them between the two partners in either the vaginal or the anal cavity. Heterosexuals can also use it in the anal cavity between two people. These are the basics to know about a double-headed dildo. Yet, there are so many other things one could do with a double-headed dildo. We'll get there, but a little bit later!
Where Did Double Headed Dildos Come From?
Now that we've already covered what a double-headed dildo is and how to use a double dildo in the last section, let's move on to other questions. Like, why would someone want to create a double dildo? Or why should double-headed dildos even exist? You know I keep seeing those comics online where there's this worm talking to its own tail, only the tail also has a head and it talks back. Other times this worm is only talking to its tail pretending the tail is alive when it's not…no, I'm not comparing a double-headed dildo with a worm. I'm merely giving my imagination free reign to wonder why double-headed dildos came into existence.
So I think it's the fact that people believe 'double is better' and that's why double dildos exist. I mean, think about it, what if lesbians didn't have double-headed dildos? They'd never be able to connect, or rub for that matter, with each other the way double-headed dildos make it possible! It's revolutionary! Alright let's just say they maybe would've found a way to connect on other levels using other toys but what about people who want to get penetrated in both the vagina and the ass? They don't need to buy two dildos now! One would be enough. I'm telling you, double-headed dildos are quite revolutionary.
Some Double-Headed Dildo Picks You'll Love
Of course, I just had to compile a list of these oh so amazing double-headed dildos for you. And I've made sure the double-headed dildos in this list are safe to use, top-rated, and easily available with discreet shipping!
Njoy Pure Wand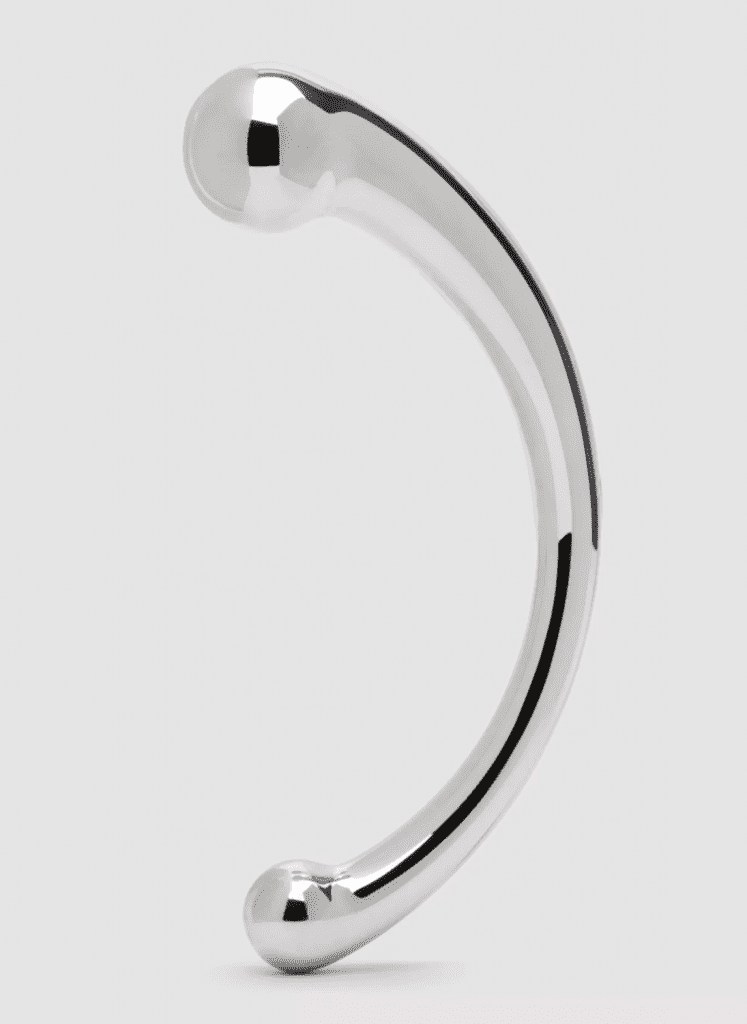 On the top of this list goes this beautiful metal dildo. It is so sleek it glides inside you right away! Completely allergen-free (no latex or phthalate) it is safe to use. It is rigid with 9 inches of length and is recommended for anyone who likes it firm. This double dildo is to be used just like double-headed dildos were meant to be used: inserted into two people at the same time and exerting your muscles to sway your hips and a rhythm that gives both the users extreme pleasure.
It is outstanding for internal G-Spot massage, really, the very best. It is temperature responsive (be careful about making sure this double-headed dildo is not too hot or too cold while you're indulging in some temperature play with it) and the best part of all this is, it's compatible with every kind of lube that there is! So, load up on lube and get going on this pure wand of pleasure!
Jelly Double-Ended Dildo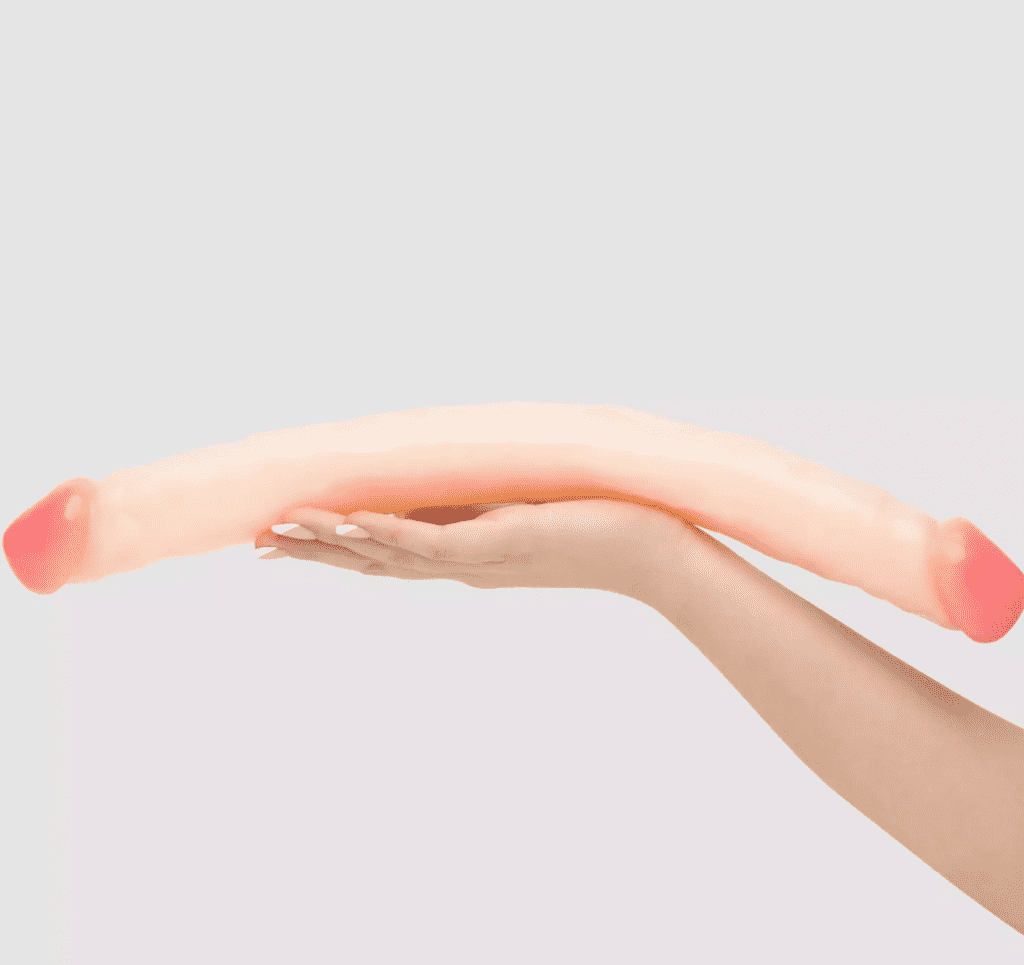 Flexibility is the selling point of any double-headed dildo. And this jelly double dildo makes sure if it's the flexibility you want, it'll be the flexibility that you get. With an insertable length up to 18 inches, this jelly rubber double-headed dildo can go anywhere you want it to go. On top of it, the heads are so realistic it goes hand in hand with the textured shafts to give you optimum pleasure. The only downside would be it has both latex and phthalate. However, this is only bad news for people who are allergic to these materials. It's completely safe for people with no such allergies – but make sure you check about allergies for both yourself and your partner before considering using this double-headed dildo.
Sensual Glass Double Headed Dildo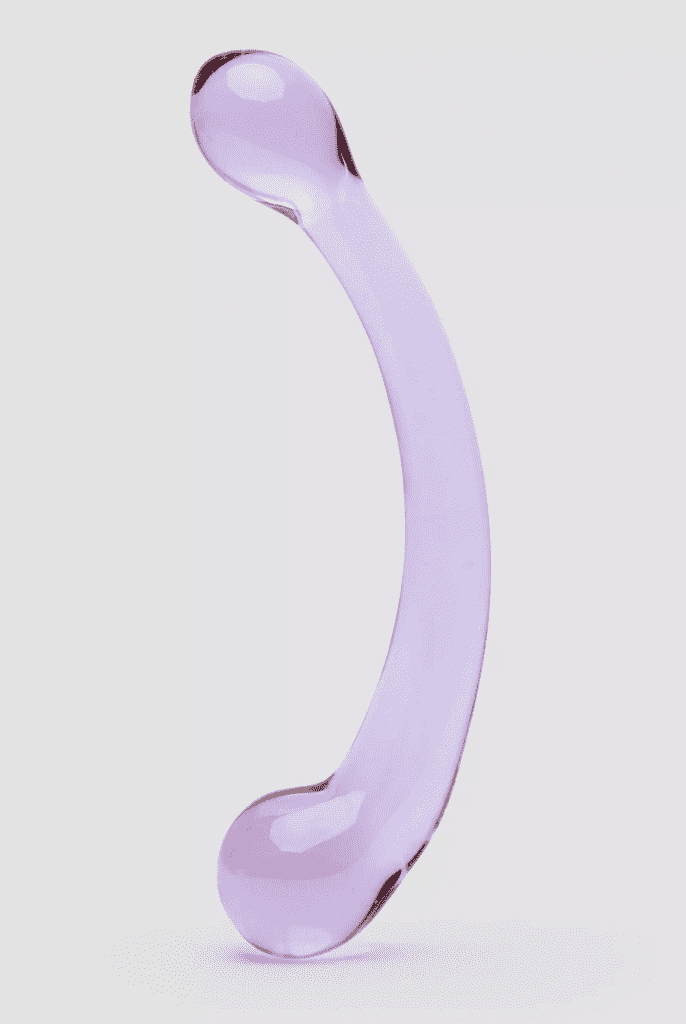 This 8.5 inches double-headed dildo is among my favorites. And that's because I like how it has combined. The firmness of the glass dildo with the curve and ease of a double-headed dildo. This will stimulate both G-Spot along with P-spot and the temperature play that you can engage in with this dildo will make sure pleasure is guaranteed. (Read up my article on glass dildos to know more about being safe while indulging in temperature play with a glass dildo!) Moreover, this glass double-headed dildo is hypoallergenic and safe to use with all kinds of lubes!
I know, I have listed just three double-headed dildos in my list above but that's because you need to choose your double dildo yourself! But the list isn't over yet. You need to understand that a lot of things need to be taken into consideration while choosing a dildo of this kind… That's why not just three, (you didn't really think I was going to give you only three options for choosing a double-headed dildo, now did you?) Here are a bunch of options for you! Happy choosing!
Things You Can Try Doing With A Double Headed Dildo To Make The Most Of It!
I know you all have been waiting for this section. So yes, after some research – which, besides spending hours on the computer to look at double headed dildos and knowing everything I need to know about it, includes both asking my friends what they do and how they use a double-headed dildo and using it myself for quite a few days – here are a few things you can try for yourself!
Try sucking the double dildo while it's inside a vaginal or an anal cavity
When you're going solo with a double-headed dildo, you can just lie flat on your back, relax and penetrate yourself with a double dildo. But when using it with a partner, you can try sucking the other end of the double-headed dildo while the first end is inside the partner. This works sort of psychologically to turn you on. The dildo feels like a part of you, something that is giving you pleasure and something that needs that pleasure returned. And of course, sucking a double-headed dildo is always good blowjob practice.
If necessary, use both hands to use a double-headed dildo
A double-headed dildo might feel a bit wobbly at first, but don't you worry. You'll get used to it and learn to enjoy a double-headed dildo in no time! And don't let that flexible structure stop you from loading up on lube. Apply tons of lube on both sides of the double dildo before using it. Use both hands to gain some support. Decide the speed of your insertions to guide the thrusts of it and have fun!
Kegel exercises are a necessity!
Having strong pelvic floor muscles is a plus point when using a double-headed dildo. Obviously, new and modern ergonomic designs make it easier for the double-headed dildo to stay inside you. However, those Kegel exercises will help you hold it in the position ever firmly.
Frequently Asked Questions:
Here you will find answers to common questions about double-headed dildos that you might have been too shy to ask.
Is a double-headed dildo hard to use?
A double-headed dildo is not at all hard for you. It might need some getting used to because there's no base to hold in a double dildo. And you need to insert the dildo and hold a position that you're both comfortable with before moving your hips or swaying in a rhythm. However, once you get used to it, it's instantly pleasurable!
When using a double dildo solo, it's comparatively easier because you know how much pressure you want to apply and in which – the anal or the vaginal – cavity. You can also go as slow or as fast you want to when using it solo and can use both hands. After getting used to it, anything at all is possible with a double-headed dildo!