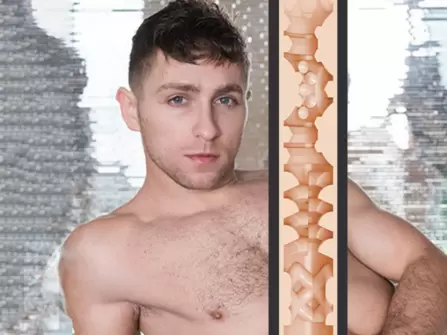 Calvin Banks
Overall Rating
4.73 out of 5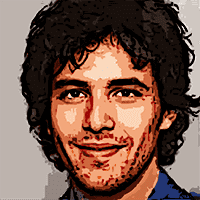 Written by
on , updated on
Calvin Banks Fleshjack
Calvin Banks is well known for his dreamy blue eyes and innocent look. However, if you've seen his work – you know that he's not innocent at all. So, great news to Calvin's fans, now you can feel him instead of just looking. All you need is a Calvin Banks Fleshjack and his dildo.
The Calvin Banks Fleshjack series comes with two exciting new sex toys. The first one is a Fleshjack (often called a gay Fleshlight) with an exciting sleeve called Spank Bank.
The second item in the series is a Dildo that is an exact replica of Calvin's nearly 8 inches long penis.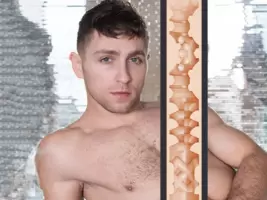 Order Now
Let's see if Calvin Banks Fleshjack and his dick will live up to his performance on stage.
How Calvin Banks Fleshjack Feels?
Today we have two Calvin Banks items for review. So, let's start with the most important part – how each of them feels.
Calvin Banks Spank Bank Fleshjack
As you can say just from looking at the picture, Calvin Banks Fleshjack is intense. The Spank Bank sleeve comes with 3 main textures.
The first texture of the sleeve occupies around 5 inches of the Fleshjack. It's a wavy corridor that is covered with vertical ribs and medium-sized dots.
In general, I could say that this chamber is way more intense than the last one, and if I could, I would switch them in places.
The second chamber is about 2.5 inches long and is the most intense one. Especially when you're pulling out your penis rather than pushing it.
The third and last chamber didn't really make sense to me as it is the least intense one. However, if you can go 9 inches deep and have a penis head that's on the sensitive side – you will enjoy him.
Overall, I believe that if you can get 6 – 7 inches deep – you will experience the Fleshjack to its fullest. Even if you can't, the first chamber is better than the last one, so you won't be missing out on too much stuff.
In general, this Fleshjack is exciting enough for pros. However, he could be a bit too much to handle for beginners.
Calvin Banks Dildo
If Calvin's penis is what you're after, let me share with you my experience with him. As you can see, he's almost 8 inches big, however, the insertable length is only around 6 inches.
He's not the longest hose in the market, yet he's a pretty good one. What I particularly enjoyed about this dildo is the slight curve.
The dildo has a nearly perfect angle to stimulate my prostate. The experience is way more exciting if you try Calvin's Dick hands-free.
If you're a guy who enjoys super big dicks up your butt, most likely Calvin won't satisfy you.
However, if the p-spot massage is what you're looking for – Calvin is perfectly enough.
If you're a beginner, Calvin could be too big. However, if you think that you can handle him, be sure to warm up and lube up properly.
Calvin Banks Fleshjack Benefits
Fleshjacks are the luxury items of the whole gay sex toy world. They work a lot on their products, so there's no surprise why Fleshjacks became an international hit. Here are some of the main benefits that you can expect from your Calvin Banks Fleshjack.
Unique Sensations
Each Fleshjack has a unique textured sleeve. A unique sleeve means unique sensations for your private parts. In terms of Calvin Banks, there's a Fleshjack with an exciting Spank Bank sleeve.
Not only that, you can also opt-in for a Calvin Banks dildo. Since it's made to look exactly like Calvin's – you won't find anything else like him.
Fantasy Element
If Calvin Banks and his dreamy blue eyes is what you were fantasizing about – it your lucky day. Now you can get a Calvin Banks Fleshjack and a dildo shaped like his penis.
So, if pounding Calvin (or being pounded by him) is what you dream of – use your chance and get the next best thing – Calvin Banks Fleshjack(s).
Practice Safe Sex
By choosing a Fleshjack instead of random hookups with men that you barely know, you're choosing your health.
Various STDs, despite their prevention, are spreading around the world. Currently, there are almost 40 million people infected with HIV. Some of them don't even know that they have it.
Don't become part of these horrible statistics and choose safe sex.
Hypoallergenic Materials
Each Fleshjack is made from hypoallergenic materials. This means that you and your partner are completely protected from any unexpected skin irritations and allergies.
The Fleshjack dildos are made from 100% medical-grade silicone. This is the highest quality silicone currently available in the market and is also used in the medical world for various implants that are designed to stay in the body for a longer period of time.
Real Feel
The SuperSkin material used to produce Fleshjack sleeves are very close to feeling like real skin. Currently, it is as close as you can get to mimicking the sensations of real human flesh.
So, stop wasting your hard-earned money on cheap plastic toys and better invest in 1 or 2 quality ones. They will bring you a lot more joy and, overall, will save you money.
Discreet Shipping and Billing
Fleshjack values your privacy. Each and every item that you order from them will be discreetly billed and discreetly packed.
If you order directly from Fleshjack's official online store, there will be no mention of their brand in your bank statement. It will be completely discreet and only say ILF, LLC.
The same goes for your ordered items. They will be packed in plain carton boxes without any mentions of Fleshjack on them. The sender that the packages come from won't be Fleshjack, it will be ILF, LLC as well.
Calvin Banks Fleshjack Downsides
Even though Calvin Banks Fleshjack and dildo have numerous benefits, each of them has a downside.
Too Intense For Beginners
The Calvin Banks Fleshjack is an exciting sex toy, however, he can be too exciting for beginners. The sleeve is intense, so if you have a very sensitive penis and tend to finish fast – he could be a bit too much for you.
However, you can consider him as your stamina trainer. In this case, he will make you a better lover with time.
Dildo Requires a Warm Up
Calvin Banks's dick/dildo is definitely not on the small side. So, if this is your first dildo ever – he will require a warm-up that will help your anal muscles relax and become inviting for Calvin.
For that, you can use a smaller dildo, a prostate massager, or simply your fingers. From my personal experience, most guys prefer exploring their butt hole with a condom over their fingers at least when they do it for the first time).
Calvin Banks Fleshjack Alternatives
There are many Fleshjacks and Fleshlights available on the market. Some of them are completely identical, however, they're marketed a bit differently and the same thing ends up called both Fleshlight and Fleshjack.
In terms of Calvin Banks Fleshjack alternatives, I would suggest you get a Fleshlight / Fleshjack STU. I believe that it's a must-have for every guy. It's like a school that turns your penis from a boy to a man. You can learn about STU here.
Calvin Banks Fleshjack Reviews
You already know what my experience with Calvin was. So, let's see what other guys are talking about him. Even though Calvin Banks Fleshjack is a new release, he's already gaining fans all over the world.
Calvin Banks dildo is me and my boyfriend's new favorite. Combine him with Austin and you get fireworks.

– Lenny L.
He's a bit tough to clean but the texture gave my private parts some serious grinding. Definitely not for sensitive boys.

– Kevin M.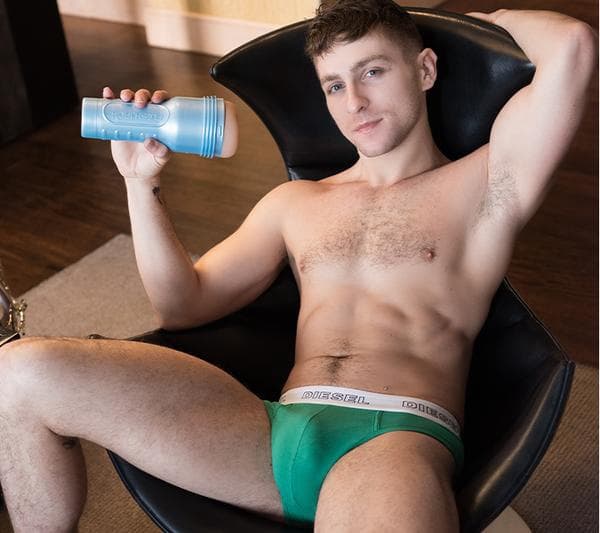 My new favorite. Combine it with shower mount and we have a party.

– Tommy L.
If you already own either one of Calvin Banks sex toys, leave a comment below and share your experience. Let's help each other to make better purchasing decisions.
Calvin Banks Fleshjack Care Tips
If you will take care of your Calvin Banks Fleshjack, you can be sure that he will take care of you.
In general, there are only two essential things that you need to remember about Fleshjacks:
Rule 1 – Hygiene is Essential
Make sure to wash your Fleshjack after each use and dry him properly. Otherwise, the sleeve can become a perfect place for sweat, dirt, and other nasty bacteria to live in. I'm sure you don't want that later transferred on your penis.
Check out this detailed Fleshlight cleaning guide and learn the two main Fleshlight / Fleshjack cleaning methods.
In terms of the dildo – he's even easier to look after. Antibacterial soap and warm water are the only two things that he needs.
Rule 2 – Lube is a Must
Never stick your penis dry into a Fleshjack. Doing so can cause skin irritations that come solely from traction. Also, the sex toy that you just paid a generous amount of money for can rip. I'm sure you don't want that.
The same rule applies to dildos. Never use them dry. You can hurt yourself. So, lube up your sex toys and stay safe.
What's In The Package?
Here is a full list of items that you will get with a standard Calvin Banks Fleshjack / dildo order:
Fleshjack Boys Powder Blue Case
Calvin Banks Signature Spank Bank Sleeve
Instructions for use and care
or
Calvin Banks 7″ Dildo
Instructions for use and care
If you want to save money and/or get both items, consider getting a combo. Fleshjack is pretty generous on their offers and you'll end up getting more for less.
Also, keep in mind that both items require lube when in use. So, if you don't have any at home – get some. Water-based lube is compatible with Fleshjacks and dildos.
Additional Items
Fleshjacks are super fun on their own. However, there are some additional items that you can get to upgrade your experience.
For the dildo:
Fleshlube – water-based lubricants for smooth experiences.
Dildo suction cup – ideal for a hands-free experience.
For the Fleshjack:
Fleshlube – water-based lubricants for smooth experiences.
Shower mount – ideal for hands-free experiences.
Sleeve warmer – to make your sleeve feel real.
Launch – the ultimate upgrade that will stroke your penis up to 250 times per minute.
Fleshwash and Powder to make your Fleshjack long-lasting and good as new after each use.
Overall Verdict
The collaboration between Fleshjack and Calvin Banks resulted in two exciting sex toys.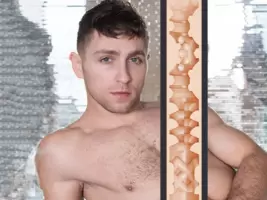 Order Now
If you're looking for a big dick that's not too wide and won't rip you apart – Calvin's penis is a good match. However, if you're a beginner, you might want to start with smaller dildos or simply your fingers.
In terms of the Calvin Banks Fleshjack, he has an intense texture that is perfect for guys who want a serious penis workout. He's textured, he's intense, and he's one of the best Fleshjacks I ever tried.