Best Gay Sex Toys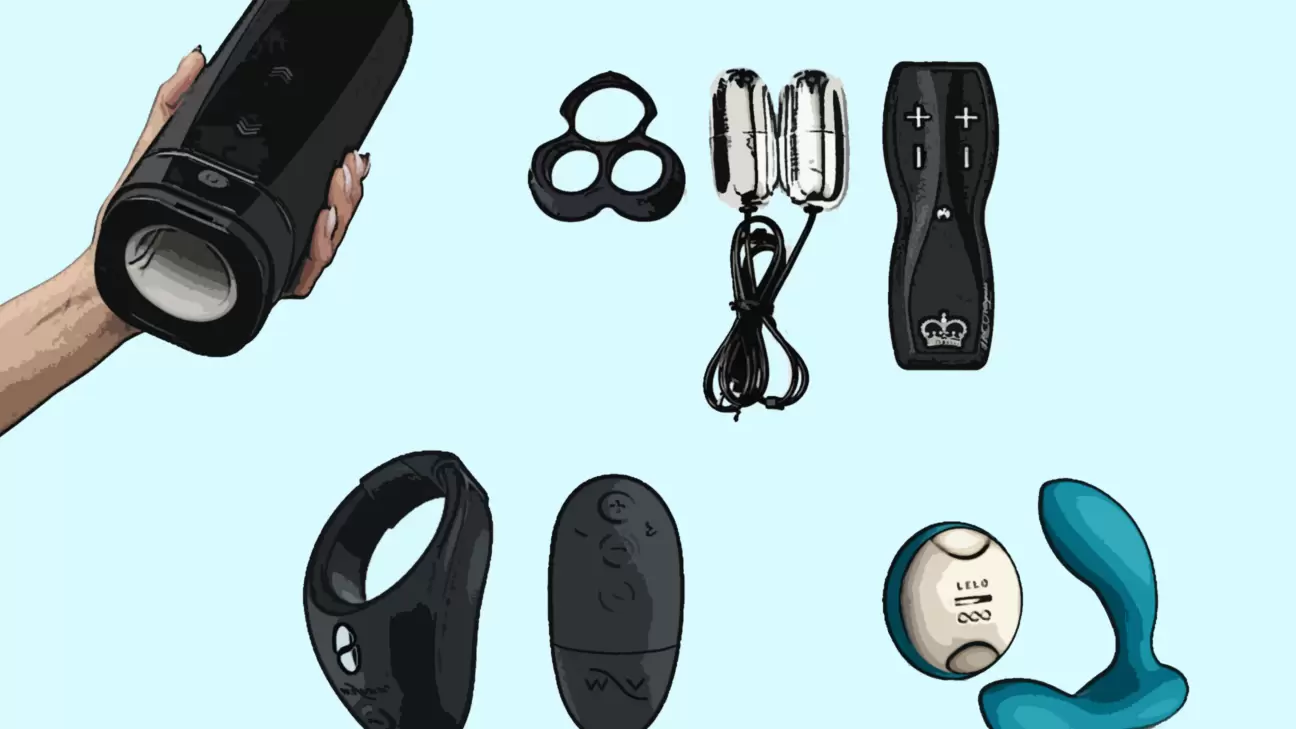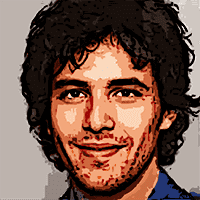 Written by
on , updated on
With the market of sex toys expanding, it can become tricky to find the best gay sex toys that would match your needs. However, that's why I'm here to help you out. I've scouted the market of gay male sex toys inside and out to provide you with this list.
It is worth mentioning, that, in general, all-male sex toys are designed for gay men, as well as straight ones. Since a great part of them can be used for solo pleasure.
So, in most cases, your sexual orientation is not important when choosing a sex toy. However, there are some male sex toys that can be used with a male partner to increase pleasure. Just like there are sex toys designed for men to use with their female partners.
Top 5 Gay Sex Toys
Here you will find the best gay male sex toys for 2022 are definitely worth your attention. Based on your and your partner's likes, you can choose the best ones to spice up your time in the bedroom. All of these toys were carefully selected by me and my expert colleagues.
#1 Lelo Hugo
Best for prostate stimulation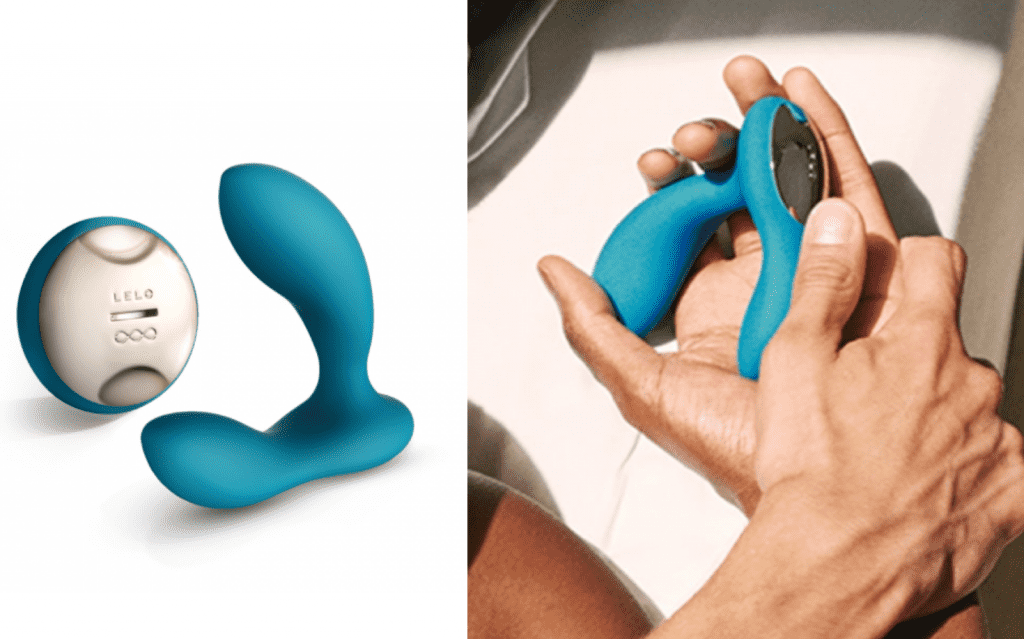 A prostate massager is the ultimate gay sex toy that can be used alone or with your partner.
Compared to other p-spot massagers, Lelo Hugo has not only the advantage of luxurious looks but also provides the most intense sensations.
Battery-powered and fully customizable Lelo Hugo will stimulate your prostate as no other prostate massager could.
Lelo Hugo is made from top-quality silicone, Hugo will provide your sack with double stimulation, both from the inside and outside.
Advanced and patented SenseMotion smart technology ensures that your prostate massager works in coherence with your body.
This great p-spot stimulator will increase or decrease the intensity of the stimulation with a flick of your wrist.
This waterproof prostate massager is ideal for beginners ad large enough for pros. It is completely waterproof and has six pre-programmed modes for you to enjoy alone or with a partner.
So, if you're looking for a luxurious, state-of-the-art prostate massager – Lelo Hugo should be on top of your list.
Pros:
Motion sensing technology for hands-free experience
Luxurious design
Six already programmed functions
Rechargeable via USB
Waterproof
Cons:
Wireless control requires extra batteries
Could be a little to large for some beginners
#2 Kiiroo Onyx+
Best for blowjob-like penis stimulation
When it comes to artificial blowjobs, no other device can give as good one as Kiiroo Onyx+ can. It is indeed the smartest and best-rated blowjob machine in today's market.

Save 10% Sitewide
Use TECHYSEX code and get 10% off sitewide while the offer lasts.
Use Offer
Kiiro Onyx+ features a sleeve made by Fleshlight to tightly secure your penis and give it the ultimate experience. Powered by smart technology, this machine is designed to pleasure men
Besides that, the Onyx+ is VR compatible, which makes it super convenient for lonely evenings.
Pros:
Fleshlight-made sleeve
140 strokes per minute
VR connection
Easy to clean
Waterproof
Skin safe materials
Rechargeable
Compatible with Android and iOS
Supports Bluetooth
FeelMe.com compatible
Cons:
Could seem pricey at first
#3 Hot Octopuss Jett
Best for penis stimulation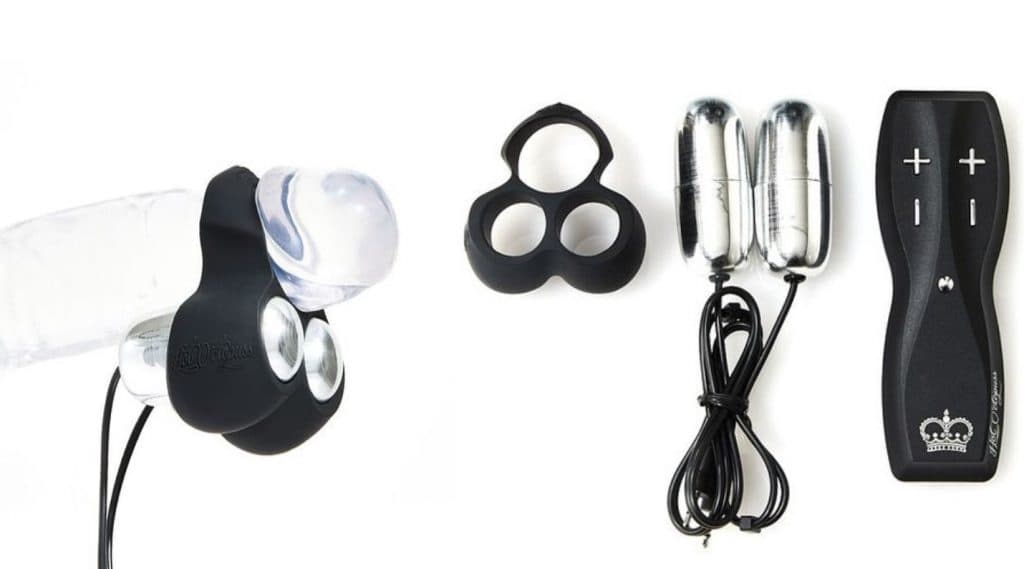 Made from smooth silicone, Hot Octopuss Jett will feel nice and smooth against your skin. Comfortable to wear, USB rechargeable, long-lasting (up to 4 hours) this is your ultimate penis ring for an intense erection with exciting vibrations.
On the side of the ring, you will find a comfortable interface that you can use to regulate the intensity of the vibrations. Hot Octopuss Jett has two components that can be used together or separately – a vibrating bullet and an elastic band that will prolong your erection and overall sexual experience by giving you an intense orgasm. The cock ring is completely waterproof and has a discreet look. So, you can pack them on your trips or use them at home.
Overall, if you're best gay sex toy is a cock ring that is luxurious, discreet, and can stimulate your penis with various intensity vibration levels – Hot Octopuss Jett is your best choice.
Pros:
6 vibration levels
Luxury design
Perfect for nearly all penis girth
Skin-safe silicone material
Comes with warranty
USB rechargeable
Battery lasts up to 4 hours
Cons:
Could be a little to small for very thick penises
#4 We-Vibe Bond
Perfect for teasing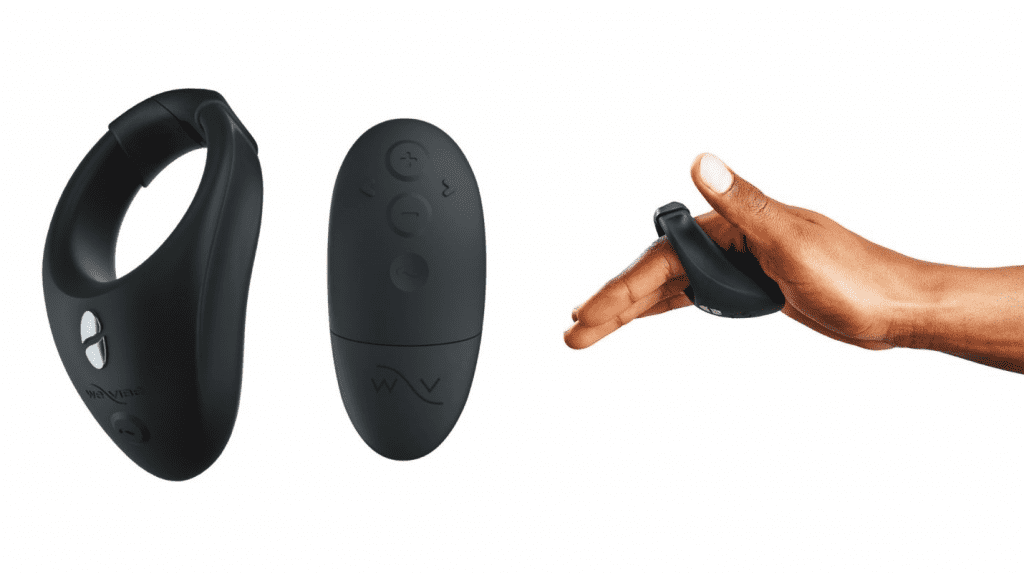 We-Vibe Bond is a unique penis ring. It's not designed for prolonging erections or stimulating the clitoris. This penis ring is designed solely for male pleasure.
Well, to be more precise, it's a penis ring designed for trading, before the pleasing begins. When a man wears this penis ring, a powerful motor stimulates the perineum (the area between the testicles and the butthole), or to put it in other words, the ring stimulates the prostate from the outside.
In general, it's not powerful enough o give you an orgasm, unless of course, you're very sensitive down there. This ty is designed to get you all aroused and ready for more intense action.
The toy comes with a remote controller, so your partner can do the teasing for you and vice versa.
Pros:
Multiple vibration levels
Luxury design
Remote controller
Perfect for foreplay
Perfect for nearly all penis girth
Skin-safe silicone material
Comes with warranty
USB rechargeable
Cons:
Not designed to prolog erections
Not ED compatible
What to Consider When Choosing Gay Sex Toys For Men
When choosing your perfect gay sex toy designed for men, it's important to ask yourself (and your partner) what do you expect from the toy. Whether you want a cock ring to keep your hard-on longer, whether you're looking for some extra prostate stimulation, and so on. So, here are the most important criteria to evaluate before you purchase your gay sex toys:
Features
As mentioned before, the most important part when choosing sex toys is their features that match your expectations. Before buying, consider whether you're going to use it alone or with your partner. Also, think about what kind of stimulation you are looking for.
Whether you want to hit the p-spot, or you prefer more stimulation on your penis? Maybe you're looking to prolong your erection? Would you like some vibration to add?
Additional stimulation for your partner? So, once you have these questions answered, it will be a lot easier to pick your gay sex toys.
Size
Whether you're looking for a sex toy for your penis or prostate stimulation, you need to take size into consideration. Let's take blowjob machines as an example of penile stimulation.
Even though most sleeves fit most penis sizes, you still need to measure to know whether it will fit yours. Also, if you have erectile dysfunction or suffer from Peyronie's disease, you need to know whether the sex toy you choose is compatible.
The same goes for prostate massagers or anal dildos. If you're a beginner in this field, you should choose smaller sex toys, as some could be too big. Also, if you have never tried prostate stimulation, you can start by doing it yourself, or ask your partner to do that manually, just to know how you enjoy it.
Appearance
Even though for some sex toys the appearance isn't all that matters, some prefer having discreet sex toys that are difficult to identify for someone who doesn't know what it is. Also, if you're thinking about getting a cock ring, you should choose the one that will make your penis look even bigger in size. That will boost your confidence and even the arousal of your partner.
Price
The price tag does matter. Everyone wants to get what they're paying for. That's why you need to look into your budget and based on it, find the highest quality device for the price. You should keep in mind that the most expensive device doesn't mean that it's the best one for you.
If you're looking for a quality product but are on a budget, I would recommend choosing the best materials first. Then, look into how many extra features (such as vibrations) you can get on the budget you choose. I will always recommend getting a device with fewer features but from better materials. Quality comes first, as it means durability.
Durability
I am pretty sure that you want a gay sex toy that will last for a long period of time and not break just after several uses. That's why it's always better to choose a sex toy from a reputable brand. Also, be sure that it is made from quality materials that are hypoallergenic and won't cause you or your partner any allergies or skin irritations.
Also, to make your device last long, be sure to properly clean it after each use and store it in an appropriate place, according to the manufacturer's specifications. If you're planning to spend several hundred on your sex toy, choose one that comes with warranties and money refund guarantees in case the device breaks or malfunctions.
Compatibility
If you're planning to use your new sex toy along with other ones, make sure they're compatible. Today, the sex toy market is very advanced and you can actually pair your sex toys with VR goggles, control them via Bluetooth, and much more. So, take a look at your sex toys closet and see what new experiences you can create when combining them together.
Gay Sex Toys – FAQ
Here you will find detailed answers to the most frequently asked questions about gay sex toys that you always wanted to know but were too shy to ask. If you have any more that I haven't covered – drop me a message via the contact form.
What is a gay sex toy?
In general, most sex toys are neither gay nor straight, as they can be used for solo pleasure. However, there are some sex toys that are designed for a couple's pleasure.
So, if you're looking for gay sex toys for men only, you shouldn't choose any toys that are designed for clitoral or vaginal stimulation. If you're looking for gay sex toys for females, you shouldn't choose anything that is designed for penile and prostate stimulation. Easy, right?
What makes a gay sex toy good?
In general, a good sex toy is one that gives you pleasure and fulfills your needs. However, the toy has to be made from quality materials, so it would last long.
Also, it should be easy to clean, if it's not, you'll get tired of it quickly, as all the cleaning time will bring you more frustration than the joy the orgasms will give you. Of course, the price and quality ratio as it is the key to customer satisfaction.
Gay sex toys vs straight sex toys. What's the difference?
The difference is very simple between gay sex toys and straight sex toys. While most toys are neither gay, nor straight as they can be used without a partner. So, gay sex toys are designed to stimulate both partners of the same sex.
So, if you are a gay male, you wouldn't want anything designed to stimulate the vagina or clitoris. If you're a gay female couple, you wouldn't want anything designed to stimulate the penis or prostate.
Do I need any special skills to use sex toys?
While there are some sex toys that are designed for advanced users, in most cases you need neither experience nor skills to use sex toys. All you need to do is follow the manufacturer's specifications to be sure that you use them properly.
Most sex toys are very straightforward, so it's pretty easy to understand how they work. However, currently, there are some very advanced ones that could require you to read the instructions to understand how they work and to use them to their full potential.
How to choose the right sex toy?
Choosing the right sex toy requires you to understand your expectations. What kind of stimulation are you looking for? Will you use it alone or with your partner? Do you want it to be compatible with VR? Do you want it to be compatible with other sex toys?
Besides these questions, be sure you get a sex toy that is made from quality materials for long durability and easy to clean for easy maintenance. Also, if you want it not to be noticeable to the public eye if left unattained, find something discreet.
Do I need to use lube with my sex toys?
95% percent of gay sex toys will require you to use lube. Using lube help reduce traction and friction, while making the whole experience more pleasurable.
The only sex devices that come into my mind now that don't require lube are penis extenders and penis pumps. These devices require your penis to be securely fastened and lube could cause the penis to slip.
Can I get hurt by using a sex toy?
In general, no, you can't get hurt by using a sex toy if you use it according to the manufacturer's specifications. However, if you buy something too advanced for yourself, or too big for yourself and push yourself with the toy – accidents can happen.
You need to be mindful of your body and never push it over the edge. So, be sure to evaluate your body's capacities and its limitations, especially when it comes to toys that you need to put inside of your body. In other cases, just follow the manufacturer's specifications and everything will be okay.
Should I wash it every time?
Yes, you need to wash every sex toy each time after you use it. Whether it's designed for external or internal stimulation, you should always keep it clean. Be sure to store your sex toys away from direct sunlight, dust, and other dirt in general.
How to maintain and clean my sex toy?
For most toys, it's enough to wash them with warm water and soup. However, some could require additional care. That's why you should always read the manufacturer's manual and follow their usage and cleaning directions exactly as specified. This way you will ensure the longevity of your sex toys.