See The Anal Hook In A New Light!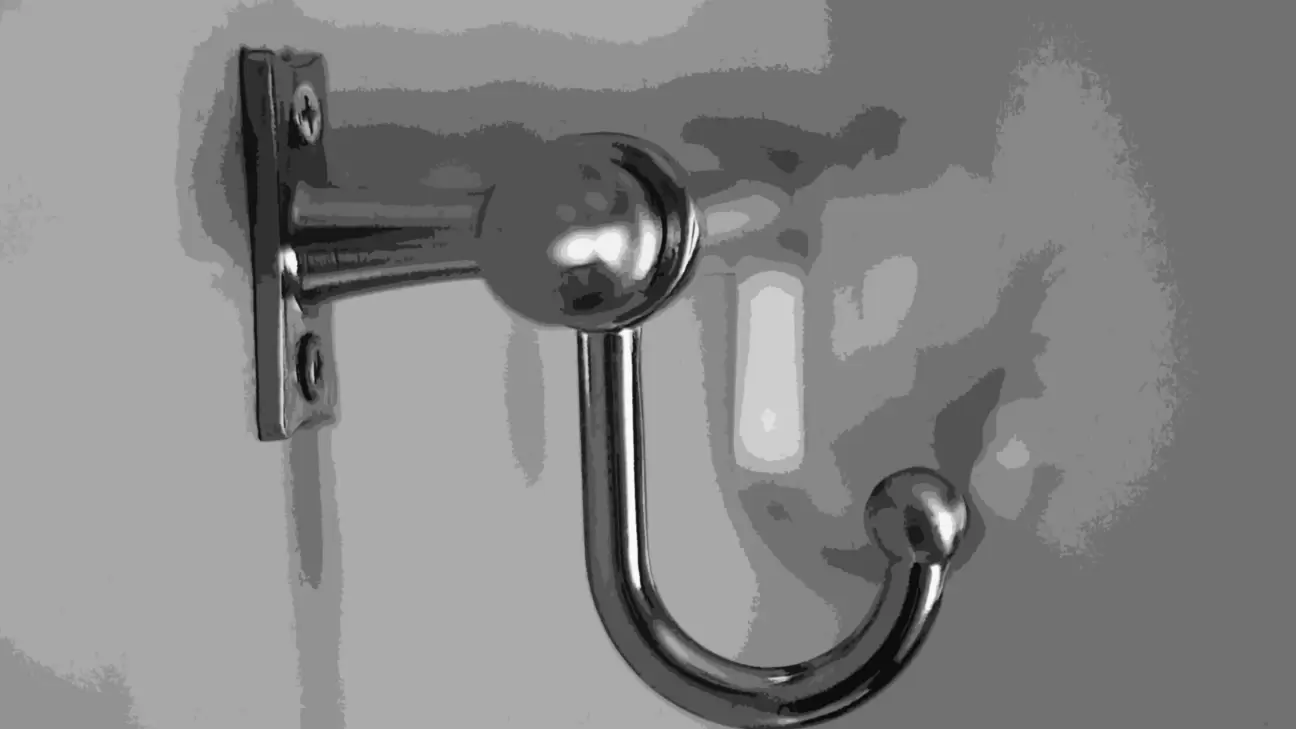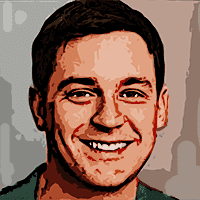 Written by
on , updated on
I grasped the most eye-opening fact the other day – not that I'll meander away and talk in excruciating details about it here. Right now I'm dedicated to writing this article about the anal hook for you. It's just that, I had recently written something about an ailment, and you know how one thing might lead to another? So, the completion of that article led me to read this one – just read the part about how sex toys "can help" – and you'll be as amazed as I was.
Maybe you weren't as clueless about it as I was but I can go babbling on like this forever. Except I can't, because I'm looking at anal hooks in a completely new light now at this very moment and I need to write about it. There's a whole page in Wikipedia for it under the BDSM and sexuality category and there sure are so many other articles about it, so you must be wondering, what's the need for another such article?
Well, this article not only gives you random trivia – well, okay, I gave you just one random trivia and collectively about all the anal sex toys in general and not just BDSM toys in particular but that counts, alright? – besides it also brings together all kinds of information about anal hooks, what they are used for, the history behind it complete with some excellent choices.
What is an Anal Hook and Why is It Unique?
An anal hook is a U or a J shaped sex toy for your butt, it's also called an ass hook by some and it has an appearance similar to a fish hook – except this is used for sexual anal penetration while engaging in BDSM play and not fishing, in any way. Anal hooks are specifically made from surgical grade stainless steel and can be harder to use – they're quite inflexible – than other anal sex toys made from silicone or glass, like butt plugs or anal beads.
Anal hooks comprise a metal ball – or even multiple balls or alternative balls – at one end and a circular ring at another. This ring is big enough for a person to insert a finger and pull it out of the ass when needed. The solid ball attached at one end of the anal hook comes in different sizes, ranging from the tiniest to the largest! It depends on you and whether you're a beginner or an expert user to select the size of this ball.
Did you know anal hooks were used as parts of torture devices in medieval times? Well, they're far less tortuous and way more pleasurable now. And they can also be cleaned much more easily now! Wouldn't it be fun to get into the history of anal hooks while we're at it? So yes, I've covered that a bit for you in the next section!
Anal Hooks are a Gift of Evolution : A Brief History of Anal Hooks
I'm not talking about anal hook suspension or extreme anal hooks when I say anal hooks are a gift – although, many who embrace this lifestyle take this to be the ultimate bondage and restraint play experience. When I say the gift I mean it's absolutely marvelous to feel an anal hook inside you. An anal hook is a size you want it to be, extreme or not. And to think all of this originated, if I'm to believe that eye-opening article I read before, from coming up with a cure for digestive ailments.
Anal sex has been around longer than any of us can think, but it's mostly associated with homosexuals. That's one of the reasons why it remained hush-hush for so long. Archeologists have found wall carvings and pottery and even paintings that depict oral sex. This 'last taboo' has gained immense popularity over the years now.
There's no particular history behind anal hooks but when we combine the history of anal sex (here is quite an interesting and informative article about it) and the history of BDSM (read a quick and insightful history of BDSM here) we can get the idea that anal hooks originated because there were some people who loved both anal sex and BDSM and the anal hook was the primitive step towards combining both. The different sizes and activities that followed only make it clearer that anal hook is evolving even today!
Using Anal Hooks: How to Use One of These Bad Boys?
One word of caution before I say anything else would be to take care that there are no sudden jerks or pulls. As the anal hooks are hard, a sharp jerk or even a fast pull can do a lot of damage to the anal cavity. Work your way up, start with a small to moderate size before moving up. And of course, I know BDSM is all about finding pleasure through pain, but be cautious to stop immediately in case of extreme pain.
Anal hooks are mostly used for posture training while indulging in BDSM– the submissive is forced to maintain the sexiest possible posture with the back arched and the chest lifted. And the dominant determines the slave's further positions!
Anal hooks are also used for edgy plays like predicament bondage – the submissive has to choose between a limited number of positions the one that hurts less…or more.
You could also tie a rope to your anal hook. A rope or s string can be tied to the other end of the anal hook where there's the ring – but please don't get any funny ideas before you've had at least some experience with anal hooks – some things are best left to experts.
It's all very tantalizing and stimulating but the body shape and flexibility of the wearer determines to a large extent how an anal hook can be used. You can use an anal hook even if you don't practice BDSM as much as you'd like to, but keep the basics right while using it!
Added tip: Always have lube (lots of it) and a safe word handy. Also, never share your anal hook with anyone else. It's customary to wash a sex toy thoroughly before reusing it or even putting it away after use. When it comes to anal sex toys like anal hooks, it's better to not share it with anyone (read: not even your partner or multiple partners) – that stuff is way too personal, even for besties.
Some Anal Hooks You Could Get Your Hands On
This list is a list of premium anal hooks for you to look at and choose from! They're not rated in any particular order so feel free to pick the one you like the most!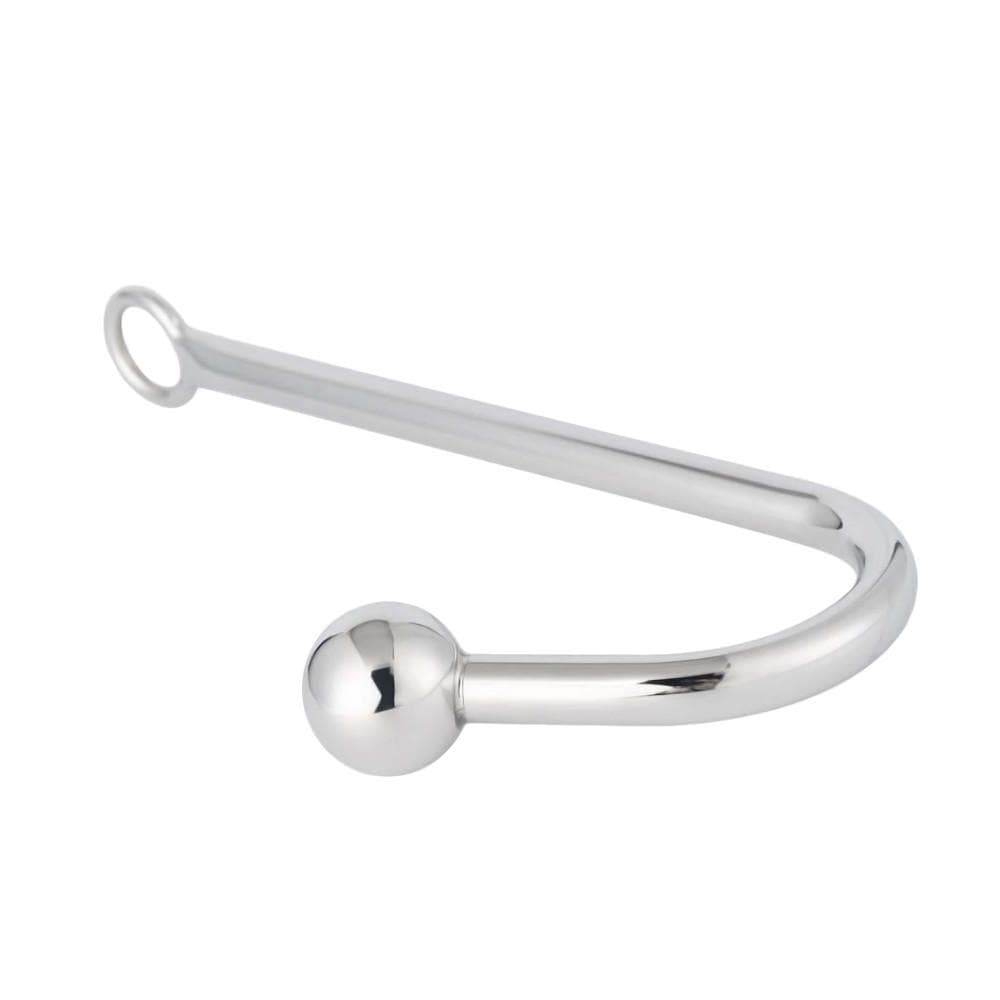 10-INCH STAINLESS STEEL ANAL HOOK: This baby is almost 10 inches in length and the ball is 1 inch thick. Made from high quality stainless steel, you could opt for this simple yet elegant anal hook.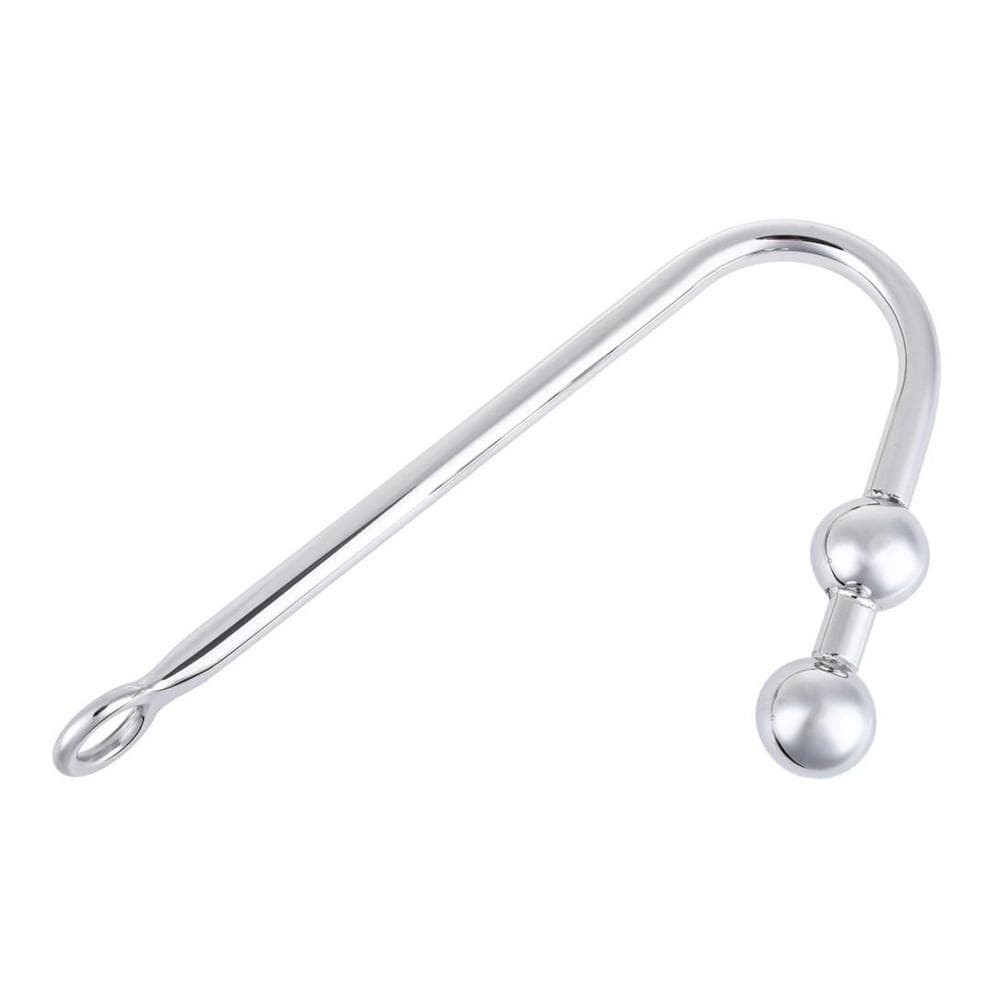 TWO BALLS STAINLESS STEEL ANAL HOOK: I had to bring in some diversity between anal hook choices, because I'm all for it. So here's an anal hook with not one but two balls attatched to it. That sounded nastier than I thought it would but you get what I'm talking about, so it's alright.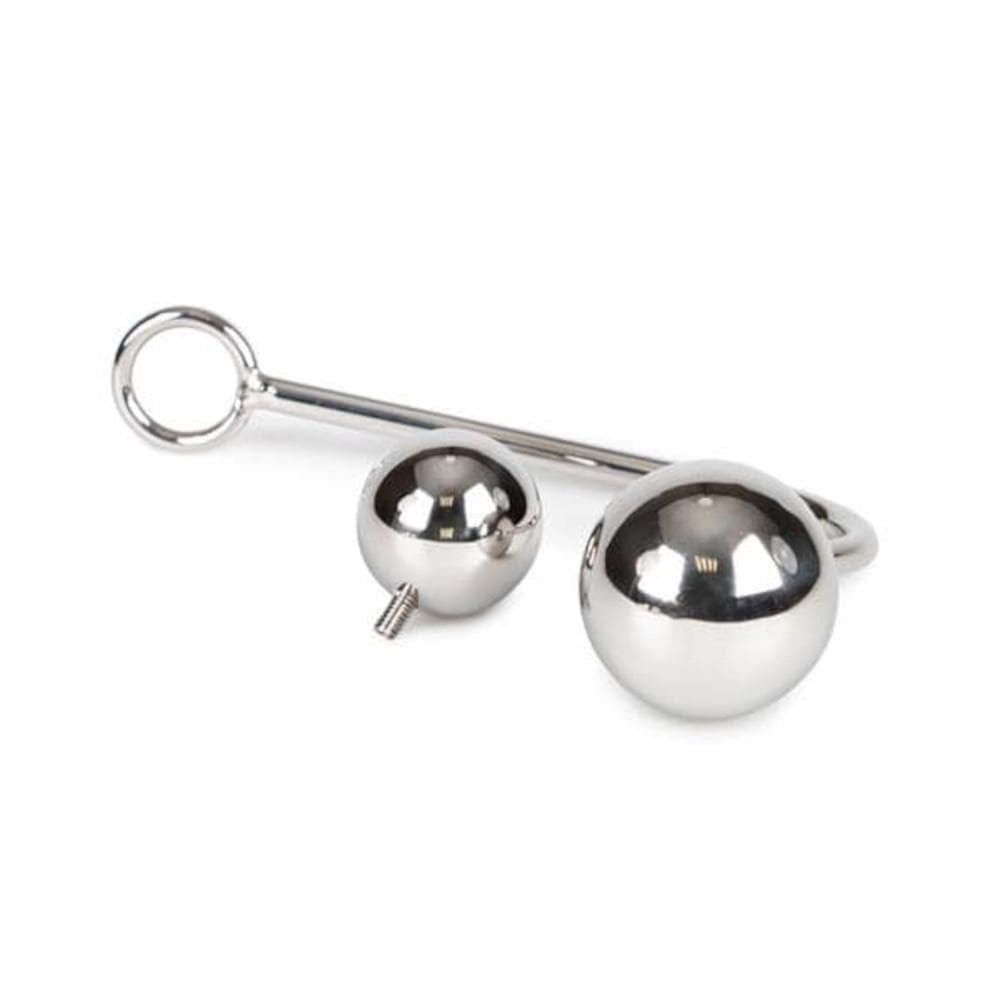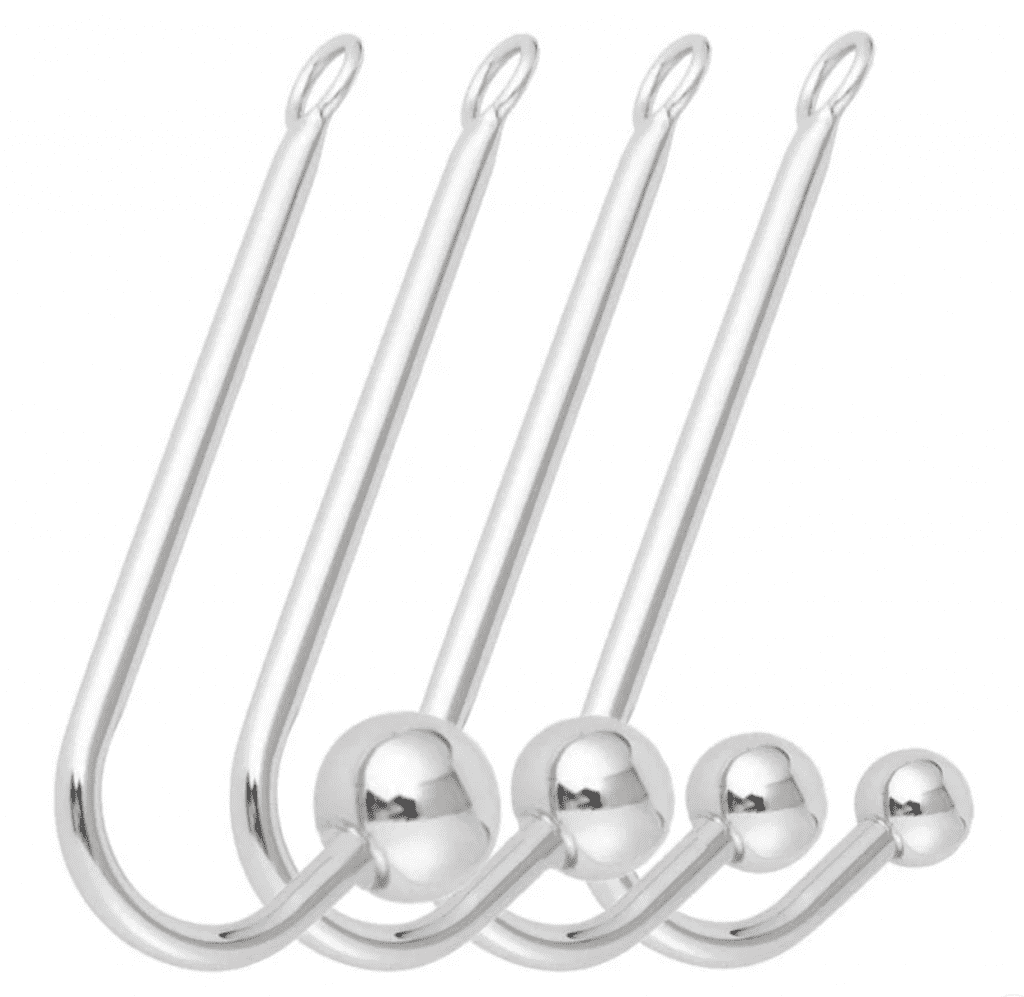 Added Tip: Before you use anal hooks, apply some lube into your finger and try inserting it inside you or your partner. This not only helps make things smooth but also reduces the risks of any injury while inserting the anal hook.
Frequently Asked Questions
If you have any questions about anal hooks, leave a comment below to get an answer.
Can we use an anal hook in the vagina?
Although there's no particular harm in using an anal hook in the vagina, I'd advise against it. There are two primary reasons for it, firstly the shape of an anal hook prevents it from being used in the vaginal cavity in a proper way – your anal hook might just keep slipping off and it's no fun that way. And secondly, do not forget that there are countless bacteria in your anal cavity, just waiting for a chance to get into your bloodstream. Never, in your right mind, use any anal sex toy in the vaginal cavity before thoroughly washing it with, preferably anti-bacterial, soap and water.
You'd want to interchange the position of an anal hook if you're in the mood to use it in the vagina but I'd advise strictly against it. Get yourself a vibrator and be done with it, no anal hooks for the front door, mind you.