The Best Black Dildo Choices You Deserve t Have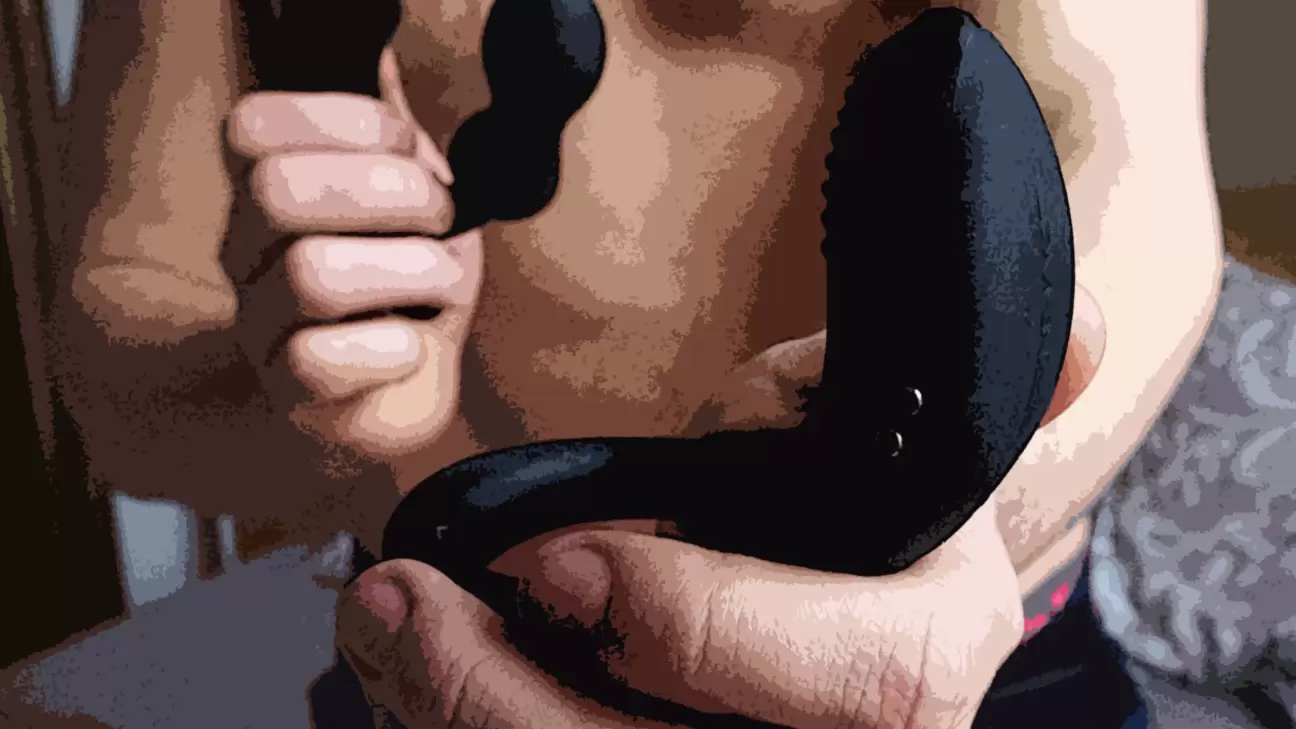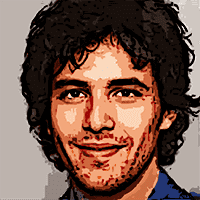 Written by
on , updated on
There was once a time when I had to watch porn to look at what's new these days. No, really, I'd sit down on the desk very seriously to look at the various kinds of sex toys they were using. Among other things, the black dildo was used quite frequently…and praised for how wonderful and filling it felt. What is with the color black? Is it the alliteration big black dildo or are black dildos usually meant to be or supposed to be so big?
I was intrigued and wanted to compile an article about the best black dildos, the ones that these adult film actors were using all the time. But other than that, how did a black dildo come into the market? Who was the one who introduced the black dildo to us? When I sat down to think about it…I had so many questions. So I did my research and have tried my best to present to you an article on all you need to know about black dildos.
My Wanderings About Where Did Black Dildo Come From
There are going to be a lot of options in this article. A compilation of all the big black dildos I can find is what I was going for. But that's in the next segment, before that comes the origin story. Albeit made up, but my ideas are that black dildos came into existence because people think not every dildo should look the same. Even when dildos are concerned, variety definitely is the spice of life.
I mean, dicks are not pretty nice to look at, to begin with. And then for hundreds and hundreds of years, there were so many hand-made, not so hygienic, completely non-silicone dildos and they all looked like something that is shaped like a phallus. Where exactly is the fun in that, I wonder? Many other people also wondered the same thing with me, and so came the other various kinds of dildos…and some of which look nothing like a human male penis (I'm talking about fantasy dildos).
Black dildos came into existence probably because of that very same reason: women and men were imagining a big black cock inside them and when they couldn't find it at that very moment of urgency – tadadada – a black dildo had to be made. This origin story sounds pretty neat, yeah? Good then, we'll keep it.
That List About Black Dildos I Keep Talking About
I have half a mind to just copy and paste every black dildo I see on Google but I can't do that. That's because, firstly, I have a mind of my own and secondly, I have something to say about each black dildo I found online. To the list, then,
Desire Luxury Rechargeable Realistic Dildo Vibrator

It's both a dildo and a vibrator! So obviously, this had to be my very first choice. It's chic and black with a solid length of 6.5 inches. This black dildo sure is a luxury. You can even recharge it simply with a USB cable! It is firm, made with silicone and this black dildo has 8 vibration modes for you to choose the best one from. And not just that, 12 speed and intensity levels help you mix and match to see what you like best! Additionally, it is completely waterproof and extremely quiet when using…and the website provides you with the option of discreet shipping!
King Cock Girthy Ultra Realistic Suction Cup Dildo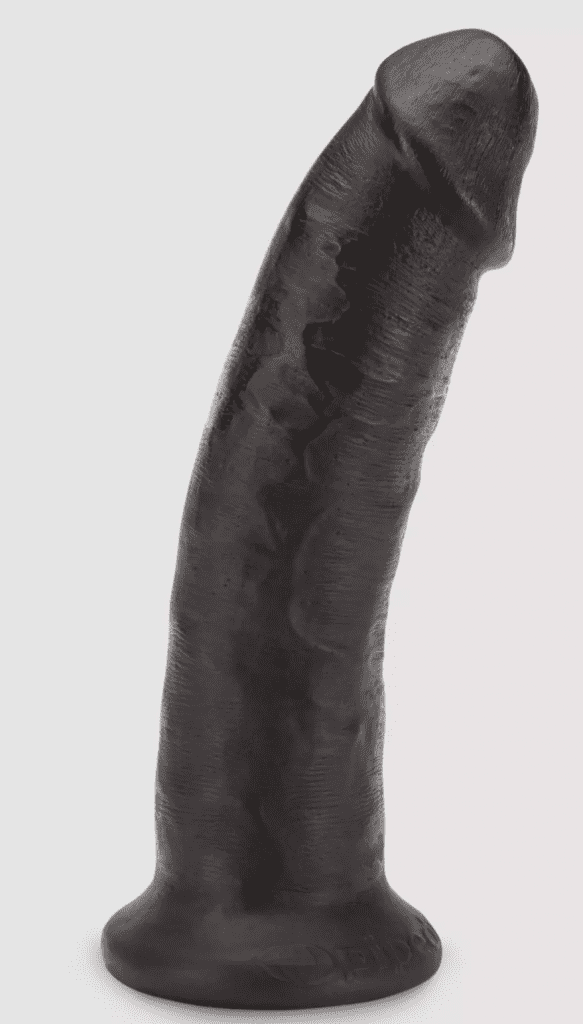 For those of you who love a hands-free session with a dildo, this one takes the prize home! And if you want to take it one step ahead, strap in on with a harness because King Cock is completely harness compatible! With a strong suction cup and 8.5 insertable inches, this black dildo comes a close second when it comes to choosing the best back dildos. It might be made from PVC but it's completely latex-free for those of you who have any kind of latex allergies. It's available in 3 different colors but as we're talking about black dildos in this article, the color black is all I see and like here. This dildo is also detailed by hand to give that extra realistic touch.
Powerful 10 Function Thrusting Vibrator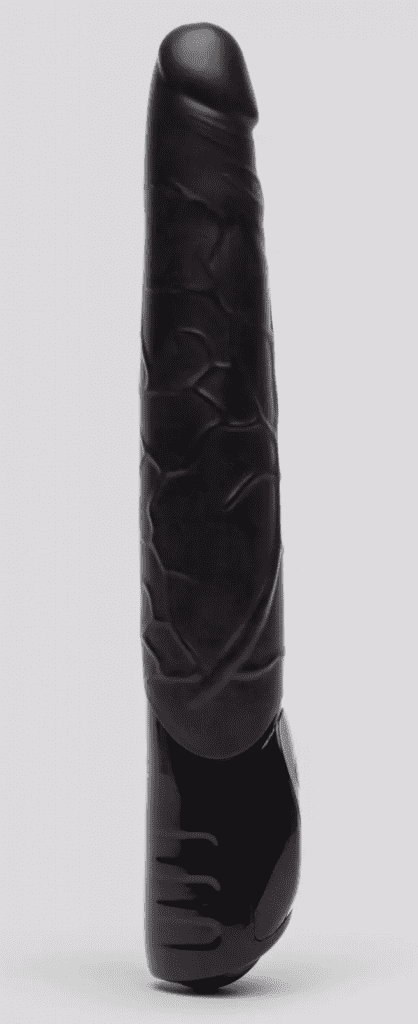 Black dildos are so much fun because you don't just get a regular dildo, there are so many features that you can combine in a single dildo…and the color of it is sexily black! This one is a majestic 7.5 inches thrusting dildo! You go a bit old school with it as you need batteries when you're operating it but if you look at it, you'll see it's a piece of art! It looks so stylish, using it is a thrill! Giving you both internal and external stimulation, it has 10 ultra-powerful speed intensities to choose from! Pair it with any water-based lube and it is perfect for either using it solo or if in a couple!
Lifelike Lover Classic Realistic Black Dildo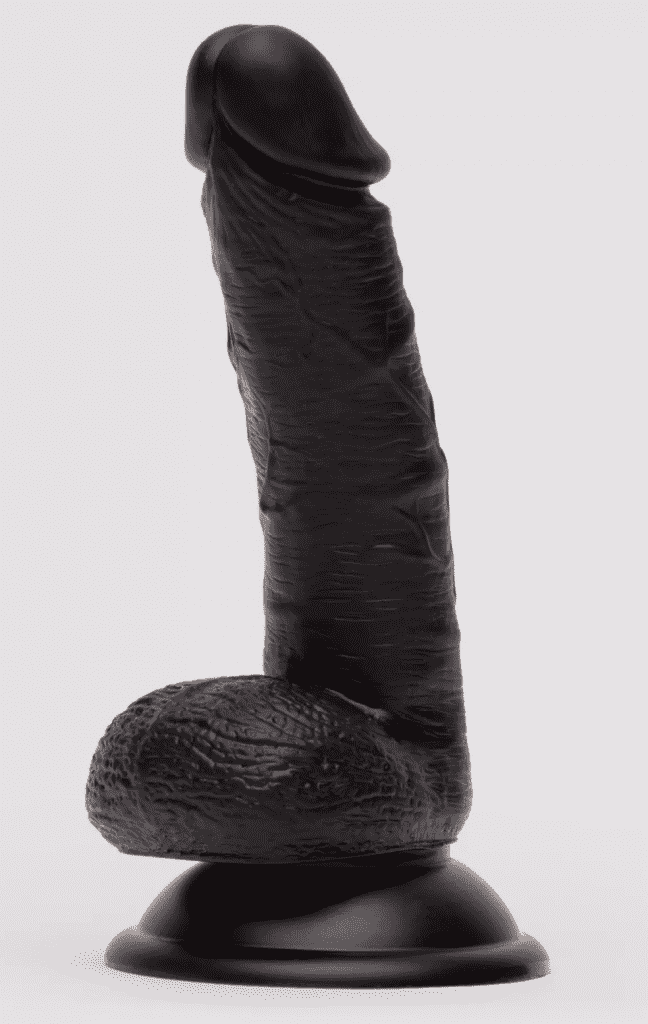 So, just a black dildo isn't doing it? You need the whole package, I see. Well, worry not, here is it : the ultimate black dildo with balls for your liking! And it doesn't just stop here, I spy with my eye a string suction cup with it! There are four colors to choose from when it comes to this dildo as well, but the black dildo comes with its own charms. It looks extremely realistic, complete with veins and a soft shaft. Also, the insertable length of about 5 inches is perfect for beginners looking to use a dildo. The balls are firm and the head is defined…the dildo is bendable and flexible to give you the most real of feels. And the material is soft plastic and completely allergen-free.
Lovehoney Double Dipper Vibrating Strapless Strap-On Dild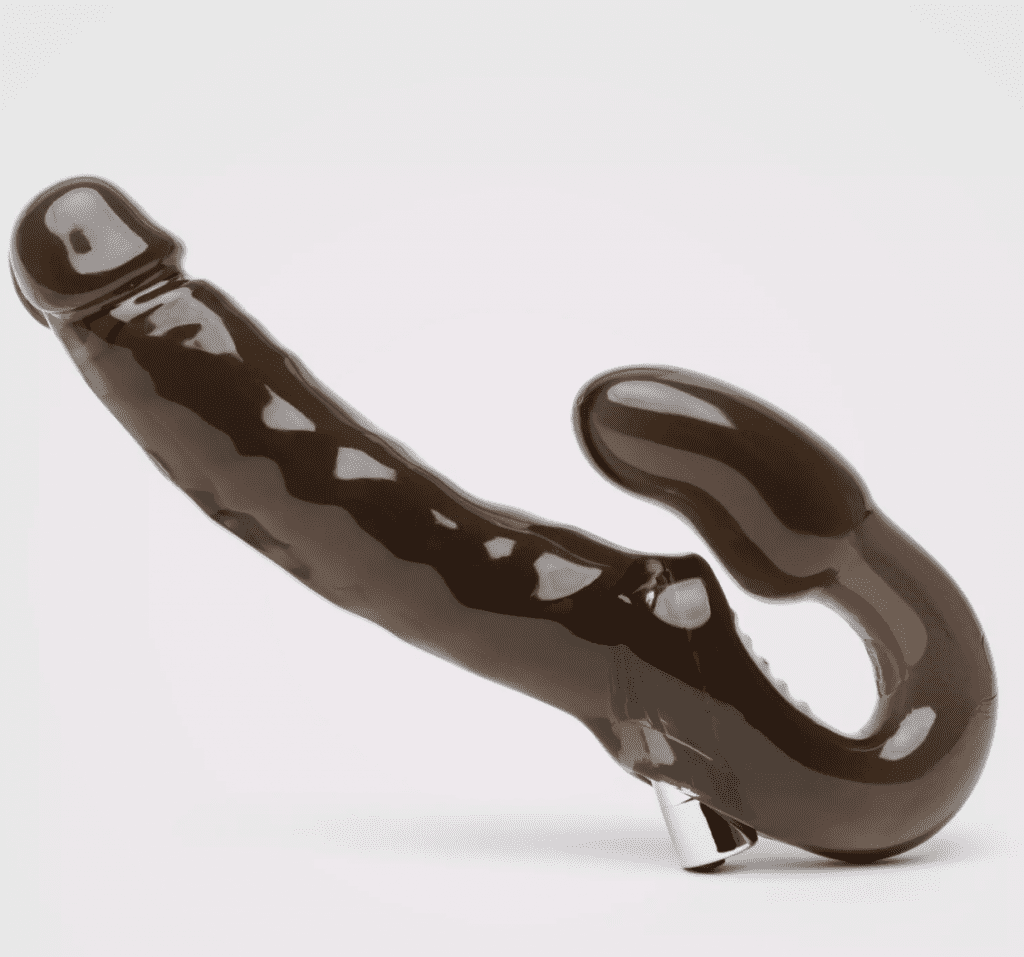 I was talking about variety, wasn't I? So here comes the strapless strap-on dildo. (Check out my article on a strapless strap-on dildo to know more about what a fantastic type of dildo that is.) And check out this dildo to see what you've been missing. 7 inches, sleek, vibrating, and not even the hassle of a harness… we've hit the jackpot here! Waterproof – take it to the shower if you want – and completely rechargeable, this black dildo has 10 functions of a bullet vibrator to stimulate both the G-spot and P-spot, which can be taken out if necessary. Use it solo – the bullet vibrator can be used to stimulate the wearer as well – or in a couple, it is made to completely satisfy!
Fun Factory The Boss Stud Realistic Dildo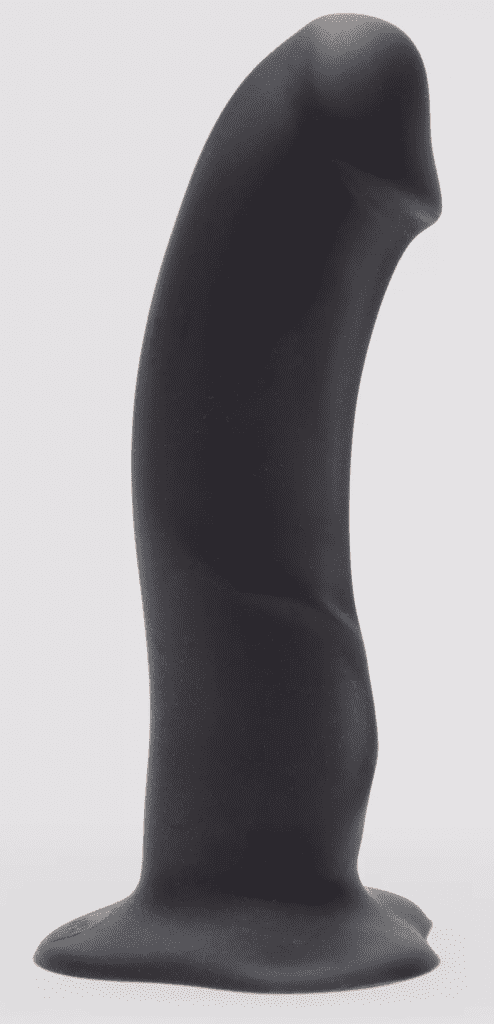 Okay, this is the last one to be described in this list, but this has to be added because of the curved shape! This black dildo is the king of g-spot stimulations! This 7.5-inch dildo is made with 100% body-safe silicone. It has a broad head and shaft, complete with realistic veins running throughout the length of this black dildo to make you forget it's a dildo you're using. Adding to the life-like sensation is the suction cup, for a completely hands-free experience! Waterproof, and good to go solo or in a couple, this firm black dildo harness is compatible and allergen-free.
Tips To Use a Black Dildo
Other than drowning your black dildo in lube and going at it either solo or in a couple, there are a few more things you could do with it. How about you try these?
Practice giving blowjobs using your black dildo.
Believe it or not, some women actually like giving head. How about you gift one of the above-mentioned great black dildos to a lady you like and let her read this article…just saying.. and she'll agree that giving head on a realistic dildo could be as pleasurable as on a real male penis. And if any of the ladies or gentlemen want to practice giving better head, practicing it on a black dildo is a way to go!
Mix and match a black dildos with other kinds of dildos/vibrators.
This could be your fantasy. Take a strapless strap-on and let a strap-on be stuck to a pillow. So you get penetrated in the anal cavity while the strapless strap-on is stimulating your G-spot…if this doesn't take you to heaven, try increasing the speed intensity of those vibrations. That'll do it for sure, and you can thank me later.
Frequently Asked Questions About Black Dildo
Here you will find answers to common questions about black dildos. Have any extra? Leave them in the comments below.
Do only people of color use the black dildo or black vibrator?
This question actually came up in my searches, and let me tell you, the answer is no. Everyone surely can, and definitely should use a black dildo. Do not deprive yourself of the pleasures of a beautiful and sleek black dildo just because of any stereotypical prejudice or preconceived notions. This is the 21st century, get yourself that black dildo if you're pining after it.