Tenga Flip Hole Review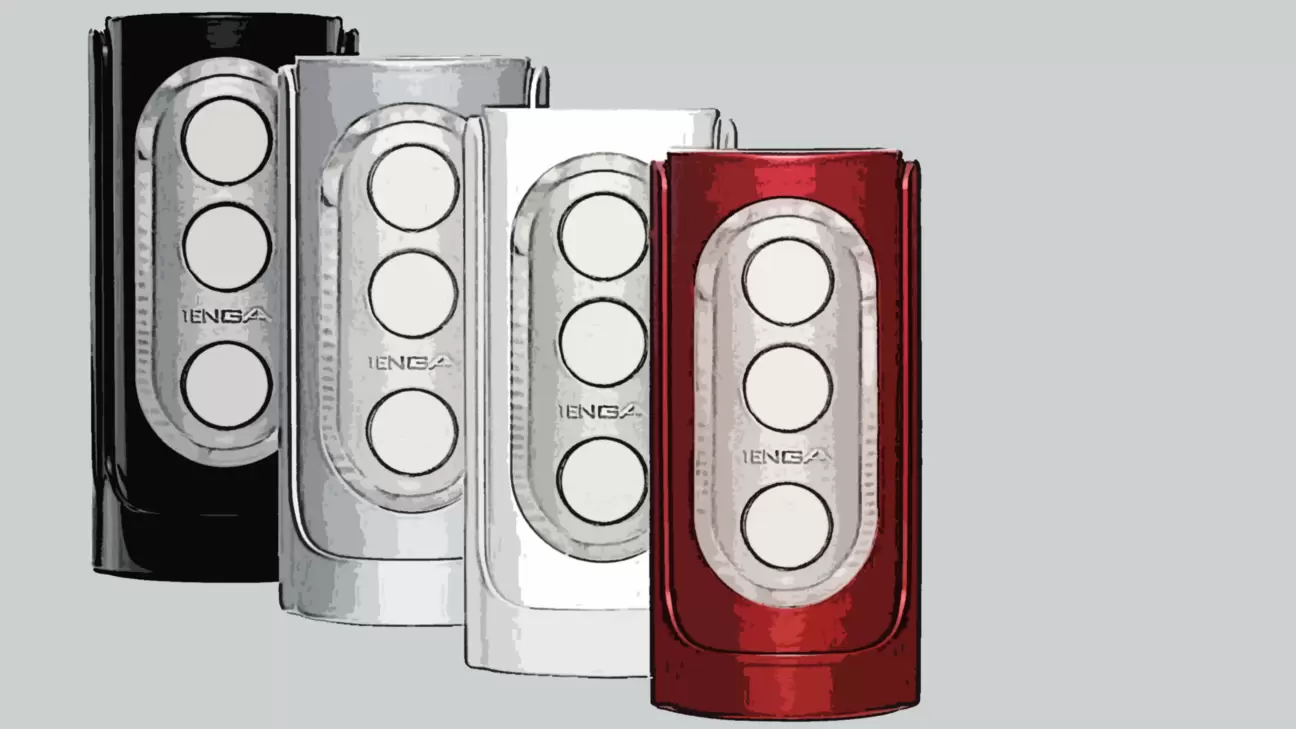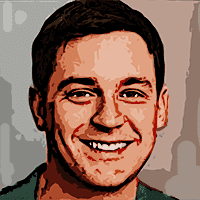 Written by
on , updated on
Tenga Flip Hole is one of the most popular products produced by a famous Japanese brand. Tenga is best known for their egg-shaped single-use masturbators, however, their reusable masturbators are worth your attention as well.
With proper use, Tenga Flip Hole promises to last you around 50 orgasms (uses). So, an orgasm would cost you ~1 dollar, since, at the time of writing, the average price of the toy is 50-60 USD. Yet, the price per orgasm also depends on how rough or gentle you are with the toy.
What's So Special About The Flip Hole
When I first saw the design of Tenga Flip Hole, I was intrigued by the fact that it splits open in the middle. On the one hand – I was excited that cleaning will be super easy, on the other hand, I was worried, about whether you could feel the split in the sleeve.
Surprise, surprise -there was nothing to worry about. The sleeves are super easy to look after and there's no need to worry about the split. So, maintenance-wise, this design is brilliant.
According to the manufacturer, the toy is good for around 50 rounds. So, compared to other pocket pussies, such as Fleshlights or Kiiroo FeelStars, the price tag is higher. I was very eager to find out whether it's worth it.
The Materials and Care
Yet, the above-mentioned alternatives are made from high-quality silicone and Tenga Flip Hole is made from thermoplastic elastomer (TPE). Silicone, compared to TPE, is a lot more durable, therefore has better longevity. TPE is also a porous material, therefore it's very important to clean it properly after each use. Also, dry it very well in order to avoid molding or any kind of dirt accumulating. In case you notice any damage inside the sleeve after some use – dispose of it immediately.
If you want to ensure the longevity of your Flip Hole or other pocket pussies – use lube. Proper lubrication makes your experience smoother and reduces friction to a minimum. Therefore, you reduce the chances of accidentally ripping the sleeve to a minimum.
Unlike silicone, it's perfectly okay to use soap and water to clean the sleeve. However, I would recommend choosing a mild soap, noting too acidic in order to protect the sleeve and not irritate the skin of your private parts.
Since the sleeve opens up in the middle, you won't have any troubles cleaning it, however, let it dry completely before you reassemble it back together again.
Choosing Your Texture
In total, there are four Tenga Flip Hole Sleeves. Each sleeve comes with a different texture and can bring you different sensations. Some of them are more intense, some are less, so read below to find the best one.
Flip Hole White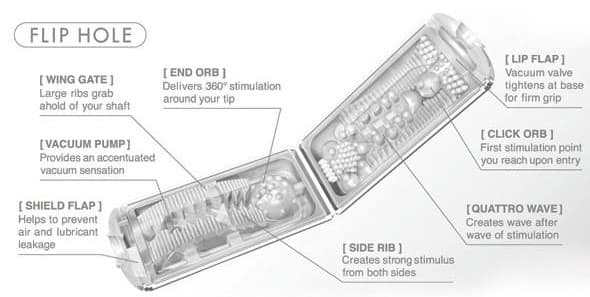 The Tenga Tega Flip Hole White is definitely the tightest one out of four. It gives you moderate suction yet makes up with its intense texture. Overall, this sleeve is mostly focused on giving you stimulation through intense texture. If you're a bigger guy, this sleeve might be too tight for you. Also, if you are a beginner and don't experience premature ejaculation, this could be a good first sex toy. If you do, it could be too intense and if you want to have better stamina, better select a more durable toy made from silicone.
Tenga Flip Hole Black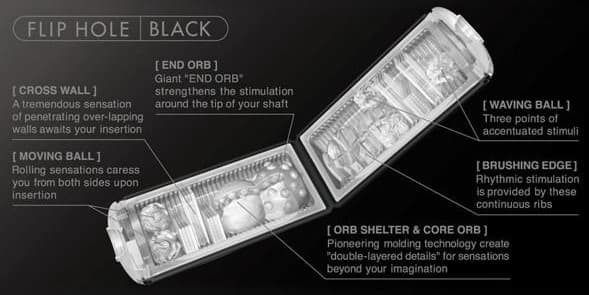 The Tenga Flip Hole Black is like an upgrade from the White one. The principal of it remains the same – it's all about the texture. However, this one seems to be more firm and also has slightly more suction. So, if you are a beginner, this could be too intense for you. What I particularly liked about this sleeve is that there is a lot of stimulation happening around the tip of your penis, so the frenulum (most sensitive part of the penis) gets a lot of attention and the orgasms are intense.
Tenga Flip Hole Silver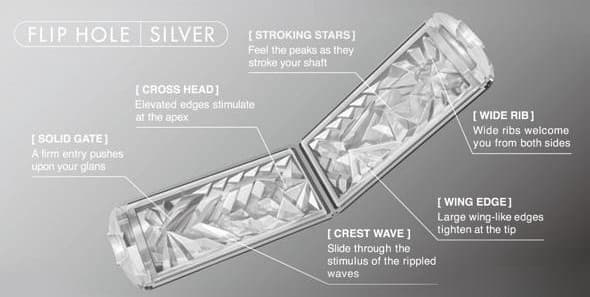 Tenga Flip Hole Silver was my least liked sleeve out of four. Contrary to the previous two sleeves, this one doesn't have a very pronounced texture, yet has better suction. So, I would recommend it to guys who prefer suction over texture and guys who have sensitive penises and experience premature ejaculation. This sleeve will be gentle with you. However, based on what you get from this sleeve, in my opinion, the price is too steep and you can get better value for your money from a simple Fleshlight Quickshot.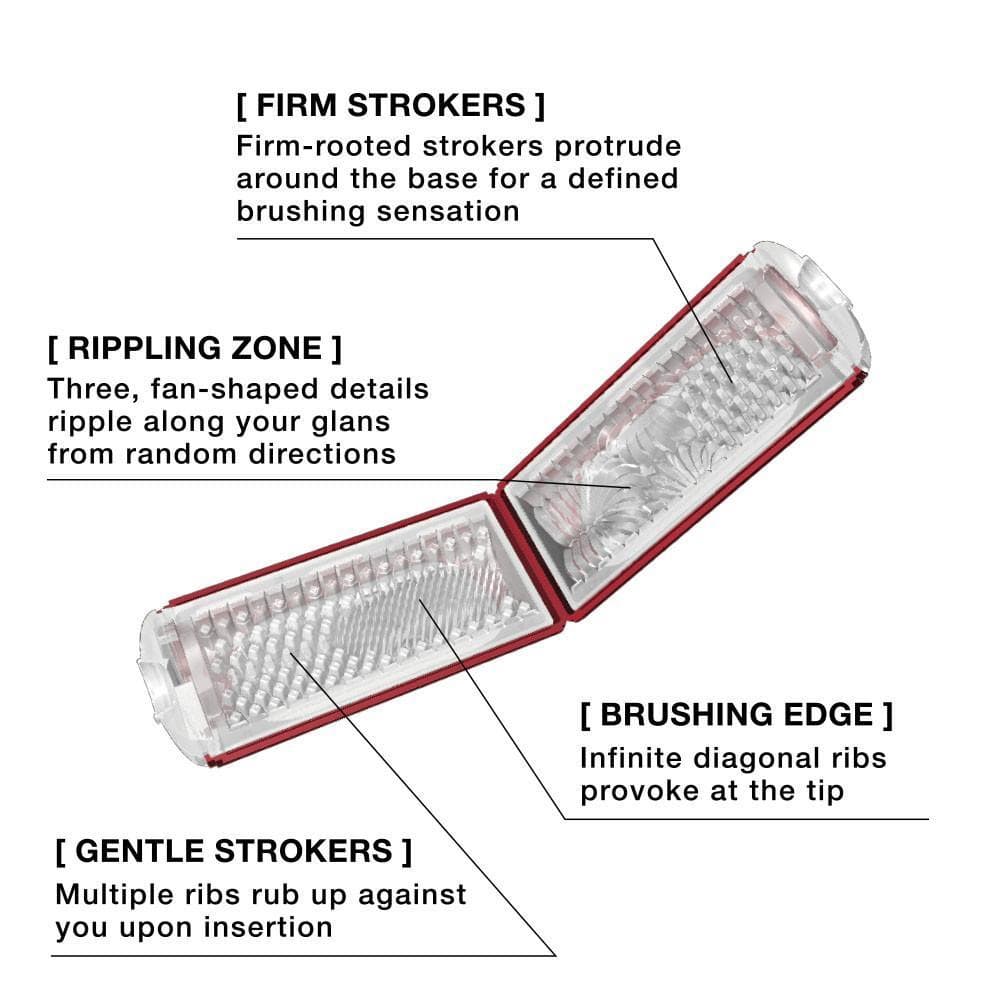 Tenga Flip Hole Red
Just like the Black sleeve is an upgrade for the White one, the Tenga Flip Hole Red is an upgrade for the Silver one. The Red version is more textured than the Silver one, however, doesn't come close to what you get from the Black one. You can sense the texture but it doesn't do too much stimulation-wise.
Suction wise this is the most intense one out of four. So, overall, it has the best balance between suction and texture. So, if you asked me, I would either get this one or the Black one. The other two simply are not good enough for the price. All in all, they're fun, yet they expire too fast for the price you pay.
What You Get?
Here is a full list of items that you will be getting when you order Tenga Flip Hole of the selected color(s):
Flip Hole of Selected color
Visual instructions and care guide
3 samples of lube (Mild, Real, Wild)
What I really like about Tenga is that you can always count on them to give you lube. In this case, even 3 samples of it. The main difference between the three is consistency. The Mild one is the thickest and stickiest and the Wild one is the runniest and the most watery. The Real one is something in between and actually the most realistic one.
Tenga Flip Hole Alternatives
The Flip Hole is a relatively expensive product when it comes to its longevity. 50 sessions with a toy is not that much, especially if you don't own many sex toys. So, basically, it would last you less than 2 months.
That's why going for an alternative, made from quality silicone, could be a better choice, if you're willing to invest an extra 50 dollars (~20 additional USD for the sleeve and up to 30 USD for cleaning supplies).
In this case, I would recommend you to explore the universe of Fleshlights. There are over a hundred of them, and most are made in collaboration with famous porn stars. Fleshlights will last you a lot longer and in my opinion, are a better investment.
Not only that, later on, Fleshlights can be upgraded to a hands-free experience with their famous Universal Launch.
So, if you think that Fleshlights are a better option for you, here are my top 36 Fleshlight choices, categorized by user types and needs.
Reviews
It's always useful to hear what other people are talking about a product that you want to buy. Sex toys are no exception. In this case, Amazon was very helpful, since it has thousands of reviews for Tenga Flip products. Here I chose a review for each Flip color which highlights what's good and what's not so good about it.
Flip Hole White Review
This is a good toy! The feel is great and the ability to control the suction is fantastic. Usually with toys like this you end up with too little suction or in rare cases too much. Cleanup is quick and it dries fast too. Only used it once so I don't know how long it'll last. The way the cylinder locks into the stand is a bit flimsy though. Time will tell how long it lasts.

Verified Buyer on Amazon, Tenga Flip Hole White
Flip Hole Red Review
I love this thing. Its awesome but I've only had mine about a week and its already beginning to tear in a few places. I don't abuse it and I don't use it daily. Everything besides the few tears are amazing! It had very discreet packaging, the material feels great, the actual capsule is pretty secretive. I just wish it wouldn't be tearing.

Verified Buyer on Amazon, Tenga Flip Hole Red
Flip Hole Black Review
Having used 2 different fleshlights and the smaller quickshot, I bought this off of the recommendation from a mens site. Hands down the Quickshot is a better product. The suction was very good with this device but just really didnt do a whole lot for me. Wife tried it on me too and it was pretty much the same effect…meh. Wished I liked it. Thankfully Amazon gave a refund on this product.

Verified Buyer on Amazon, Tenga Flip Hole Black
Flip Hole Silver Review
This is a thoughtfully designed and well-crafted product that would make a nice alternative for someone of midsized or smaller length and girth. As an older user, on the high side of average size [certainly no John Holmes], I found it impossible to penetrate. Unless you have a very firm erection [getting old is such a bitch] you simply won't be able to penetrate it. The entry was too small. I played with it and was able to use it if I opened it first, laid my penis on half the Tenga, and then closed and locked it. It takes a LOT of lube to get this thing to work properly.

The Tenga Real lube [red label] is interesting stuff. It's a glycerin-based water lube but it's sticky. It leaves little stringers of lube from the packet to the Tenga and anywhere you set the packet down. It's NBD, easy enough to clean since it's water-based but it is kind of odd. I generally prefer silicone-based lubes but I'm uncertain if it's compatible with the material in the Tenga. It's a nice idea and may eventually lead to something interesting but it's not ready yet. Overall I couldn't recommend it for anyone in my demographic – 60+ w/ some minor ED issues.

– Verified Buyer on Amazon, Tenga Flip Hole Silver
The Verdict
Overall, Tenga Flip Hole sleeves are fun, yet the alternatives, such as Fleshlights or Kiiroo FeelStars are better price, texture, and quality-wise.
So, if you don't have too many sex toys at home and don't want to have to keep replacing the ones you buy, better look elsewhere, since these sleeves will only be good for about 50 uses.
However, if you still think this is the right choice for you, I would recommend choosing between the Red and Black ones. The White and Silver sleeves are simply not good enough for the price.