Front View
The Orifice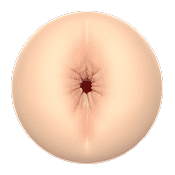 Side View
Sleeve X-Ray

About TechySex Score
TechySex Score is a relative score that is derived from TechySex Team reviews and user feedback.
We also use proprietary algorithms to analyze the shape and texture of the toy, which plays a role in boosting or reducing the final value.
User Rating Details
Quality & Durability
4.0

/5
Rate This Product
Loading...
Set your penis length above and see the expected penetration depth.
Green areas represent lower intensity. Red areas represent higher intensity.
How does the sleeve heatmap work?
TechySex uses custom software to analyze inner sleeve texture, diameter variation and some other parameters to identify hotspots within the sleeve.
This data is represented as a heatmap, highlighting the expected intensity and the level of stimulation.
Areas that are more intense are highlighted in red, and areas that are less intense are mapped in green.
Depending on your personal preference, you may opt for either a light sleeve with smooth textures or a more intense counterpart with high diameter variability and rougher textures.
FeelStroker Extra Tight Butt
The FeelStroker Extra Tight Butt is an updated version of the original Kiiroo FeelStroker Butt. The new stroker has a similar texture but is significantly tighter.
Let's see in more detail what makes this stroker special and if it's what you are looking for.

Winter Sale
PowerBlow bundles up to 30% off.
Use Offer
My Experience With Extra Tight Butt
With its remarkably narrow design (compared to the original version), this stroker offers an intimately snug fit for intense sensations.

Just like with other strokers of similar design, you can enhance your experience by using twisting motions instead of simple strokes.
Not only that, thanks to its bottom cap, you can also easily adjust the suction to your preference. Just give the cap a twist, and you'll feel the sensations relax and more air coming into the sleeve.
Overall, I believe that the Extra Tight version of the stroker is better suited for experienced users who can handle a substantial amount of suction.
Therefore, if you're more on the sensitive side, this toy might be too intense for your liking. In that case, sticking to the original version is a safer bet to ensure you're satisfied.
Extra Tight Butt + KEON
Much like any other Feel stroker, KEON* (whether with or without FeelMe AI) truly elevates the whole experience.
*In case you're unfamiliar with KEON, it's Kiiroo's flagship stroker that seamlessly complements Feel strokers. For more information, you can find details here.
KEON ensures a harmonized stroking without any manual labor involved. Sparing you the manual effort enables a more relaxed experience.
The Extra Tight Butt sleeve is enriched with internal texture elements that truly come alive when paired with KEON, offering incredibly pleasurable and stimulating sensations.
What could be better? Well, KEON doing the twisting motion would be an amazing upgrade.
What's Inside The Box?
Just like with other FeelStrokers, you can buy the Extra Tight Butt stroker alone or in a bundle that you can build according to your needs.
If you buy the stroker alone, that's exactly what you get. However, you will still need at least some lube and some cleaning supplies.
You can use the TEXHYSEX discount code, you will get 10% off your order.
If you are interested in getting more sleeves, check out the Kiiroo Feel Strokers comparison tool. Here you can enter your length when erect and with the help of our AI-powered texture heatmaps, you can find the sleeve that best matches the intensity that you are looking for.
Tips For Beginners
If it's your first stroker and you're not sure about how everything works, don't worry. I have once been in your shoes and here are some key things to know. Here are the things you need to focus on:
Comfort: use water-based lube to reduce friction. This will make your experience smoother and more enjoyable.
Hygiene: cleaning your stroker keeps it free from germs and odors, ensuring it's safe to use.
Proper care and cleaning help your stroker last longer, so you can enjoy it for a more extended period.
In a nutshell, using lube and cleaning your stroker after each use ensures a comfortable, hygienic, and longer-lasting experience. It's a simple but important practice for beginners and more experienced users to follow.
Final Words
In summary, the Extra Tight Butt stroker from Kiiroo offers a notably tighter experience compared to the original Butt stroker, with more than double the narrowness and increased suction.
If you found the original version lacking intensity, this one is the ideal upgrade for a more intense sensation.
However, it's important to note that it may not be suitable for beginners or individuals with very sensitive penises.
Available Add-Ons
Kiiroo Keon Automatic Masturbator
Speed & Stroke Control
Remote Control
VR Support
Video Sync
Save up to 20% by buying a combo deal: Feel Stroker Extra Tight Butt Sleeve + Kiiroo KEON.
Note: full discount will be applied on checkout page, when buying through links on this page.
Buy Now
Use this link to get 10% off your order. Automatically applied at checkout.
Thank you for supporting TechySex
. . .
Discover Kiiroo Feelstars
Scorecard
Interested in this
stroker
?
Buy Now
Note: Use our links to get 10% off your order. Discount will be automatically applied at checkout.
Thank you for supporting TechySex