How to Last Longer in Bed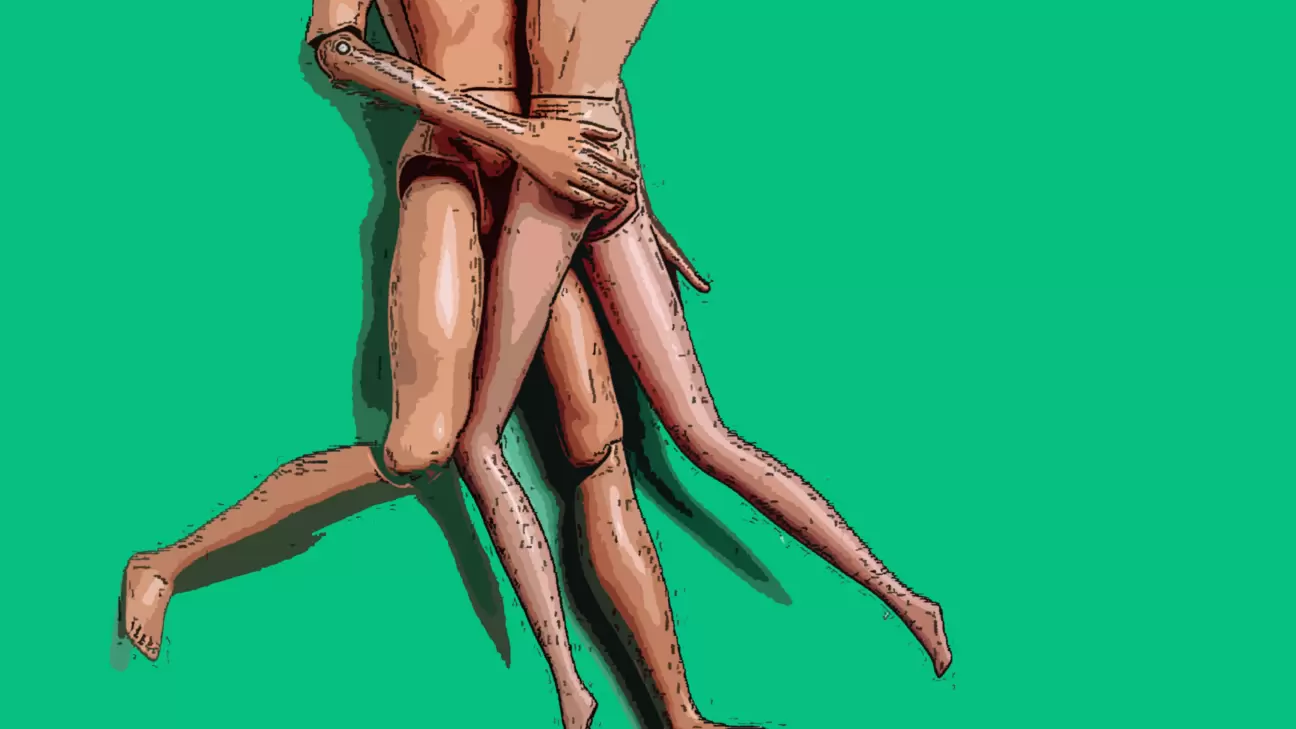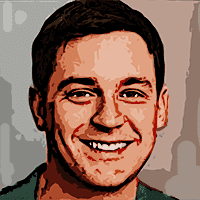 Written by
on , updated on
Over time, I received thousands of letters from you asking me how to last longer in bed. So, I decided to write this guide and share my expertise that I've gathered throughout the years. These methods helped me become a lover that my partner deserves. Today, I will share them with you.
However, don't expect miracles over night. This will take some time and dedication. Yet, it's a pleasurous and orgasmic journey that you definitely don't want to miss out on.
Sex Duration: Expectations vs Reality
First things first, remember that you're not alone. Based on various studies, 15 – 41 percent of men believe they under-perform in bed and constantly think about how to last longer in bed and become a better lover to their partner.
Yet, men tend to exaggerate and undervalue their performance. Most men believe that a woman wants their partner to last hours in bed, while studies have proven that it's actually 25 – 26 minutes.
Even though the average sex duration for most heterosexual couples is 5-6 minutes, adding the extra 20 is a very reachable goal. I'm sure of that.
Build Confidence With Trust
Before we start, it's very important for you to understand that your mental state is very important. Many men stress so much about the duration that they forget about pleasure. That's what sex is all about.
Don't be afraid to talk to your partner. That was the first step I took. Actually, the outcome was surprising. She told me that I have nothing to worry about. After all, if I cum fast, I can always give her a nice lick which she very much enjoys.
That short conversation gave me a morale boost. We had some mind-blowing sex when I was finally not stressed. I don't know how long it lasted but it was damn good. So, confidence is the key.
Build Confidence With Reduced Anxiety
If you don't have a partner now and tend to turn to porn to satisfy your sexual needs, there are still ways you can improve your confidence levels.
Most boys introduce themselves to sex without having sex. And that's okay. However, watching full HD porn movies where people have sex for hours can be harmful.
Being exposed to such movies gives men around the world unrealistic expectations about sex and about what their partners want.
If you've already had sex at least once, most likely your partner wasn't screaming from pleasure from every touch, didn't say yeah baby, give it to me good and didn't beg for anal.
So, just like you understood that real-life sex is different from porn movies, the same way you need to understand that it usually doesn't last as long as it does in movies.
The same thing goes for your penis size. The average length of the penis, when erect, doesn't reach or surpass your navel. So, relax and let reality kick in.
100s of Methods That Don't Help Last Longer In Bed
Even though there are hundreds of suggestions online on how to last longer in bed, today I will share with you only the ones that actually worked for me.
Once I was like you. Browsing over the internet, desperate for advice, and jumping from one method to other when miracles didn't happen overnight.
However, after doing a thorough research and a lot of experimenting, I can tell you that most methods listed online don't work. There are no magical pills, so I strongly advise you to stay away from them.
Another very important thing – don't have unrealistic expectations. The change will come and you will last longer in bed but it will take time and dedication.
So, know that we have our confidence, trust, and realistic expectations set in place, let's move on to methods on how to last longer in bed that actually work.
Spoiler alert: combining a couple or more methods together gives you better results.
5 Tested Methods To Help You Last Longer In Bed + Bonus Tip
Even if you currently don't have a partner, most methods listed below are perfect for solo action. If you believe that you need the training to last longer in bed – take action now. This way, you will boost your confidence levels. As you know, confidence is what attracts women.
#1 Masturbate to Last Longer in Bed
If your goal is to last longer in bed, you have to be mindful even when it comes to masturbation.
What I mean by that is turning your regular sprints into marathons. Many men enjoy a quick relief after a long day, however, a quickie with your handy is not enough.
So, let's see how you can extend your masturbation sessions.
First, take a timer and see how quickly you get off on a regular day. If it's a couple-minute quickie – you have a lot to work on. If you masturbate for around 10 to 15 minutes – then you're doing pretty good. However, to last longer in bed, try to increase the duration to 25 -30 minutes.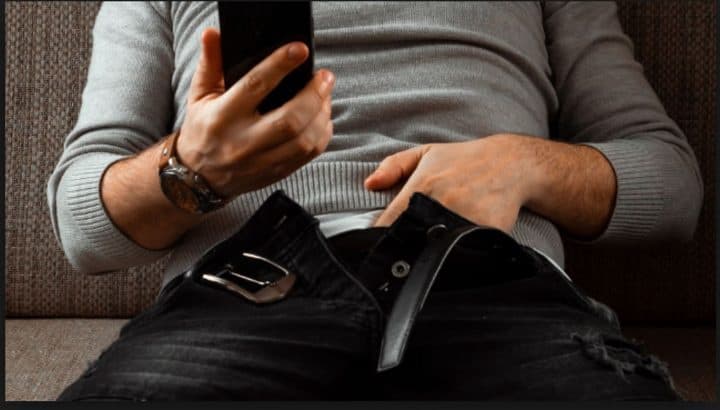 How to achieve that?
There are a couple of techniques you can use to prolong your masturbation sessions:
Look but don't touch. If you have a super sensitive penis and cum in several minutes after the first touch – then don't touch! Look at what arouses you but no wanking until you feel like you can't hold your hands off any longer.

By doing so, you will learn to control your mind and resist the urge to cum ASAP. At first times it might be just an additional couple of minutes, however, with time the duration will increase and you'll be the master of your mind, not your penis.

Start, pause, continue, pause and repeat. Masturbate in cycles and catch your breath between them. Start by getting yourself excited and when you feel like it's getting out of your control – pause.

Catch your breath and take control back into your hands. Once your a bit more relaxed, continue with your penis stimulation. When things get too exciting, pause again. And repeat!

By trying out this method, you will gain control over your mind even more. This way you, once you're getting some real action, you'll have stronger control over your emotions in excitement that will help you last longer in bed.

Do it with your partner. Once you're in bed with your partner, try out the technique above. During the pause moments – give some pleasure to her. This way your sex will last longer and won't have no-action pauses.
As you can see, simple masturbation techniques can be really helpful and really improve your sex life.
Some men believe that masturbation leads to less and poorer quality sex. However, that's not exactly right. Masturbation is harmful only when you set your sex expectations only based on what you see in porn – more than an hour of action without any interruption.
To achieve the best results, keep your masturbation habits regular and don't go back to your regular quickies.
Extend the duration step by step and with some time you'll know how to last longer in bed naturally by prolonging your masturbation.
#2 Stamina Training
Once you get your masturbation habits under control – time to level up. However, to do so, you will need to get a Fleshlight.
Not just any regular pocket pussy but the Stamina Training Unit. The famous sex toy brand – Fleshlight created this unique pocket pussy to help men around the world become longer-lasting in sex.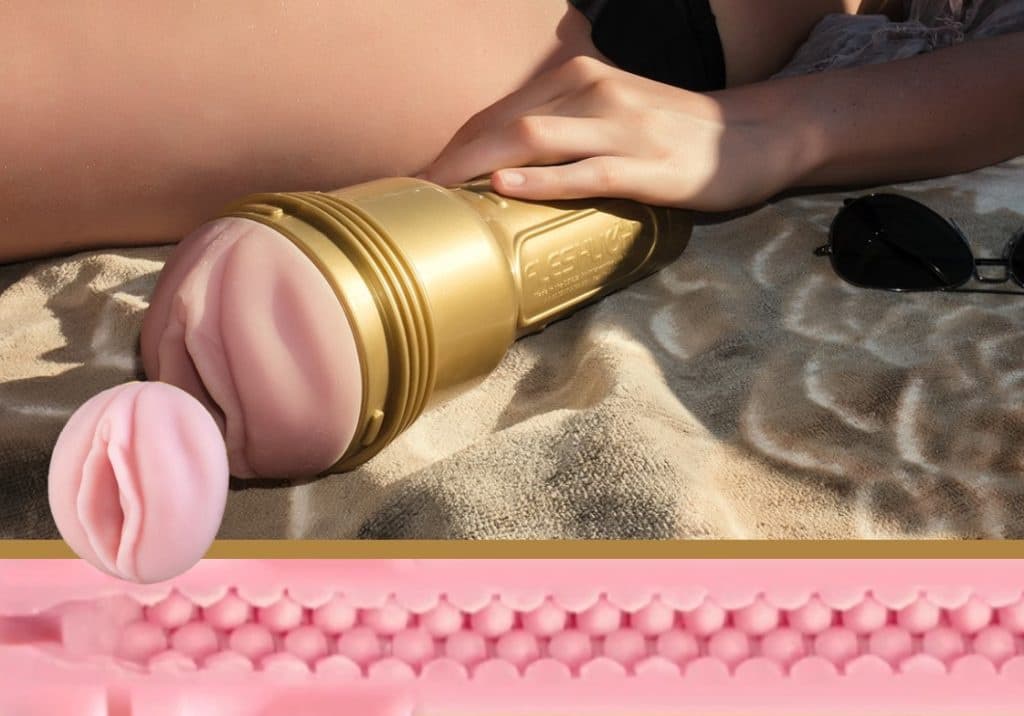 Benefits:
Penis length up to 8.5''
Helps increase stamina
Intense sleeve texture
Hypoallergenic materials
Feels good in hand?
Adjustable suction
Discreet packaging and payment
Downsides:
Could be too intense at first
Requires extra effort when using without automatic or interactive device
A little on the heavy side
To tell you the truth, once I got my Fleshlight STU, I thought that I was back to square zero. Even though I got my masturbation habits under control and could easily pleasure myself for more than 30 minutes – this pocket pussy broke me.
2 minutes and no longer. Yet, that's what the Stamina Training Unit is designed for. The texture of its sleeve is so tight that you can't control yourself any longer and just cum instantly.
Yet, with this product, the secret of your success is hidden in the title – Training. The more you use it – the longer you will be able to last.
Fleshlight STU, when used often will cause some desensitization to your penis. This means that once you get in bed with your significant other, your penis won't be that sensitive to each touch and you will, in fact, last longer in bed.
However, to achieve that, you will need to follow a special training guide that Fleshlight designed. It was very helpful for me and it will be helpful to you.
The special training guide will arrive along with your Fleshlight STU, however, you can have a look at the online version here.
If you check the manual out, you will see that once you become an advanced user of Fleshlight STU, you'll be able to use this pocket pussy for 36 minutes. Impressive, right?
If you surpass this result, be sure to leave a comment below, I would love to know a guy who managed to last longer in bed with Fleshlight STU than 36 minutes.
However, if you manage to reach the Intermediate level of 18 minutes, trust me, 25 minutes in bed with your loved one won't seem like a challenge anymore.
So, if you're ready for some stamina training, get your Fleshlight STU directly from the official website. This way you'll benefit from discreet shipping.
Still not convinced to get the STU? Check out my detailed Fleshlight STU review.
#3 Don't Rush And Last Longer In Bed
Good things take time. So, as obvious as it sounds, the answer to how to last longer in bed is not to rush.
Since everyone tends to live a busy life and constantly be in a rush, somehow that tends to transfer to the bedroom as well. So, it's time to say stop and doesn't take your everyday problems to the bedroom.
You need to understand that sex is not a quickie with your hand and just sticking it in doesn't do the job.
Your body, just like your partner's body has multiple erogenous zones that are there for you to explore. You can check them out in the image below.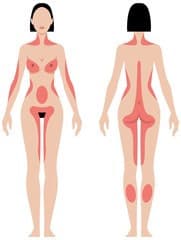 Understanding your, your partner's body and combining it with some teasing will not only prolong your sex but also make it more satisfactory.
Now for the real action. As, I said before, just sticking it in is not enough. Most women have expectations of actions that happen before sex and that is foreplay.
So, there are certain actions that you need to take before sex actually starts:
Kissing and Touching, Maybe a Massage?
Start by arousing your partner and yourself with some sensual kissing and touching. Don't rush, this phase can last for 5-10 minutes. The longer you tease her and yourself, the more exciting the sex will be.
When it comes to touch – don't rush straight to the private parts. Start by gently touching your partner's face and slowly going down. I know this drives my girlfriend crazy horny. So, let her warm-up.
Also, consider giving each other massages. There's nothing more relaxing than a full body massage after a long day at work. Be sure to get some oils.
Why is this helpful? You'll learn to control your mind, enjoy teasing and increase the overall quality of your sex life. Remember, it's not all about the duration, it's what you get during the time.
Oral Stimulation
According to a study, conducted back in 2015, only 6% of women manage to reach orgasm each time during penile-vaginal intercourse.
So, if you care about the satisfaction of your partner, just sticking it in for longer is not enough.
Since the female clitoris is located outside the vagina and is x times more sensitive than the head of the penis – you need to include some cunnilingus into your sex routine.
If you do that, there's a 99.9% percent chance that you'll get the favor returned.
In general, the story should go like this:
Kissing -> Touching -> Cunnilingus -> Fellatio -> Sex
or
Kissing -> Touching -> 69 -> Sex
However, if you tend to get too excited even when your penis is getting sucked, incorporate an additional pleasure time for your partner. So, it would go like this:
Kissing -> Touching -> Cunnilingus -> Fellatio -> Cunnilingus -> Sex
or
Kissing -> Touching -> 69 -> Cunnilingus -> Sex
By choosing this prolonged technique and giving your penis a pause, you'll have the time to reduce your excitement and last longer in bed.
BONUS: Congratulations, you just became a better lover.
#4 Use a Cock Ring
Another way to last longer in bed is by using a quality cock ring.
Using a penis ring is especially helpful if you tend to lose your erection from time to time.
If you don't know how cock rings work, let me give you a short explanation.
A cock ring is an elastic band that you put on your erect penis. What the band does is restrict the blood flow to your penis. To put it in other words, it keeps your penis erect and the blood stays in it.
Today, there are hundreds of thousands of cock rings for you to choose from. From very simple ones to smart and luxurious devices that can also bring pleasure to your female partner.
However, I always recommend better buy one cock ring that is quality made and comes with other benefits, rather than purchasing a hundred low-quality rubber bands that break after just a couple of uses.
For some time now, my favorite one is LELO Tor 2. It's a luxurious cock ring that I and my partner enjoy. It has a big head that gets located above the penis, which is large enough to stimulate the clitoris.
Not only that, it has 6 different vibration levels that your female friend will enjoy.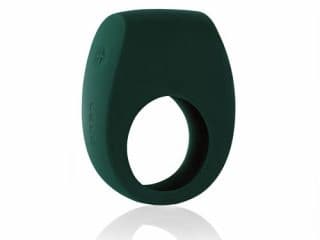 Benefits:
6 vibration levels
Luxury design
Perfect for nearly all penis girth
Stimulates clitoris
Skin-safe silicone material
Comes with warranty
USB rechargeable
Battery lasts up to 4 hours
Downsides:
Could be a little to small for very thick penises
BONUS: it makes your penis look bigger.
#5 Find The Positions That Work For You
You've probably already noticed that some sex positions are more exciting for your penis than others.
Maybe it's time to mix things up?
Many couples tend to develop a sex routine and constantly follow it. However, trying something new is very exciting.
Yes, new is exciting, so how to control yourself and last longer in bed?
Here are some tips that not only spice up the sex life but also help you not to cum too fast:
Put Yourself In Positions Where You Have More Control
Choosing sex poses in which you have more control means that you are in charge of speed, angle and motion.
Being in charge of speed means you can slow down when you're getting too excited.
Having charge of the angle allows you to adjust if you feel like you can't hold it in anymore.
Also, no matter what positions you choose, switching things up will help you last longer in bed. You wonder why? It's the pause moment that counts.
Taking even the shortest pause gives your penis the chance to relax from all the intense sensations that will take time to build up again, in a different position.
The Squeeze Trick
However, each of us faces a time when it seems that we can't anymore.
Yet, there's a super simple trick even for that. When you feel like you're about to blow up, simply pull out your penis and give it a squeeze just below the head.
How it works: use your thumb and forefinger to apply firm pressure on the urethra. The urethra is the tube that runs along the underside of your penis.
Why it works: the squeeze you apply will reduce the sexual tension for a moment by pushing the blood out of the head of the penis. That represses the ejaculatory response and will help you last longer in bed.
Bonus Tip on Lasting Longer in Bed
Technically, this tip doesn't answer the question of how to last longer in bed. But it does help and helps a lot.
As I mentioned before, a lot of our stamina and performance in bed comes from our self-esteem.
So, you need to work on it. As shallow as it sounds – you need to take care of your looks in the same way you take care of your well-being.
Take a good look in the mirror and ask yourself whether you're doing a good job when it comes to taking care of yourself?
Did you shower? Do you shave? When was the last time you had a haircut? When was the last time you went to the gym? Or had a healthy meal?
As you know, you're the only person who can take care of yourself. Sometimes even a little makeover can do miracles.
So, give yourself some me-time, refresh your looks and you'll see a significant boost in self-confidence.
Opposite to women, men tend to accept what they see in the mirror, instead of working towards to what they want to see in the mirror.
I once was like that but once I got tired of feeling and looking like s*it, I started working on myself. Within 7 months a new man was standing in front of me in the mirror.
I lost weight, got new clothes, new haircut, and started eating better as well as lasting longer in bed. 😉
Final Words
For my final words, I would like to say that a lot about your performance in bed can be determined by your self-esteem.
Even though most men worry about how to last longer in bed, the actual question is how to perform better in bet throughout that time.
If the sex is bad, what's the point in extending it?
I hope my 5 methods of lasting longer in bed will help you achieve your goals and become the lover your partner deserves.
So, focus not only on quantity but also include quality. 😉
Enjoy your sex life and if you have any questions – just leave a comment below. I'll do my best to answer ASAP.