Dog Dildos and How They Make Our Fantasies Come True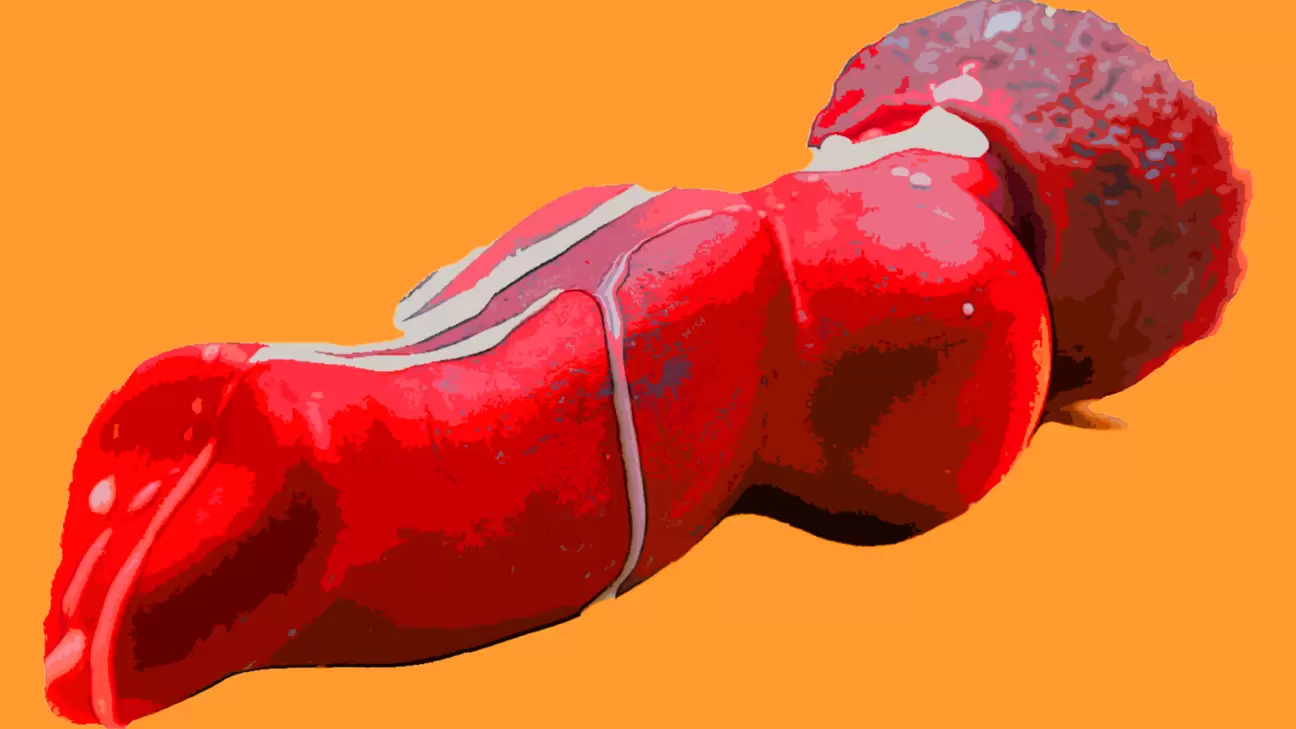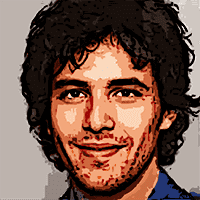 Written by
on , updated on
It's 3 AM and I'm writing this article. I'm sleepy, sure, but I'm dedicated. There's music playing in my earphones but I'll turn it off in a minute, or after this song, because this article needs my full attention. When I wrote dog dildo meaning into the search engines a few days ago, I was expecting simple results telling me what canine dildos were and where to find them. But I got results that talked not just about all kinds of fetishes but I also found out about several kinds of canine dildos and what to do with them.
So naturally, because I can't just trust whatever Google says, I turned to my friends who are somewhat of a furry enthusiast to ask more about canine dildos. You can read some more articles here on how they've helped me with writing about and selecting, among others, dragon dildos, horse dildos, and other fantasy dildos. And after testing and reading and reviewing almost every kind of dog dildo there is, here I bring to you, the article on everything you need to know about dog and other canine dildos.
What are Dog Dildos and The Different Types of Canine Dildos!
Canine dildos are also called knot dildos because they're modeled upon animal penises. Note that using a dog dildo because you have an animal fetish is not bestiality. Individuals who are furries or who harbor a fantasy fetish to sexually engage with canines use a canine dildo to fulfill that fantasy. They give their canine a name, an occupation, or even interests. Such individuals create a whole story behind why they're using a canine dildo and no animals are involved, just a good old dildo.
There are actually quite a few types of canine dildos. Wolves and dogs are the most popular types of canine dildos, but there's also the fox dildo. Obviously, dog dildos are a bit different from fantasy dildos like dragon dildos or tentacle dildos in the sense that wolves and dogs aren't animals from a fantasy. Ah but these dildos are not just like the horse dildo – with its huge length – but they're properly modeled on animals, finished with the bulbus glandis towards the base for a real feel. Wolf dildos and dog dildos don't necessarily have to be large. They are dog dildos because of their shape and texture, not just their knot and length.
How it works in the animal kingdom is, the knot makes sure the male animal's penis stays locked inside the female animal's penis during ejaculation. This is nature's way of making sure reproduction happens. Can't risk the withdrawal of the penis before the ejaculation. But the knots on the canine dildos are just for our fun. Some see them as testicles attached to the dildo but the knot on the dog dildo is to just give it a more realistic look, texture, and feel.
Dog Dildo and Wolf Dildo: The Two Most Sought After Canine Dildos!
As the name suggests, a dog dildo is a dildo modeled after a dog, and the wolf dildo is modeled after a wolf. Yes, I'm thinking of Jacob from the Twilight Series and No, not all wolf dildos are modeled after him. There are numerous options that you can choose from when considering a canine dildo. I've compiled a list for you, check these out real soon before you decide what to do with them next!
MISFIT Tim the Werewolf Dildo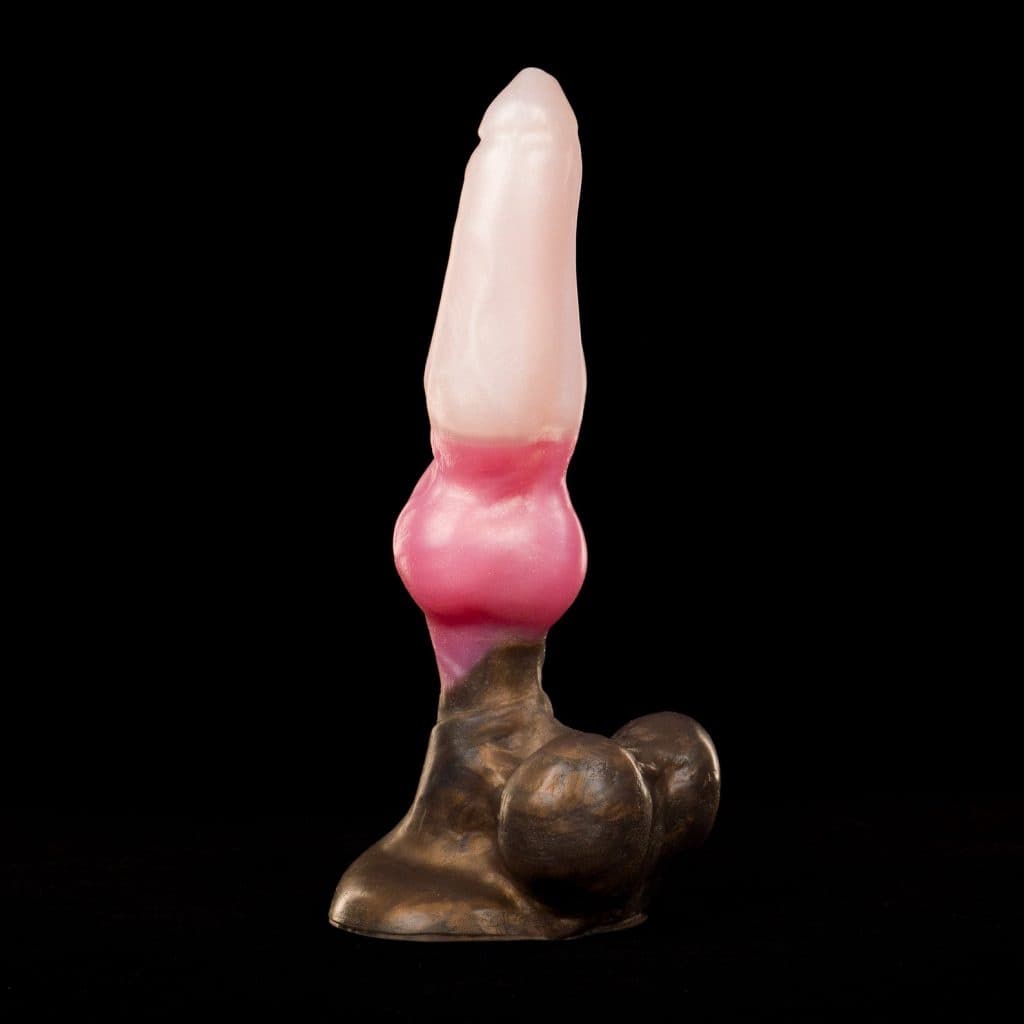 With 11 inches of length, this wolf dildo is fit for intense stimulation of both the vaginal and anal cavities. With a vac-u-lock and a suction cup, this wolf dildo feels surreal because of its curve. The design is made to feel like there's not one, but two knots at the end of this dog dildo. The pleasure just became double! Easy to use, easy to clean, and made from 100% body-safe silicone, this is a great canine dildo to fulfill your fetishes.
Scooby Doodle DISCONTINUED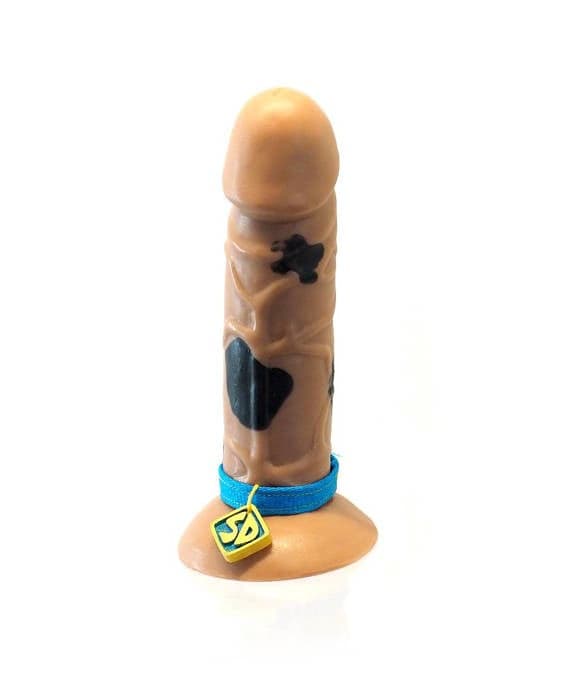 This dog dildo is so much fun! Durable, hygienic, and completely fitting if Scooby-Doo was the one who got you interested in your furry fetishes… there's even a removable collar! The suction cup at the base gives you a hands-free experience. Be sure to give this dildo a try if you're a beginner! With 6 inches of length, this dog dildo is both fun and realistic!
Razor Knotted Dildo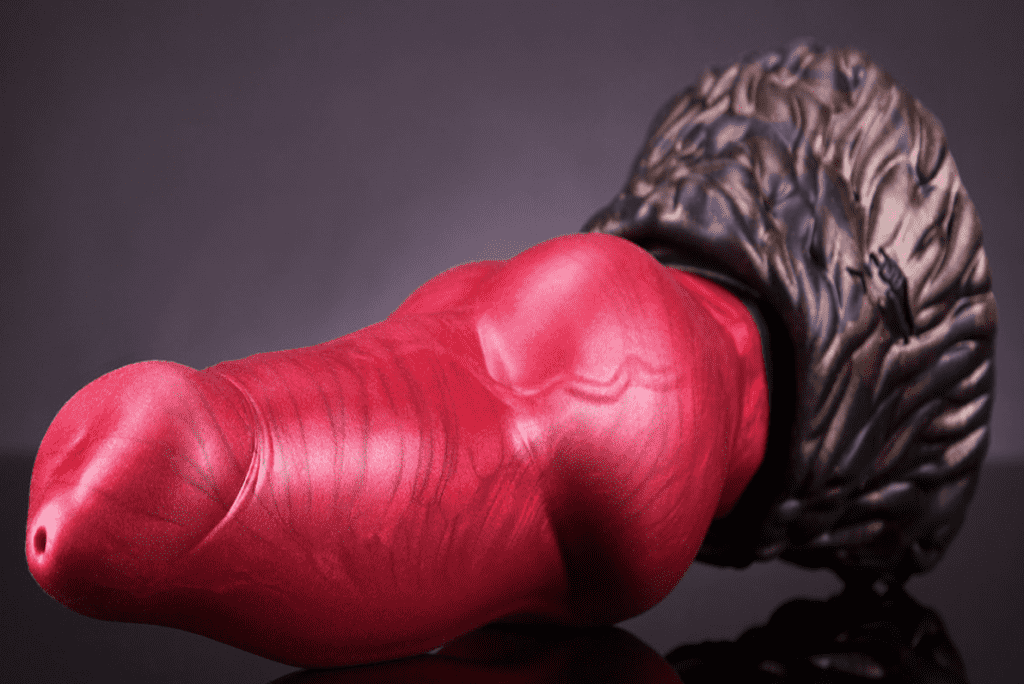 I wrote this article on Bad Dragon dildo as well, and if you've read it you'll know that Bad Dragon is one of the, if not, the best websites for fantasy dildos. So obviously this canine dildo, which is their signature wolf dildo, has to be among the best of bests. It's durable, hygienic, made from platinum grade silicone, and it comes with a cum-tube! It's also extremely easy to clean. Bad Dragon gives an exclusive chance to customize the colors and sizes of the dildos they provide, so go on, get yours today!
Mundir Wolf Dildo
This wolf dildo is smooth and safe! Handmade, with about 6 inches of insertable length, safe to use, and completely easy to clean, this dog dildo is recommended for beginners. Mundir wolf dildo is firm, but just the right amount. Explore your wild fantasies just the way you want by customizing the colors of this canine dildo! If you don't believe me, read those reviews! Look at those colors! This is one attractive wolf dildo.
Buddy Dog Dildo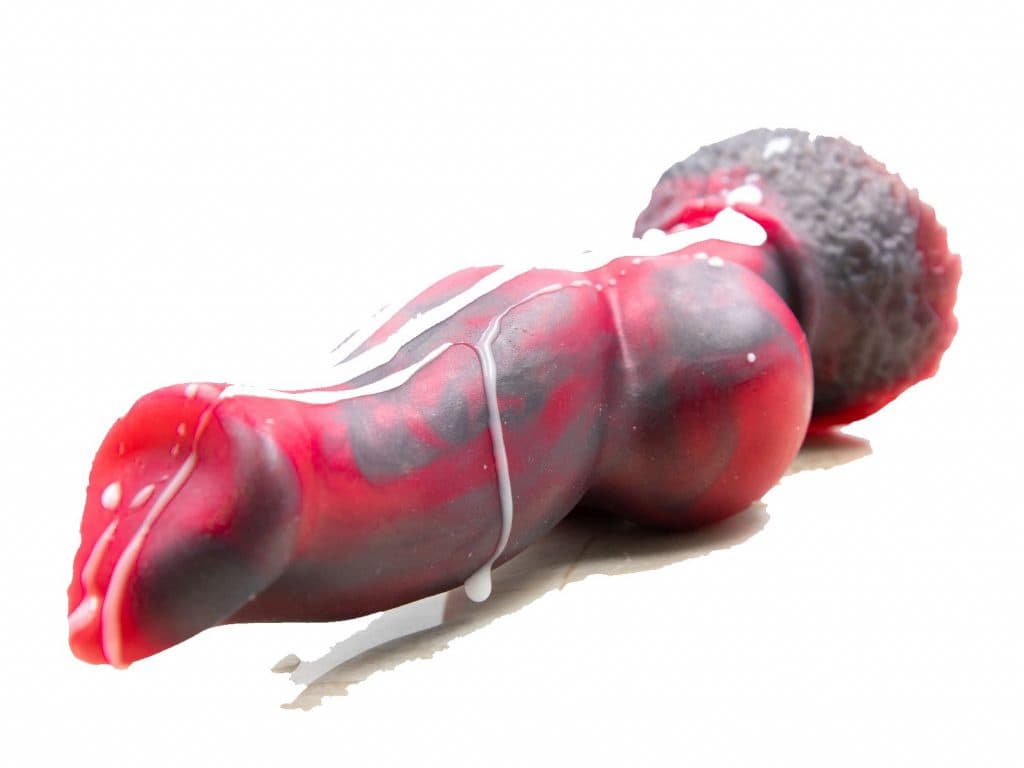 This dog dildo is handmade with platinum silicone and also comes with the option to be customized in any color you want. It is knotted and can become your best buddy in no time at all. And ah, the sizes vary from small to medium to large!
Ferin Fox Dildo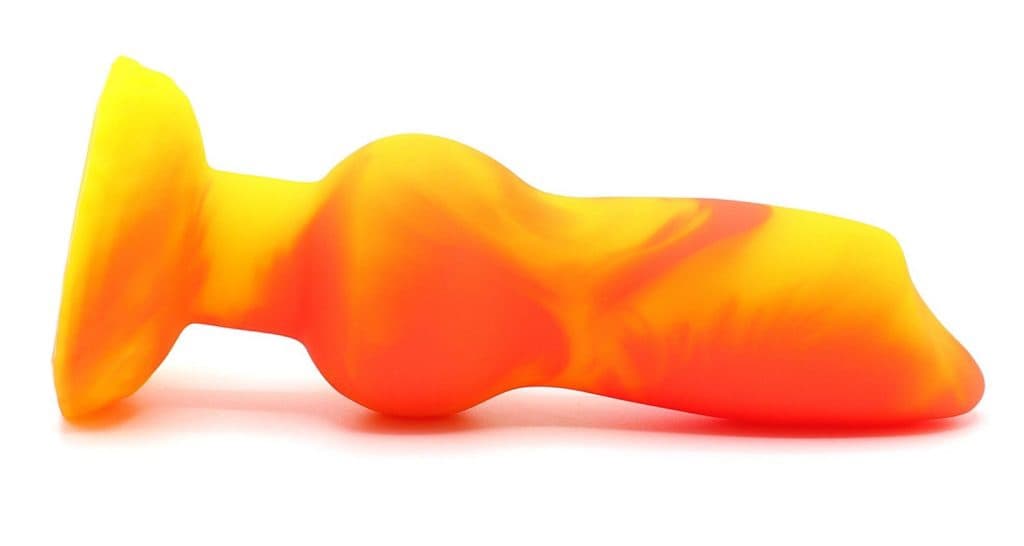 Well, why should the fox dildo not be included in this list? So here it is, the fox dildo for all the foxy lovers of fantasy fetishes! The size is for beginners – 6.5 inches to 8.5 inches – but the knot is for everyone! And, you can customize the colors. This is what is the most fun thing about fantasy dildos – they always come with the option of such vibrant colors you'd want them all! This dog dildo in particular is handmade, with soft platinum silicone, and easy to clean!
What To Do with a Dog Dildo?
It's important that you take some time to customize your canine dildo if you have that option. When you're using a fantasy dildo, it's important you choose a dildo you feel attracted to. You could have your own story about why you're interested in being sexually engaged with a canine. Put that story into a dildo you'd like. Don't just pick something up, check the length, the type, and also the color. When fantasies are concerned, everything matters.
Now that you have a canine dildo, how to use one? Let's go over some points, shall we?
Well, first things first, you need to make sure you use adequate lube
I know, I know, I keep saying this but it's important to understand that lube makes everything better. Lube helps you to insert the bigger dildos inside you smoothly. Even if you're slick and wet – a lube will always go a long way.
Focus on the type of canine dildo you're using
If you're using the canine dildo with someone, or even solo, it's important to understand the shape of the dildo and find a position you're comfortable with. The knot might need a little getting used to – the shape of a canine dildo is not similar to a human penis. We know this shape is what makes the canine dildo so much more interesting, but it's advisable to test the double knots and the textures of the dildo by using it slowly at first before you decide to rage on it.
Frequently Asked Questions About Dog Dildo
Here you will find answers to common dog dildo questions.
Is an inflatable dog dildo good for temperature play?
Inflatable dog dildos can be filled up with warm water instead of just air. However, they're not so good for temperature play. The reason behind this is the water doesn't reach every surface inside the dog dildo evenly. This makes it hard for the dog dildo to be heated up properly. Even though warm water makes the dog dildo feel hot and realistic like an actual penis, temperature play is considered the best when using glass dildos. (Check out my article on glass dildos to know more – information and tips – about temperature play with dildos.)
Are canine dildos harder to use than any other kind of dildos?
Absolutely not. Canine dildos are crafted to be completely safe to use. Once you check if they're made with body-safe materials or not, and get used to the different textures of the dildo, you're good to go! The knot is what makes a canine dildo different but be assured it will not stick to you. You can use your canine dildo any way you like, provided you load up on lube!