Elsa Jean
Overall Rating
3.68 out of 5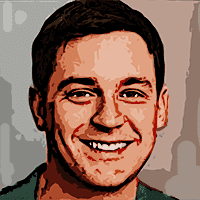 Written by
on , updated on
Elsa Jean Fleshlight
Fleshlight continues to recruit top porn stars and Elsa Jean is one of them. So, all of her fans can be super excited now. Even though you're not getting the porn star herself, you're getting the next best thing – Elsa Jean Fleshlight.
The Elsa Jean Fleshlight series has two models: Tasty sleeve with a vagina-like orifice and Treat with a butt-like orifice. Combine them and you get a tasty treat – exactly what Elsa Jean is.
Currently, the Tasty sleeve is among the best-sellers on the Fleshlight website and you're about to find out why.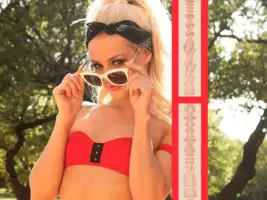 Order Now
Elsa Jean Fleshlight Benefits
Since Elsa Jean Fleshlight already has many fans all over the world, there has to be something really special about it. So, let's take a look at the benefits that come with this pocket pussy.
2 Unique Sleeves
As I mentioned in the beginning, the Elsa Jean Fleshlight series has two sleeves. The Tasty sleeve has a vagina-like orifice and Treat has a butt-like orifice.
According to Fleshlight's website, the Tasty sleeve currently is a best seller. When we'll move on to the part about how this sleeve feels, you'll understand why.
Elsa Jean
Naturally, when you're getting a Fleshlight that comes with an orifice that looks like your favorite porn star – it becomes at least a hundred times more exciting.
Finally, after years of fantasizing about how would it feel to have sex with your favorite porn star, you'll get the next best thing.
You know how hot Elsa Jean is and you know you want her.
Quality Materials
Both Elsa Jean Fleshlights are made from patented SuperSkin material. SuperSkin means the sleeves feel very similar to real skin, they are hypoallergenic and won't cause any irritations or unexpected skin allergies.
However, you have to keep in mind that you always need to use lube with your Fleshlights. If you are not using lube, it can lead to skin irritations that are caused by traction. They are completely unrelated to the materials themselves.
Easy to Clean and Maintain
Each Elsa Jean Fleshlight sleeve has an exciting texture that is super easy to clean and maintain.
Keep in mind that each and every sex toy needs to wash before and after each use. This way you will keep them clean and avoid getting any dirt, sweat, and other nasty stuff on your private parts that you definitely don't want on them.
Discreet Shipping + Billing
Fleshlight always gives its customers the best treatment and values their privacy.
That's why each and every item that you order will arrive in unmarked boxes. So, no one will be able to tell what exactly have you ordered.
How Elsa Jean Fleshlight Works And Fells?
If you already own a Fleshlight or two – you already know how Elsa Jean works.
However, for those who are new, I'll give a short explanation.
First, be sure to wash it with warm water before the first use and after each use. Also, turn it upside down for the fastest drying results.
Second, make sure you lube her up properly before you stick your penis in. Otherwise, you will get a lot of unnecessary traction that can cause skin irritations. Trust me, you don't want that.
Also, make sure to buy water-based lube. It is compatible with nearly any sex toy material, including SuperSkin.
How Elsa Jean Fleshlight Feels?
Well, we've arrived at the most important part of this Elsa Jean Fleshlight review. Finding out how she feels. So, let's take a look at each Fleshlight in more detail.
Elsa Jean Tasty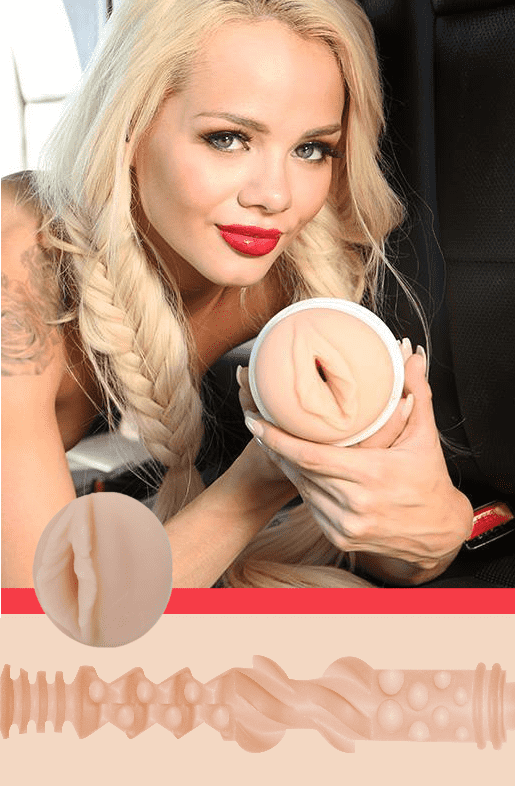 Tasty is the vagina-like Elsa Jean Fleshlight. As you probably know, it's among the best-selling Fleshlight Girls items.
The texture of the sleeve is intense, yet not too much. Somehow, it felt like Elsa Jean was teasing me with her tight but not too many sensations. It made me want more. And that's exactly what I got from Treat.
Elsa Jean Treat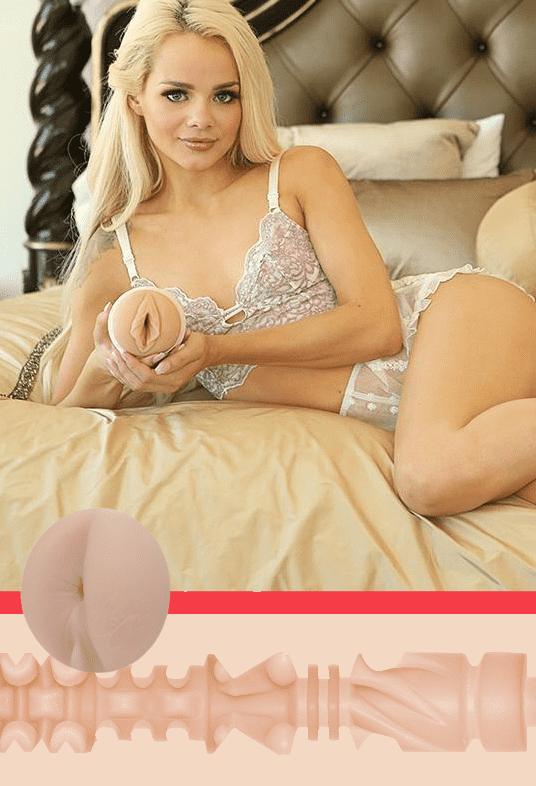 Treat is the butt-like Elsa Jean Fleshlight.
While Tasty is the sleeve that turns you on and makes you want more, Treat is there to finish the job. The sleeve is super textured and it seems like it narrows down at the exact places it needs to.
Even though Tasty is the one everyone's going out of their minds for, I would always take the Treat.
What is Included in The Package?
Knowing what you get in the package helps you make better purchasing decisions and evaluate what you get for your money aspect.
Also, it helps determine whether you need to buy any additional items. Spoiler alert: make sure you order water-based lube if you currently have none.
Since you already know what you're not getting in the package, take a look at this full list of items that will actually arrive in your unmarked box from Fleshlight:
Brand new Tasty / Treat texture sleeve (based on purchase choice)
Luxurious white Fleshlight case that comes with an extended protective cover
Unique Elsa Jean Vagina / Butt orifice (based on purchase choice)
Detailed instructions for proper use and care
Elsa Jean Fleshlight Downsides
Even though Elsa Jean Fleshlight sleeves have intense textures, there are some downsides to them.
Better Than Riley
As sad as it is for me to admit, Elsa Jean Fleshlight is better than Riley Reid's Fleshlight. And she's one of my favorite porn stars.
However, I can't lie to myself and my readers. As much as I wish it was the other way around – Elsa definitely won in the Fleshlight competition.
Elsa Jean Fleshlight Alternatives
As great as Elsa Jean Fleshlight is, there are some alternatives to it. If you're willing to take a step even further intensity-wise – take a look at what Stoya Destroya Fleshlights have to offer.
They're nothing you've seen before. Especially the little vampire-like teeth that will give your penis touches it never experienced before.
So, if you're searching for Elsa Jean Fleshlight alternatives – Stoya should be on top of your list.
Elsa Jean Fleshlight Reviews
Knowing what people say about the Elsa Jean Fleshlight can help you make up your mind whether she's the one for you.
I've gathered some testimonials from real users that tried Tasty and/or Treat and shared their experiences on the official Fleshlight website.
Here are the Elsa Jean Fleshlight reviews written by real users:
Tasty is a superb lady texture and it gets a lot of use. I appreciate the varied textures that are not overpowering. I tend to prefer a little more subtlety in textures, but this one feels great.

– Alex B.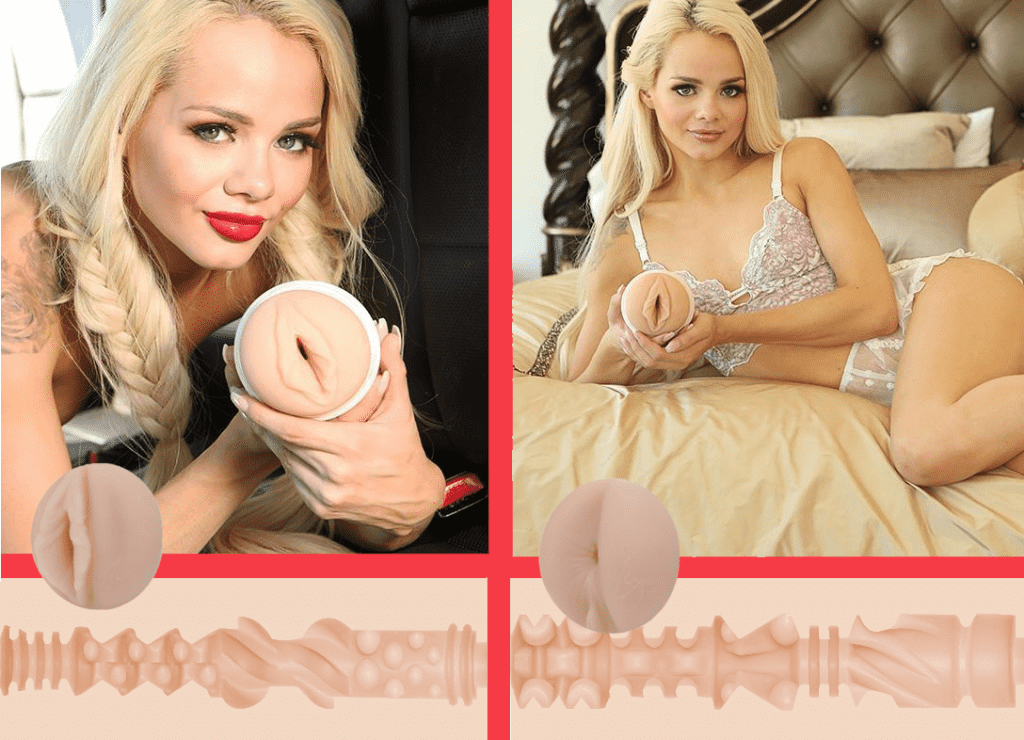 Was my first fleshlight and I gotta say: Not too shabby. It feels great especially when you play with the different suction levels. Only real issue I have is having to clean it but that's mostly just me being lazy. Luh you Elsa.

– Sir K.
This product is a lifesaver. If your away on business or off fighting a war for months on end, why take a chance on hookers or affairs or ruining other people's lives by getting a stranger pregnant. This is a saver of marriages and relationships. I cant imagine not having one in my possessions now.

– Michael L.
As you can see, dudes all over the world are obsessed with Elsa Jean and call her a lifesaver in numerous situations. So, maybe you're among the guys that need a helping hand from time to time?
Overall Verdict
Overall, Elsa Jean Fleshlight is unbelievably good. She managed to surpass my ultimate favorite porn star Riley Reid's Fleshlight and is now among my favorite sex toys.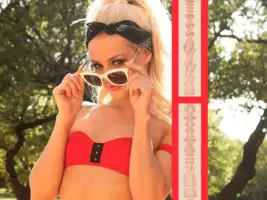 Order Now
The Elsa Jean Fleshlights are tight, intense, and unique in texture. So, if you want some new experiences for your penis, no matter how advanced it is, you will enjoy Tasty and Treat.
If you feel like Elsa Jean Fleshlight is what you're looking for to spice up your sex life, make sure you order it from the official website. This way you'll get fully discreet shipping and generous discounts for additional items. Visit the official website by clicking the link below.