Quickshot Turbo
Overall Rating
4.48 out of 5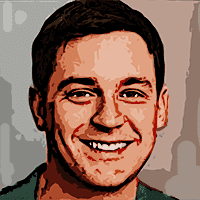 Written by
on , updated on
Fleshlight Quickshot Turbo
I finally managed to get my hands on the new Fleshlight Quickshot Turbo. Since the Turbo Core turned out so great, I kept on wondering what the compact Turbo masturbator can do for me and my private parts.
The new Quickshot Turbo sleeve is made from Fleshlight's patented blue ice SuperSkin™ material that allows you to see your penis in action while enjoying its ultra-tight grip. With the suspended ring system that makes Turbo Fleshlights so unique, your penis will experience extra suction and intensity for the most realistic blowjob experience.
All of these great things fit into only 4.4" (with caps). How great is that?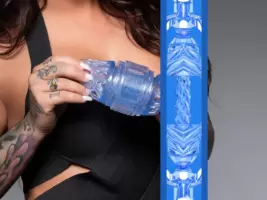 Order Now
Fleshlight Quickshot Turbo Benefits
Here are the main benefits that you get together from your Fleshlight Quickshot Turbo:
Tight Grip
Blue ice or simply blue Fleshlights are tighter than the regular pink ones. That's why your penis will be in a more snug environment with more intense suction sensations. However, tightness usually means more lube, so be generous with it when using a blue ice sleeve.
Fits Most Penises
Since the insertable length of the Fleshlight Quickshot Turbo is 3.5" and it's open at both ends, the toy will perfectly fit almost any penis size. However, since the Fleshlight gives a tight grip, you should only worry if you're gifted girth-wise. If your penis girth is 5.5" or more – better chose something else, since this Fleshlight may be too small for you.
Unique Sensations
Each and every Fleshlight is unique. So, this combination of materials, grip, texture, and intensity you won't get with any other masturbation sleeve. While some Fleshlights turn out similar to others, there are not too many Quickshots to chose from. So, keep that in mind, if compact solutions are what you're looking for.
Quality Materials
Fleshlight uses only high-quality and body-safe materials. This means that you won't suffer from any unexpected skin allergies or irritations. Also, the blue ice material is super durable and resistant to stretching out.
Choosing quality materials for sex toys is very important. The market is very unregulated and there are more harmful toys than good ones. That's why choose only reputable manufacturers and always read the label before you buy anything.
Real Feel
When it comes to finding a good blowjob toy – blue ice sleeves are the way to go. This material gives extra suction and overall more intense sensations. These qualities make it an excellent choice to mimic blowjob sensations since after all, they're mostly about suction.
Easy to Clean
The sleeve is open at both ends, so washing the Fleshlight Quickshot Turbo is super easy. The same goes for drying it as well. However, you shouldn't put the protective caps on the toy until it dries out completely.
Solo and Couples
The Fleshlight Quickshot Turbo can be used for solo play – that's obvious. However, you can use it together with your partner as a blowjob intensifier. Also, it's great for the person who is giving the blowjob in the times when they feel in need of a break.
Travel-Friendly
The compact size of Fleshlight Quickshot Turbo makes it a perfect travel companion. Also, the toy is pretty discreet. The only way o know what it actually is – is knowing what it is. Otherwise, it just looks like a modern speaker or some sort of a toy.
Low Price
Compared to regular-sized Fleshlight, Quickshots are cheaper. So, if you don't want to spend too much and are looking for a compact discreet sex sleeve – Fleshlight Quickshot Turbo could be exactly what you're looking for. Quickshots really have a great price and quality ratio.
Fleshlight Quickshot Turbo Downsides
While the Fleshlight Quickshot Turbo is a great sex toy. However, there is one downside to it:
Not For Thick Penises
If you are very gifted girth-wise – there might be a chance that this Fleshlight will be too small for you. When I say gifted, I mean over 5.5". So, in such a case, consider a regular-sized Fleshlight.
Other than that – this sex toy is easy to take care of and feels great in action.
How Fleshlight Quickshot Turbo Feels?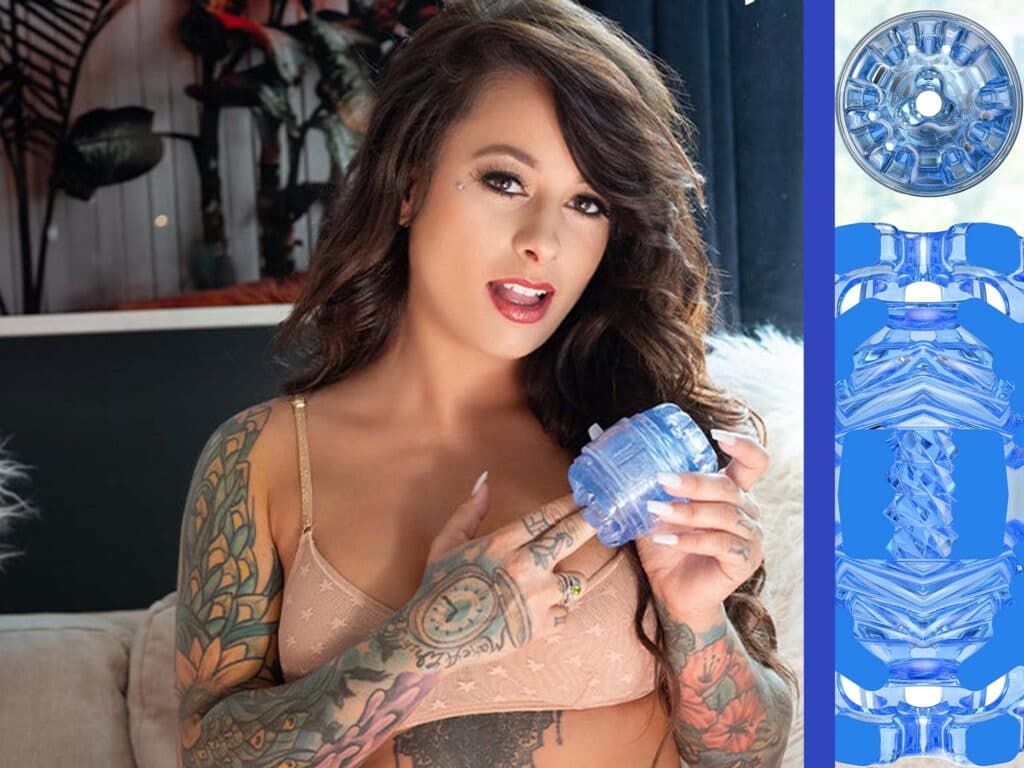 Fleshlight Quickshot Turbo has an insertable length of around 3.5 inches. It's open at both ends and has a mirrored texture from the middle.
So, it doesn't matter from which side you use it – you'll be getting the same treatment. Quickshot Turbo can be used for solo experiences or to enhance the BJ while you're with your partner.
Even though it's small, Quickshot Turbo has a very thought-out texture, where every single millimeter seems to make sense.
First, the entrance simply seems to suck in the penis and sort of forces it to go deeper. After a short grinding, your penis sort of gets spits out to the other side. And that feels insanely great. If the narrow part of the sleeve would be longer, you could say that it's too much, however, when your penis is in-and-out that fast, it's crazy good.
Sometimes small things do come in small packages. Fleshlight Quickshot Turbo is definitely my new favorite Quickshot sleeve. It's great for those evenings when you want a quick relief after a long day without a lot of hassle.
Fleshlight Quickshot Turbo Alternatives
If you are looking for a compact sex toy, you can consider other Quickshot models. My personal recommendation would be the Riley Reid Quickshot. It has a well-balanced and exciting texture. Also, come with the benefit of the fantasy of Riley Reid.
However, if you're looking for a blowjob toy that would be full-sized, the new Turbo Core. In my opinion, it has the best texture out of all Turbo Fleshlights and has an exciting, stimulating orifice.
Fleshlight Quickshot Turbo Reviews
I always say – collect as much information before making a decision as you can. Especially when it comes to spending money. To make it easier for you, I have collected some positive and negative Fleshlight Quickshot Turbo reviews from verified users. All these reviews were written on the official website.
Here is what people liked about this Quickshot:
This is a good one, I will say better than the regular quickshot but it's still a quickshot. Good, fun, or it's still small

– Malik N.
Turbo is my new favorite…the soft material and design feels like one of the greatest "Oh" moment while getting head!!!

– Randy D.
Best quickshot by far. Probably a little too snug for some but perfect for me. Quite impressed!

– Randy A.
And, here's what they didn't like:
I used it one time (tried to use it) this thing is made for baby weiners. I wish I would have known too, waste of money. Completely uncomfortable and so tight. Pushing the liner out of the housing. Really disappointed. Maybe customer service will read this and hook me up, it wasn't my first purchase ? ????

– Cody B.
Really like it feels real but the tackiness of it I don't like even after washing but I will get over it

– Jay J.
Fleshlight Care Tips
Fleshlight is a very simple device. However, there are a few essential rules that you need to follow in order to ensure its longevity.
Hygiene is Crucial
It doesn't matter whether it's a Fleshlight or any other sex toy – hygiene is a must. You need to wash your toy after each use. Not every second or third time – after every use.
If you don't do that, your toy can get infected with various bacteria that could later cause serious infections. Those infections can turn even peeing into torture. Also, will take a lot more time for the infection to pass than it would take to clean the toy in the first place.
Lube is Necessary
Water-based lube is a must when playing with Fleshlights. Even though the toys are made from the highest quality materials – they're not self-lubricating.
If you don't use lube to reduce the friction between your penis and the toy, using it can (and will) be painful). It can cause some serious skin irritation, even bruising. So, be gentle with your penis, it's already sensitive enough.
What's In The Package?
Here is a full list of items that you will get when purchasing Fleshlight Quickshot Turbo:
Open-ended blue ice SuperSkin™ Sleeve with Turbo Tech
Sleeve caps on each end for convenient storage
Compact clear case
As you can see, you're getting the toy itself, and all you need to protect it from dust at home or when traveling. Since there is no lube included in the package, make sure you have some water-based one at home, or don't forget to order extra before the toy arrives. Of course, you can get some lube from Fleshlight.
Additional Items
There are several additional items that can upgrade your Fleshlight Quickshot experience and help you take care of its maintenance.
Quickshot Launch is the toy to choose if wish to turn your experience into an automated one and enjoy hands-free blowjobs.
Fleshwash and Fleshlight Powder are essential to ensuring the longevity of Fleshlight sleeves.
The Quickshot sleeve warmer is the most convenient way to warm up your Quickshot sleeve. Believe it or not, heating the sleeve up to human body temperature makes a huge difference.
Not only that, you can get a special connector to connect several sleeves into a longer one.
Overall Verdict
Overall, this is one of the best Fleshlight sleeves and definitely the best Quickshot sleeve that I've encountered.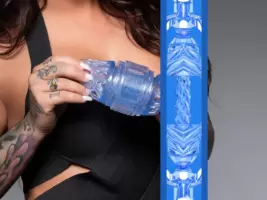 Order Now
It's intense, textured, exciting, and gives a lot of suction for the ultimate blowjob experience. So, if you're looking for some intense quickies on the go – Fleshlight Quickshot Turbo should be on top of your list.
Unless, of course, you have a very wide penis – that could make the Quickshot too small for you.