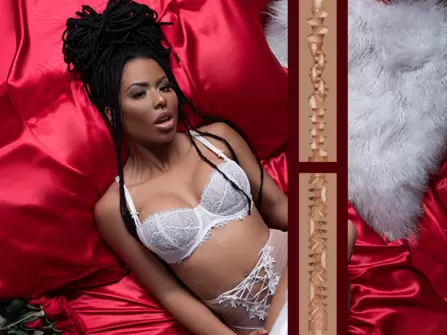 Kira Noir
Overall Rating
4.6 out of 5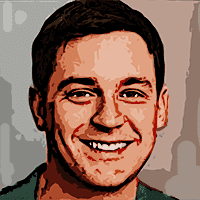 Written by
on , updated on
Kira Noir Fleshlight
In February 2022 Kira Noir Fleshlight was introduced to the market. The collaboration between Fleshlight and Kira Noir resulted in two tight and very intense sleeves.
The first sleeve is called Spellbound and comes with an orifice that looks exactly like Kira's vaginal lips. The second one is called Bewitched and has an office that will make it seem like you're entering Kira from the back door.
Kira Noir Fleshlight Benefits
Here is a list of the main benefits that you will be getting with each of Kira Noir Fleshlight sleeves.
Order Now
Unique Textures
Each and every Fleshlight sleeve comes with a unique texture that you won't find anywhere else. It doesn't matter if you choose to go with Spellbound or Bewitched – a unique experience is guaranteed.
Fantasy Element
Having a masturbation sleeve that is based on a porn star, makes the whole experience a lot more exciting. You can finally get a close experience of what your desires would feel like in real life. Since the orifice looks like Kira's private parts – it allows the imagination to go wild very easily.
Quality Materials
Each and every Fleshlight is made from high-quality hypoallergenic materials. This means that you won't experience any unexpected skin irritation or allergies. Your private parts are in good hands with Fleshlight.
Real Feel
Not only are the materials of the sleeves hypoallergenic, but they're also very realistic. The SuperSkin material that Fleshlight uses to produce their sleeves is very realistic and feel close to human touch. However, better results are reached when the sleeve is warmed up to human body temperature. Trust me on this one, it makes a huge difference.
Discreet Shipping
Fleshlight values your privacy. This means that each and every item that you order from their website will be handled in a discreet manner. There will be no flashy brand names printed on the package that screams he's about to masturbate.
Kira Noir Fleshlight Downsides
While the sleeves are excellent and will suit most, there is one downside to Kira Noir Fleshlights.
Not For Sensitive Penises
If you have never used a Fleshlight (or similar device) and tend to reach orgasms quickly – there is a chance that Kira Noir could be too intense for you. However, you can consider using her sleeve(s) for stamina training and train yourself to last longer in bed.
How Kira Noir Fleshlight Feels?
There are two Fleshlight sleeves from Kira Noir, naturally, I had to try both of them. Let's review them in detail, one by one.
Kira Noir Fleshlight: Spellbound Sleeve
The Spellbound sleeve by Kira Noir comes with an orifice that looks exactly like the vaginal lips of the gorgeous Kira Noir.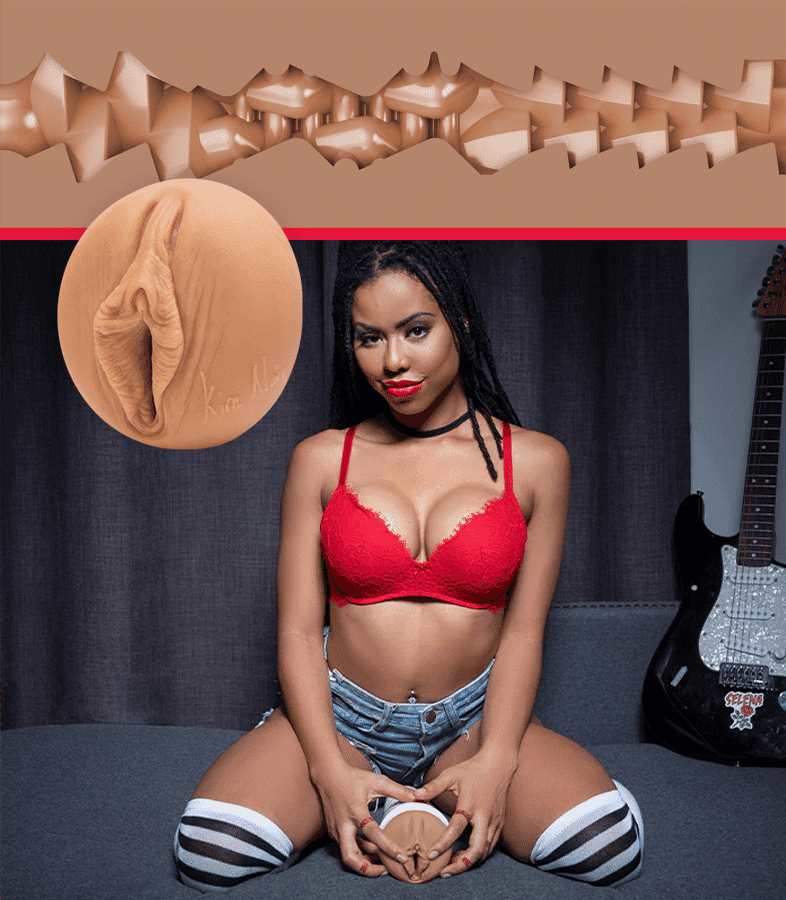 The sleeve essentially comes with 3 main textures, each unique tight, and exciting.
The first chamber of the sleeve has a nice grip and the right amount of suction to pull you in and force to go deeper. Since the texture of the first chamber (and the third) has more resistance when doing the pull-out motion, the sleeve gets more intense compared to when you're pushing forward.
My personal favorite was the second chamber due to the bumps of the texture that you can definitely be felt against your penis head.
The third chamber slightly resembles the sensations of the first one, only more intense.
Overall, the sleeve is tight, and intense and makes it pretty hard not to cum right away. I would recommend it to anyone who enjoys intense experiences with a lot of suction effects.
As I mentioned, for me personally, the middle part of the sleeve is the best one and the third one resembles the first one, so if you can reach the second chamber, you pretty much get the best this sleeve can offer.
Kira Noir Fleshlight: Bewitched Sleeve
The second sleeve from Kira Noir comes with an orifice that looks exactly like her anus.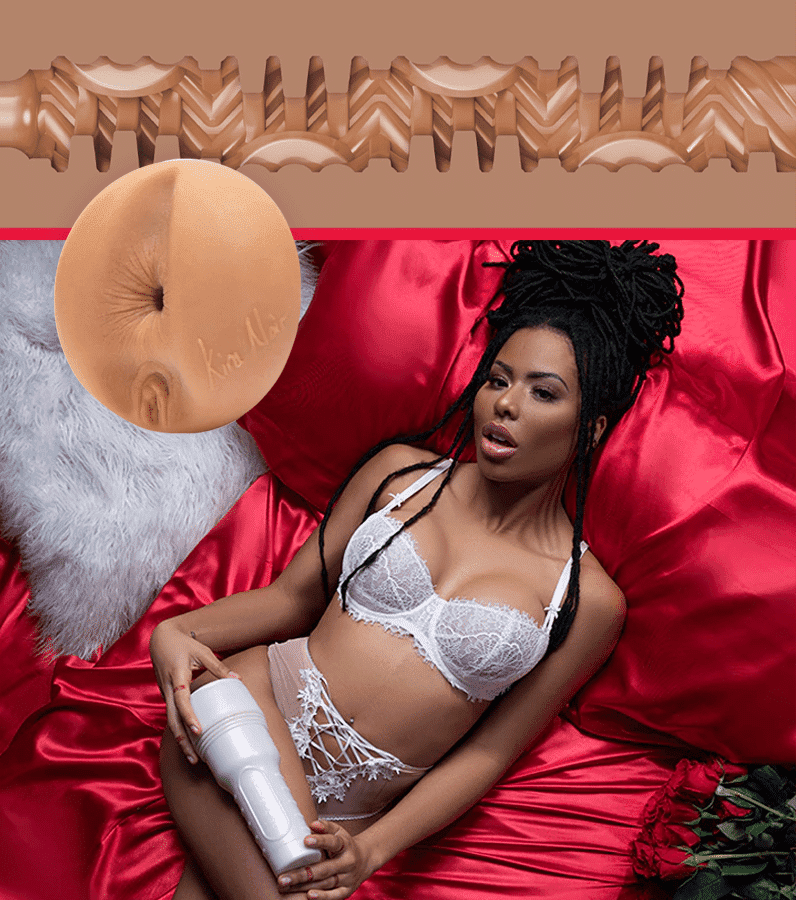 The texture of the Bewitched sleeve is similar throughout the whole sleeve and the second half of the sleeve gives is a duplicate of the first one.
When it comes to the experience, the entrance has a nice grip and the sleeve is very well constructed to mimic real anal intercourses. The only thing that gives it away is those half-circle bumps that are very pronounced during penetration. If you want to make it even more intense, twist the sleeve while stroking. However, there's a chance that you've already tried similar with Lisa Ann.
Overall, Kira Noir quickly became one of my favorite anal sleeves and I would recommend it to anyone who is looking for a close-to-real-life anal sex experience.
Kira Noir Fleshlight Alternatives
If you feel like Kira Noir is not exactly what you are looking for, here are some excellent alternatives:
FeelAshley – an intense sleeve made by Kiiroo in collaboration with Ashley Barbie. It comes with more bumps and different textures so could work for those who enjoy a changing environment.
Janice Griffith Fleshlight – one of my all-time favorites – is super-well balanced and constructed in a smart manner for exciting and thrilling experiences.
Fleshlight STU – if you wish to work on your stamina, consider getting the STU, it comes with instructions on how to train yourself to last longer in bed.
Kira Noir Fleshlight Reviews
While you already know all about my experience with Kira Noir, let's take a look at what other guys have to say. After all, each and every one of us is different, therefore notice different things about a product. The more research you do and the different opinions you hear – the more likely are you to get an item that suits your needs.
Here's what other users are talking about Kira:
Best FL girl ever!I've had these for years, and Kira is by far the best!

-Bradley H.
It could be I used it too much and have become desensitized so ill give myself a week before try8ing it again. it looked good and expected something like Tight Chicks but I think for most fleshlight sleeves if there is not enough variation and tightness or bends in it (like tight chicks) they don't feel good IMO. However, I have not yet bought the vaginal one so that may be the difference.

– Alfred G.
This is my favorite purchase from the site to date. The feel is tight and has good grip.

– Najeeb C.
Those half moons really make it. If you're on the fence, go for it!

– Nathan H.
Incredible absolutely incredible! I swear you guys are getting better making these Fleshlights. With getting more detailed and more intense textures makes it more every dollar. Hope they come out with a piper perri next or Hannah Hayes.

– Justin N.
Fleshlight Care Tips
If you want to enjoy your Fleshlight more than just several times – you need to properly take care of it. Worry not, the maintenance is easy and doesn't require a lot of effort, yet is a gamechanger when it comes to the longevity of your sex toy.
Always Use Lube
When two dry objects rub against each other a lot of friction occurs. So, if you ever decide to skip lube with your Fleshlight sleeve, irritation will occur. Also, the friction could result in your sleeve ripping. That's why it's very important to never skip lubrication with Kira Noir.
Clean and Dry Properly
Cleaning your Fleshlight sleeve after each use is a must. If you don't clean your Fleshlight, it will become the most welcoming place for various bacteria and other nasty stuff to grow. If anything from that nasty stuff touches your penis an even nastier infection can occur. Trust me, treating the infection will take a lot more time and cause a lot more pain than simply cleaning the sleeve.
What's In The Package?
Here is a full list of items that you'll be getting along with your Fleshlight sleeve:
Brand new Spellbound or Bewitched texture sleeve (depends on order)
Unique Kira Noir Lady / Butt orifice (depends on order)
Luxurious Fleshlight case that comes with an extended protective cover
Detailed instructions for the proper use and care
As you can see from the list, the only thing missing is some lube. When it comes to masturbation sleeves – water-based lubricants work best with the material. Make sure to grab some in case you don't have any. For extra sensations consider getting heating/cooling lubricants.
Additional Items
While Kira Noir won't disappoint you on her own, there are several items that you can get to enhance your experiences and make the maintenance easier:
As I mentioned before – hygiene is extremely important. That's why getting Fleshwash and Fleshlight Powder will make your Fleshlight clean and fresh after each use.
Sleeve Warmer – quick way to warm up your sleeve to human body temperature without the Irish of overheating it.
Shower Mount – you're about to enjoy hot showers even more. There's nothing better than a hands-free orgasm under a stream of warm water.
However, if you want the ultimate sexual experience with Kira Noir, consider getting Fleshlight's Universal Launch. It's a new and updated version of the previously famous Fleshlight Launch. The new version is compatible with more Fleshlight models while the previous one only worked with standard-sized ones.
Overall Verdict
Overall, The Kira Noir Fleshlights are among my new favorites. Even though I started to get pretty skeptical when getting new sleeves, Fleshlight still manages to surprise me.
Order Now
The sleeve textures keep on improving and they find a way to surprise my penis in a new way. In others of Kira Noir, Spellbound is perfect for those who enjoy a lot of suction and a narrow passageway, while Bewitched is ideal for those who are all about textures and bumps.
While both sleeves may be a little too intense if you're a beginner, you can still consider them as a way to train your stamina.