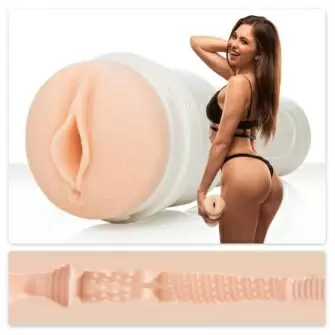 Riley Reid
Overall Rating
4.53 out of 5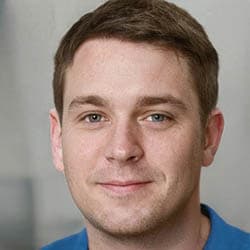 Written by
on , updated on
Riley Reid Fleshlight Review
This Riley Reid Fleshlight review is dedicated to horny men around the world who dream about fucking their favorite porn star.
Ever since Fleshlight Girls started, they've become a massive hit. One after other, huge porn stars started collaborating with Fleshlight and gave us, horny dudes, a chance to know what it would feel like to fuck them. Well, at least get something close to it.
Even though Riley Reid is one of the biggest stars on PornHub, she was kind enough to donate her vaginal and anal molds to bless us with Euphoria and Utopia.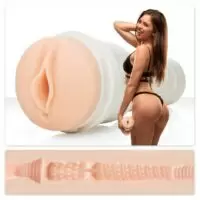 Order Now
When I say Euphoria and Utopia, it's not only the feels I have in mind. Euphoria and Utopia are the Riley Reid's pocket pussy titles. Euphoria is what you get when you choose to have sex with her Fleshlight butt. Utopia is what you reach when you stick it in her Fleshlight vagina.
Since I'm a huge fan of Riley, of course, I ordered both, the Utopia and the Euphoria, and below listed how they both feel and the pros along with cons of each. So, let's start from the front door and review Riley Reid's Fleshlight vagina – Utopia.
Riley Reid Fleshlight – Utopia Review
Since Riley Reid is one of my favorite porn stars, I was very excited ever since I found out about this collaboration with Fleshlight. Once her majestic vagina was available to order online – I did it straight away.
Even though Fleshlight Girls are slightly more expensive than your regular Fleshlight pocket pussy, I didn't mind paying extra – it's a porn star pussy I'm getting after all. And not just any porn star – it's Riley Reid!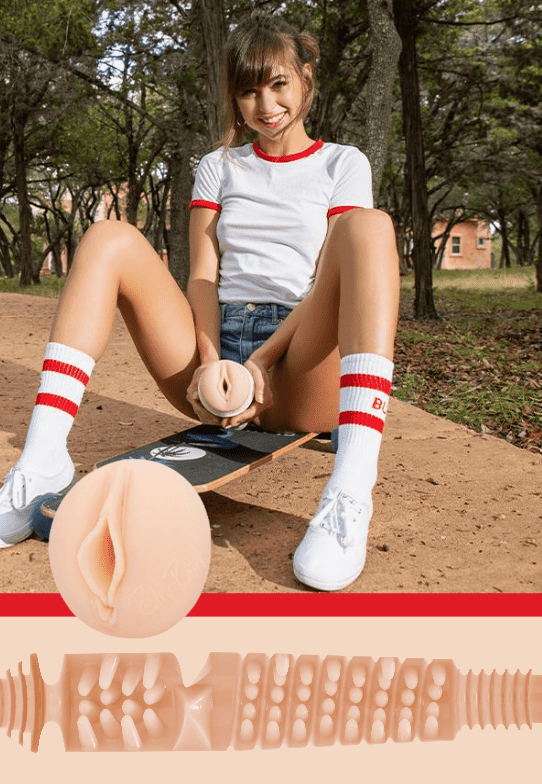 Utopia Pros
Well, listing the pros of Utopia is really exciting. Riley Reid Fleshlight, just like all of their products, is quality made and brought me a lot of pleasure. So, without any further ado, let's see what you get from Riley Reid Utopia Fleshlight pocket pussy:
It's Tight
Everyone enjoys a nice, tight, and firm pussy. Riley Reid Fleshlight is exactly like that. The opening of the pocket pussy is pretty tight, so as excited I was, I think I got even harder.
Utopia has three chambers, out of which, the further you go – the tighter it gets. So, if you want to come pretty close to knowing what fucking a tight porn star vagina feels like – Riley Reid Fleshlight is what you're looking for.
Feels Real
Made from their patented SuperSkin material, the Fleshlight Utopia feels so real, it's unbelievable. Having in mind that it's a pocket pussy based on a porn star, makes the whole experience even more exciting.
Literally, I was so hot for this, I was burning. I think the fantasy part adds a lot to this experience. Also, when you put it on and it feels real – it's fireworks, hands down.
Intense Sensations
Since the Riley Reid Fleshlight Utopia felt so tight, the sensations you get are pretty intense. Add the fantasy part to it and indeed, you do get Utopia out of it.
Tight around your penis, with ribs and nubs this pocket pussy will make it hard for you not to cum.
Getting Inside Your Favorite Porn Star
Well, this is the best part I guess. I doubt there's a guy out there who didn't dream about getting inside his favorite porn star at least once. Sure I'm one of this gang.
So, finally, you can see your fantasies and dreams go live by getting a Riley Reid Fleshlight and giving it to her and doing it goood. Stop fantasizing and simply get your pocket pussy.
Easy to Clean and Maintain
What's great about nearly all Fleshlight products – they're extremely easy to clean and maintain. Riley Reid Utopia is not an exception.
You can literally nut in it as much as you want, since cleaning it requires only a little effort.
However, keep in mind that you need to clean it after each nutting session. As you know, when it comes to sex toys – you need to keep them clean to avoid any bacteria, dirt, sweat, or anything else nasty on your penis.
Utopia Cons
Even though the experience with Riley Reid Utopia is incredible, there are some downsides to it. Well, for me this wasn't the case, however, all dudes are different and all penises have different needs. So, here are a couple of issues that you may face with this Fleshlight.
Could Be a Little Too Tight
The opening of Riley Reid Utopia is already quite narrow and it gets tighter with every chamber, it could be a little too tight for guys with very wide penises. However, if you enjoy your dick getting a tight hug – you should enjoy Riley Reid as well.
Could Be Too Intense
The Utopia Fleshlight is tight, with no doubts. So, if you tend to cum too fast, it may seem a little too intense. In the beginning, at least. However, you can see it as a porn star stamina training unit. It could with time help you last longer in bed. So, maybe it's a good thing?
How Utopia Feels?
Even though it was packed in a discreet box, once I unboxed the Riley Reid Utopia Fleshlight, I was anxious to try it. So, I got a quiet moment and let the action begin.
Like the responsible adult that I am, I grabbed myself some lube, searched for my favorite Riley Reid videos to enhance the experience, and allowed the party to begin.

In terms of lube, I chose a water-based one, as it is compatible with any sex toys materials. So, I recommend you always have some, cause you never know which toy and when you'll want to play with it.
Once my pleasure station was ready, I generously lubed up the Riley Reid Fleshlight and went downtown. Once I got my dick inside, I felt that it was getting tighter by the chamber. However, with each chamber and having a fantasy moment in mind – the pleasure increased.
What I really liked about it is how with each of the chambers not only does the tightness increases but the sensations change, as the textures differ. The greatest pleasure in my opinion comes from the third room, where the texture has multiple rows with small protrusions that cover your penis 360 degrees.
So, if you want a wild ride with your favorite porn star, Riley Reid Fleshlight surely surpassed my expectations.
Riley Reid Fleshlight – Euphoria Review
Now that we've covered what we find behind door number one, time to go in through the back door and see what Riley Reid Fleshlight Euphoria has to offer. If you thought that Utopia was incredible, you're about to find out that there's even more that you can get.
The price of Euphoria is the same as Utopia – slightly higher than of a regular Fleshlight. However, I stand by my point, it's not just a regular pocket pussy, so naturally, you pay extra for the porn star.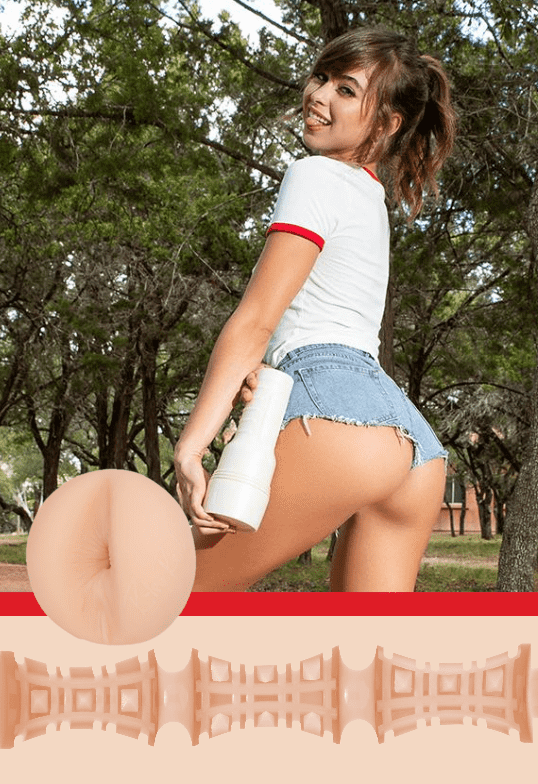 Euphoria Pros
Just Like Utopia, Euphoria comes with numerous benefits, that even make it slightly better than Utopia. Here's what I enjoyed about Euphoria and what you can expect to get from it:
Anal and Oral
Probably the most exciting part about Riley Reid Fleshlight Utopia is the fact that once you're inside, it gets you a bit confused.
By that, I mean that it felt a bit like getting a blowjob but also some nice anal. So, basically, I would call it a two-in-one deal. So, fasten your seat belts – you're in for one hell of a ride.
Extremely Tight
If I thought that Utopia was tight, this Euphoria is even tighter. Starting from a very narrow opening that's only 0.4 inches wide to chambers that tighten with depth with chambers of the sleeve that are separated by wider cross ribs.
So, if you want something tight around your penis to pleasure you, Riley Reid Fleshlight Utopia will not disappoint.
Fells Real
Utopia is also made from Fleshlight patented SuperSkin material. Even though the confusion between anal and oral exists, the Fleshlight Euphoria feels unbelievably real. Just like with Utopia, the fact that it's a pocket pussy based on a porn star, naturally makes the experience even more exciting.
Easy to Clean and Maintain
Just like other Fleshlight products – Euphoria is very easy to clean and maintain. So, you can enjoy it as much as you want – cleaning Euphoria requires only warm water and soap.
Still, you need to keep in mind that you have to clean it after each pleasure session. So, as you probably already know, you need to keep your sex toys clean in order to avoid any dirt, bacteria, sweat or anything else nasty on your private parts that could cause infections.
Euphoria Cons
Similar to Utopia, getting Euphoria means facing similar issues as with Utopia. Even though I've mentioned them before, here are some more details about it:
Could Be Too Intense For Some
The Riley Reid Fleshlight Euphoria is very tight, no doubts. If you tend to get premature ejaculation, it may be too intense in the beginning, at least. However, you can consider it your porn star stamina training unit. Perhaps, with time, it could with time help you last longer in bed.
Could Be a Little Too Tight For Wide Dicks
The opening of Riley Reid Euphoria is as narrow as 0.4 inches and gets tighter on the way, it could be a bit too tight for guys with wide penises, even tighter than Utopia feels.
How Euphoria Feels?
Just like with Utopia, I generously lubed up Riley Reid Fleshlight Euphoria and got myself ready for some action.
Actually, it surprised me once I got inside. Even though the opening was tight, what waited for me after was unbelievable.

What surprised me was the texture of the sleeve. It was difficult to tell whether I was getting oral or anal, so that was a unique experience. Unique yet very pleasant.
The chambers of the sleeve are separated by wider cross ribs, so it gets tighter and more intense with each one.
Compared to Utopia, it felt tighter and more intense. So, naturally, I came a lot faster.
The Verdict
While both Riley Reid Fleshlight options are very enjoyable, I would give a slight edge to Euphoria. I enjoyed the intensity of it and the fact that it felt like having a 2 in 1 deal: oral and anal for the price of one.
However, if you feel like Euphoria could be too intense for you, go for Utopia – from what I experienced, it's worth the money. So, you can order yours now here.