Sex Furniture 101
Written by
on , updated on
Wondering what is sex furniture? To answer the question, one would attempt to establish the connection between sex and furniture. Having learned about different products that are made to enhance sex feelings, pleasure, and satisfaction, one would clearly imagine that sex furniture is the equipment used to improve sex experience.
What Is Sex Furniture?
Sex furniture refers to a piece of equipment that helps to enhance a sexual experience. Sex furniture is among the products that have been created to enhance our sexual feelings and pleasure. Do you want to experience extra sexual excitement by attaining desirable sex positions? Sex furniture provides you with an opportunity to achieve just that. It comes in all sizes, shapes, and designs that suit your sexual needs.
Why Get Sex Furniture?
You can discover new, exciting, and fulfilling sex positions using different sex furniture that includes sex pillows, vibrator mounts, ramps, and wedges. Selecting the right furniture will make you experience a diversity of new sex positions to improve your lovemaking. Get sex furniture with an ergonomic design to help supports your body to have maximum pleasure.
You need sex furniture that helps you attain the best sex position. A sex position is essential in gaining more stamina and experiencing sexual pleasure. For instance, with the best furniture, doggy style can be magical by allowing you to have deeper penetration while maintaining eye contact with your partner.
Invest in sex furniture today, it is worth the cost. Sex furniture will not only enable you to get an amazing sex life but also play safe and have an exciting experience. Have the chance to explore and experience a multipurpose alternative to sex furniture for bondage play and enriched sex life. This article presents you with some of the sex furniture that will make you get that magical feeling when making love.
Liberator Esse Chaise Sex Lounger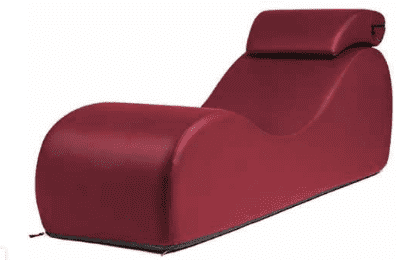 If you are looking for contemporary sex furniture that gives you the added slopes and height to provide the deepest penetration possible, then Liberator Esse Chaise Sex Lounger is the best furniture for you.
Esse Chaise is designed to elevate your sex life to whole new heights. This lounger provides the perfect support for your neck, head, and back in almost all sex positions, you can imagine. The design of Liberator Esse Chaise Sex Lounger allows partners a creative exploration of diverse positions to discover the most satisfactory ones.
The furniture itself is elegantly styled so if you don't know it's a sex chair, most likely you'll assume that it's a regular and kinda modern chaise longue.
The modern design of this sex lounger enables shorter people to comfortably reach the floor and have the body held by the furniture, which helps to increase thrusting power. The Chaise Sex Lounger ensures that your head, back, and neck are cradled while exploring different sex positions.
While using Liberator Esse Chaise Sex Lounger, customize the chaise to confine your spouse for submissive play. Let your sex imagination lead you to perfectly use this amazing sex furniture. The furniture helps to support your body, raise up knees, boost bending-over positions, and give necessary motion to lovemaking. Don't worry about cleaning this piece of furniture because it is made of sexy black faux leather.
Liberator Sex Wedge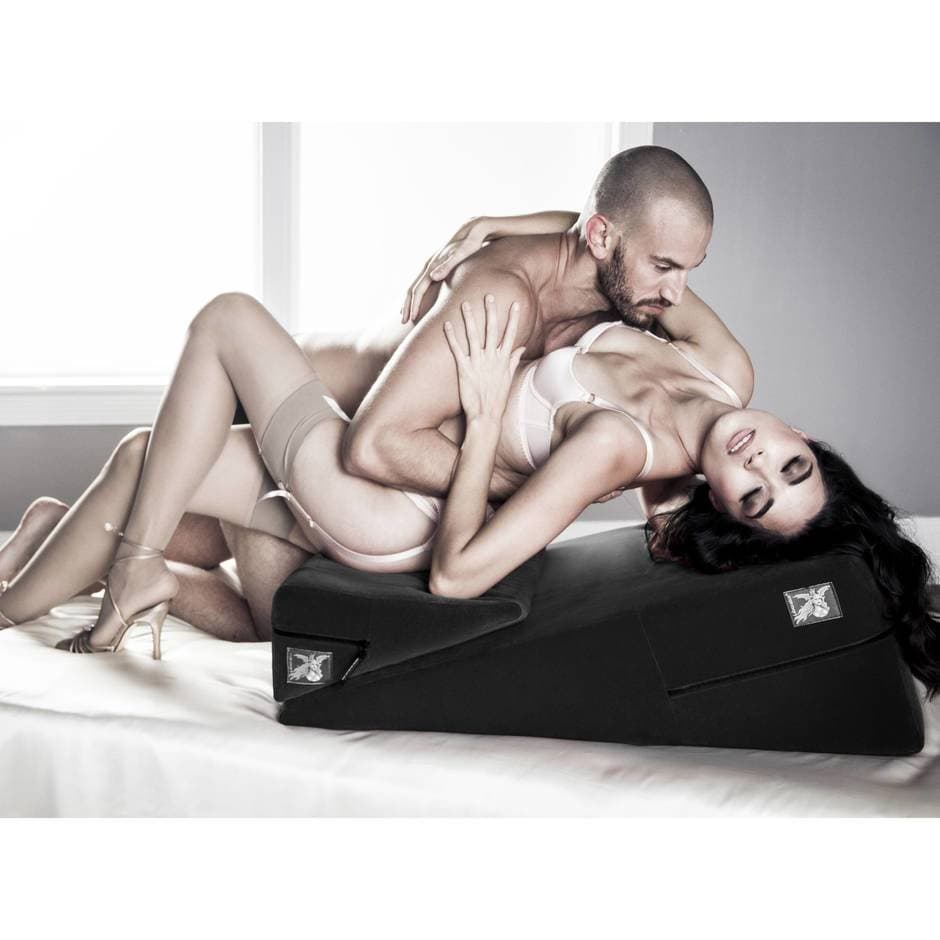 Ever wondered how you would improve your sex positioning? The liberator sex wedge is perfect sex furniture to support your desired positioning. The sex furniture is suitable for positioning the receptive partner in diverse poses. This sex chaise is providing the perfect angle for penetrative sex. The wedge allows you to adjust hips to provide cervical and g-spot stimulation to enable your spouse to get maximum satisfaction. You can use this sex furniture to attain the perfect missionary positions. Use the wedge to support your partner's behind up in the air giving him/her something to lie against to enable you to kiss when having the best penetration.
The liberator sex wedge is intricate sex furniture that allows you to explore different sex positions and enable your spouse to get a memorable experience. The Liberator Wedge consists of white foam brick to provide maximum comfort during lovemaking. The sex furniture enables you to keep your partner up in the air to help give the best thrusting and deep penetration for full pleasure. Use this sex furniture and you will never be disappointed.
Comfort is everything during lovemaking. Get the sex wedge that fits your size and enjoy it while making love to your partner. The liberator sex wedge has a regular-sized wedge and plus-size version to ensure that it fits you perfectly.
Adult Relax Sex Sofa Love Make Lounge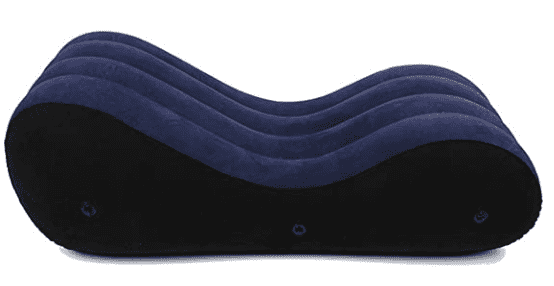 If you need an extremely classy piece of sex furniture that would provide you with incredible comfort, then Adult Relax Sex Sofa Love Make Lounge is the ideal furniture for you. The gorgeous sex sofa is suitable for meeting numerous love-making needs. Making love on the couch can be awkward because limbs can slip off limiting you from getting full sexual satisfaction. A perfect sex sofa can be a real gem in your sexual collection. The soft fabric enables you to make love when you are completely naked without the worry of getting rubbed raw. The design of the sex sofa is extremely elegant helping you to be versatile, use different angles to maneuver around for innovative sex positioning.
The Fetish Fantasy Sex Chair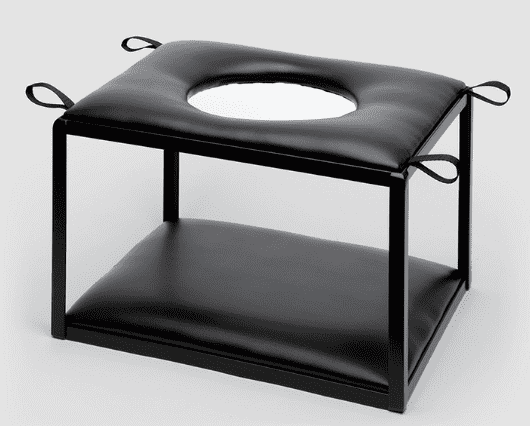 Have a chance to explore new positions without straining thighs. Using a sex stool allows you to enjoy sex without the need to worry about the weight of you or your partner. This simple chair makes jumping up and down your partner completely effortless.
With the help of the stool chair, you can enjoy several moves and try various positions that you were dreaming about but couldn't fulfill. The Fetish Fantasy Sex Chair is designed to enable you to play without worrying about weight limitations.
The chair has the capacity to hold up to 300 lbs. Fetish Fantasy Sex Chair is made using a heavy-duty tubular frame of steel.
Are you a person who loves deep penetration? This is the perfect sex furniture for you. The opening in the chair's center is designed to get you as close as possible to your partner and therefore experience deeper penetration. That's why Fetish Fantasy Sex Chair is the best for the most insane and deep penetration that is full of pleasure, of course.
The sex furniture allows you to superbly satisfy sexual desire. This piece of furniture allows you to be creative, and easily explore new techniques. Use Fetish Fantasy Sex Chair to take off the strain and get great fun. Also, you can even drop a pillow under the male partner so that he could reach the opening effortlessly.
Queening Sex Furniture Bench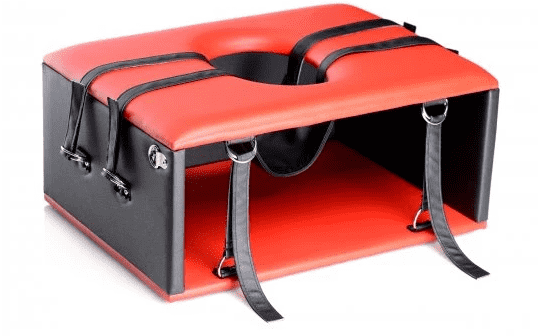 Are you among the persons who want to be sexually adventurous with their partners? If yes, Queening Sex Furniture Bench allows you to do just that, and more. This superb piece of BDSM furniture enables you to take face-sitting more seriously. The master class furniture is suitable for making oral sex longer-lasting, more comfortable, and enjoyable. This sex furniture is the best for roleplaying and other erotic practices to make lovemaking more enjoyable.
The queening stool has an adjustable head hammock that flawlessly positions mouth and nose and is firmly stuffed into the undercarriage. Using this piece of furniture help you enjoy lovemaking. Use Queening Sex Furniture Bench to perfectly position yourself and enable your submissive to enjoy one underneath you. Using this sex furniture helps become attentive, feeling extra wicked, and torment the wide-open body lying horizontally beneath you.
Also, the Queening sex furniture bench is designed with specific measurements to ensure that you get the best feelings when having oral sex. The sex furniture is perfect for cunnilingus, tea-bagging, and analingus. The bench is topped with a comfortable cushion to allow you to sit back and relax.
Looking for more? Explore the best sex pillows and sex chairs.