LELO IDA Wave vs LELO SORAYA Wave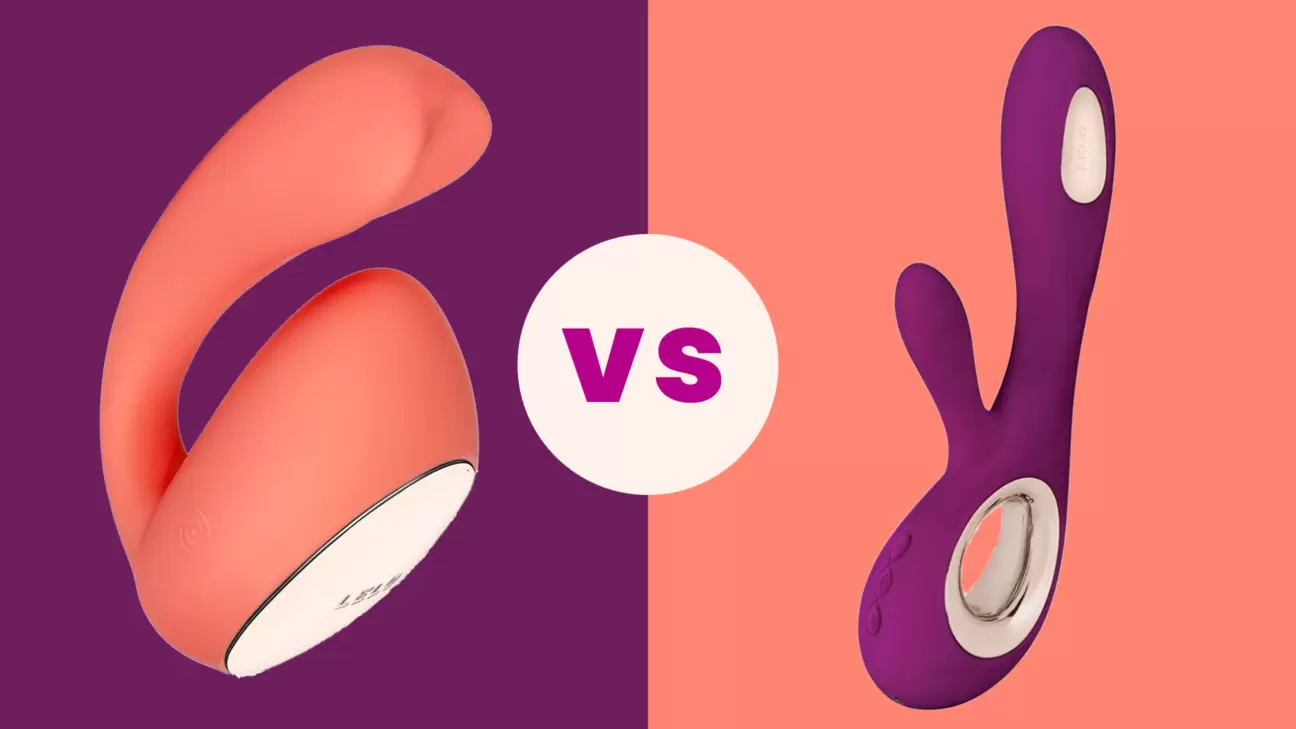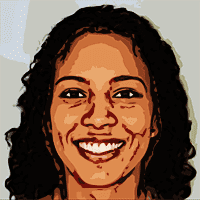 The LELO IDA Wave and the LELO SORAYA Wave are two high quality products that will provide a luxurious experience with their strong motors and sleek designs.
Both these vibrators are also waterproof, perfect for use in the shower or bath. Each one offers varying levels of intensity and unique vibration patterns.
When trying to choose between two high-quality vibrators with diverse features, it can be tricky to make a decision.
That's why I'm going to take a closer look at the IDA Wave and SORAYA Wave vibrators in order to find out which one has the edge.
The Size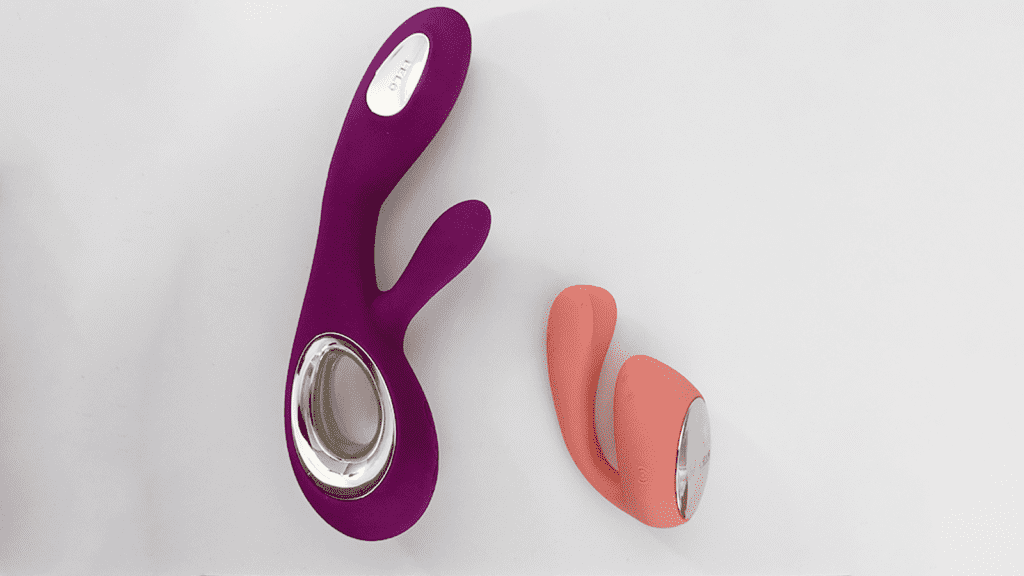 | | | |
| --- | --- | --- |
| | IDA Wave | SORAYA Wave |
| Height | 3.7 in / 9.3 cm | 8.6 in / 21.8 cm |
| Width | 2.2 in / 5.6 cm | 1.8 in / 4.6 cm |
| Depth | 2.5 in / 6.3 cm | 2.8 in / 7.2 cm |
| Insertable Length | 2.9 in / 7.5 cm | 4.3 in / 11 cm |
| Insertable Width | 1.1 in / 2.8 cm | 1.2 in / 3 cm |
| Clitoral Handle Width | 2.2 in / 5.6 cm | 0.7 in / 1.9 cm |
By comparing SORAYA and IDA, it is easy to see that SORAYA is more than two times bigger. However, the difference between the amount of length they can both be inserted into the body is not as big and differs by 1.4 inches.
The insertable width of SORAYA is almost the same as that of IDA. However, width and length aren't the only important factors when it comes to targeting your G-spot.
The movement of the vibrator plays a key role in the overall experience (I'll discuss this in more detail further in the article).
IDA's clitoral handle is around three times wider than SORAYA's, meaning it provides an all-over sensation whereas SORAYA focuses on the center of the clitoris.
If you have a sensitive clit, don't worry, SORAYA has adjustable settings and modes where you can choose how active you would like the handle to be: it can remain inactive, pulse or provide continuous stimulation. IDA on the other hand, does not have this feature.
The Movements
SORAYA and IDA are both toys that use the WaveMotion technology.
However, the way they move is different. SORAYA creates a back-and-forth motion, while IDA rotates. Check out the video below to better understand how they move.
When it comes to performance, SORAYA's come-hither movement provides a more intense stimulation on the G-spot since it constantly presses against your vaginal wall.
IDA's rotation makes the sensation less intense since it moves around inside your body instead of staying in one spot. Also, is noticeably smaller.
Therefore, it usually takes longer to climax with IDA compared to SORAYA.
The Controls
SORAYA comes with an easy-to-navigate three-button interface. The middle button is used to turn on and off the vibrator, while the two side buttons allow you to increase or decrease the intensity.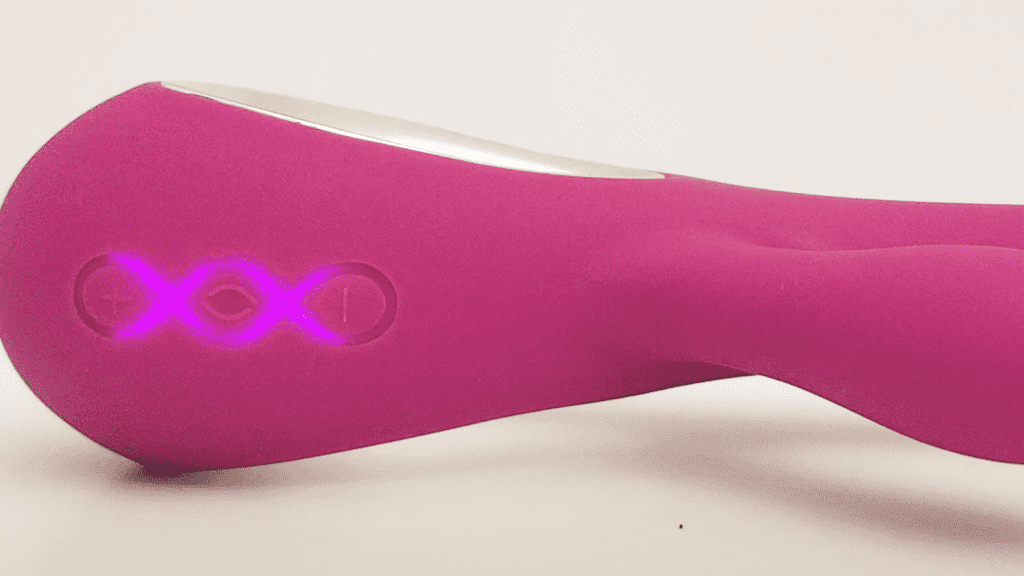 The middle button is used to turn the vibrator on and off and the two other ones around it are for increasing or decreasing the intensity.
The toy has 8 different pleasure modes, where either one or both handles of the vibrator are activated at once.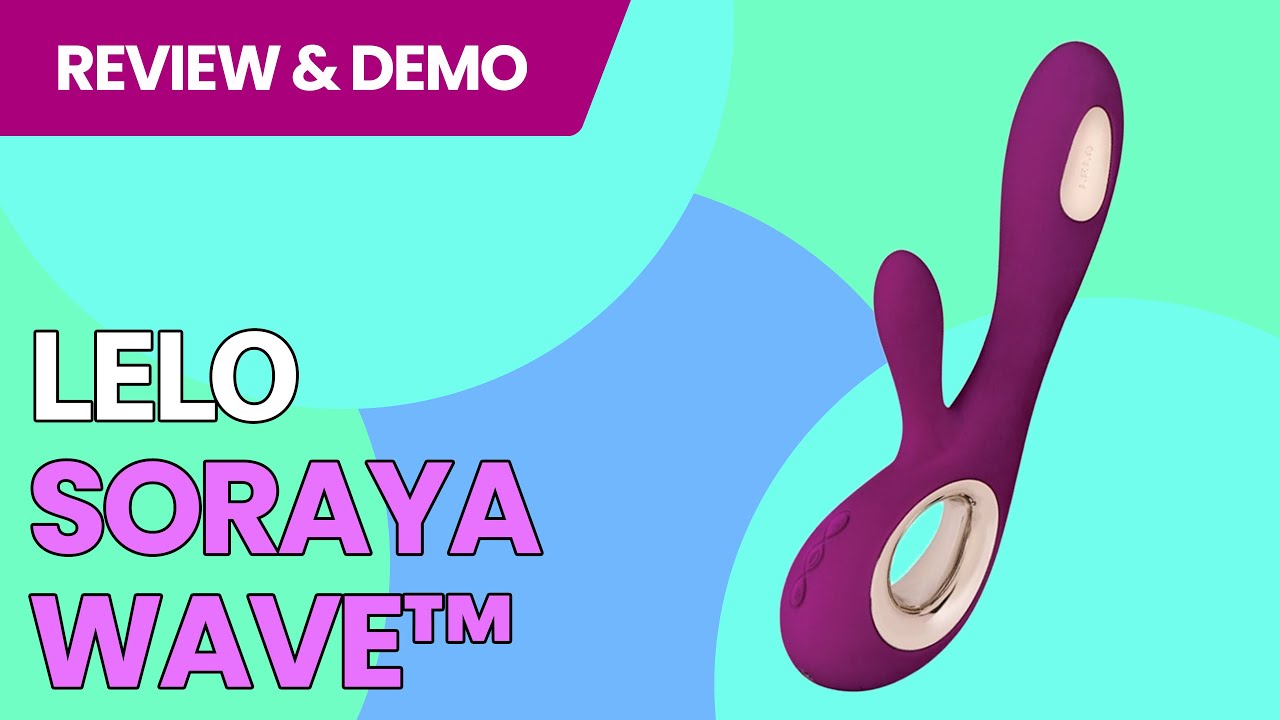 IDA Wave has a single-button interface, however, the toy can also be controlled via the LELO app.
This app is compatible with both iOS and Android devices. You can still use the toy manually, but connecting it to the app will give you access to its full potential.
Without connecting your device to the app, you'll be able to use the toy only in four pleasure modes and will have no control over the intensity.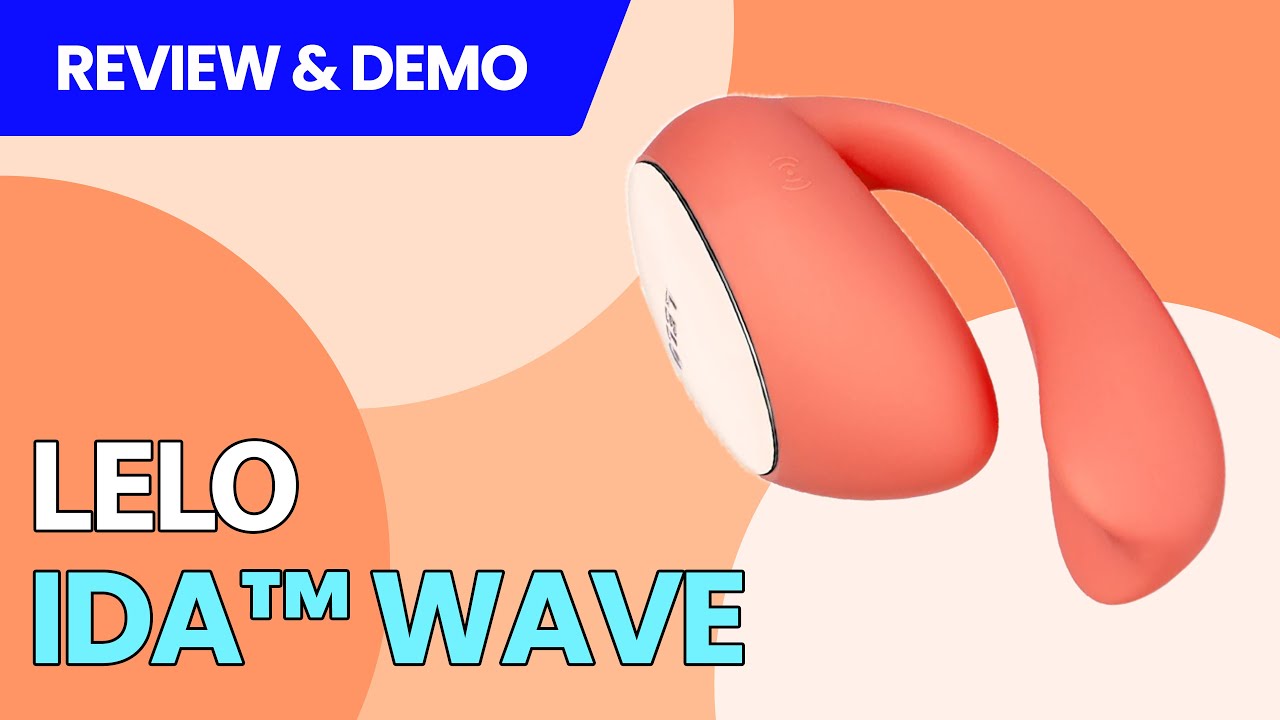 However, connecting your device to the app will give you 10 modes as well as freedom to adjust the intensity to your liking.
When disconnected, you can only use the toy in the selected intensity. There is no possibility to adjust it without the help of the LELO app.
The LELO app also adds the possibility to control your toy in several other ways:
Screwing: rotate your wrist and the toy will activate. The stronger the movement the more intense the vibrator responds.
Shaking: similar to the move above, only the wrist movement differs.
Boring: you can switch between 10 previously mentioned vibration modes and adjust the intensity level using the (+) and (-) buttons.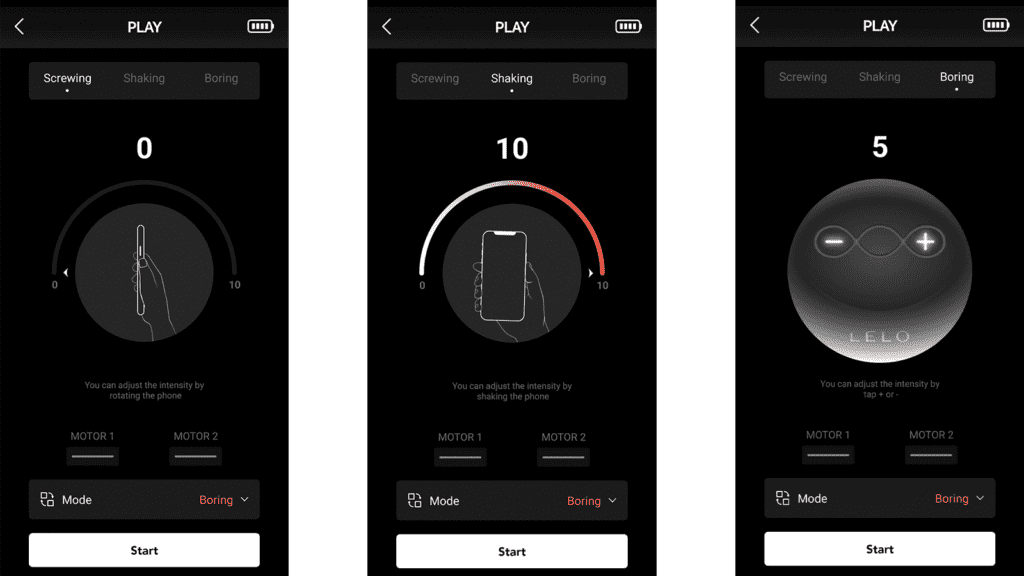 The shaking mode works by increasing the intensity of the vibrator as you shake your phone more. The screwing mode functions similarly but relies on rotating your phone instead of shaking it.
It is important to keep in mind that this app needs to be used with a phone in close range in order for it to properly function.
The Noise
The LELO SORAYA Wave was very quiet and not noticeable, reaching a maximum noise level of 45dB which was lovely.
On the other hand, IDA Wave was louder than anticipated and could reach a noise level of 85dB. To be honest, I expected IDA to be more silent in higher settings.
Additionally, when I moved IDA around, there was a sound like there was a ball rolling inside, so I'm not exactly sure if it is supposed to be like that.
The Battery
Both toys require up to two hours to charge, and provide up to two hours of use.
However, depending on how intensively you use the toy, the battery life will vary. Running the device at a higher level of intensity can almost halve the time it lasts.
Additionally, I have found that SORAYA Wave seems to run out quicker than than IDA, on high settings.
The Pleasure Settings
The LELO IDA Wave has 10 different modes of pleasure that you can access from the accompanying LELO app.
The SORAYA Wave provides 8 vibrational patterns that activate one or both vibrator handles, and you can also adjust the speed for each individual vibration intensity.
The Price
Both vibrators are quite pricey, with SORAYA Wave being the more expensive one.
If no discounts are offered, SORAYA Wave costs 259 USD while IDA Wave is 189 USD.
Are they worth it? Hell yeah.
The Colors
LELO IDA Wave and SORAYA Wave are available in a variety of colors, so you can pick the one that works best for you. IDA comes in black and orange while SORAYA has black, blue and pink options.
The Box Contents
Both toys come with the exact same items in the box:
USB charging cable
Warranty registration card
Detailed manual
Storage pouch
Personal moisturizer sample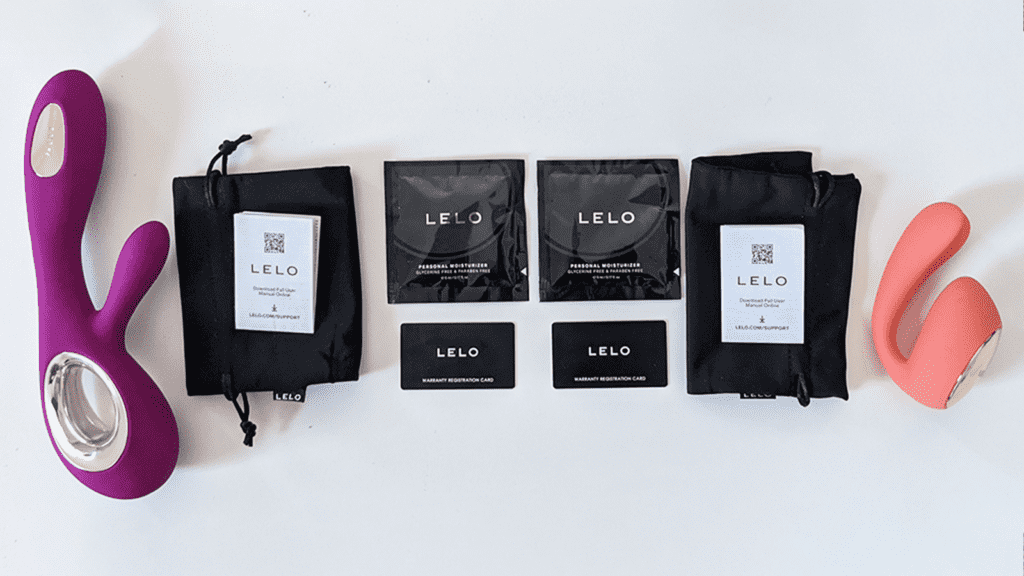 The Personal Experience
I have been a fan of the Soraya Wave vibrator for a while now, so I was curious to see if the new LELO IDA Wave could compete. Although they are both excellent toys, their sensations are different.
That's why, I would like to acknowledge that since both toys are very different and it's not easy to say which is better.
Sensation-wise, SORAYA Wave is stronger, more intense and more precise. It works very well for me because I am one of those women who have difficulty reaching an orgasm solely through penetrative sex and I heavily rely on accurate G-spot (or dual) stimulation.
SORAYA Wave is great at that and everything from it's shape to movements is great for me. So, if I had to choose a toy for solo fun – 9 out of 10 times I would pick SORAYA Wave over IDA.
However, I would always pick IDA Wave over SORAYA Wave for couples play.
First, it's a great toy for foreplay and also a great way to increase your connection to your partner by letting that special person take full control over teasing and pleasing you.
Due to the nature of the device, it takes more time to reach climax by using only it. The sensations build up gradually. My only problem with LELO IDA was the noise levels on high settings.
So, Which Vibrator is Better For You?
The LELO IDA Wave and the SORAYA Wave vibrators are both luxurious products that have a lot to offer.
The LELO IDA Wave has ten pleasure settings, as well as the ability to control each vibration intensity and speed through an app.
The SORAYA Wave has eight vibration patterns with intensity control that mix and match between the two vibrator handles, but it is more expensive than the IDA Wave at a price of 259 USD.
The two toys offer different sensations, with SORAYA offering stronger and more intense stimulation while LELO IDA Wave provides gradual build up of sensation which is great for couples play.
Ultimately, it boils down to what each individual user prefers; SORAYA might be better for someone who enjoys stronger G-spot stimulation since the vibrator is more intense, making it ideal for solo play when you want to have the ability to reach orgasm quickly.
Whereas IDA Wave may be better for someone looking for hands-free stimulation or couples play. IDA Wave is better for couples play since its shape and movements make it an excellent way to create connection and take your time building up pleasure.