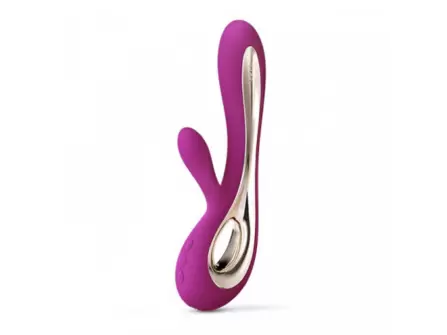 Lelo Soraya Wave
Overall Rating
4.85 out of 5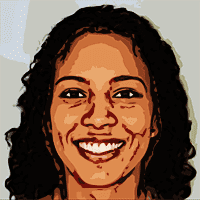 Written by
on , updated on
Lelo Soraya Wave
Well, this article is mostly about how I discovered my favorite vibrator from Lelo. The Lelo Soraya Wave combines my two favorite things that they have produced, the Soraya vibrator shape and the Wave motion technology.
If you're not familiar with what the Wave technology is all about – let me explain it to you. Wave technology means that the vibrator is using the come-hither motion to stimulate your G-spot. Yes, you got that right. It's designed to feel similar to having fingers inside you doing the motion and inviting you to come over.
And now, before I get too excited, time to slow down and see what Lelo Soraya Wave is all about.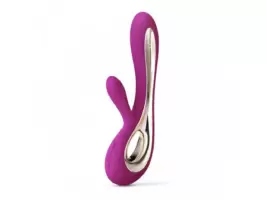 Order Now
The Specs of Lelo Soraya Wave
Here are the main characteristics of Lelo Soraya Wave. Make sure to take a look at the dimensions and insertable length.
Made From: Body-safe Silicone, ABS
Dimensions: 218 x 72 x 46 mm / 8.58 x 2.83 x 1.81 in
Insertable Length: 110 mm / 4.3 in
Available Colors: pink, blue, black
Net Weight: 185 g / 0.40 lb
Use Time: up to 2 hours, depends on settings
Battery:Li-Ion 850mA 3.7V
Frequency:120Hz
Max. Noise Level: 50dB
Lelo Soraya Wave Benefits
As I mentioned in my review of Soraya 2 – I love all the Lelo products that come under the Soraya name. This is no exception. Here are the benefits that you get when you choose Lelo Soraya Wave:
Finger-Like Stimulation
There's nothing better for the G-spot than the come-hither motion. If you ever experienced that – I'm pretty sure you won't disagree with me. If you haven't – you are definitely missing out. The Lelo Soraya Wave can give you exactly that, and give it hands-free.
8 Vibration Patterns + Dual Stimulation
Lelo Soraya Wave comes with 8 unique vibration patterns that vary in intensities. Of course, since Lelo Soraya Wave is a rabbit vibrator – you're getting dual stimulations and your clitoris will not be forgotten. So, get ready – you're in for some toe-curling orgasms.
Long-Runing Time
Even though Lelo Soraya Wave comes with dual motors, it comes with a powerful and long-lasting battery as well. Your Lelo Soraya Wave can please you for up to two hours – depending on the settings that you're using. Let's face it, two hours is more than enough for a couple (or more) intense orgasms without feeling the rush to finish.
Body-Safe Materials
Lelo uses only high-quality materials for their sex toys. Lelo Soraya Wave is made from only the highest-quality and the softest silicone for maximum pleasure. Also, silicone is completely hypoallergenic, therefore you won't experience any unexpected skin irritations or allergies. Your body is in good hands when you choose Lelo.
100% Waterproof
Lelo Soraya Wave is 100% waterproof. This means that you can take pleasure in the bathroom without the worry of the device breaking from water. So, your long baths and showers after a long day at work will be a lot more exciting with the waves that Soraya makes inside you.
Discreet Shipping
Lelo respects your privacy. That's why they pack their sex toys in simple and plain carton boxes. There will be no flashy signs that say ATTENTION! SEX TOYS INSIDE! Your items will arrive in simple plain carton boxes.
Tips For Using Your Toy
There are millions of sex toys to choose from. However, despite the variety, they're all pretty similar when it comes to cleaning, storing, even using them. So, don't get intimidated. Here are some tips to get you started. They're useful not only for this toy but many others as well:
Lube It Up
The more lube – the better. There is no such thing as too much lube. However, there can be too little of it. Lube reduces friction and protects your skin from irritations. So, fr places like your clit that are not self-lubricating – it's a must.
Start Slow and Get Used to Experiences
Playing with a sex toy is more like a marathon rather than a sprint. Especially if it's your first toy. You will need time to get used to the experiences, for your body to familiarize yourself with the toy. It took me 5 times with my first vibrator to actually finish.
Hygiene is a Must!
You need to wash your sex toys properly. The way the manufacturer suggests. I can't stress enough how important it is. If you don't wash your sex toys, various bacteria, dirt, dust, and other nasty stuff will eventually start accumulating on them. You could actually transfer that to your body and get an unpleasant infection. So, please wash your toys.
What's Inside The Box?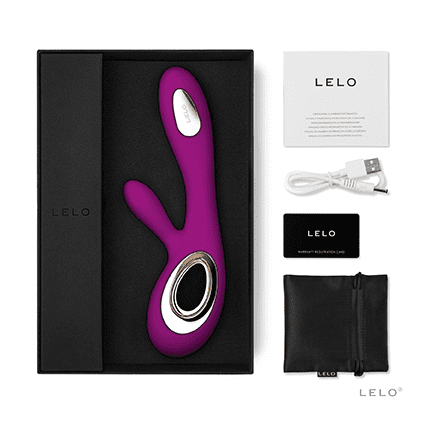 Even though your items arrive in a plain carton box, there's a whole new experience of luxury hidden inside. Lelo really invested in how they present the toys and whenever you get one it does feel like giving yourself a present. Here's the full list of items you will get when ordering Lelo Soraya Wave:
SORAYA WAVE™in selected color
USB-Charging Cord
Satin Storage Pouch to keep the dust away
Warranty Registration Card
Detailed Instruction Manual
When using a rabbit vibrator, or any toy that's designed for clit or other areas that are not self-lubricating, make sure to use lube and be generous with it. Using lube helps reduce the friction and makes the toy simply slide inside you or glide on you.
Lelo Soraya Wave in Action
When creating the Soraya shape, Lelo put a lot of effort and research into making this toy fit as many female anatomies as possible.
After all, usually, the deciding factor about whether the vibrator is good or not comes to the fact of whether it fits you. It's very similar to trying on shoes. If it's too small or too big, it simply doesn't fit and there's no way to adjust, unlike with clothes.
For me personally, Soraya is the best-fitting vibrator from Lelo. Everything seems to be very well aligned and the G-spot is touched with an exact pressure I like on it. There is no discomfort size-wise.
When it comes to the clitoris stimulation, the handle has a very small surface area (compared to the Ina shape). So if you are like me and don't have an over-sensitive clitoris and like stimulation straight to it, Soraya shape does exactly that.
So for me, combining these two elements, the Soraya shape and Wave motion technology couldn't mean anything less than fireworks.
Alternatives To Lelo Soraya Wave
While Soraya and Soraya Wave products are among my favorites from Lelo, what is right for me, might not be exactly what is right for you. Each female is different, therefore our anatomy is similar, yet slightly different. Here are some great alternatives to Lelo Soraya Wave that might be closer to what you're looking for:
Lelo Soraya 2 – this sex toy will look exactly like Soraya Wave. However, it operates differently, more like a traditional vibrator. Also, has 30% stronger power, compared to the previous edition.
Lelo Ina Wave – If you're looking for the come-hither motion that comes in a different shape – consider getting Lelo Ina Wave. It has a larger surface in the area that's designed to stimulate the clitoris, so you don't need to properly aim too much. However, when it comes to hitting the G-spot, the Soraya series works on me better.
Lelo Soraya Wave Reviews
Some of you who are reading this Lelo Soraya Wave review will very much like the product, however, some of you might not. To avoid the second outcome, it's always useful to collect as much information about the product as possible.
That's why I collected some positive, as well as negative Lelo Soraya reviews, from the official website, to help you better understand whether the product is right for you.
The positive experience with Lelo Soraya Wave
The Soraya Wave helped me reach my first ever vaginal orgasm. It's fun to either grip the handle and bear down, or let it work its magic hands-free.

KitT
Phenomenal. I was very skeptical but this is legit amazing. Super easy to use and ergonomic. Amazing orgasm within 1 MINUTE and a few more just a few seconds later. Worth every penny.

The Original Lola
This toy not only has a unique and sleek look but also offers everything you could ever want. With the ability stimulate both your clit and g-spot bringing the ultimate pleasure. The unique technology and wave motion will enhance and prolong your orgasm. I definitely recommend making this tou one of your must buy purchases and if you're looking for just one toy- it's got to be this one.

– Des1
The negative experience with Lelo Soraya Wave
I read all reviews including testers, so hoped for a great treat, especially with the higher price tag. This is clearly a personal issue and assumingly does not apply to the majority. The penetrating end is far too large for me. It was extremely painful, regardless of lubrication, then more lubrication. It remained painful while in and after removing, I stayed sore through the next day. I really wanted it to be great.

The positive was that the clitoral stimulator was awesome. It took less than a minute to reach orgasm, ditto for the second. Unfortunately, not worth the price to me and I won't use it again. I hope it works better for others.

– soohbee
I bought this about a few months back. Other products for the clitoris are much better. Too much money wasted on this product.

– Atbera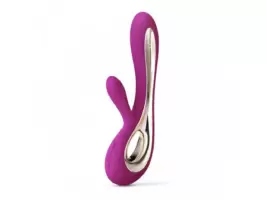 Order Now
The Verdict on Lelo Soraya Wave
If you have read my other Lelo Soraya reviews, you probably know that this shape is my favorite of all Lelo products.
So, Lelo Soraya Wave is not an exception. Loved the come-hither move, the clit stimulation – everything. Since Lelo worked very hard to make a vibrator that would anatomically fit as many women as possible – I recommend you try out Soraya.