Tentacle Dildo – A Must-Have Fantasy Dildo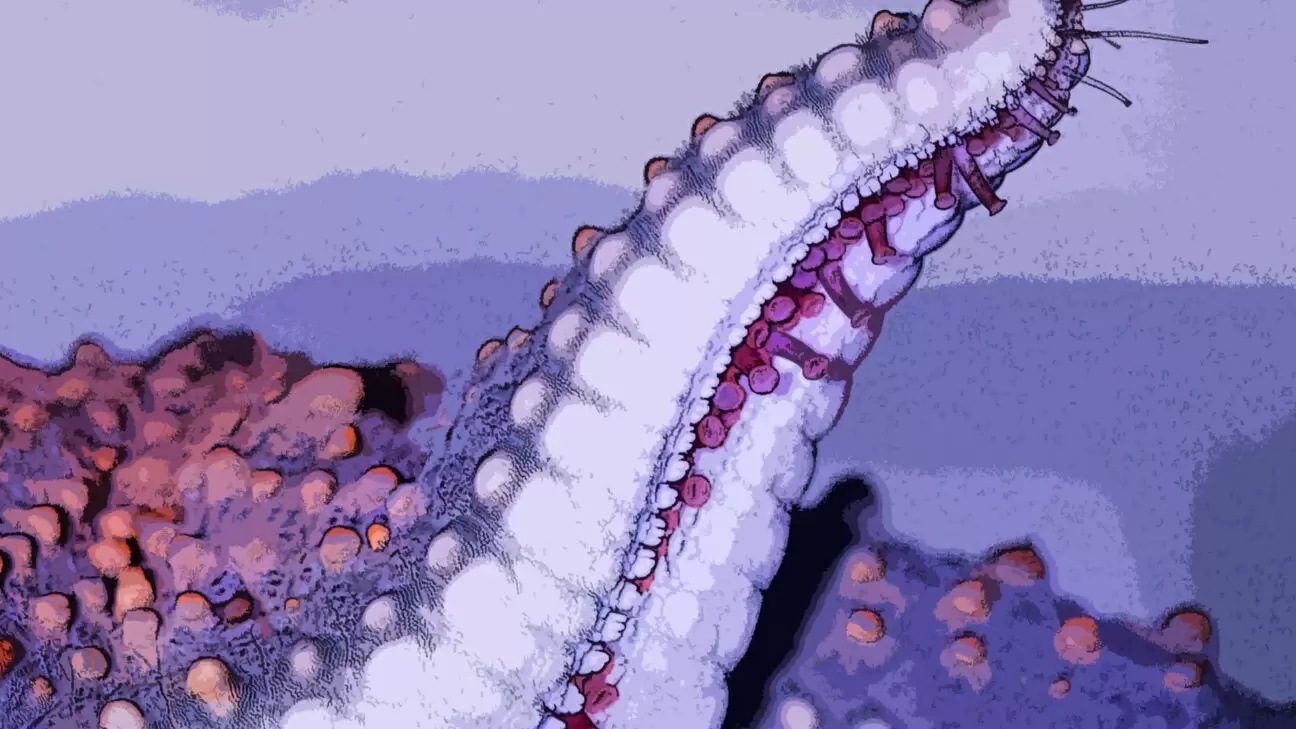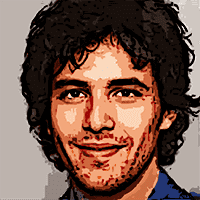 Written by
on , updated on
Why You Should Add a Tentacle Dildo to The List of Must-Have Fantasy Dildos!
Who is anybody to decide what counts as 'acceptable'? There are a number of reasons as to why more and more people are choosing to branch out and explore things they hadn't dared to seek out before. Using something as unique as a tentacle dildo doesn't necessarily have to be because you're kinky. People are deeper than that. You could be sitting on a chair in the middle of the night wondering things like, 'Why do fantasy dildos attract me?' or procrastinating about that interview you have on a Tuesday afternoon…and all of a sudden everything will come down to center on a single thing: you should go after what you desire.
Human beings have shown affection through physical intimacy for eons now but it's not just a certain organ that we desire. Our hearts, in this 21st century, have opened up to numerous things. We have learned to accept that yes, sex was never really about just penetration. It does not necessarily have to be a biological human penis that we seek. The joy of being physically satisfied comes with many things. Being able to use the dildo you like is only the beginning of it. Many types of fantasy dildos reign the market these days. And it has been possible because these dildos don't just fulfill the banal need of penetration…these dildos also cater to our imagination.
The Tentacle Dildo is the Grooviest Fantasy Dildo ever!
Science fiction, Cosplay, kinks… everything can be channeled in its own way. Do any of you remember Lily from Sex Education and her fantasies about alien roleplay? That's what I'm talking about, all kinds of people exist who have all kinds of desires. A tentacle dildo isn't merely the phallus of an imaginary fantastic creature from your fantasies, it's more than that. It's a way of living. It's a life's belief. And not just a phallus, due to the shape of a tentacle dildo, it can act as the hands, the tongue, or any one of the appendages of your favorite fantasy character!
And what even counts as penetration, only intercourse with a human male? Pshaw. Gone are the days when we needed men to satisfy us sexually. New inventions, like very much the tentacle dildo, have empowered us. More than that, because a tentacle dildo has nubs, like suckers, all over the surface, it feels better than the human penis. You get such sensations you think you were actually in some fantasy yourself. The texture of a tentacle dildo can stimulate you, massage you, and this dildo can even be used to play with your erogenous zones, like the nipples or the butt cheeks, not excluding the penis head or the vulva.
Some Tentacle Dildos For You to Choose From
Load up on lube and get yourself one of these bad boys…or should I say the tantalizing tentacle of one of these bad boys? Your fantasies find a way to be real with tentacle dildos. So go ahead, weave a story and find the fantastic creature from your fantasy one of these tentacle dildos:
Icicles no. 24 Glass Tentacle Dildo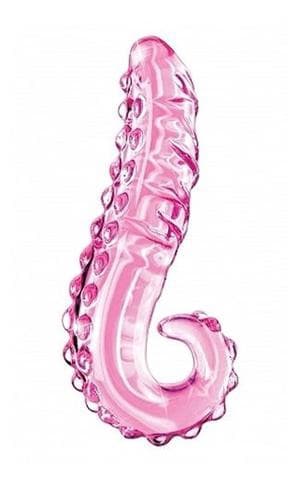 How would you like a tentacle dildo made from glass? It would be perfect to combine your love for fantasy with your love for temperature play! Shaped like an octopus hand, the ringed curve at the end helps you maneuver this tentacle dildo any way you want! Or give the wheels to your partner! This 6-inch dildo is both handcrafted and elegant!
Xenuphora Alien Tentacle Dildo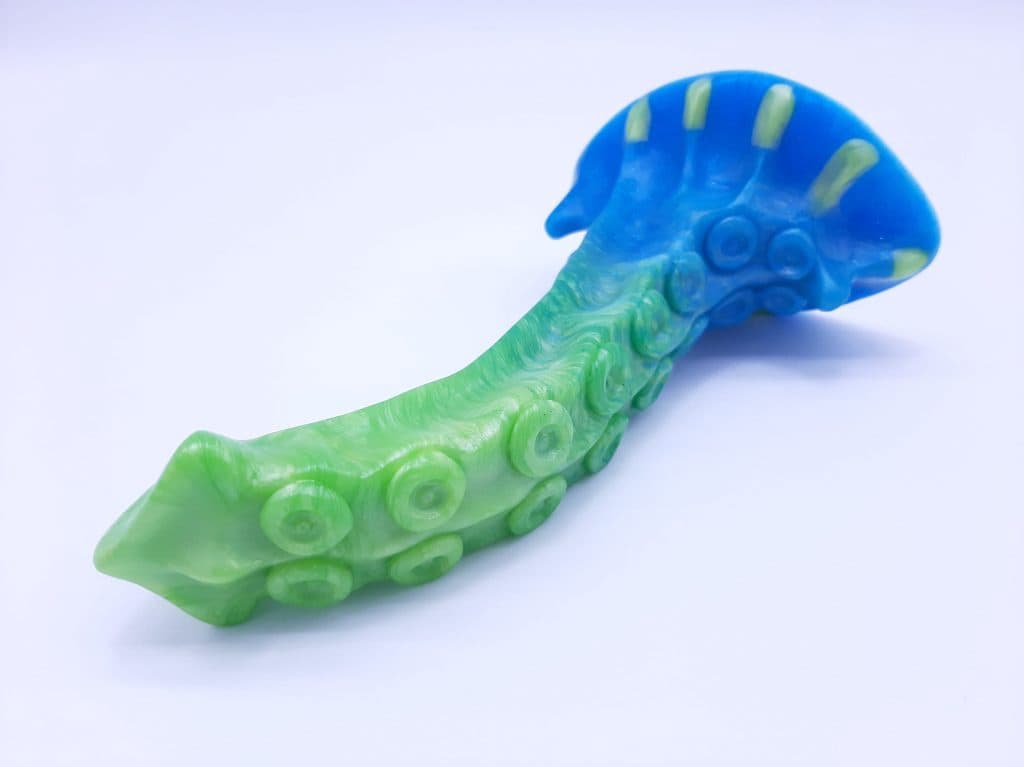 Luxury comes your way in abundance with this premium tentacle dildo. These high-quality dildos are color vibrant and stand at the length of 6.75 inches. With two rows of a firm and prominent suckers at the front and a vertical ridge spanning at the back, this tentacle dildo is perfect for beginners. The cherry on top is, you can read up a bit on the alien Xenuphora and its world here while you look at the available colors that they have to offer and consider buying one of these tentacle dildos for yourself.
Clithulu The Sea Beast Tentacle Dildo: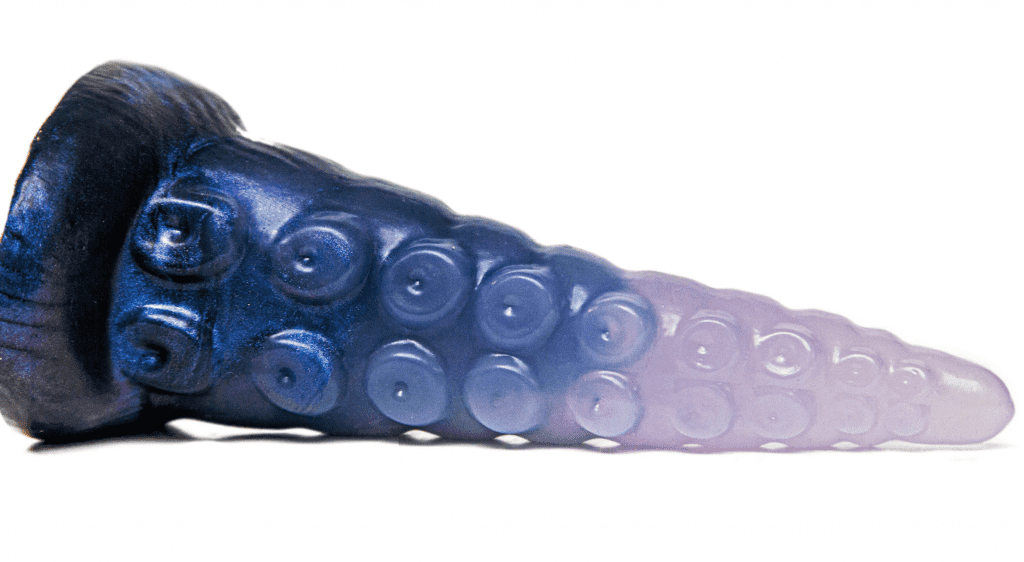 If you want to up your game and go for one of the big boys, this tentacle dildo is the one for you. With a real thickness of 4 – 6.5 inches and a length of almost 8.5 inches, this tentacle dildo takes you for a real fantasy ride! You can either opt for a suction cup or not with this dildo, either way, your experience will be premium. The body of this tentacle dildo is designed to be ribbed and the sea beast is just waiting to have you!
Hentai Tentacle Dildo: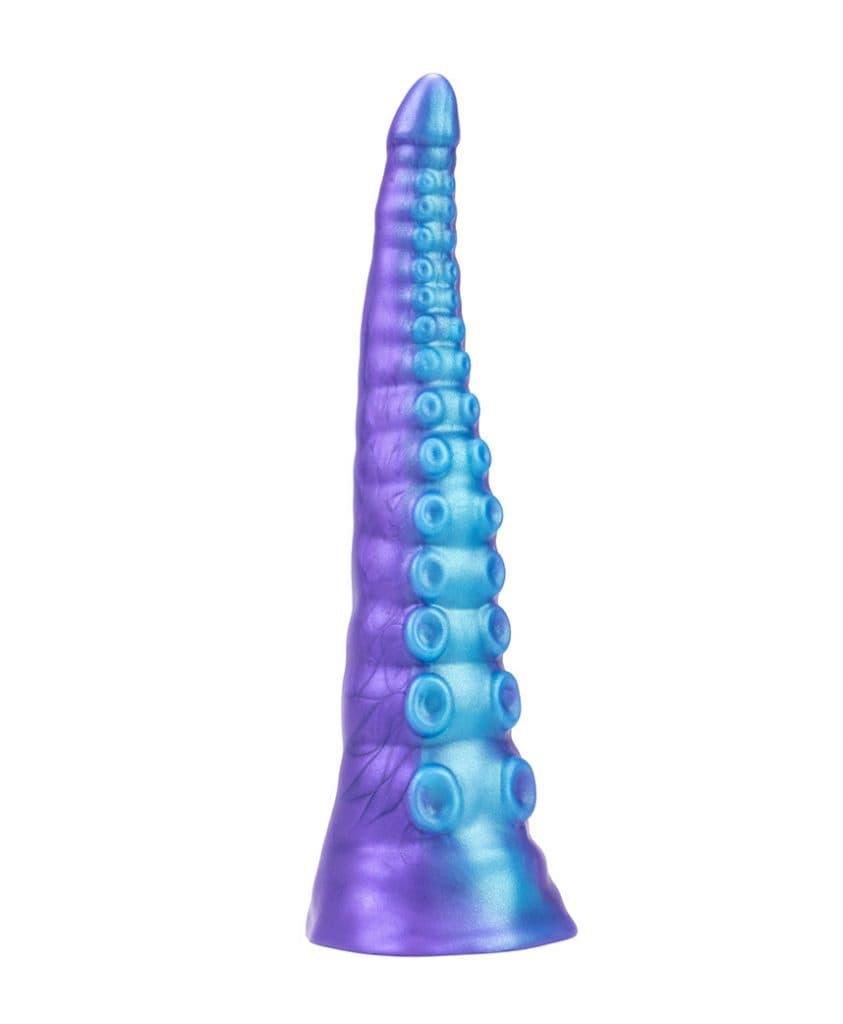 Your G-spot will thank you for using this tentacle dildo. The smooth tip bit the amazing design of the body, tentacles spanning up to 9.5 long inches – this is ultimate. Firm, body-safe, and with an incredible suction cup, everything comes combined with this tentacle dildo. And what else is, cleaning it is also super easy! See the limited edition vibrant color of this tentacle dildo here!
Double Penetration Tentacle Dildo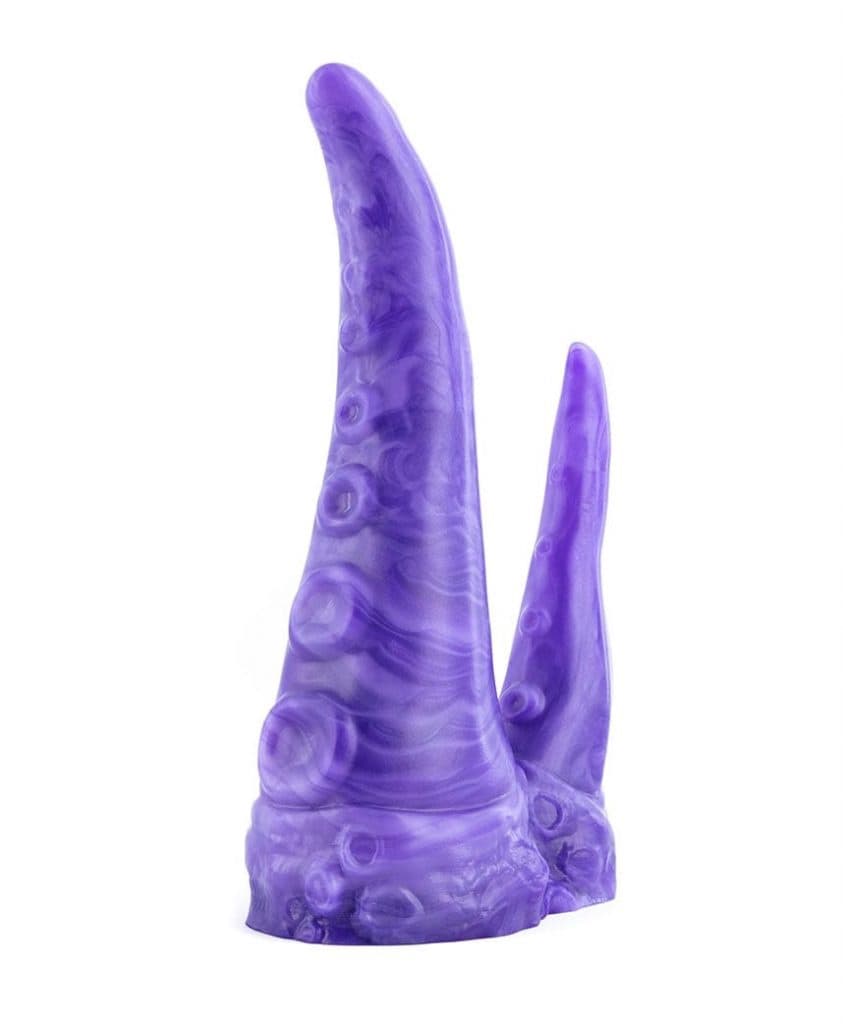 Of course, how could I not include this? Like I had said once before in my article on anal dildos, why should the vagina have all the fun? The fun is doubled with this Double Penetration Tentacle Dildo and things start to get a bit adventurous with simultaneous anal and vaginal penetration. See if you can find it here.
Some Tips to Make the Tentacle Dildo More Exciting!
Some things go without saying when a tentacle dildo is concerned, but I'll say them anyway. So here are some tips that both beginners and advanced users of a tentacle dildo can make use of:
Don't be shy to mix it up. Use clitoral stimulation along with penetration. Use more than a sex toy if you need to. Anal beads, vibrating beads, or just some loading up on lube…you decide how this beast with tentacles gets to pleasure you, and how much.
Choose your tentacle dildo based on firmness, length or even colour. Your fantasy should meet your reality. Choose the tentacle dildo that suits you best.
Frequently Asked Questions
Here you will find answers to some of the most common questions about tentacle dildos.
Is there an origin story of the tentacle dildo?
You could at times wonder where this tentacle dildo came from. Well, of course, there's the wish of a human being to branch out and make their fantasies a reality with the help of the present technology, but the very essence of the idea didn't just spring up in someone's head. Nobody woke up one morning and thought, ah let's mold a dildo in the shape of a tentacle. But someone did wake up and thought, hmm I wonder what it's like to be erotically involved with the tentacle of an alien. This was probably how tentacle porn was born (wow, that rhymed).
Tentacle porn is basically a subgenre of hentai (hentai is Japanese cartoon erotica). And it has been around for centuries, apparently. So, people liked watching tentacle porn, and not long after there were these tentacle dildos available in the market. You know how it goes. Ah but I should add, just because someone likes tentacle porn doesn't mean they'll be down with the tentacle dildo. Human beings are basically onions with layers, keep up.
How do I convince someone to use a tentacle dildo with me?
The short answer would be, you don't. Be self-sufficient. But besides empowerment and everything, if you must introduce the tentacle dildo with a partner, try out some of these tips. Try to combine one, or all of these together, when you decide to have a conversation about tentacle dildos with your partner.
Try and introduce the tentacle dildo in a normal conversation first. Talk about what it is and why you're interested in it. You can gauge your partner's reaction based on this initial conversation before moving ahead with the topic of introducing a tentacle dildo in your bedroom.
Believe it or not, but watching tentacle porn together can actually make someone interested in trying out a tentacle dildo. For the sake of roleplay, if not anything else, everyone will mostly try everything once.
You could actually show your partner this article (hi there) and maybe it'll interest them. Because being someone who's interested in sex toys, and has actually used a tentacle dildo, I'd recommend it. And hey, I wrote this article, so I know what I'm talking about. (And don't you forget to read the tips I added above.)
Just a word of advice though, everyone has different preferences and they should be respected. If your partner is someone who does not share your fantasies, don't take it to heart. You're with this person for numerous reasons other than what kind of stuff she or he likes to get on with. A tentacle dildo is a dildo, after all, ain't nobody's stopping you from going solo.