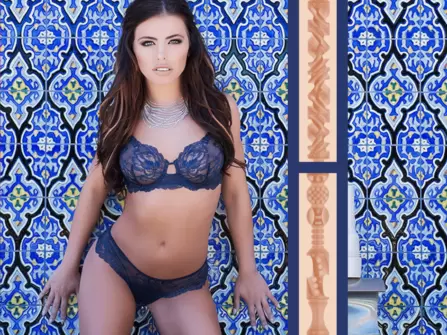 Adriana Chechik
Overall Rating
4.03 out of 5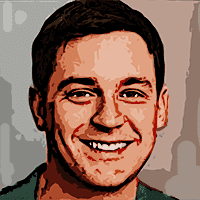 Written by
on , updated on
Adriana Chechik Fleshlight
Adriana Chechik is a natural-born superstar and porn star. Since her early career days, she became the queen of gang bangs. Naturally, from such a star you would expect sex toys that live up to her high standards. That's exactly what I want from an Adriana Chechik Fleshlight.
The Adriana Chechik Fleshlight series has two models. The first one has a vagina-like orifice that looks exactly like Adriana Chechik's pussy. This one is called Empress.
The second Fleshlight of Adriana Chechik has a butt-like orifice and is called Next Level. Can it actually take you to the next level? Let's find out.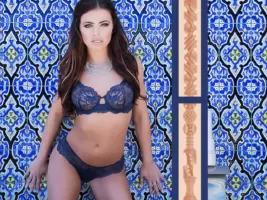 Order Now
Adriana Chechik Fleshlight Benefits
Fleshlight makes high-quality products only. That's why by choosing Fleshlight's pocket pussy, you're choosing the luxury treatment for your penis.
Unique Sleeves
Each Fleshlight model has a unique sleeve. Both Adriana Chechik Fleshlights are not an exception.
The first sleeve of the series is called Empress and comes with a vagina-like orifice.
The second sleeve is called Next Level and features a butt-like orifice.
Quality materials
Fleshlight uses only top-quality and hypoallergenic materials for their products.
This means that Fleshlight sleeves won't cause any skin irritations or unexpected allergies for your penis.
Also the SuperSkin material that they use for each sleeve feels super realistic and similar to human touch.
Keep in mind, that you need to make sure that you lube your Fleshlight during each use. Otherwise, you may rip it or cause skin irritations that happen solely due to traction.
Fantasy Element
Every guy dreams of doing it with a porn star. Now, you can actually get the next best thing. Let's admit it, that's the closest that most guys (including me) will get to in terms of fucking a porn star.
So, the fantasy element just makes the whole experience a lot more exciting.
Easy to Wash
Even though Fleshlight sleeves are textured, they're pretty easy to wash. There are two methods for proper Fleshlight use and care. You can check them out here.
Discreet Shipping and Billing
Fleshlight values your privacy. Each and every item that you order will be delivered in unmarked boxes. no one will be able to tell what's inside without opening them.
How Adriana Chechik Fleshlight Feels?
I tried both Adriana Chechik Fleshlights and must admit that one had a slight edge over the other. Let's see in detail how each of them feels.
Adriana Chechik Empress Fleshlight
The Adriana Chechik Empress Fleshlight has a vagina-like orifice that looks exactly like Adriana's pussy. The sleeve features a continuous texture, so your penis size is not important and every guy will get the most out of it.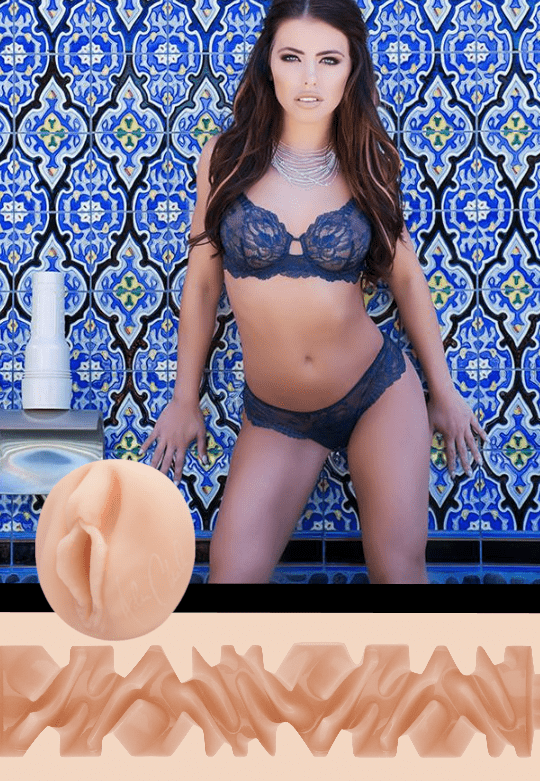 The sleeve is full of wavy ribs that feel very exciting against the penis and gives it a medium-intensity massage. It's perfect as a first Fleshlight and still suitable for experts. The ribs and edges are very pronounced and create a good level of stimulation.
Adriana Chechik Next Level Fleshlight
The second Adriana Chechik Fleshlight is called Next Level. This one features a butt-like orifice and a unique sleeve with 6 textures.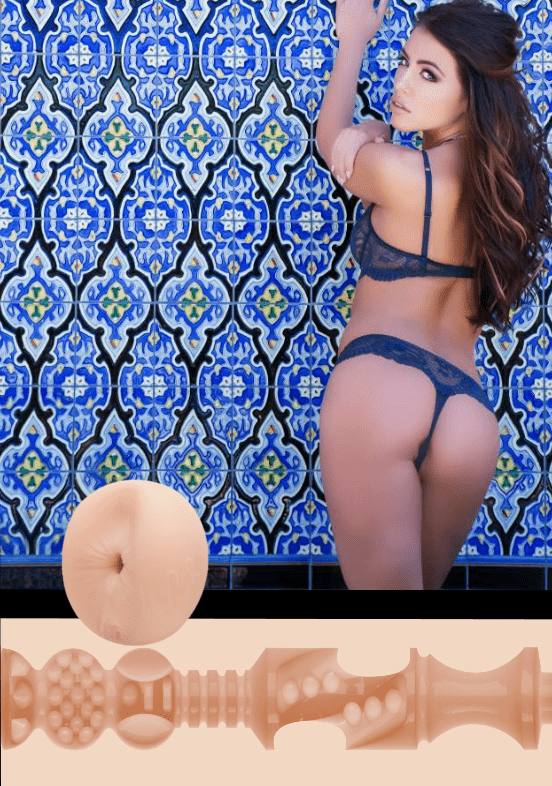 6 different textures are quite a lot, so there is a lot awaiting you. The first 4 textures only take up half of the Fleshlight, so you will pass through them quickly. The textures of them are stimulating, yet if you stroke faster, it's hard to differentiate them.
Once you get over 5 inches deep, you will reach a long texture with horizontal ribs that feature dots for extra intensity. That's where all the magic happens. The strokes feel super exciting against the penis head.
I would especially recommend it to every guy who can pass the 5 inches mark as that's where all the fun happens. Otherwise, better go for Empress Fleshlight where every inch gives you the same treatment.
Adriana Chechik Fleshlight Downsides
Even though Adriana Chechik Fleshlights come with numerous benefits, there is a downside to them.
Narrow Entrance
Both Adriana Chechik Fleshlights have pretty narrow entrances. That's why you need very good lubrication in order not to rip them.
That's why you always need to remember to be gentle with Adriana, otherwise, she will rip.
How Adriana Chechik Fleshlight Works?
As you see from the photos, Fleshlight is not a complicated device. Using it won't cause you any trouble. Assembling the sex toy will take just a minute of your time.
However, there are several essentials that you need to know when using your Fleshlight. If you follow these simple rules, you'll have a long-lasting sex toy.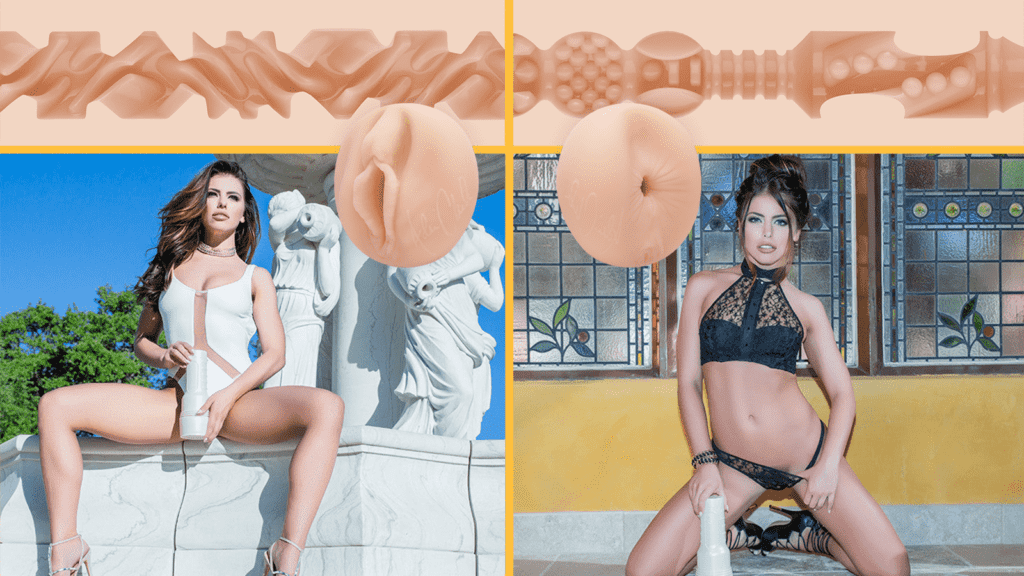 First, hygiene matters. After each use, you need to properly clean and dry your Fleshlight(s). Here is a detailed guide that covers two recommended methods for proper Fleshlight care.
Second, lube is essential. Don't even think about using it dry. Water-based lubricants work best with SuperSkin material, their texture is perfect for Fleshlight fun.
That's it, everything else is about fun and joy, so enjoy your Fleshlight and take care of them properly.
Adriana Chechik Fleshlight Alternatives
Even though Adriana Chechik Fleshlights have pretty good sleeves, there are alternatives to them.
If you're looking for an anal sleeve – check out Boss Level by Mia Malkova. It has a continuous texture, so is perfect for any penis size.
If you want a lady sleeve, check out the brand new Emily Willis Fleshlight. I was really impressed by it and she's currently among my favorite ones.
Adriana Chechik Fleshlight Reviews
I always recommend my readers to read and share their experiences with sex toys. This way we help each other make better purchasing decisions.
You already know what my experience with Adriana Chechik Fleshlights was, now let's see what other verified users from Fleshlight and Amazon have to tell. I picked out some detailed Adriana Chechik Fleshlight reviews that in my opinion have valid points, so they bring value to the reader.
Have tried smaller sleeves before, and i gotta say this is a world of difference. Something about having the full ahem…thing…covered by the sleeve and the suction effect is perfect when i want to spend a little more effort (takes a few mins to clean up) to get a much more satisfying experience. Girlfriend likes using it on me as well, and overall she says shes glad ive got a toy that matches the quality of her favorite toys.

Worth it imo guys. 5/5

– Bobby
This is a great sleeve. Pretty tight and great suction. However, it does stay wet for a long time even with air drying. Like over a day. Which is a little concerning for cleaning. But it feels amazing.

– Chris O.
The next level is one of my favorite Fleshlight textures. I'm a fan of Adriana Chechik, so having a molded Fleshlight of her butt is a big turn on for me. Just make sure you properly clean this toy and dust it with corn starch after you dry it, the sleeve gets very sticky if you don't take care of it. Other than that, just treat her well and Adriana's butt will give you endless pleasure. 😉

– Amazon Customer
This is a brand new experience for me. I am used to handling my business on my own. The AC Fleshlight has changed that. Tight and slippery just like the real thing. Fathers day is coming up, it would make a great gift.

– Hugh L.
If you want to read more Adriana Chechik Fleshlight reviews, visit Amazon or Fleshlight.
What's In The Package?
When you know what's included in the standard shipping, you can take care of any additional items (if required) in advance.
Once your unmarked box arrives from Fleshlight, here are the items that you can expect to find inside:
A luxurious white Fleshlight case that comes with an extended protective cover
Brand new Empress / Next Level texture sleeve (based on purchase choice)
Unique Adriana Chechik Vagina / Butt orifice (based on purchase choice)
Detailed instructions for the proper use and care
Depending on where you order, you may get a sample of lube or any other sample items. However, you need to have some water-based lube so that there would be nothing standing between you and Adriana Chechik Fleshlight.
The Verdict
Overall, Adriana Chechik Fleshlight sleeves received much positive feedback from their users.
From my personal experience, I can say that they're quality made, yet the entrances are narrow, so you need to be careful. Otherwise, you may rip her.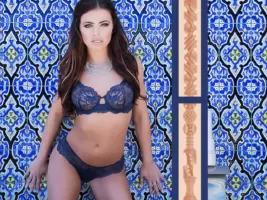 Order Now
I would recommend the Empress sleeve for guys that enjoy medium-intensity penis simulation. Also, since the sleeve has a continuous texture, it fits every penis size.
The Next Level sleeve, on the other hand, comes with multiple textures and the real fun starts when you pass the 5 inches mark. So, I would recommend this sleeve for guys who can pass the 5-inch mark.