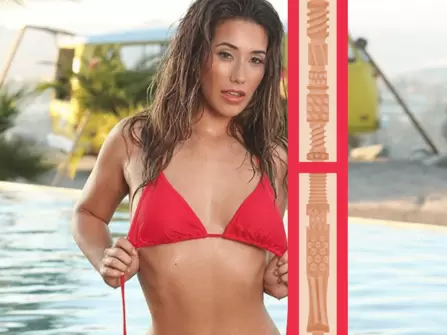 Eva Lovia
Overall Rating
3.6 out of 5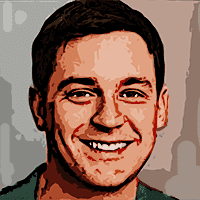 Written by
on , updated on
Eva Lovia Fleshlight
Fleshlight already collaborated with nearly a hundred girls and Eva Lovia is one of them. Each collaboration led to new and exciting sleeve textures, so, let's see what Eva Lovia Fleshlight can offer you.
Eva Lovia Fleshlight comes in two models Sugar and Spice. The Sugar sleeve has a vagina like orifice and Spice has a butt-like orifice.
Let's see in more detail, what's so special about these exciting pocket pussies.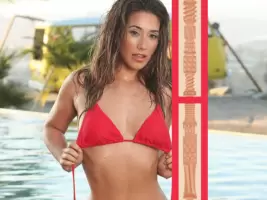 Order Now
How Eva Lovia Fleshlight Feels?
There are two pocket pussies in the Eva Lovia Fleshlight series. The first one has Eva's vagina-like orifice and the second one looks like her butt. Let's see in detail how each Eva Lovia's Fleshlight feels.
Eva Lovia Sugar Fleshlight
The Sugar Fleshlight comes with a vagina-like orifice, based on Eva Lovia's vagina. This Fleshlight has five main chambers with five different textures.
The first chamber has slightly tilted circle ribs and a narrow entrance. It took me a little by surprise how much pleasure can placing ribs at an angle bring.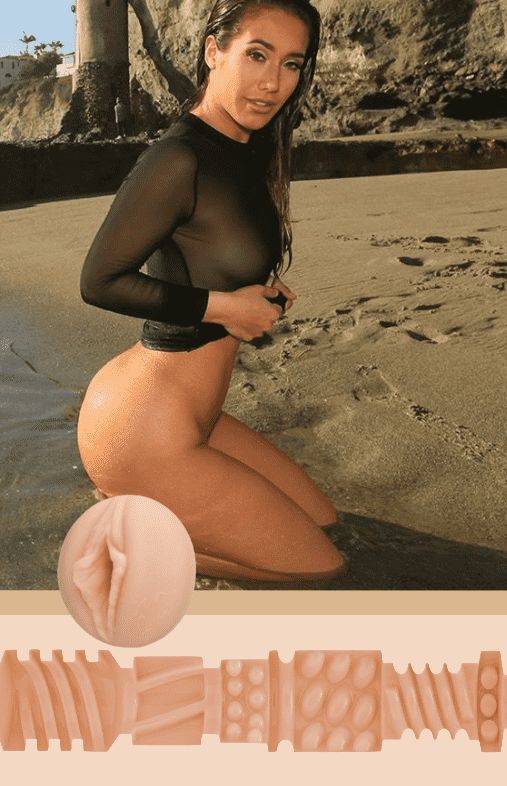 The second chamber has a narrow entrance and horizontally placed ribs. Once you switch the chambers, they feel completely different and take you by surprise.
In the third chamber, you'll find a slightly narrower part which later expands. The narrower part has multiple small dots that are very close to each other, so it's super intense. The second part has larger oval-shaped dots that feel a bit less intense than the first part.
After this slightly intense part, things will seriously heat up, as you'll enter a corridor or the fourth chamber. Similar to the first room, it has a spiral-like texture, only the ribs are closer together and the room is a lot tighter, so this will require some serious concentration so you wouldn't cum.
Overall, I would recommend this Eva Lovia Fleshlight for guys who enjoy the mild intensity and enjoy experimenting (try twisting the toy for a whole new pleasure)
Eva Lovia Spice Fleshlight
The Spice Fleshlight comes with a butt-like orifice, based on Eva Lovia's ass. This Fleshlight has two chambers with four different textures.
The first chamber is about 2.5 inches long and has a texture that resembles an accordion. The texture is very intense and at first, felt like a little too much. However, once I got in the mood, the texture got me charmed.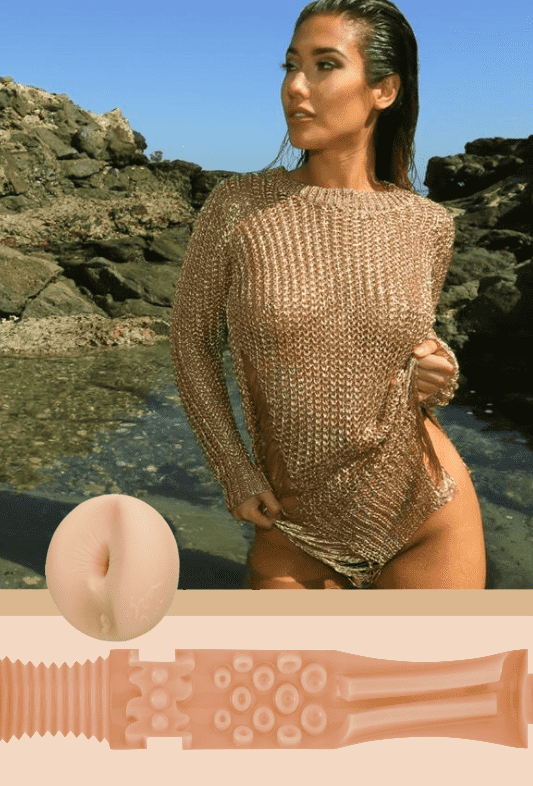 Once you pass the first chamber, a narrow corridor will follow. It has small dots on it, so they'll intensify the sensations even more and once you'll enter the second room, you'll feel a little relieved.
The second room comes with textures. The first part looks like octopus tentacles and is wider than the first room. The second part is slightly narrower and has long horizontal ribs. Overall, I liked the tentacle texture better but the horizontal stripes felt nicer tightness-wise.
Overall, it's a good Fleshlight but it didn't make me too excited about it. Honestly, I've had better and if I had to choose between the two – I would go for Sugar.
Eva Lovia Fleshlight Benefits
Each Fleshlight product is made from quality materials and by following only the highest standards. Both Eva Lovia Fleshlights are no exception. Let's see all the benefits that come with them.
2 Unique Textures
Eva Lovia's collaboration with Fleshlight resulted in two quality pocket pussies.
The first one has a vagina-like orifice based on Eva Lovia's pussy. It has a unique texture and is called Sugar.
The Eva Lovia anal Fleshlight has a butt-like orifice and is named Spice.
Fantasy Element
You don't need to be a fan to want to fuck a hot girl. However, if you are one, it just makes the pocket pussy experience even more exciting.
If you ever dreamed of Eva Lovia's pussy or fantasized about what Eva Lovia's anal experience feels like, you can get the next best thing.
Hypoallergenic Materials
Each Fleshlight product is made using only quality and hypoallergenic materials. This means that Eva Lovia Fleshlight won't cause any skin irritations or allergies.
However, you need to keep in mind that Fleshlight requires lube. Otherwise, you risk causing irritations on your penis that appear due to traction.
Also, Fleshlights are made from SuperSkin materials, which feel very realistic, just like a person's skin would. Especially if you warm your Fleshlight up.
Easy to Clean
Fleshlights aren't high-maintenance toys. So, once you've cleaned you're Fleshlight a time or two, it won't cause you any problems or confusion.
Here is a detailed guide about Fleshlight cleaning. This guide includes two main ways people use for Fleshlight care.
Discreet Packaging and Shipping
Fleshlight cares about your privacy. That's why each and every product that you order from them will arrive in unmarked boxes.
No person will be able to tell the contents of the box. Unless, he or she opens it, of course.
Eva Lovia Fleshlight Downsides
Even though there are numerous benefits, there's a downside with Eva Lovia Fleshlight as well.
There's Better Than Spice
Even though I really enjoyed the Sugar sleeve, I was not impressed with the Spice Sleeve. It felt tight at the wrong spots and too loose at some points. However, that's just my opinion and you're the one to make the final decision.
How Eva Lovia Fleshlight Works?
If you ever owned a Fleshlight before, you know they work. However, if you're new to this, here's a short list that will help you until you get used to using it.
First, hygiene matters. So before you use your Fleshlight, you need to properly wash it. Here are two methods to do that.
Second, lubrication matters. No matter which Fleshlight product you use, you need to lube it up properly. Otherwise, you may get skin irritation from traction caused by rubbing your penis against the sleeve.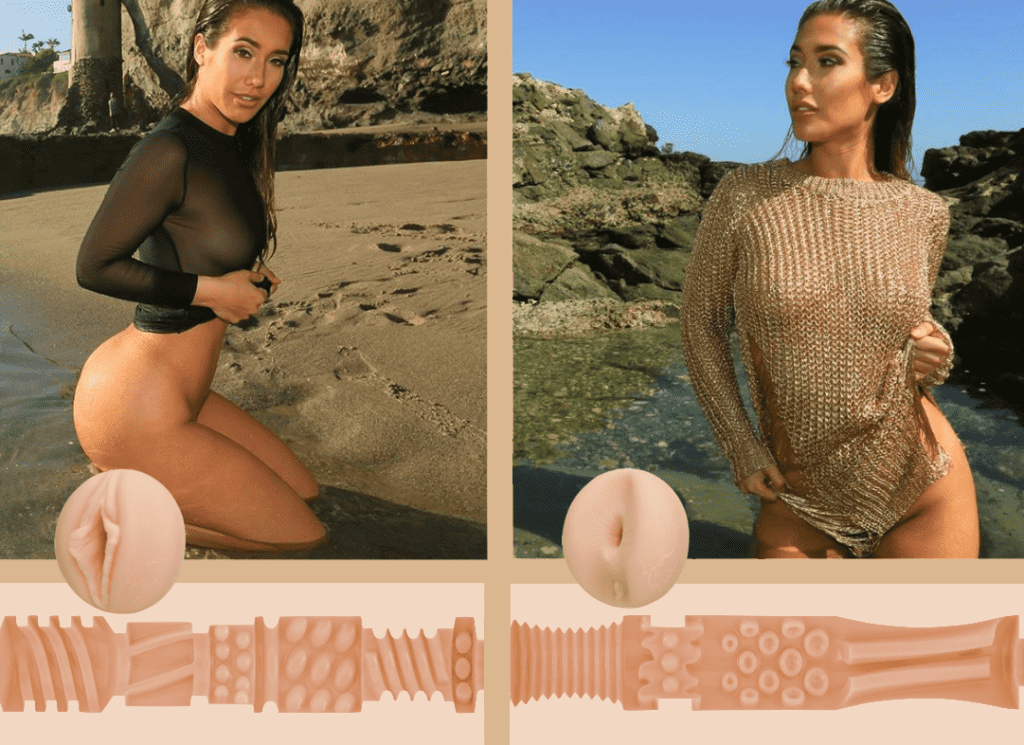 Everything else is about pleasure. Stroke it fast and slow, twist it, turn it – find what works best for you and remember, hygiene and lube will ensure your toy's longevity as well as protect your health.
What's in the Package?
Once you unpack your unmarked Fleshlight box, here's what you will find inside:
Brand new Sugar / Spice texture sleeve (based on purchase choice)
Unique Eva Lovia Vagina / Butt orifice (based on purchase choice)
Luxurious white Fleshlight case that comes with an extended protective cover
Detailed instructions for proper use and care
As you can see, it's only lube that's missing. Water-based lube is the perfect choice for Eva Lovia Fleshlight and any other. It works perfectly with nearly any sex toy material.
Eva Lovia Fleshlight Alternatives
There are numerous Fleshlight Girls, so there are definitely some alternatives to Eva Lovia Fleshlights.
If you asked me, my current favorites are Elsa Jean Fleshlights. Everything about them seems to feel right, the texture and the sensations.
Also, if you have an appreciation for MILFs, then you'll enjoy Lisa Ann Fleshlights as well.
Eva Lovia Fleshlight Reviews
Eva Lovia has a huge fan base, naturally, her Fleshlight does as well. Before you buy a product, it's always good to read what people have to say. In this case, Eva Lovia Fleshlight reviews are what concerns you.
Here are some detailed Eva Lovia Fleshlight reviews that were written by real and verified users on Amazon or on the official Fleshlight website.
Unique design that feels nice (except for the last 3 inches). I already had 1 that broke actually but bought it again by accident because I didn't remember I'd already tried it. The middle chamber is so big that the walls are thin there so cleaning / rough use is more likely to tear it there than any other fleshlight I've used.

– Max W.
When my wife was working a lot I tried this out of curiosity. Not bad! The real thing is still better but this is better than just a hand. Now the wife isn't working as much so this isn't needed but I might revisit occasionally or we could use it together.

– Michael J. M.
The Eva lovia textures are two of my all time favourites. Of course a big part of that is just residual hotness from eva lovia herself. Only wish she'd make more VR content to go with.

– Christopher N.
Feels incredible, make you it and your member is sufficiently lubricated before attempting what ever it is you do with this sleeve, would highly recommend.

– Aaron G.
As you can see, the reason varies but overall users are pretty satisfied with Eva Lovia Fleshlights.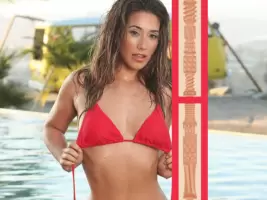 Order Now
Overall Verdict
Overall, if I had to choose between the two, I would recommend the Eva Lovia Fleshlight with Sugar sleeve. The texture is more intense and the experience is more exciting, overall.
In general, I believe that the fans of Eva will be satisfied with the outcome of her collaboration with Fleshlight. Personally, I really enjoyed Sugar and the tight Eva Lovia pussy it comes with.