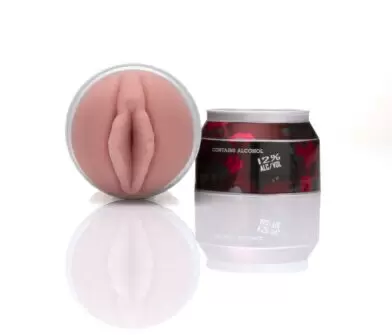 Four Loco Sex In A Can
Overall Rating
3.6 out of 5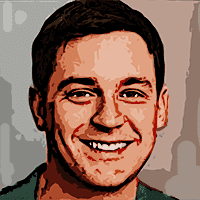 Written by
on , updated on
Four Loco Sex In A Can (DISCONTINUED)
UPDATE: the toy is discontinued and no longer available on the Fleshlight website.
Most people enjoy keeping their sex life private. That's why discretion becomes an important factor for many when choosing a sex toy. When I say discretion, I'm not talking only about the packaging and the billing, this time I'm taking the appearance of the sex toy itself into consideration. That's where Four Loco Sex In A Can step into the picture.
In 2019, the famous sex toy brand Fleshlight teamed up with Four Loco to create a discreet sex toy. So, during the summer of 2019 Four Loco Sex In A Can was introduced to the market.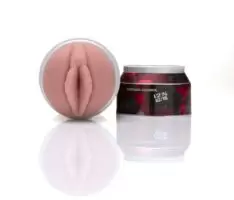 Order Now
It isn't a revolutionary product, Fleshlight had already introduced Sex In A Can series on their website, however, Four Loco is currently the only one available to purchase on their website as the other options were discontinued.
So, let's look in more detail at what's so special about Four Loco Sex In A Can.
Four Loco Sex In A Can Benefits
Naturally, you expect a lot when you see two very famous brands collaborating. Especially, since Four Loco Sex In A Can is a limited-time edition, you need to know whether there are enough reasons to rush and get it before the storage runs out. So, let's see what's good about Four Loco Sex In A Can:
Top-Rated Sleeve Texture
When you're buying this pocket pussy, you're not buying a unique sleeve. Four Loco Sex In A Can feature the Mini-Lotus sleeve, which is among top-rated male masturbator sleeves, so you already know that you're getting a very pleasurable sex toy.
However, if you already own the sleeve, basically you would be buying the same thing, only in a different can, so if you're don't see it as a collectible item, it might seem like a waste of money.
Interchangeable Sleeves
If you're in for the discreet packaging and prefer having a collection of sleeves, rather than a collection of pocket pussies – Four Loco Sex In A Can could be the best option out there for you.
Choosing this pocket pussy means you only need to keep your sleeve collection private, as this male masturbator can easily be confused with a drink can.
Discreet
Since the pocket pussy comes in the shape of a can, Four Loco Sex In A Can is a perfectly discreet item, if you don't look at it long enough.

However, if you leave it out in the open, anyone who is familiar with the Fleshlight brand can easily identify what it actually is. That is because the branding of Fleshlight is right in front of your eyes – on the side of the can.
Easy to Clean and Maintain
Even though it looks like a can, it's completely waterproof and easy to wash. All you need is some warm water and soap.
Drying it won't take much effort either, as you will need to simply turn the can upside down and keep it that way until it dries.
Keep in mind that you need to properly wash and dry each and every sex toy that you own after each use. Not cleaning them properly can result in various nasty stuff, such as sweat, dirt, and bacteria accumulated on them. That's definitely not the stuff that you want touching your private parts.
Limited Edition Item
Naturally, if your passion is collecting sex toys – this item is a must. Making it a limited-edition item was a smart move for the brands. This way they make Four Loco Sex In A Can an exclusive item that won't be available for all.
However, if you're not a collector and won't get the sex can on time, all you will be missing out is the can packaging, as the sleeve is available to purchase separately. You can check it out here.
How Four Loco Sex In A Can Works And Feels?
Similar to any other pocket pussy, Four Loco Sex In A Can is a very simple to use and maintain sex toy. All you need is some water-based lube, a quiet private place and you're ready for fun.
However, be sure to clean your Four Loco Sex In A Can before the first use and after each use. As you know, keeping your sex toys clean is the key to keeping your private parts clean from any dirt, sweat, and other nasty stuff you definitely don't want on them.
So, once you have your Four Loco Sex In A Can ready and lubed up in a quiet place, get yourself excited and you're ready for action.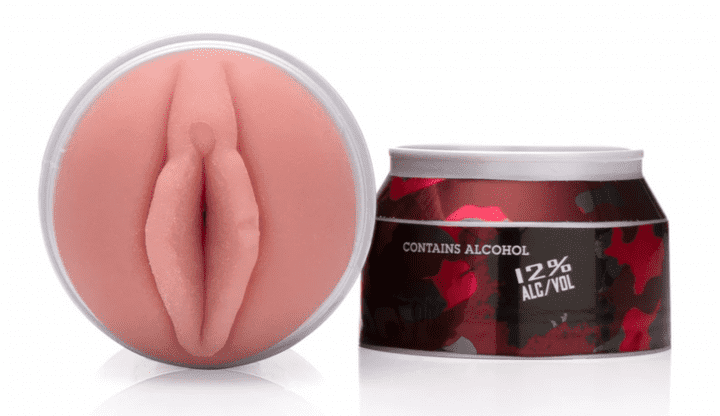 How Four Loco Sex In A Can Feels?
If you're already familiar with the Mini-Lotus sleeve, you already know how Four Loco Sex In A Can will feel. The only difference is that you'll be fucking a can.
However, if you're not familiar with the Mini-Lotus sleeve, you're in for serious pleasure. No wonder it is one of the top-rated Fleshlight sleeves. Mini-Lotus is tight and has a wave-like texture.
The diameter of the waves varies from 0.5 to 0.75 inches. So, you can be sure – it is tight. As you know, the tighter it is, the more intense the sensations.

Also, it's worth noticing that even though it's tight, it's also beginner-friendly. Even if it's your first sex toy – you'll be ready to handle it.
In terms of fucking a can – at first, it was quite weird. It seemed like I had a homemade pocket pussy by using a used beer can However, the awkwardness faded away soon and was replaced with pleasure.
What You Get In The Package?
Unwrapping a sex toy is like unwrapping a gift left for you from Santa on Christmas morning. It's always super exciting.
As you know, Fleshlight offers discreet shipping and billing. So, all your items will arrive in an unmarked box. Your secret is safe.
Once you open your box, here's a full list of items that you will be included in the package:
Four Loko x Fleshlight can-shaped case
Mini-Lady orifice with Mini-Lotus texture
Branded brown paper bag (just like you would get with a drink)
Sample FleshLube
Sample Renewing Powder
Detailed instructions for proper use and care
It's really cool that they decided to add a free sample of lube with each Four Loco Sex In A Can. This way, even if you're out of water-based lube at the time your package arrives, you'll still be fully equipped to have a private session with your new pocket pussy.
However, keep in mind that even if you're getting a sample of lube, it might not necessarily be enough. For me it was just enough, however, if you enjoy your sleeves ultra-lubed-up, get some lubricant in advance.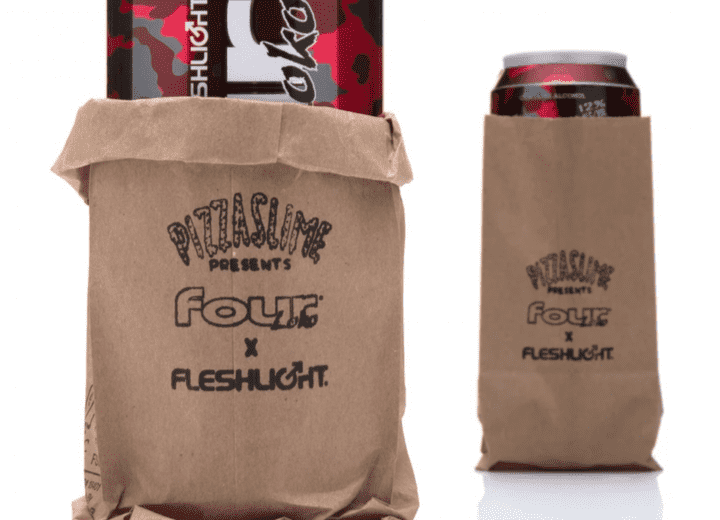 Four Loco Sex In A Can Reviews
Since Four Loco Sex In A Can comes with one of the most popular sleeves Mini-Lotus, naturally it gets many positive reviews.
So, here are some of the verified Fleshlight users Four Loco Sex In A Can review that could help you decide, whether it's the pocket pussy that you're looking for.
Ive used the Four Loko a few times now, and it feels amazing. I love the mini lotus texture, and its the perfect size for me to experience the entire design.
This is my second "Sex in a Can" product. Love these things. Wish I had the whole collection. Although these products are not as good as my real wife, when my needs outpace hers these are superb at a close second. They are somewhat smaller than the originals, but I personally love the tight fit, the variable suction, and the textured inside. The flesh material holds up well with proper care. My original Lady Lager is still going strong, and I expect this Four Loko will last similarly. Five stars!
I drink four loko everyday, but for the past few years ive been searching, longing even, to take my relationship with this magical elixir from the gods of partying to the next level. Imagine my surprise when I learned Fleshlight had created the product of my dreams. Finally I can pound a four loko while pounding a four loko. Thank you fleshlight for helping me find my soulmate.
Well, as you can see from the reviews, the fact that Sex In A Can was made in collaboration with Four Loco, holds a special place in Four Loco fan's hearts. So, f you're one of them, you'll surely enjoy this Fleshlight.
Four Loco Sex In A Can Downsides
Even though Four Loco Sex In A Can comes with numerous benefits, there are quite a few downsides to it as well that could discourage you from getting it. So, here are the downsides of Four Loco Sex In A Can I faced when getting it:
Not Discreet Enough
Even though it comes in a can that looks like a beverage – Four Loco Sex In A Can still has Fleshlight branding on the side. So, despite the fact that if you look at it quickly – you might not understand what it actually is, giving it a second look will most likely uncover the truth.
So, if you're super private and enjoy leaving your sex toys on display, Four Loco Sex In A Can could be not discreet enough. Yet, if you have a place for them, you won't face any problems.
However, if you hide them, the whole discreetness of fucking a can loses its purpose.
Non-Unique Seeve
As I mentioned before, Four Loco Sex In A Can doesn't have a unique-textured sleeve. So, basically, you're getting a product that's already out there, with a can instead of a case. So, if you're not into fucking cans and don;t collect sex toys, having Four Loco Sex In A Can might not be a necessity for you.
Four Loco Sex In A Can Alternatives
Finding an alternative pocket pussy to Four Loco Sex In A Can is quite easy and won't require a lot of effort.
If you're looking for an alternative to Four Loco Sex In A Can, in terms of the case, then just get any regular-sized pocket pussy and the Mini-Lotus sleeve.
However, if you're looking for a Four Loco Sex In A Can alternative in terms of discreetness, you can consider the Fleshlight Flight series. The Pilot pocket pussy is compact and comes in a black case and that looks more like a portable speaker than a pocket pussy.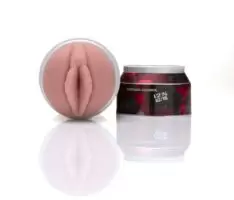 Order Now
The Verdict
Overall, Four Loco Sex In A Can is a fun and discreet enough pocket pussy. However, it's something unique that you can't find alternatives to.
Since Four Loco Sex In A Can feature a Mini-Lotus sleeve, the only unique part about it is they can. So, if you're looking for a discreet pocket pussy that you can later upgrade with other sleeves – it's a good choice for you.