Best Male Masturbators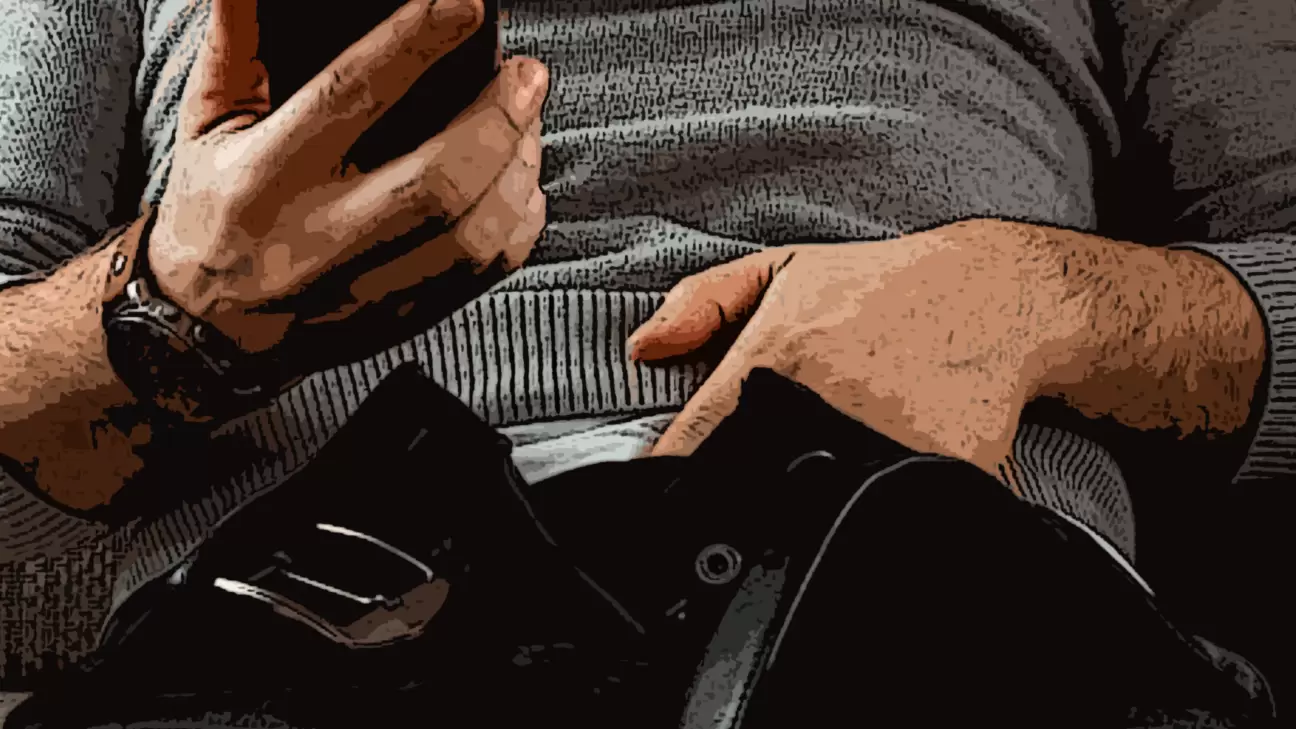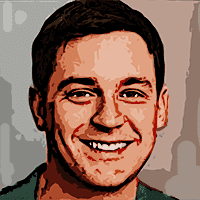 Written by
on , updated on
Each dude dreams of getting the perfect orgasm and wants to experience new sexual sensations. Isn't that the reason why you're reading this? This is where the quest for the best male masturbators starts. Just like the masturbator, I'm here to give you a helping hand. That's why I have already done most of the research for you. I've personally tested numerous top-rated masturbators, to give you a list of only the best ones.
Sex toys, especially automatic masturbators are a brilliant innovation in the market that allows men all around the world to enjoy mind-blowing orgasms hands-free. It doesn't matter you're single, in a long-distance relationship, or just want to spice up your sex life, a male masturbator could be the right choice for you.
Today's masturbators are very techy, they are compatible with other devices, have Bluetooth connectivity, can be controlled remotely, and can even sync with videos for the most realistic experience. That's why even the pickiest man will be able to find something he will enjoy using from time to time (or more often).
Top 5 Male Masturbators
Here are the best male masturbators. These top 3 male masturbators have been personally tested by me along with many others.
#1 Kiiroo KEON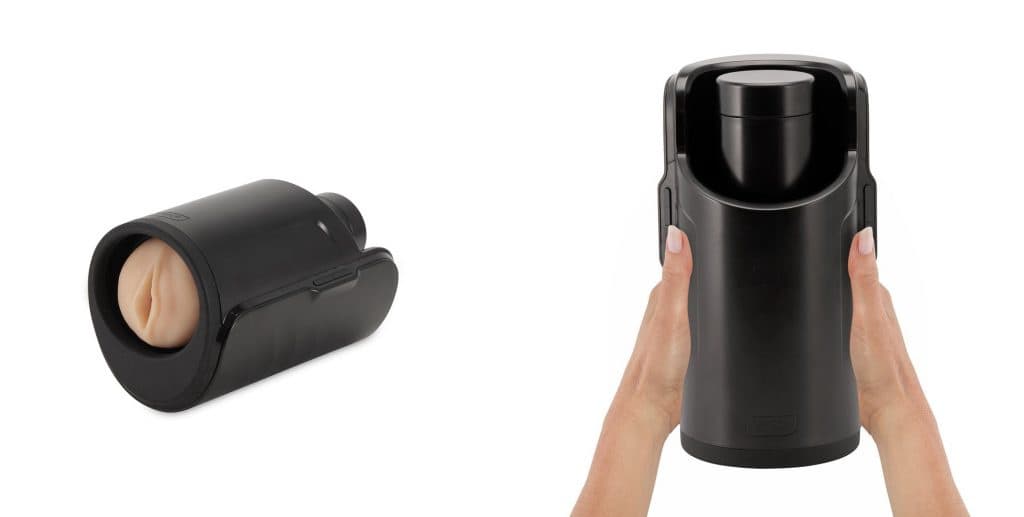 Kiiroo KEON is the best automatic male masturbator created. It's fast, it's intuitive, it's everything you ever dreamed of.
KEON comes with interchangeable sleeves that completely transform the toy into a brand new experience each time you use it.
Powered by advanced technology, it can stroke your penis 230 times per minute or work in sync with your selected VR experience.

LABOR DAY SALE: Save Up To 70%
Offer expires September 6.
Use Offer
Pros:
Interchangeable sleeves
230 strokes per minute
VR connection
Easy to clean
Waterproof
Skin safe materials
Rechargeable
Compatible with Android and iOS
Supports Bluetooth
FeelMe.com compatible
Cons:
Could seem pricey at first
#2 Arcwave Ion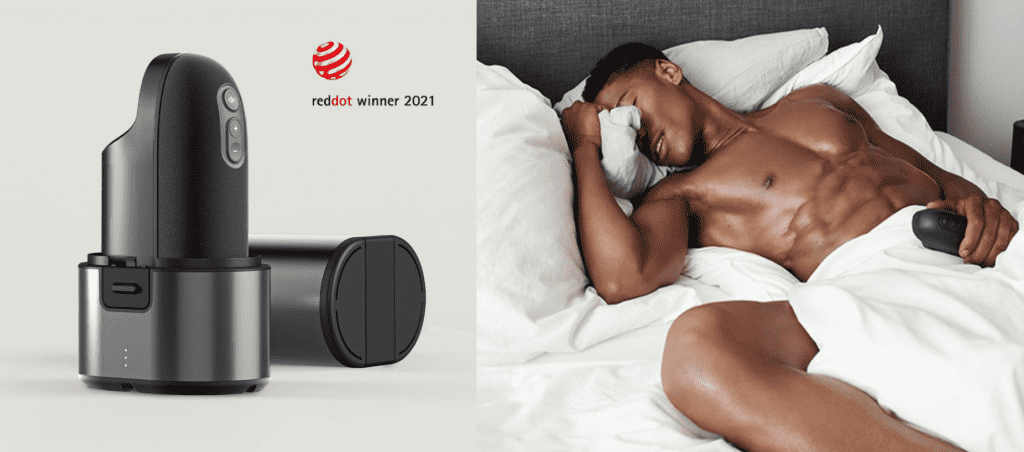 Created by WOW Tech group, Arcwave Ion is one impressive sex toy. Let's get that right. Arcwave Ion is one-of-a-kind. It's designed to help men experience female-like orgasms.
Yes, you heard me right, female-like orgasms. Stronger, deeper, and maybe even multiple? Even though the idea seemed intriguing at first, this toy seriously exceeded my expectations and gave me some seriously intense orgasms.
However, you shouldn't confuse it with a regular stroker. This toy won't stroke your penis. Arcwave Ion uses sonic waves to stimulate the frenulum (near the head of your penis). The perineum is the most sensitive part of the penis that plays a huge role during penetrative or any other kind of sex.
Another great thing about this toy is its Erectile Dysfunction compatibility. That's right, there's no need to have an erection to use this toy. I'm very happy that the market for sex toys keeps growing and is becoming more innovative. This results in more happy customers and more needs taken care of.
Pros:
ED-compatible
Discreet design
Female-like orgasms
Powerful sonic-wave technology
Easy to clean
Waterproof
Skin safe materials
Rechargeable
#3 Kiiroo Onyx+
If you're the type of person who likes sex toys to be discreet – Onyx+ could be your perfect male masturbator. Onyx+ looks more like a wireless speaker than a sex toy.
However, don't let the looks fool you. Onyx+ is a powerful masturbator. Powered by advanced technology, it can stroke your penis 140 times per minute.
Made from high-quality and skin-safe materials Onyx+ sleeve was made in collaboration with Fleshlight. Onyx+ is a powerful sex toy that will bring you a great sexual experience.
Created in the Netherlands, this male masturbator possesses ultimate quality and is compatible with VR goggles as well as other sex toys. So, if you're looking for an elegant and discreet sex toy that is indeed very powerful – Onyx+ by Kiiroo should be on top of your list.
Pros:
Sleeve produced by Fleshlight
140 strokes per minute
VR connection
Easy to clean
Waterproof
Skin safe materials
Rechargeable
Compatible with Android and iOS
Supports Bluetooth
FeelMe.com compatible
Cons:
Could seem pricey at first
#4 The Fleshlight Universal Launch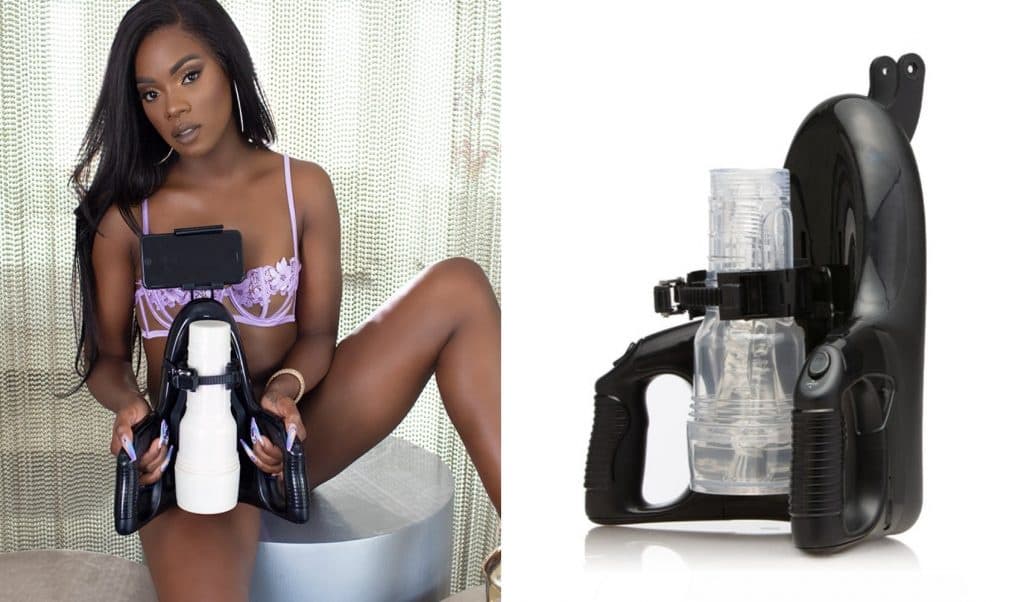 If you missed your chance to purchase the original Fleshlight Launch – worry not. Now you can buy a better and updated version of the original automatic toy. What changed? For starters, the Universal Launch is compatible with a lot more Fleshlight sleeves, while the original worked only with standard-sized Fleshlights. Also, this one is faster, lighter, and more ergonomic.
So, if you enjoy Fleshlight pocket pussies and wish to enhance your experiences, this could be the perfect device for you. Fleshlight Universal Launch is an incredible male masturbator that can stroke your penis 180 times per minute. You can expect that the orgasms it can bring will be seriously intense.
Don't be sad that you didn't get the chance to buy the original one, the updated version is definitely better!
Pros:
New and upgraded Launch
Compatible with most Fleshlight sleeves
Easy to clean
Waterproof
Skin safe materials
Rechargeable
Cons:
Fleshlight not included in package
Could seem pricey at first
#5 Autoblow AI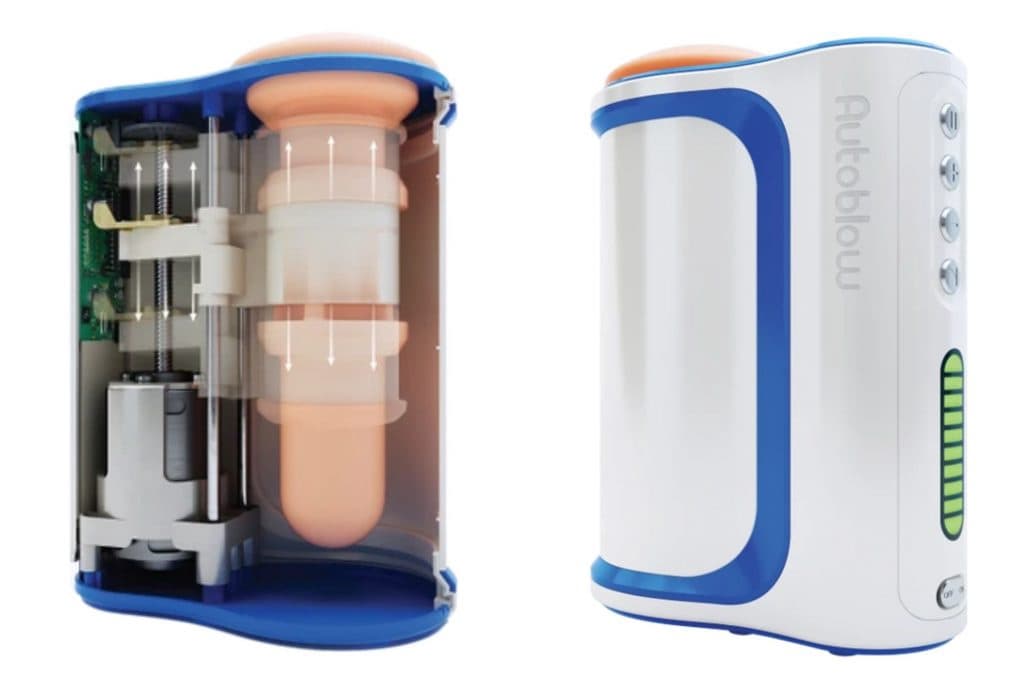 More than 6000 hours of blowjob research combined with the funding of horny dudes from all around the world, led to a state-of-the-art blowjob machine that possesses 250 interactive gripping points that lead to ultimate orgasm experiences. Not only that but it's also backed by powerful AI technology that can intuitively adapt to give your penis an unforgettable treatment.
Originally crowdfunded by horny dudes all around the world via IndieGogo campaign, it's currently one of the best-selling items in the whole sex toy world.
With 10 pre-programmed penis sucking modes and climax control, this machine should not disappoint you. If you're curious about what the climax control gives you, I'll explain that to you. Climax control allows you to return to the exact settings of the machine that you used before. So, you can repeat the pleasures you enjoyed.
Autoblow AI can be purchased in three different sleeve sizes. This means that it is perfectly compatible with nearly any penis size.
Pros:
Automatically adjusts sucking
Easy to clean
3 sleeve sizes
Skin safe materials
Rechargeable
Various speeds
Cons:
Might seem a little noisy
Could seem pricey at first
Competintion is better
How to choose the best male masturbators?
Here you will find the criteria I used to evaluate the best male masturbators for 2021 Each of them was carefully selected and tested by me personally.
Integrated Vibrating Motors
Most male masturbators have built-in vibrating motors. You need to check where the motor is located as it can have a serious impact on the intensity of pleasure you may get from it.
Adjustable Speeds and Intensity Levels
Having the possibility to adjust the intensity levels, lets you feel the pleasure the way you like it. Various models have different amounts of vibrating levels, while the standard is three levels. The fancy ones can even have more than ten vibrating levels.
Rechargeable Batteries
Make sure you get one with rechargeable batteries, as always buying them is quite annoying. Having a rechargeable male masturbator means that in case your batteries run out, you don't need to run to the store. Simply plug it in and continue your fun in no time.
Skin-Safe Sleeve Male Masturbators Materials
Today, most male masturbators are made from hypoallergenic materials and allow you to no longer worry about allergies or skin irritation. So, when choosing your masturbator, always go for skin safe ones.
Texturized Stimulation Canals
The best part about using a male masturbator is experiencing the sensations produced by the unique canal texture. The stimulating shapes used often feature strategically placed knobs, nodes, ridges, and waves to generate an exclusive experience based on the user's preference and the toy's overall design.
Bluetooth Connectivity
Today's top toys even have Bluetooth connectivity features that make them ideal for long-distance relationships and surprise sexual encounters. This component may require special equipment and skills to use, but it's bridging the gap between solo masturbation and interactive, real-time sex.
Virtual Reality Compatibility
Another important part of the interactive sex puzzle is the inclusion of virtual reality in many of today's best devices. Luxury models often offer connectivity to a wild and wonderful world of virtual lovemaking through the use of consumer-grade VR goggles, online porn databases, and secure internet/Bluetooth connections.
Teledildonic Technologies
Ideal for couples and long-distance relationships, many of the higher-end machines also feature newly developed Teledildonic Technology – a class of innovations that make real-time, interactive sessions a quick and painless possibility without the need for expensive or cumbersome virtual reality equipment.
Motion Sensors in Male Masturbators
Some male masturbators even have motion-sensing technologies onboard, allowing them to thrust, move, and contract based on the thrusts, movements, and contractions of a partner's or performer's body. This feature is especially enjoyable when paired with Bluetooth, virtual reality, and/or Teledildonics.
Wireless and/or Mobile App Controls
You'll be hard-pressed to find a masturbator for men that features a wired remote control. That outdated technology is scarcely used anymore and has since been replaced by touch-sensitive control pads, wireless remotes, and even smartphone apps that allow users to manipulate the settings of the machine without ever going near it.
Male Masturbators FAQ
I made you a detailed FAQ guide that will help you choose the best male masturbator. Many questions you had but might have been too shy to ask are answered here and in detail.
What are the benefits of male masturbators?
Male masturbators can help you explore various new sexual sensations. They mimic real intercourse as well as oral stimulation of the penis. Not all of them have a special purpose besides pleasure. However, there are masturbators that help men around the world deal with erectile dysfunction and premature ejaculation. Such devices can help men boost their confidence and boost their sexual performance. Male masturbators help couples explore new sexual sensations in bed as well as support through a long-distance relationship.
How to use a male masturbator?
Using male masturbators is very easy and straightforward. All you need to do is insert your erect penis into the sleeve and enjoy an automatic or manual masturbation session. With most masturbators, a water-based lube will help you enhance the sexual experience and feel more intense sensations.
Can I use male masturbators if I have erectile dysfunction?
Yes, you can. However, you need to find a special one, as most of them are designed to stimulate an already erect penis. Even though there are not many choices in the market, there are several great ones that will work well with erectile dysfunction. However, if you're not sure – consult with a physician.
Can I use male masturbators if my penis is curved?
Yes, you can. However, you need to find a special one that works well with curved penises, as most of them are designed to stimulate a straight erect penis. Even though there are not many choices in the market, there are several great ones that will work well with Peyronie's Disease.
Can I use it if I'm in a relationship?
Yes. It can actually be very beneficial for a long-distance relationship in terms of keeping a healthy sexual bond. n today's world many therapists and doctors recommend using them as they come with various couple-friendly features that help support your bond and keep your remote relationship spicy.
What to do with my male masturbator?
The only things you should always do with your male masturbator is clean it after each session and use it according to the manufacturer's specifications. Everything else is completely up to your imagination. So, as long as it complies with the manual you can do whatever you want to do with your male masturbator.
What not to do with my male masturbators?
You should never do anything that is not allowed by the manufacturer. For example, if your device isn't waterproof – don't use it in the water or near it. Also, never leave your toy dirty after you use it. Be sure to store it in a cool dry place, away from dust, dirt, and direct sunlight. So, just follow the manual that comes with the ale masturbator and it will be fine.
Care and maintenance. How to?
Since all devices are different, always follow the care instructions that arrive along with your device. However, there are things that are mutual to whichever device you have. You need to wash it after each time you use it. Also, you need to keep it properly stored, away from dust, dirt, and direct sunlight.
So, in general, most toys are not high maintenance, however require you to follow some regular hygiene standards. There are toys that require special cleaning. If you have one of those, special cleaning supplies will be specified in the manual.
Can I hurt myself with the masturbator?
Yes, it is possible. However, the reported cases consist of misuse of the devices that didn't have an emergency shut down buttons. Even though the injuries were very minor and didn't do any permanent damage, you should be mindful of what you're doing.
You should keep in mind that irresponsible behavior with sex toys, just like with anything else can lead to injuries. So, follow the manufacturer's instructions and you should be okay.
Can my penis become less sensitive from a masturbator?
There have been cases where male masturbators and other sex toys led to desensitization or erectile dysfunction. However, this happens due to overplaying with your toys. Especially, if you go to extreme lengths and use very intense sleeve textures and very often.
Keep in mind that sex toys shouldn't replace your sex life. So, if you use them on a regular basis and don't lose the sense of what is a toy and what is real, everything will be fine. As you know, with great pleasure comes even greater responsibility.
What if my masturbator breaks?
To protect yourself against such cases, you should always choose a male masturbator that comes with a warranty. This way in case something happens and the device breaks, you'll be entitled to a replacement product, a refund, or will get it fixed for free.
However, if you get a device without a warranty, only use original parts to fix it. This way you'll ensure that your device works properly after breaking and will reduce the risks of any malfunctions.
What brands could you recommend?
Some of the most reputable manufacturers include Fleshlight, Kiiroo, LELO, TENGA, Lovense, Lovehoney, Fun Factory, and Autoblow just to name a few. These companies offer quality products with warranties. They are in the market leaders for many years, so they should know what they're doing.
Long distance relationship and male masturbators: how to?
Even though the masturbators are made with having the man's pleasure in mind, they can also work for long-distance relationships or when playing in bed with your partner. Since the device is techy, you can use Bluetooth connectivity, smartphone compatibility, virtual reality capabilities, and motion-sensing technologies for best results in long-distance relationships and when playing with your partner.
Can I get male mastubators for a lower price?
In most cases, you can get a deal on a quality sex toy. Many manufacturers offer special promotions and deals all around the year. All you need to do is go for some deal hunting, find some coupons or discount codes. Also, many manufacturers offer discounts for the first purchase. So, if this is your first sex toy, you will most likely get a good deal on it.
How to pick out the right sleeve texture?
There is no one answer to this question, as masturbation sleeve choice is very personal. You need to choose the sleeve texture based on your preferences, expectations, and experience. Many models give you the chance to use diverse sleeves. So, if you get one of those, you can enjoy various sleeves with various textures and have mind-blowing orgasms. Remember, sex toys are all about pleasure, so don't be shy to explore your sexuality to the fullest.