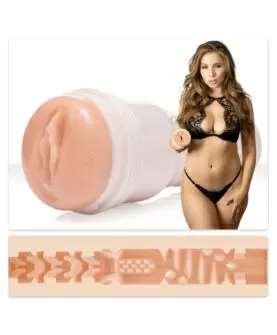 Lena Paul
Overall Rating
3.93 out of 5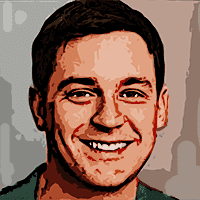 Written by
on , updated on
Lena Paul Fleshlight (DISCONTINUED!)
This hourglass-shaped beauty is very well known for her double-D breasts. Lena Paul is known for being an outstanding performer in her movies and now she's also a Fleshlight Girl.
The Lena Paul Fleshlight series has two models for you to try out. The first one is called Nymph. Nymph has an orifice that looks exactly like Lena's pussy lips.
The second one is Ritual. Ritual sleeve has an orifice that looks just like Lena Paul's butt hole.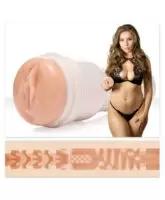 Order Now
As always, I've tested both sleeves, so, let's see which has the edge.
How Lena Paul Fleshlight Feels?
Today I'll be reviewing both Lena Paul Fleshlights. So, as always, I'll review their textures one by one and then give you my verdict.
Lena Paul Nymph Fleshlight
The first Lena Paul Fleshlight is called Nymph. Nymph has an orifice that looks like Lena's vagina and some exciting textures.

Nymph starts with a pretty exciting texture from the very beginning. If it was me, I would put the chamber somewhere further as you hit the jackpot of this Fleshlight during the first seconds.
Once you pass the 4 inches mark, the intensity reduces and you get the chance to calm down. However, 6 inches deep she intensifies.
Since the first chamber and texture was the most intense, I felt like I was teased during the whole time. The sleeve wasn't too tight, nor too intense and I kept on wanting just a little bit more.
If that's the idea behind this sleeve – well played, Lena.
Lena Paul Ritual Fleshlight
The second Fleshlight by Lena Paul is Ritual. The Ritual sleeve has an orifice that looks like Lena's butt hole and a unique texture.

Similar to the first sleeve, I found the first 4 inches to be almost the most exciting part of the sleeve. However, the magic was hiding 5 -7 inches deep.
Compared to the first sleeve, this one is more intense and is tighter. However, they're both pretty much on a similar level. So, choosing the better option is quite difficult. For me, it would depend on the intensity that I want that day. If I want o go a bot rougher – Ritual. if I want something soothing – Nymph.
I would recommend you to choose based on what type of sex you and your penis prefer, rougher or more gentle.
Lena Paul Fleshlight Benefits
Fleshlights are high-quality products. So, naturally, you get numerous benefits when you choose the luxury treatment for your penis.
Hypoallergenic Materials
All Fleshlight sleeves are made from hypoallergenic materials. That means they won't cause any unexpected skin irritations or allergies. Your penis is in safe hands with Fleshlight.
Real Feel
The SuperSkin material that Fleshlight uses for the sleeves is not only hypoallergenic but also super close to feeling like real human flesh. When you warm up the sleeve, it's pretty difficult to feel the difference.
Unique Sleeves
Each Fleshlight model has a unique sleeve. Since there are around a hundred different Fleshlights, there's quite a lot of options for you to choose from.
The Lena Paul Fleshlight series has two models. Nymph with an orifice that looks like Lena's vagina and Ritual that has an orifice that looks like Lena's butt hole.
Easy to Maintain
Even though Fleshlights are very textured, they're super easy to look after.
Check out this detailed Fleshlight care guide that will cover all your concerns.
Discreet Shipping
Fleshlight values and respects your privacy. That's why each and every item that you order from them will arrive in unmarked boxes.
No one will be able to tell what's actually inside without opening the box.
The same goes for Amazon. However, make sure you choose a reputable seller so that you would get the original item.
Personally, I always buy directly from Fleshlight. So, I don't have to be concerned about whether the item is original.
Lena Paul Fleshlight Alternatives
There are around a hundred different Fleshlights. If you feel like you need to find Lena Paul Fleshlight alternatives because the sleeve isn't quite right, let me suggest some alternatives.
My current favorite sleeve – Janice Griffith. I have literally tried around 80 Fleshlights and she has the most balanced sleeve.
If you're looking for intense action, take a look at Mia Malkova's new Fleshlight. It's super intense and exciting.
If you wish to have an intense pussy sleeve, be sure to check out what Stoya has to offer.
Lena Paul Fleshlight Reviews
You already know my Lena Paul Fleshlight review, so let's see what other guys are talking about her.
Each of the reviews below was written by verified Fleshlight buyers, so you will be hearing some real Lena Paul Fleshlight reviews and not just some spammy ones.
Here's what the guys are talking about Lena:
At first I was like no way, never, not for me. Then someone said why is it okay for women to have a toy? So I was like okay, I'll try it. It's amazing, I can only say I wish I got one sooner. It's a great product, and I will always have one

– Thomas G.
I can say with all honesty that this product perfectly imitates a real vagina. Beside the fact that it isn't warm like a real one, so I was wondering if I could microwave it so that it is also warm like a real vagina.

– Jimmy C.
NOTE: don't microwave your Fleshlight like the review above suggests.. It will ruin it.
This is amazing I use it everyday multiple times I need to buy a mount and a warmer next

– Tyson S.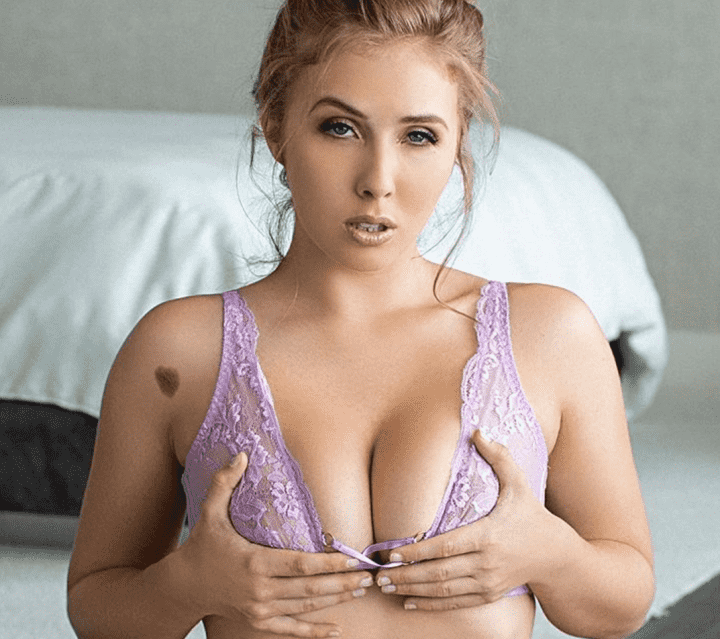 This Fleshlight is absolutely incredible feeling. It feels great when it's used and it's got a great suction on it. Definitely recommend.

– Drew B.
Soon after buying the ritual sleeve I realized just how good it felt. Not having the case didn't change how great a feeling she can give

– Travis B.
What's In The Package?
Here's the full list of items that you will find in your unmarked box, directly from Fleshlight:
Brand new Nymph / Ritual texture sleeve
Unique Lena Paul Lady / Butt orifice
Luxurious Fleshlight case that comes with an extended protective cover
Detailed instructions for proper use and care
If you order elsewhere, you may get a sample of lube. However, have some water-based one in stock – you will need it.
Also, if you decide not to buy directly from Fleshlight, make sure you choose a reputable reseller. Otherwise, you risk getting a knock-off product.
Upgrades
Even though Fleshlights are great on their own, there are several items that you can use to upgrade your experience with Lena Paul Fleshlight.
Fleshlight Sleeve Warmer – super convenient to warm up any Fleshlight sleeve to 105° Fahrenheit / 40° Celsius. If you use other methods, make sure not to overheat the sleeve.
Fleshlight Shower Mount – level up your shower time. A hands-free orgasm is guaranteed.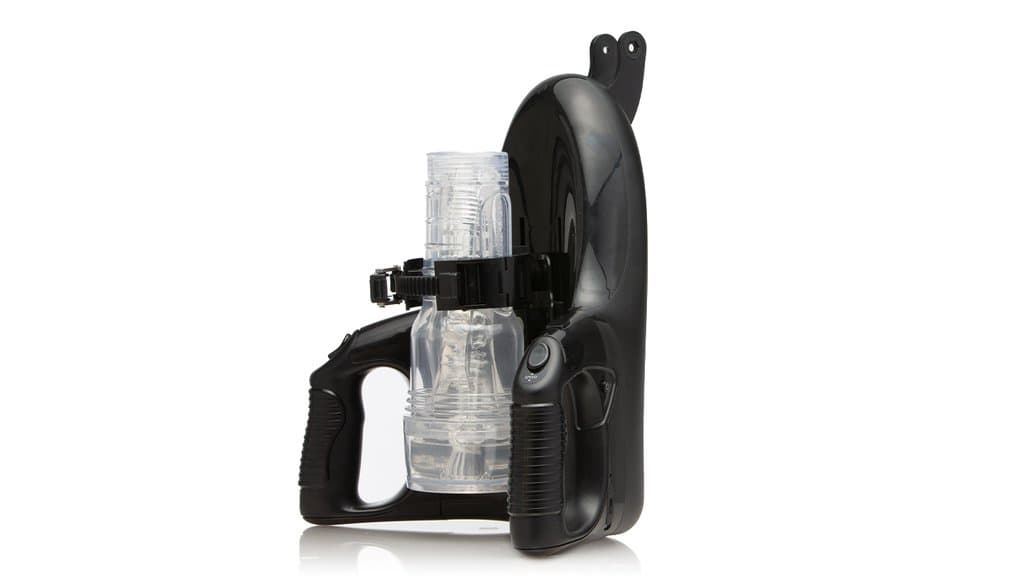 The Fleshlight Launch – it is the best way to take your Fleshlight experience to a whole new level. This automated masturbator is compatible with all regular-sized Fleshlights, (like Lena Paul Fleshlight). The Launch will stroke your dick so good, you won't understand what hit you. Fleshlight Launch is worth every penny.
Also, there are a few products that are great for Fleshlight care. They ensure the longevity of your sleeves: Fleshwash and Fleshlight Powder.
Fleshlight Care Tips
Fleshlights are super simple devices. They're easy to use and simple to take care of.
In order to ensure the longevity of your Fleshlight, you need to know only a few essential rules. They ensure that your Lena Paul Fleshlight sleeve remains good as new for as long as possible.
Hygiene. Wash your Fleshlight after each use and use the official cleaning method. If you're thinking about skipping a wash or two – don't. Each time you use a Fleshlight, it gets filled with body fluids that range from sweat to cum. Due to that, the Fleshlight sleeve becomes the perfect place for various nasty bacteria and even mold to grow. I'm sure that you don't want that stuff on your penis or in Lena Paul.
Lube. Never use a Fleshlight without lube. It would feel bad to stick your penis into a dry vagina and it feels even worse to stick your penis in a dry artificial vagina. Also, using a Fleshlight dry can result in ripping the sleeve or irritating the sensitive skin of your penis.
That's it. Everything else is about pleasure. If you take care of your Lena Paul Fleshlight, she will take good care of you.
Overall Verdict
Overall, Lena Paul Fleshlights are pretty good. They're perfectly suitable for beginners. Pros will enjoy them as well.
Both sleeves are on the wider side, however, they're textured enough to give you pleasure.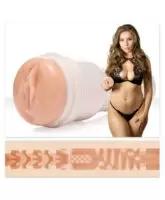 Order Now
Even though there are more intense sleeves than Nymph and Ritual, these two are definitely worth your attention.
To tell you the truth, if I had to pick one between the two, it would be hard. So, in this case, it's a tie between the sleeves. They're both winners and you won't be disappointed.