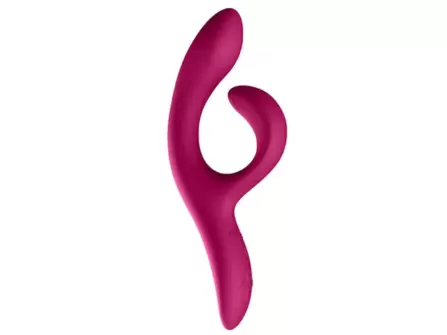 We-Vibe Nova 2
Overall Rating
4.85 out of 5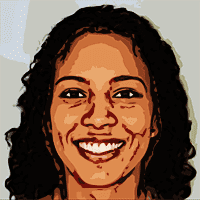 Written by
on , updated on
We-Vibe Nova 2
The We-Vibe Nova 2 rabbit vibrator is a great choice for anyone looking for a high-quality, reliable vibrator. This vibrator is made from body-safe silicone and is 100% waterproof. It has two powerful motors that provide intense stimulation to the clitoris and G-spot. The We-Vibe Nova 2 is also rechargeable and comes with a storage case.
We-Vibe Nova 2 is an updated version of the original We-Vibe Nova. It features a new, improved shape and flexibility that makes it even more pleasurable to use. It has 10 different vibration settings. The We-Vibe Nova 2 is the perfect toy for couples or solo play.
The Benefits Of We-Vibe Nova 2
Here are the main benefits that you get with We-Vibe Nova 2: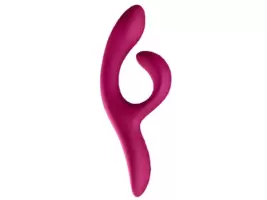 Order Now
Flexes With Your Movements
The We-Vibe Nova 2 is designed to move together with your body. This means that when you're adjusting your position, the vibrator won't leave your clitoris unattained.
App-Controlled Play
The sex toy can be controlled through the We-Connect app. This means that even your partner can please you from anywhere in the world if that's what you want. If the app is not your favorite way to maneuver your sex toys, worry not, you can always use the buttons on the handle to adjust the vibrations.
Dual Stimulation
Two areas of stimulation require dedicated motors, right? That's exactly what you'll get from We-Vibe Nova 2. Your clitoris and your G-spot will have their separate motors for uninterrupted pleasure and a long-lasting experience. Each motor can be used separately and together.
Body-Safe Materials
We-Vibe uses only body-safe materials when producing their sex toys. This aspect is very important to acknowledge because the sex toy market is very unregulated. This means that there are plenty of sex toys that contain harmful substances circulating around. So, make sure to read the labels before you make any purchases.
Easy to Use
Even though the We-Vibe Nova 2 is an advanced sex toy, it's very simple to navigate. IF you don't like the idea of using an app, you can use the 5 buttons of the vibrator itself. I know that 5 may seem a lot, however, they make sense. There are two arrows pointing to the sides that help you switch between the patterns back and forth, there are two buttons to control the intensity and one button that toggles between motors. That's it!
100% Waterproof
If you enjoy long hot showers, you're about to enjoy them even more. You can take your We-Vibe Nova 2 together with you even to the pool. The toy has a high water resistance so it won't break. Technically it could even survive a storm. I haven't tried it so can't pledge that, but it should. So get ready to make your baths been more relaxing.
Specifications
Here are the technical characteristics of the We-Vibe Nova 2 :
Controls: Manual, App Enabled
Battery: USB rechargeable lithium ion battery
Run Time: Up to 120 minutes
Charge Time: Up to 90 minutes
Materials: Body-safe silicone – free from phthalates and BPA and made without latex
Dimensions: 217mm x 85mm x 39mm
Warranty: Two year
Long warranty, long-running time (for such toy), and body-safe. Overall, great specs for a quality toy.
What's Inside The Box?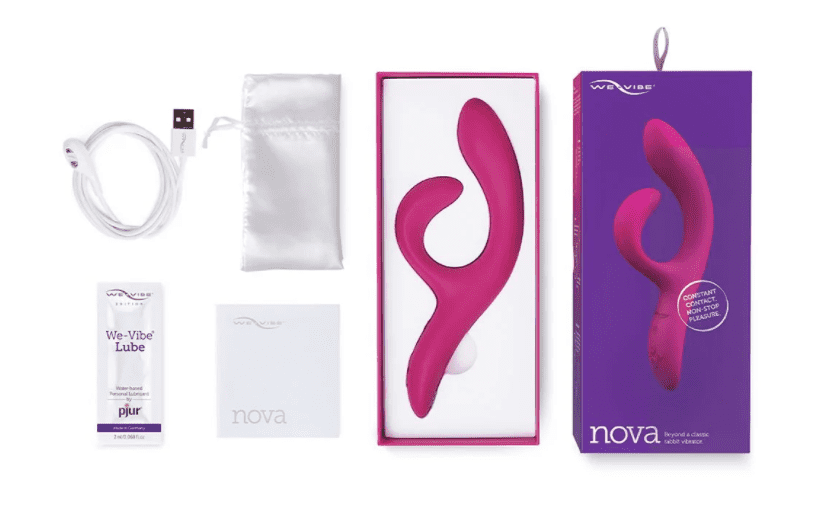 Here is a full list of items that you will find inside the box of We-Vibe Nova 2:
We-Vibe Nova 2 rabbit vibrator
Magnetic USB charging cable to charge Nova via any USB port or USB power adapter (not included)
Silky bag or discreet storage and travel
Illustrated, multi-language instruction manual
We-Vibe® Lube made by pjur® sample
As you can see, a sample of lube is already included, however, I would recommend getting some more. Even though the vagina is self-lubricating, the clitoris always enjoys some extra help.
We-Vibe Nova 2 In Action
The We-Vibe Nova 2 is an updated version of the first Nova edition. We-Vibe made several changes that made a tremendous impact. The most important ones are the slight changes in the shape and highly improved flexibility.
If you compare the two, you could say that Nova took a lot of yoga classes, and now is Nova 2. While I wasn't a fan of the first edition and found it to be pretty uncomfortable, Nova 2 feels like a completely new toy.
The Nova 2 has a slightly narrower and longer handle which makes it easier to reach the G-spot. The handle for the clitoris is slightly shorter than in the previous edition and a lot more flexible, so the pressure you're getting is lighter and not overwhelming.
When it comes to rabbit vibrators, it's either a hit or a miss. There's no in-between. The shape has to work for your anatomy or it becomes a complete disappointment.
For me personally, this shape worked and I could even do some light thrusting without losing the clitoris stimulation. It's very flexible and will work with a lot more bodies than the previous edition.
However, if you feel like you're a little scared to buy a toy that relies on anatomy so much, you can always get a wand vibrator together with a clit vibrator and experience just as much fun, only without the risk.
Nova 2 has two motors, so if you feel like the stimulation is too much, you can always turn off one of the motors and reduce the tension.
Other than that, if you o with this toy, make sure to try it in a bathtub if get the chance. There's something about water and vibrating clitoris stimulation that next-level pleasure.
Tips For Using Your Sex Toys
If you're a first-time buyer of a sex toy, there are some important things that you definitely need to know. There are not a lot of them, since sex toys are not complicated. However, here are the essentials.
Start Slow and Get Used to Experiences
Vibrators can feel weird or uncomfortable for the first time because you're not used to the sensation. It's important to experiment with different speeds and intensities to find what feels best for you.
Hygiene is a Must!
Some benefits of using a clean sex toy include:
Reduced risk of infection
Easier to keep clean
May last longer
Less likely to cause irritation
Can be used with confidence
Moisturize and Lubricate
Lubrication is important for sex toys because it can help reduce friction and make the experience more pleasurable. It can also help prolong the life of your toys by reducing wear and tear.
We-Vibe Nova 2 Reviews
The more you know about a product before you buy it, the more likely you're to buy something you will truly enjoy. Since all people are different, each has a different experience. However, if most agree on some aspect – most likely you will feel the same way. You already know my experience with the We-Vibe Nova 2, here's what other people are talking about it:
The vibrations rumble rather than just buzzing around like most vibrators, going deeper than most toys you'll try so you'll feel it all around your bits. What's also really cool is the form of the toy which comfortably and effectively focuses on the frontal wall of your vagina without needing to be jostled into place, and the exterior clitoral bit can be placed wherever you want with no fuss or discomfort.

Pennyyy
When I first saw the Nova I thought it was smaller than what I imagined. But the vibrations are so powerful. You can bend it anyway you like to make it fit and it will just take you to a different dimension.

Darcy
I loved my previous rabbit but this is something else. There are so many vibration modes it's like you have multiple vibrators. You can bend it to fit you in the best way possible which MAKES SURE you have an orgasm. I will only give up my Nova 2 for Nova 3 if it comes out.

Andie A
Alternatives to We-Vibe Nova 2
The We-Vibe Nova 2 is a fun toy and will work for most women. However, if you have a feeling that there might be something better suited for your needs, here are some alternatives to consider:
Lelo Soraya Wave – if you are looking for something with very precise stimulation of the clitoris and some come-hither motion for your G-spot, the toy you are looking for is Lelo Soraya Wave.
Lelo Ina 3 – this vibrator is similar to Nova 2 size-wise. It has a more round handle for the clitoris stimulation. Also, there is an Ina-shaped vibrator with the above-mentioned Wave technology for those come-hither motions for your G-spot. It's called the Lelo Ina Wave 2.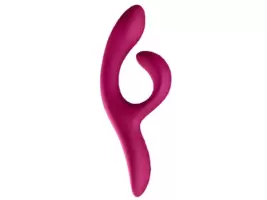 Order Now
The Verdict on We-Vibe Nova 2
Overall The We-Vibe Nova 2 is a huge improvement from the first edition that in my opinion wasn't that great. However, everyone has different bodies, so it may have been perfect for you.
Other than that, it's a very flexible rabbit vibrator that adjusts its shape easily according to your anatomy and movements. So, it should work for many women. However, if buying such a toy scares you, you can always get two toys instead of one: a clit stimulator and a wand vibrator. This combo is also mind-blowing.