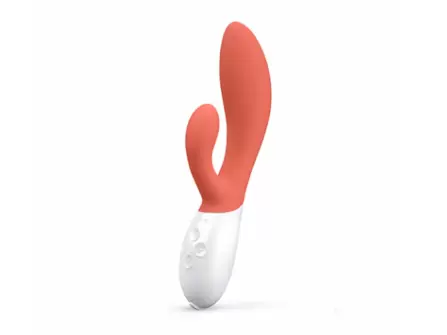 Lelo Ina 3
Overall Rating
4.5 out of 5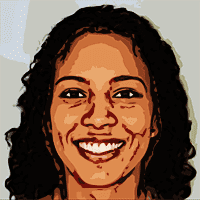 Written by
on , updated on
Lelo Ina 3
The Lelo Ina vibrator shape is one of the best-liked worldwide. There's no doubt about that since this line is a global best-seller.
That's probably why Lelo keeps on updating the vibrator and re-releasing it. Now we have the Lelo Ina 3 that comes with more variations, more power, and naturally is more exciting.
Lelo Ina 3 is a rabbit vibrator, so it's designed for women who prefer double stimulation or have trouble reaching orgasms solely from penetration. I myself am the second type. Therefore I'm always excited to see what the rabbits have to offer.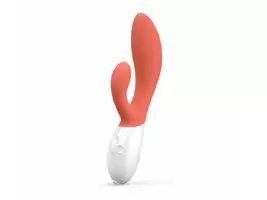 Order Now
The Specs
Here are the main technical characteristics of Lelo Ina 3. Pay special attention to the size and insertable length. Don't confuse those two!
Materials: Body-safe silicone, ABS
Size: 200 x 65 x 45 mm / 7.9 x 2.5 x 1.7 in
Insertable length: 110 mm / 4.3 in
Weight: 150 g / 0.33 lb
Battery: Li-lon 520mA 3.7V
Charging: 2 h at 5.0V 500mAh
User time: Up to 2 h
Standby: 90 days
Frequency: 60 Hz
Interface: 4-buttons
Lelo Ina Benefits
I like to say that a good vibrator is a good investment into a good orgasm. If the toy is not good – it's a waste. If the toy is good – it can change your life. Seriously.
Dual Stimulation
Many women can't experience orgasm solely from vaginal stimulation. It's difficult for me as well and takes a LONG time if there is no action on the clitoris. That's why rabbit and dual g-spot vibrators are my go-to sex toys. So, dual stimulation is the biggest benefit of such vibrators. First, you don't need to buy an additional toy – second – if you find the right angle and the right pattern – the orgasms are hands-free.
10 Vibration Patterns
The more vibrations you get, the more variety there is. And usually, more variety means a more personalized experience. Lelo Ina 3 comes with 10 different vibration patterns that can be as light as a vibrating phone in your pocket (only that the vibrator doesn't go to a pocket) to intense, toe-curling vibrations.
Powerful Motors
Whenever you find a new version of a Lelo toy – it will most likely come with a stronger motor for more intense sensations. Lelo Ina 3 has exactly that. This vibrator comes with a 30% stronger motor. So, you will definitely feel the upgrade from the previous models.
Long-Runing Time
The Lelo Ina 3 comes with a long-lasting rechargeable battery. So, there is no need to buy any batteries and there is no rush to reach orgasms. You can take your journey slow, tease yourself and let the sensations sink in. Want a second orgasm right away – the up to two hours running time might do the trick for you.
Body-Safe Materials
Lelo is a reputable manufacturer and only uses the highest quality materials for their sex toys. The Lelo Ina 3 is made from the highest quality and softest silicone that you can find in the market. This means that the toy is body-safe and won't harm your health. There is no need to worry about any unexpected skin allergies or skin irritations – silicone is hypoallergenic and also non-porous. So, it won't accumulate dirt on its surface.
Simple Controls
Using Lelo Ina 3 is super simple, therefore, you won't have any troubles adjusting the settings anytime you want. Contrary to some vibrators that have smooth surfaces and you literally need to see controls – that's not the case with Lelo. You don't need to see the buttons – you will feel them against your fingertips.
100% Waterproof
The possibility of using an electric vibrator in the shower is more or less a standard practice now, however, I like to highlight that. Being able to give yourself a nice orgasm while you're taking a shower or relaxing in a bathtub is something you deserve after a long day.
Discreet Shipping
Lelo respects you as their customer, therefore, values your privacy. No matter how many items you order, if you do that directly from their website – each and every one of them will be handled discreetly. No one will be able to tell what exciting devices are actually hiding inside the box.
Tips For Using Your Toy
It doesn't matter if you're new to sex toys and maybe this is your first one. I will share some simple tips that will help you get the most out of your sex toy and ensure its longevity.
Lubricate Generously
Always be generous with lube. Don't be greedy and give your private parts the luxury treatment. In exchange – they'll give you an orgasm. Win-win? Win-win! Lube reduces friction, so protects your skin from irritations, especially in parts of the body that can't lubricate themselves.
Start Slow and Get Used to Experiences
Using sex toys, especially getting used to your first sex toy takes time. Once the familiarization process is over, there will be fireworks. When I got my first sex toy – I had very high expectations of it. Orgasm in a minute or so. Guess what – didn't happen. Took me five tries and something around 30 minutes on the fifth try. So, relax – orgasms will come.
Clean, clean, clean!
Never use dirty sex toys. It doesn't matter that you're the only one who's using the toy, you still need to wash it properly. Otherwise, various bacteria and microorganisms that can cause infections will start living in them and could get transferred to your body. Such things can cause serious infections that may take months to fix. Be nice to your body.
What's Inside The Box?
There are manufacturers that don't invest in the packaging, and then there are luxury manufacturers like Lelo. Unpacking the sex toys that they make is like opening a fancy Christmas gift, made by special order and only for you. Here's the full list of items you will get when ordering Lelo Ina: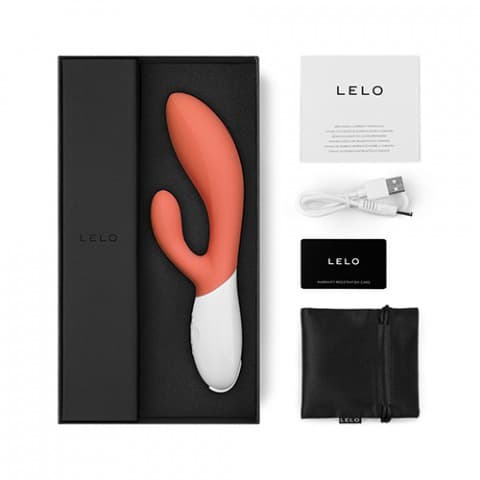 INA™ 3 in selected color
USB-Charging Cord
Satin Storage Pouch to keep the dust away
Warranty Registration Card
Detailed Instruction Manual
As you can see, everything you need to start using your toy is already inside the box. However, if you wish to have a smoother experience – lube is always a good addition. Make sure to get one that's silicone compatible!
Lelo Ina 3 In Action
While this vibrator is very loved around the world, it's not my go-to rabbit vibrator. As I mentioned in my earlier reviews, the Ina shape, as a rabbit vibrator, is not right for my anatomy. The narrower Soraya works better on me.
However, I'm not the only person in the universe, so let's see in more detail how the vibrator feels.
First, it's good for women who enjoy wider objects inside them. When it comes to Ina 3, you can basically put the vibrator inside, sit back and enjoy it doing the work. There's barely any adjustment required, so, if anatomically it's right for you, hands-free fireworks are what you're getting.
The stimulation of the clitoris is also on point. The head of the handle is not too big, but wide enough so that you don't need to immediately re-adjust if the vibrator slightly moves.
The vibrator has 30% more power than the previous version and 10 pleasure settings with different intensities.
I would recommend it to those who enjoy a very straightforward orgasm experience since there are not too many adjustments that you can make when it comes to moving it. Also, you can use it together with your partner to additionally stimulate the clitoris during penetrative sex.
Alternatives to Ina 3
Lelo Ina 3 is among the most popular rabbit vibrators worldwide. However, there's still a chance that it's not exactly what you're looking for. Here are some great alternatives to Lelo Ina 3:
Lelo Ina Wave 2 – this vibrator may look the same, but its operating principles differ. All Lelo products from the Wave series feature a come-hither technique for precise G-spot stimulation.
Lelo Soraya 2 – this one is also a rabbit vibrator, however, I find it to be more versatile and better for G-spot stimulation. Soraya is better at locating the G-spot and precisely hitting it.
Lelo Ina 3 Reviews
The more information you collect, the better purchasing decisions you can make. That's why I always read reviews and read many of them. The same goes for sex toys, I actually try to even recreate the troubles people say they run into (positions, etc.) to troubleshoot them.
That's why I encourage you to read reviews as well. Unfortunately for me, at the time of writing, Lelo had no reviews for this product posted on their website, so I couldn't read any verified testimonials. I only trust those since I know that the person who wrote it actually bought it. However, I hope to see some soon!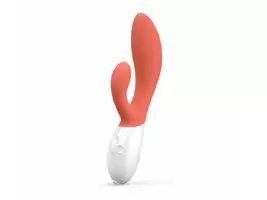 Order Now
The Verdict
Well, since it's a tried version of Lelo Ina, this means that it has to be good, otherwise, people wouldn't buy it and Lelo would stop re-releasing it.
Lelo Ina 3 is actually the best out of the three Ina's. It has the most power, therefore the most versatility. Shape-wise it's one of the best clit massagers that gives a nice stimulation to the G-spot as well.