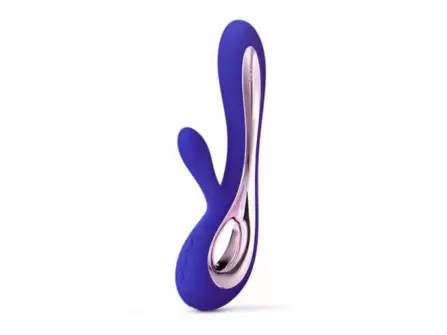 Lelo Soraya 2
Overall Rating
4.75 out of 5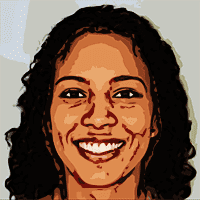 Written by
on , updated on
Lelo Soraya 2
If you've read any of my other Lelo reviews, most likely you already know that Soraya is my favorite shape from Lelo. So, there's no need to hide that I enjoyed the Lelo Soraya 2 experience as well.
Lelo Soraya 2 is an updated version of the previous one. And when I thought that couldn't make it any better, turns out slightly changing the handle that stimulates the clit, strongly changes the whole experience.
The Specs
Here are the main technical details of Lelo Soraya 2. Make sure to not confuse insertable length with total length.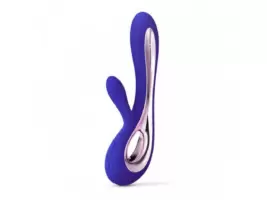 Order Now
Made from: ABS Plastic / Silicone
Size: 220 x 76 x 45mm
Diameter: 36mm / 1.4in.
Insertable length: 110mm / 4.3in.
Weight:175g / 6.2oz.
Interface: 3-button interface, 12 modes
User Time: Up to 4h
Frequency:120Hz
Max. Noise Level: 50dB
Lelo Soraya 2 Benefits
Soraya 2 is one of my favorite inventions of Lelo – to be honest. Not only Soraya 2 but everything that's named Soraya. Here are the main benefits of this rabbit vibrator.
Dual Stimulation
Lelo Soraya 2 comes with dual motors and has two handles. The big one to reach your G-spot and the small one to massage the clitoris. Most women have difficulty reaching orgasms just from vaginal stimulation. I'm one of them, so I understand the struggle. That's why I find double vibrators a blessing.
Erginomic design of Lelo Soraya 2
Another great thing about the Lelo Soraya 2 is the longer tip of the inner handle and more flexible stimulator of the clitoris. The larger tip can better reach G-spot for many women. After all – our bodies are similar but not the same. The same applies to the hinge that stimulates the clitoris, now it's more flexible, therefore, can hit the right spot more precisely.
12 Vibration Patterns
Well, if that's not enough to get you excited – let's add the 12 vibration patterns that can go from ultra-low to ultra-high with just a few presses of a button. Find your rhythm, get into position, and experience hands-free orgasms on-demand.
Body-Safe Materials
Lelo makes their toys only from the highest quality materials. The Lelo Soraya 2 is no exception. It's made from the smoothest silicone and is hypoallergenic. This means that you won't experience any unexpected skin allergies or irritations.
Simple Controls
Even though Lelo Soraya 2 is a complex device – this vibrator is very user-friendly. It comes with a 4 button navigation panel that you don't need to see to intuitively know what to press to reach the new heights of pleasure.
100% Waterproof
Having a double-stimulating vibrator is already exciting. However, when it's waterproof, it's just that much more exciting. You can bring your Lelo Soraya 2 to the shower, or to a bathtub without needing to worry that the device could break.
Discreet Shipping
Lelo values our privacy. That's why their toys are packed in simple and plain carton boxes without any in-your-face logos that scream ATTENTION! THERE'S A VIBRATOR INSIDE!!!
Tips For Using Your Toy
If you don't have experience with sex toys – they could be intimidating. I know they were for me. However, modern sex toys are very user-friendly, come in bright colors, and shouldn't scare you. To make you feel more confident, here are some tips to get you started.
Lube It Up
Don't save on lube. Get a good one that works well with your sex toy and enjoy. Lube reduces friction, so it's essential for places like your clitoris since it can't lubricate itself.
Don't Rush – Ease Into It
Experiences with sex toys shouldn't be rushed. Just like sex. The more time you take to build up – the more rewarding is the outcome. So, don't rush your body, fully relax and give in to the experience. Your body and your mind will reward you.
No Wash, No O
Please wash your sex toys properly. That's even more important than lube. Okey, lube is very important, but you get my point. If you don't wash your sex toys, germs will start living on them. Not only germs but various microorganisms as well. I'm sure you don't want those transferred to your body later, right?
What's Inside The Box?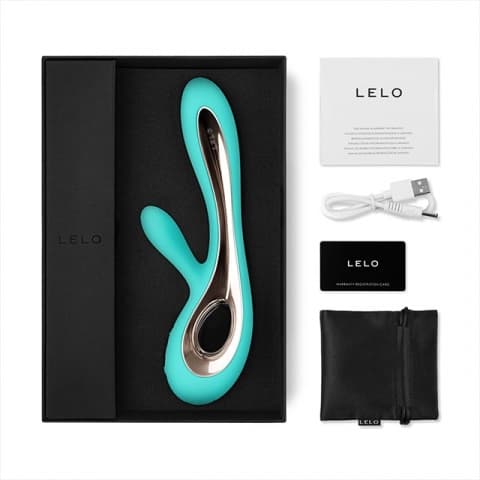 Unpacking something from Lelo is an experience everyone deserves in their lives. Why? Because it makes you feel very special and very fancy. So, if you haven't tried it, you really need to. Here's the full list of items you will get when ordering Lelo Soraya 2:
SORAYA™ 2 in selected color
USB-Charging Cord
Satin Storage Pouch to keep the dust away
Warranty Registration Card
Detailed Instruction Manual
Using lubricant with a rabbit vibrator is always a wise idea. At least consider it for the nob that massages the clit. Lube helps reduce the friction to a minimum, therefore the experience is a lot more pleasant. Also, make sure that the lube is compatible with the toy's materials.
Lelo Soraya 2 in Action
Haven't told you that in the beginning but Soraya 2 is the toy that got me hooked on this shape. I actually tried it before I tried the first edition. So, to be completely honest, the original version late seemed like a downgrade.
Soraya 2 is better at stimulating the G-spot and the updated angle of the clitoris stimulator is a great addition that allows more ways to adjust it to my body.
The sonic technology Soraya 2 is powered with works a lot better than traditional vibrations. To be completely honest, those regular vibrators kinda leave you numb after some time, don't they? For several minutes only, of course. Then everything goes back to normal.
I don't really experience that with the sonic waves. They feel more like pulses than vibrations. When it comes to Soraya 2, I like that it's not too wide, so you can adjust it to stimulate the clitoris from more angles. Unlike other rabbit vibrators that you just put in and there's nothing more that you can do.
The tip that massages the clit is my favorite part. Since it has a narrow surface, it's very precise and effective.
For me, the Soraya shape is brilliant.
Alternatives to Lelo Soraya 2
Lelo Soraya 2 is one of my favorite G-spot vibrators due to its precision. However, not everything that works for me, will work for you. That's why I've collected several alternatives to Lelo Soraya 2 that are worth checking out.
Lelo Soraya Wave – this vibrator looks exactly the same as Soraya does. However, it moves in a completely different manner. All Wave products from Lelo make the come-hither move, similar to how your finger moves when you're showing someone to come closer. This move is loved among women and is considered one of the best ways to effectively stimulate the G-spot.
Lelo Ina 3 – while Soraya 2 has a pretty small nob to stimulate the clitoris, there's a chance that you're one of those women, who prefers a larger area. If you are, Ina 3 could become your new best friend. While (in my opinion) Soraya 2 is better at hitting the G-spot, Ina 3 makes it super easy to stimulate the clit.
Lelo Soraya 2 Reviews
Writing a review can be very tough, especially if you really liked a product. Why? Super-duper experiences tend to sound fake. So, I sometimes find myself telling myself to tune it down.
One of the best ways to do so is actually looking into more reviews – I'm sure that there has to be a person who didn't like it. People prefer to complain online rather than praise.
I collected here some Lelo Soraya 2 reviews, written by verified buyers on the official Lelo website. I chose the reviews that highlight both positive and negative aspects of the product to help you make a more informed decision.
The positive experience with Lelo Soraya 2:
Excellent for making sex life in long distance relationships more manageable and very exciting

-John7121
I bought this a few months ago and have increased the intensity and speed of my orgasms more than I ever thought possible! WELL worth the purchase. It has a variety of different settings and intensity for each setting which is great when you're in the moment so you can maximize how hard or sensual you want things to be. 5 ?? on this!

– Jen*
Lord only knows how much money we've spent trying to find rabbits that actually line up correctly but lelo has definitely put in the work to make this work well with anybodys.. um, spacing the angle and flex of the rabbit makes it work so well and the weight of the device is surprisingly low making long runs easier on the wrist

– Toyaddict
I am a first timer and I have really enjoyed using it very much. i've used it mostly for external stimulation and it has been nothing short of amazing. I need to continue exploring to decide what my next LELO toy will be.
The negative experience with Lelo Soraya 2:
The luxury packaging and presentation are eye catching. That's about all the nice things I can say. The product itself is disappointing. The battery life is known existent. The website claims 2hrs. Don't count on it. I'd give it a solid 45mins to and hour at best. Don't waste your money if your sessions aren't wham-bam.

– NotPleased21
Only tried it once and gave up…too big and not comfortable at all

-Jane2021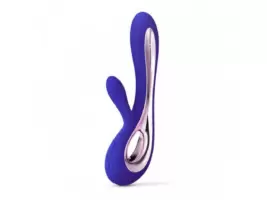 Order Now
The Verdict for Lelo Soraya 2
As you probably already understood, Lelo Soraya 2 is mind-blowing. Well, for me at least (and all those other happy customers). If you asked me to pick one toy from Lelo it would probably be either Soraya 2 or Soraya Wave.
The shape of this sex toy is brilliant. It fits me better than my boyfriend does (don't tell him that, please). All jokes aside – it brilliant product, thank you Lelo for making the world better, one orgasm at a time.