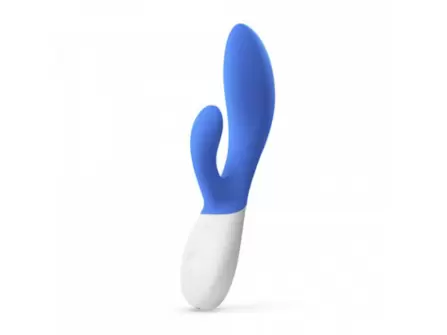 Lelo Ina Wave 2
Overall Rating
4.8 out of 5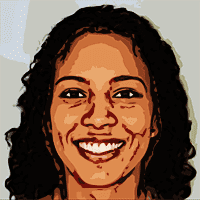 Written by
on , updated on
Lelo Ina Wave 2
If you're a fan of rabbit vibrators, especially the kind that makes you feel full – you're headed in the right direction. However, the Lelo Ina Wave 2 can offer you a lot more than just the fullness inside you.
Lelo Ina Wave 2 features the famous Wave technology. This technology gives you the possibility to have a vibrator that gives you the come-hither treatment rather than focusing on regular vibrations.
It's a revolutionary technology and ever since it was introduced to the market, many Lelo vibrator models were released and re-released together with this technology. Ina Wave 2 is not an exception.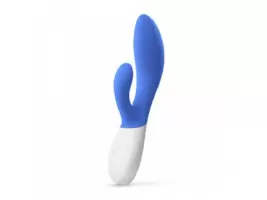 Order Now
The Specs
Here are the main technical characteristics of Lelo Ina Wave 2. Make sure you don't confuse insertable length with total length!
Made form: Body-safe silicone, ABS
Insertable length: 110 mm / 4.3 in
Vibration Modes: 12
Size: 200 x 65 x 45 mm / 7.9 x 2.5 x 1.7 in
Weight: 176 g / 0.39 lb
User time: Up to 2 h
Battery: Li-lon 520mA 3.7V
Charging: 2 h at 5.0V 500mAh
Ina Wave vs Ina Wave 2
If you are wondering what's the difference between the two, let me tell you that there are 4 key points that separate the two vibrators.
First, Ina Wave 2 is 30 % more powerful than Ina Wave. Also, the new version has 12 vibration settings instead of 10 like the first model. Third, Ina Wave 2 comes with an around 30 dollars higher price tag. Forth, the colors are different. Ina Wave comes only in light blue shade, while for Ina Wave 2 you can choose for 3 colors: plum, cerise, and California sky.
Lelo Ina Wave 2 Benefits
Lelo is well-known in the vibrator world for the quality products that they produce. Naturally, when you-re buying premium – you deserve to get a premium experience with multiple benefits:
Finger-Like Stimulation
Finger-like stimulation is something that makes Lelo quite unique. If you've ever had your G-spot stimulated with a finger, you probably already know that a penis simply can't do that for you. Unless it's slightly curved. This finger-like curvature and sensation make the whole stimulation process more accurate, better aimed, and more intense.
12 Vibration Patterns
As I often read on the Lelo website – there's no such thing as too many vibrations. Can't disagree with that one. With the latest Lelo Ina Wave, you're getting 12 unique vibrations patterns with diverse intensities for maximum pleasure.
Powerful Motors
Not only did the amount of vibrations increase – so did the vibration intensity. With Lelo Ina Wave you can experience 30% more intense vibrations that could give more pleasure and give it faster.
Long-Runing Time
Even though the vibration pattern amount and intensity increased, the vibrator still has an impressive running time of put to 2 hours. The run time, of course, depends on intensely you use it. However, it should be enough for at least a couple of orgasms.
Body-Safe Materials
Lelo is a premium brand that only makes premium products. The Lelo Ina Wave is made from body-safe materials only, so you won't have to worry about any unexpected skin irritations or allergies. The vibrator is made from super soft silicone and ABS – non-porous and easy to clean materials.
Simple Controls
Lelo Ina Wave is very easy to use and comes with intuitive controls. Some sex toys are simply terrible when it comes to navigation and you literally need to see the buttons to push them. However, Lelo Ina Wave has sculpted buttons that are easy to reach from any angle.
100% Waterproof
Orgasm in a bathtub or shower? Yes, please! The Lelo Ina Wave is fully waterproof – so you make your long hot matching time even hotter. There's nothing more relaxing than a hot bath after a long day at work. Oh wait, there is – an additional orgasm.
Discreet Shipping
When you're buying from Lelo – you can be sure that your privacy is fully protected. It doesn't matter whether you choose to buy Lelo Ina Wave or any other toy/accessory on their website – est assured, each of them will be handled in a discreet manner.
Tips For Using Your Toy
Some people believe that having a sex toy and taking care of it is very complicated and time-consuming. Well, in some cases they may be right. However, if you know what you are doing, using and looking after your sex toy is super simple.
More Lubricant, Please
When it comes to sex toys, lube is like your best friend. Lube gives you the helping hand when you really need one. Especially when you have two dry objects rubbing against each other. That doesn't sound pleasant, right? So, imagine those objects being your clit and a sex toy.
Don't Rush – Ease Into It
Using sex toys is like running a marathon – very rewarding once you finish, however takes time. Especially on your first tries. It took my five rounds with my first vibrator to get the desired results. So, no rush, just ease into those vibrations and let the toy do its job.
No Wash, No O
If you don't wash your sex toys, you don't deserve an orgasm. I'm sorry but that's the way it is Using dirty sex toys can cause various nasty infections that can take months to fix. So, please don't do that to yourself. Love your body and treat it with respect.
What's Inside The Box?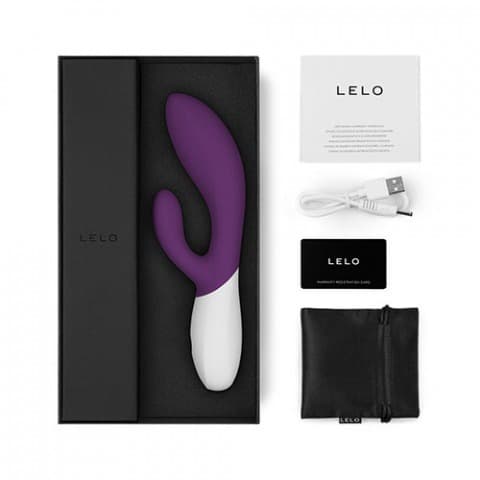 Some manufacturers don't invest in their packaging and think that it's all about the toy. Can't say that they're wrong, However, I just love how Lelo makes the whole unboxing part a luxurious experience. Here's the full list of items you will get when ordering Lelo Ina Wave:
INA WAVE™ 2 in selected color
USB-Charging Cord
Satin Storage Pouch for keeping dust away
Warranty Registration Card
Detailed Instruction Manual
By checking the list, you can see that you're all set for using and storing your toy. You may need to charge it a little, however. Also, you can consider getting some lube. Lube always makes everything better, smoother and more fun.
Lelo Ina Wave 2 in Action
As I mentioned at the very beginning, the Ina shape is one f the most popular line of vibrators from Lelo.
When it comes to the stimulation you get from the Ina Wave 2, I can tell you that it's bold and it's precise. However, size-wise, when it comes to rabbit vibrators since the stimulation is double-sided, I prefer something lighter and that has more navigation, so the Soraya shape works for me better. To explain it better, Ina is wider, therefore, you basically put it in position and let it do the job. Soraya, on the other hand, gives you a little more room for adjustments and exploration.
A similar treatment goes to your clitoris. So, if you are looking for a bolder (didn't find a better term to describe the difference) vibrator with more size and the Wave technology – Lelo Ina Wave 2 could be exactly that.
Alternatives to Lelo Ina Wave 2
Lelo Ina Wave 2 is a worldwide bestseller. However, if you feel like it's not exactly what you're looking for, I made a list of several alternatives. Among these, you might find something that feels exactly right for your body.
Lelo Ina 3 – if you're looking for the same device that operates differently – Lelo Ina 3 could be exactly what you are looking for. Contrary to Lelo Ina Wave, Ina 3 operates more like a traditional vibrator and has 30% more power than the previous versions of Ina.
Lelo Soraya Wave – If you want something that ultra precisely hits the G-spot – Soraya Wave could be your answer. The vibrator operates in the same manner and Ina Wave does, however, the shapes differ. Yet, the hinge designed to massage the clitoris has less surface area, so take that into consideration.
Lelo Ina Wave 2 Reviews
To help you make a better purchasing decision, I always collect positive as well as negative product reviews from the official websites. This way you will know that you are reading reviews, written by real users.
As you know, there is no one product that suits everyone. So, the more information you collect, the more likely you are to make the right choice for yourself.
Unfortunately, at the time of writing, there were no Lelo Ina Wave 2 reviews available. However, from the fact that they decided to make a second product, you get a pretty good hint that people enjoyed the treatment that they were getting from the previous version, here's an example:
If you're looking for a toy that has multiple settings, multiple speeds, and multiple rhymes, this is the toy for you! Right out of the box this toy is a good looking toy, smooth lines, smooth textures and easy to handle. I HIGHLY recommend this toy if you're looking for something that's not your typical toy with your typical features! Especially the clit stimulator. That thing is absolutely AMAZING!!! The combination of that and the vibration and movement of what you put inside you will bring you to orgasm in NO time!

-MrsJ0914, Ina Wave
So, after reading this, try to imagine what the updated version can offer you.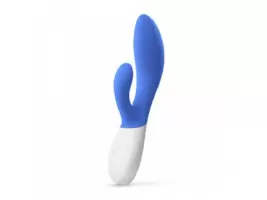 Order Now
The Verdict on Lelo Ina Wave 2
Lelo Ina Wave 2 comes from a series of bestsellers worldwide. So, that's a pretty good hint that the vibrator does the job.
So, if you are looking for a vibrator that has a lot of area for the clit stimulation, can come-hither your G-spot, and also is bright and beautiful – Lelo Ina Wave 2 is well worth checking out. Visit the official Lelo website.