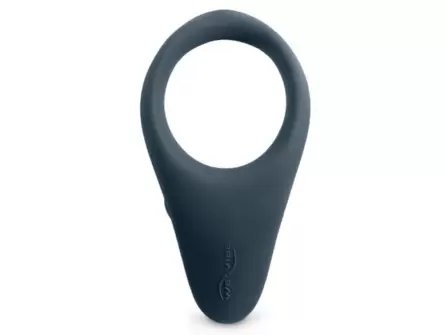 We-Vibe Verge
Overall Rating
4.53 out of 5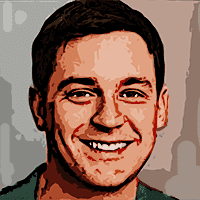 Written by
on , updated on
We-Vibe Verge
We-Vibe is famous for taking a different approach to sex toys and discovering new ways to reach pleasure. In this case, they created a new version of a vibrating cock ring. While traditional vibrating cock rings come with a larger upper part, the We-Vibe Verge has a bigger lower part and is designed to stimulate the perineum (the part between butt and anus).
While originally it's designed to give more pleasure to the one who's wearing it, the ring can be flipped upside down and work similarly to traditional penis rings. We-Vibe Verge is a multipurpose cock ring that can benefit your solo time as well as your couple's play.
We-Vibe Verge Benefits
Verge comes with numerous benefits that you would expect from a premium class product and several more. Let's see what you can expect when you invest in Verge.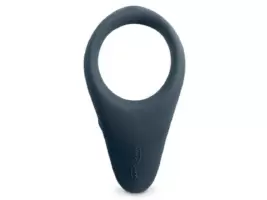 Order Now
Longer Lasting Erections
Naturally, the first reason to buy a penis ring is longer-lasting and harder erections. Even though Verge is put on differently hen most traditional cock rings, it does the job pretty well. So, if you don't have problems with your erections and don't want to wear a very tight penis ring, this could be a good choice.
10 Vibration Patterns
We-Vibe Verge comes with 10 unique vibration patterns, all designed for your pleasure. Not only that, by using the special We-Connect app you can customize your own.
So, basically, you get an unlimited amount of patterns. However, the 10 pre-installed patterns are more than enough. For the beginning, at least.
Different Ways to Wear
Even though it is originally designed to stimulate the perineum, you can flip the ring upside down in order to give more attention to the clitoris.
What makes it great is that the original way to wear it makes it great for solo experiences and the upside-down is perfect for giving more attention to your partner.
Body-Safe Materials
Just like you would expect from a premium product, Verge is made from body-safe materials only. This means that only body-safe silicone, without any latex, was used. Also, this vibrating penis ring is and BPA and phthalates-free.
So, you can be sure that you and your partner are safe from any unexpected skin allergies or rashes. When it comes to sex toys, choosing body-safe materials is essential because they touch the most sensitive parts of your body.
Waterproof
We-Vibe Verge is completely waterproof. This means that you can use it in the shower or while taking a bath. However, the remote is not waterproof, so you will have to control the toy manually.
So, if you enjoy long showers and want to make them some more exciting, Verge could become part of these experiences.
Beginner-Friendly
Verge is completely beginner-friendly. It's easy to use and the stimulations are not overwhelming. Also, the toy is very flexible, therefore won't require getting used to it.
2 Control Options
Like many We-Vibe products, Verge can be controlled in two ways: manual, or via the We-Connect app.
The manual way is handy if you're using it in a bathtub or shower. Using the app is great for long-distance experiences.
Long-Lasting Battery Life
When fully charged, the penis ring has a running time of up to two hours. So, it's more than enough for solo experiences as well as using it with a partner.
Another great thing about Verge is that it will actually tell you when it's low on energy, so you don't need to worry about whether it's charged enough.
How We-Vibe Verge Works and Feels?
Using We-Vibe Verge can be intimidating at first since this cock ring needs to be put around your testicles. Putting a rubber band around the most sensitive part of your body sounds scary, however, worry not, it's perfectly safe.
First, you need to put it on one testicle at a time and only then put your penis in. Don't try to put it on when you're hard, it won't work and you could hurt yourself. Also, don't forget to use lube, it makes it a lot easier.
You can wear the ring the standard way or flip it upside-down. Upside down is beneficial for clitoris stimulation and the standard way will stimulate the perineum, therefore, focus on your pleasure. When the ring is in position, simply turn it on and by using the button on the ring. Use the same button or the We-Connect app to find the pattern that works for you and enjoy.
How We-Vibe Verge Feels?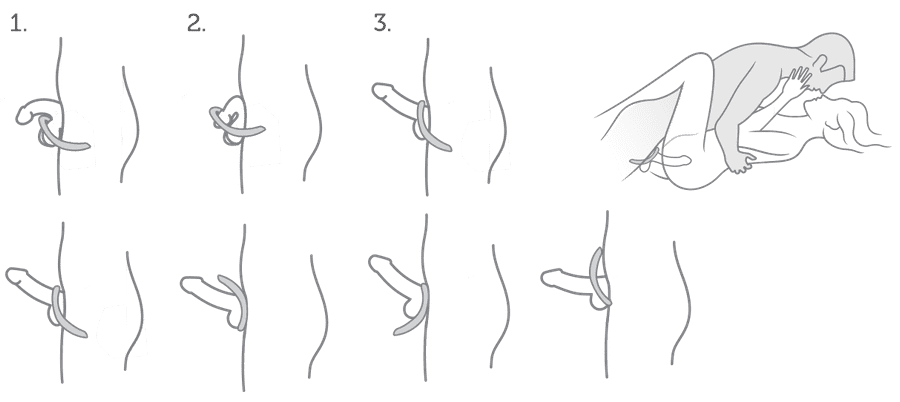 I've tried using this penis ring in three different ways:
with partner and perineum stimulation,
with partner and clitoris stimulation,
for solo pleasure.
Here's how each of the experiences worked out:
With Partner and Perineum Stimulation
The first way I tried was traditional, as the ring is designed to be used. I did get a stronger erection, however, not as strong as regular cock rings can give you. When it comes to vibrations, I would prefer stronger ones. Also, controlling it wasn't very comfortable.
From the perspective of my girlfriend, she said that she felt some vibrations that were a nice addition, yet, nothing she would really miss.
With Partner and Clitoris Stimulation (Girlfriend's Favorite)
The second way we tied was by flipping it and giving more attention to the clitoris. So, most say in this experience comes from my girlfriend.
She said that she enjoyed the vibrations and the silicone felt very smooth against her clitoris. So, she said yes to using it again in bed.
Also, what's worth mentioning, when the ring is flipped, I had better access to controls, therefore the experience was a lot smoother.
For Solo Pleasure (My Favorite)
From my point of view – this sex toy is designed for solo experiences and works very well with additional sex toys, such as masturbators or anal toys.
The vibrations of the penis ring enhance the sensations that other sex toys or regular masturbation give you. When you find the right angle and the patterns that work for you – it's spectacular. Also, controlling it through your phone makes it even easier.
What's Included in The We-Vibe Verge Package?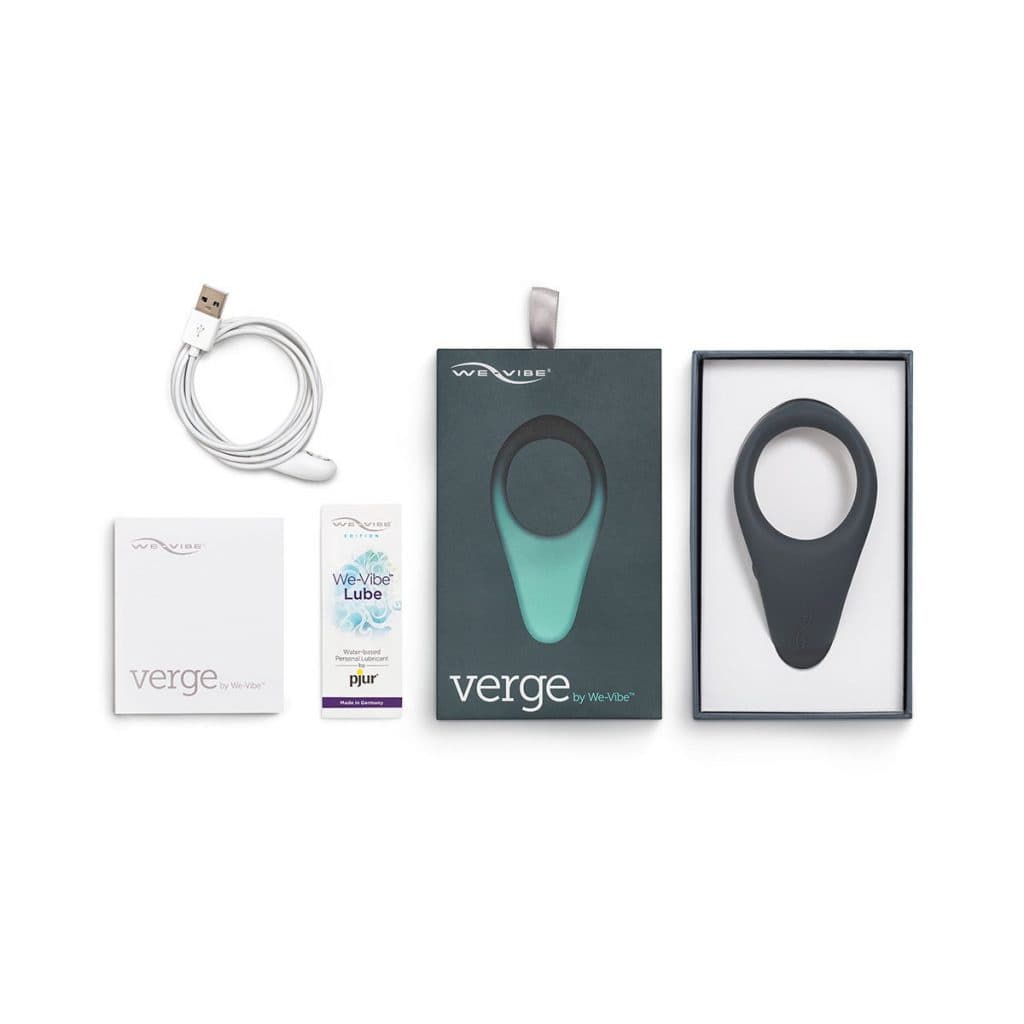 As I like to mention in most of my reviews – knowing what's in the box is very useful. Especially if you're buying your first sex toy and don't have various types of lube lying around. This way you can prepare and when the toy arrives, you won't suddenly realize that you need to run to the store.
So, here is a full list of items that you will get when buying We-Vibe Verge:
Verge vibrating penis ring in Slate color
USB cable for charging (power adapter not included)
Quick Start Guide with visuals for effortless use
We-Vibe Lube sample of 2 ml
As you can see, you have everything you need already included in the package. However, that lube sample is only enough for the first time.
We-Vibe Verge Downsides
Even though Verge comes with numerous benefits, there are some things that could be improved, if they ever decide to make a Verge 2 or a similar product.
Intimidating to Put On
Testicles are a very sensitive part of the body, so putting a (tight) ring around them could be more than intimidating. However, once you try, the fear disappears immediately.
However, make sure to follow the instruction and insert your testicles one by one, and only then put the penis in. Only put it on when the penis is soft.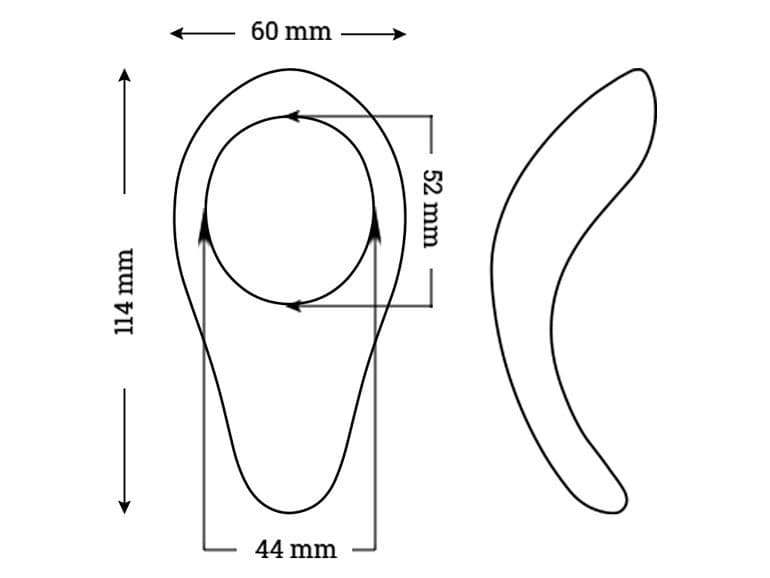 Not For Men With Very Large Testicles
Since my testicles are on the larger side, at first I wasn't sure they would fit through. However, being in a warm environment, when everything down there is pretty loose, makes it a lot easier to navigate.
So, if you have very large testicles, do some measuring before you buy. Also keep in mind that the ring stretches, yet the stretch is not infinite.
Could Be More Powerful
Personally, I believe that the motor could be more powerful, especially when it's used to stimulate the perineum during penetrative sex. However, if you're using it for solo pleasure, it works well as an additional stimulant.
When wearing it flipped for clitoris stimulation of your partner, the toy works well. However, regular penis rings are more comfortable, for me at least. So, most likely I'll be using it for solo experiences more.
Long Charging Time
Just like most vibrating sex toys, it takes almost as much time to charge as its maximum run time. It will take 90 minutes to fully charge the battery and you'll be able to use it for up to 120 minutes.
No Remote Control
When using it during penetrative sex, a remote control would be handy. Especially if you're wearing the way that stimulates the perineum. If you flip it, it becomes better, similar to any other cock ring with a larger head.
The controls are hard to reach and using an app is way too complicated in such moments. For me, at least.
We-Vibe Verge Reviews
Before buying a product, I like reading about other people's experiences. This helps me better decide whether the product is right and will match my needs. So, I've collected several other positive as well as negative We-Vibe Verge reviews, written by verified users that purchased sex toys from popular online sex toy stores.
Positive We-Vibe Verge Reviews
My partner loves this toy, it was brought to keep things going while we ain't together. Only thing is he loves it that much I've not had a look in lol. Good selection of settings absolutely nothing bad whatsoever to say about this product except he now likes to play alone more.

Verified User, LoveHoney
This product is amazing and worth every penny takes the pleasure to the next level! It's powerful but pleasurable and your in complete control with the mobile app or side buttons. Use to your advantage, great for foreplay leave him waiting but control the ring from outside the bedroom give him a little taste of what he's in for. AMAZING

-Verified User, LoveHoney
This product is great for the man as well as couples. Turned my partner into a vibrator and massaged my clit at the same time. Highly recommend!

Verified User, Adam & Eve

Negative We-Vibe Verge Reviews
I was expecting better. While my taint is very sensitive, and is quite the erogenous zone for me, the Verge really did nothing to add to my pleasure. I havnt tried it as regular cock-ring, pointing toward my partner yet, so that may change my mind.

Verified User, Adam & Eve
Could only get one testicle in the ring. Ring is not very flexible and too small for me even to get my rod in the ring. Wasted my money. Would work on someone smaller I am sure.

Verified User, LoveHoney
Viberates great but doesn't move to get to the right soot

Verified User, Adam & Eve
As you can see, there are fans of We-Vibe Verge, while there are some not-so-satisfied customers. As I mentioned before, my biggest concern with this toy is the size of the hole that goes around the testicles. Apparently, it didn't fit some men, so make sure to measure before you buy.
The Verdict
We-Vibe Verge is one of those products that either simply works for you, or it doesn't. That goes both in terms of size and the toy itself.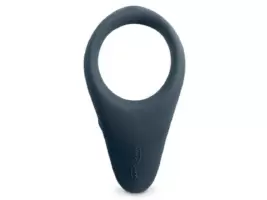 Order Now
While it's not suitable for men with very large testicles, most men will be able to wear it without any problems. Even though it doesn't give super-strong erections, it gives you the benefits of perineum vibrations. So, if you really have trouble getting it up, consider a regular cock ring.
Other than that, it's a good sex toy for beginners and could work for couples. However, for me personally, it worked better for solo use along with my other toys.