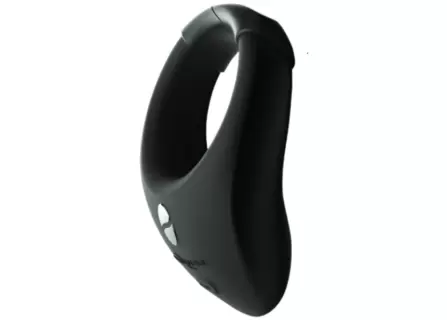 We-Vibe Bond
Overall Rating
4.63 out of 5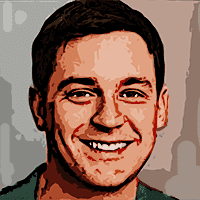 Written by
on , updated on
We-Vibe Bond
We-Vibe Bond is the latest creation of WOW Tech Group and I was one of those lucky ones who got to try it before it was actually introduced to the market. And I am very grateful for that.
If you're familiar with the brand, you know that they're one of the few brands that create and innovate the sex toy market, rather than follow the footsteps of others. So, We-Vibe Bond is one of a kind and different from anything I ever had my hand on.
While Mr. Bond may look like a regular vibrating penis ring, it's a completely different device. It won't help you have stronger erections or deal with ED, nor is it designed to please your female partner during penetrative sex. We-Vibe Bond is solely about male pleasure.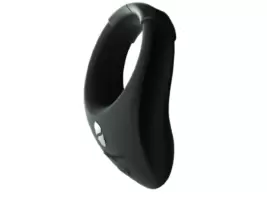 Order Now
What We-Vibe Bond Actually Is?
When you look at the box We-Vibe Bond comes in, the first thing you notice is the sign 'Undercover Tease'. In some sense, it's undercover because it looks like a penis ring, but doesn't really do the things a cock ring is supposed to. The word Tease hints to you that this toy takes you on a journey, not a destination.
We-Vibe Bond is a vibrating toy that you place around the penis. The ring comes with a large head, designed to perfectly fit against your perineum (the pace between your testicles and your butt). The perineum is one of the most sensitive parts of the male body. It's the spot you reach for if you wish to stimulate your prostate from the outside.
So, just like you probably have already guessed, Mr. Bond is designed to vibrate against this sensitive body part to tease and please you. We-Vibe Bond can be used together with a partner, alone, it can be combined with other sex toys – the possibilities are only limited by your imagination. Worry not, later in the article, I'll give some suggestions of how to explore Mr. Bond in various ways.
We-Vibe Bond Benefits
We-Vibe came up with some legendary products that set new standards for the sex toy industry. That's why I always expect to get only the best from them. Here are the main benefits that come with We-Vibe Bond.
10+ Different Vibration Patterns With Multiple Speeds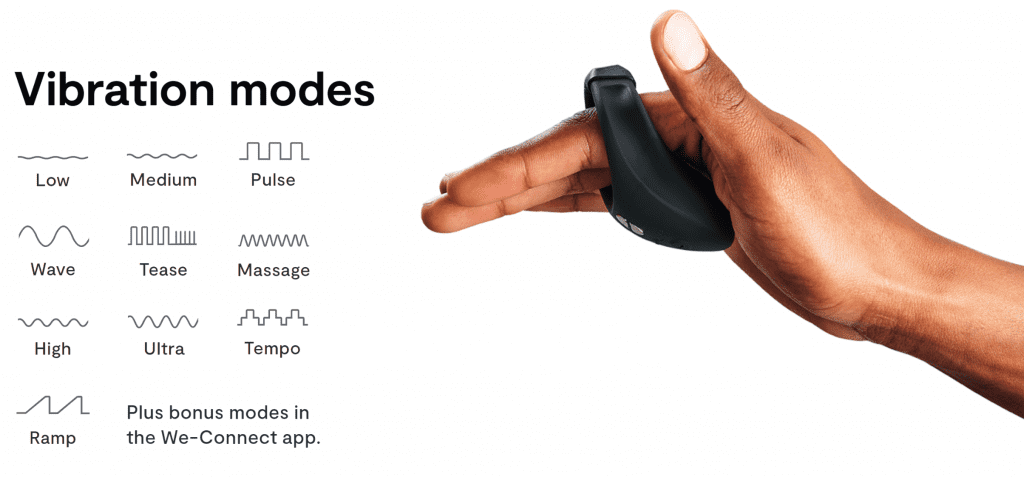 We-Vibe Bond comes with 10 different vibration patterns. Each vibration pattern comes with 10 intensity levels.
As you can see from the image, you can get everything from short pulsating vibrations to long and uninterrupted intense stimulations.
Adjustable Size
What I really enjoyed about We-Vibe Bond, was the possibility to enlarge the toy. As I mentioned in my review of the We-Vibe Verge, it can be very intimidating to stretch rubber and put it around your testicles.
The new Bond doesn't require that and it simply clips around your private parts. If the length is not enough, there's an extra part to make it larger. I was very happy about that since I did in fact need to use it.
Easy-to-Wear
As I mentioned above, it's very easy to wear and adjust. We-Vibe Bond is super ergonomic, easy to put on, and comfortable to wear.
However, according to the manufacturer, you shouldn't wear it for more than 30 minutes at once. After all, it does tightly hug your private parts, therefore, some blood flow may be restricted, even if you don't feet it.
Tease to Please
We-Vibe Bond is designed to stimulate you, but not too much. Therefore, it can be combined with other sex toys, such as P-Spot massagers, or you can tease yourself before an exciting session with your partner.
Even better – you can let your partner tease you.
Remote Control Options
Just like most We-Vibe products, Bond is controlled remotely. There are two ways you can do that. The first one is via a remote (very sleek design, btw) and the second one is via the app.
Bonus – the app unlocks additional vibration patterns. Also, your partner can use it to tease you before the games in bed start.
Long-Distance Friendly
If you're in a long-distance relationship, We-Vibe Bond can help you through those lonely nights. You can give control over Bond or other toys that you have to your partner and let them please you.
Personally, I love seeing my girlfriend excited and moaning from pleasure. So, such experiences can strengthen your relationship with your partner and help the distance that separated you disappear for at least some time.
How to Use Mr. Bond?

Before you start using We-Vibe Bond, you first need to do some fitting. The penis ring comes with a custom-fit link, so you can go a size bigger if you're girthier down there.
Put it under your testicles, wrap it around the penis and fasten. I really liked how they changed the putting-on part because Verge was a little intimidating at first.
Once it's on, simply use a button on the side to turn it on. If you ever owned any We-Vibe products, using Bond is very similar. Bond comes with a black remote control (classy touch) that has all the buttons you need for controlling it. ( + ) and ( – ) for increasing or decreasing vibrations and an additional button to jump between patterns.
Another way to use it is by connecting it to the special We-Vibe app. The app allows you to unlock more vibration patterns, however, the remote is easier to navigate when you're in the zone.
Also, you can give the remote or app access to your partner for a couple's play. Using the app is very fun if you're in a long-distance relationship, or actually decide to step out wearing the toy under your clothes and let your partner tease you. Warning: you might look like someone who's constantly receiving a mysterious phone call.
You can use bond together with sex toys, or to get yourself nice and excited for upcoming play with a partner. To be honest, your imagination is the only limit you have with Bond.
What Bond Feels Like?
Bond is a toy designed for teasing and it's exactly what it does. Sometimes even too much of it.
The first time I put it on (I had only 5 mins before I had to rush of my home), I didn't really understand it but I got an instant boner and when I took it off, it felt like something's missing.
Bond comes with some strong and exciting vibrations, however, it's not designed to get you off. It works well by complimenting other toys. For example, if you have a toy that you feel could be more intense and more exciting – pair it with Bond to increase the sensations.
I trier my Bond together with KEON. Don't be mistaken, KEON is powerful enough on its own. The experience was mind-blowing. Those sensations that you get directly to your perineum are insane and I've reached crazy good levels of pleasure.
Also, I included my girlfriend in this play, so she had fun teasing me, and we had some brilliant sex afterward.
So, Bond is fun for teasing, however, I find it better for solo play. I really like to mix and match sex toys for new experiences. And Bond could be a perfect choice for men who don't want to put anything in their butt, yet would still like to get some vibrations close to the prostate. At least from the outside.
We-Vibe Bond Downsides
As great as some things are, well, nothing in life is perfect.
It Only Teases You!
Well, I don't know if it's exactly a downside, however, as much as I enjoy Mr. Bond, it really is designed for teasing and wanting you more. So, most likely, just like, you won't reach an orgasm with this toy, unless of course, you're very sensitive in the area. As you know – we're all different.
P.S. if you manage to do so, please leave a comment below. I would love to hear about your experience and make it visible to all the readers!
Silent Enough?
While We-Vibe Bond is pretty silent, I'm not sure if it's silent enough to be worn in public. I went outside wearing it once and it felt a little weird since it felt like there was a mobile phone vibrating in my pants. Especially if the vibrations were set at the highest intensity.
I was wearing it when I went to get some groceries, but no one was staring at me, so there is a chance that all of this was just in my head. Still, I think I'll keep this toy behind closed doors, in a safe space where I can fully relax.
What You Get Along With Bond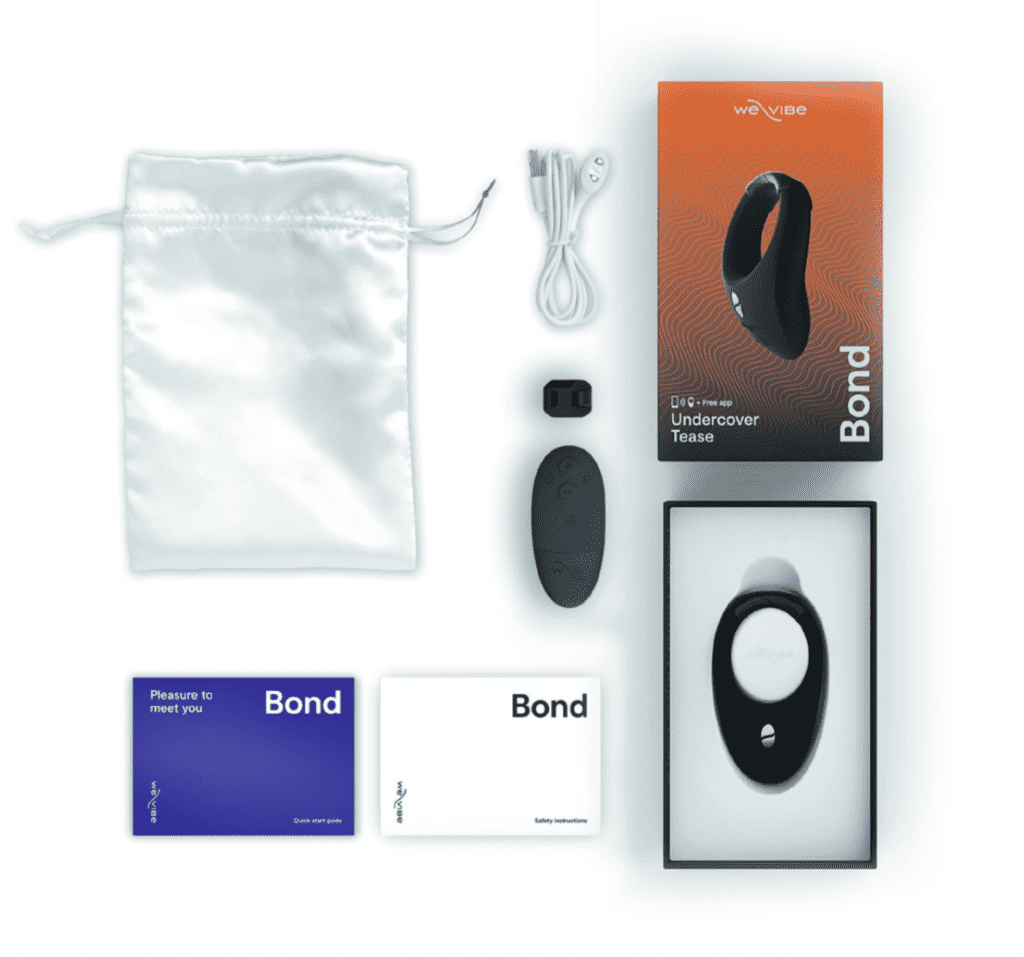 Here is the full list of items that will arrive together with We-Vibe Bond:
We-Vibe Bond wearable stimulation ring
We-Vibe remote
USB power cable (AC adaptor not included),
Custom Fit link
Storage bag
Quick start guide and safety instructions
As you can see, you have everything you need to use and store your newly acquired sex toy. We-Vibe Bond won't arrive with an empty battery, so you'll be able to enjoy it ASAP.
Alternatives to We-Vibe Bond
Even though We-Vibe Bond is a unique device, there are some alternatives that are somewhat similar to We-Vibe Bond.
The first one also comes from the same manufacturer and is called Verge. Verge is a penis ring that is designed to stimulate the perineum, or it can be flipped and used to stimulate the clitoris during penetrative sex. However, Verge can't be controlled via an app or with a remote.
Another product that is a bit similar to Bond is Hot Octopuss Atom Plus Lux. It comes with dual motors, so can stimulate the clitoris and the perineum during penetrative sex. However, no app comes with it, therefore you have a choice of using a remote, or jumping between modes manually. Also, it's not very comfortable to use together with penetrative toys, since it prevents you from going really deep.
Verdict on We-Vibe Bond
We-Vibe Bond is a great toy for solo teasing as well as couple's play. However, you should fully understand that this toy is more for teasing rather than making you cum.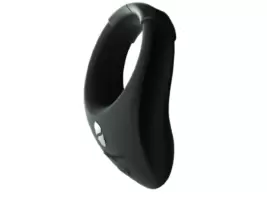 Order Now
So, if you're looking for an orgasm, consider a p-spot massager or a simple pocket pussy. Other than that, if you wish to enhance your experiences, share them with a partner, or already have enough similar sex toys and search for new experiences – Bond is great for you.
So, don't take it too seriously, this toy is about fun and teasing.