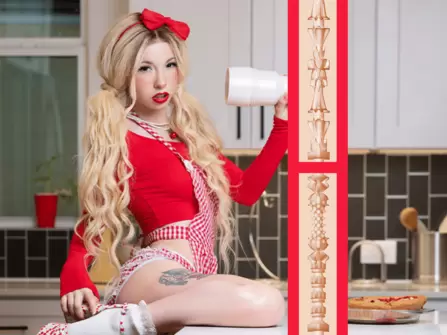 Kenzie Reeves
Overall Rating
4.28 out of 5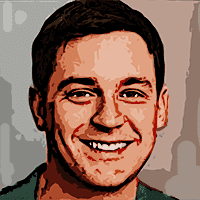 Written by
on , updated on
Kenzie Reeves Fleshlight Review
Even though Kenzie Reeves, also known as Ava Cumz, started her career only in 2017 – due to her great flexibility and talent on screen – she became internationally famous. Such success never goes unnoticed and now, we can enjoy a Kenzie Reeves Fleshlight. Well, two of them to be exact.
The collaboration of this petite star and Fleshlight resulted in two exciting new sleeves. The first one is called Creampuff and comes with an orifice that looks exactly like her vagina. The second one is called Cupcake and comes with an orifice that looks like her butt.
Naturally, I got them both and took the time to properly test those sleeves. So, here's how it went.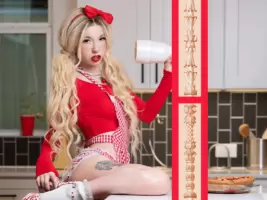 Order Now
Kenzie Reeves Fleshlight Benefits
There are things that are common for all Fleshlights and there are things that make them different. In most cases, the differences lie in the textures and orifices and the similarities are everything else, with minor exceptions. So, naturally, no matter which sleeve you choose – you'll get the same great things from it, quality-wise.
Unique Textures
Each Fleshlight sleeve comes with a unique texture. Naturally, Kenzie Reeves Fleshlight sleeves are not an exception. It doesn't matter whether you'll choose Creampuff or Cupcake, or even any other sleeve from Fleshlight – you'll be getting a unique sleeve texture with each of them.
Fantasy Element
When you're buying a Fleshlight made in collaboration with a porn star – you're getting an extra benefit. You can finally fulfill your fantasies and experience what the star would feel in real life. Not only that, the orifice that looks exactly like her private parts makes the whole experience that much hotter.
Quality Materials
The SuperSkin material used for Fleshlight is made from high-quality substances. It's super durable and unlike cheap pocket pussies won't rip with several uses. However, you still need to use lube. If you don't use lube there will be a lot of friction and you will risk breaking the sleeve. Such damages are not related to the quality of the product. It's all about poor use.
Real Feel
Fleshlights feel realistic. It doesn't matter which sleeve you choose – they're all very close to mimicking penetrative sex. Especially if you use plenty of lube and warm up the sleeve to human body temperature. Warming up the sleeve makes a HUGE difference, trust me on this one. However, make sure to warm it up only to normal human body temperature. Don't put it in boiling water or so. Doing that could compromise the material and even burn your skin. If you don't want to experiment – you can buy the sleeve warmer from Fleshlight. It will ensure optimal temperature each time you use the sleeve.
Discreet Packaging
Fleshlight values and respects your privacy. That's why each and every item that you order from them will be packed in plain carton boxes without any huge branding signs that would scream about a sex toy being inside the box. So, your sex life won't be exposed to those who don't need to know about it.
How Kenzie Reeves Fleshlight Feels?
Since there are two sleeves from Kenzie Reeves, let's review them one by one:
Kenzie Reeves Fleshlight: Creampuff Sleeve
The first sleeve from Kenzie Reeves is called Creampuff. It comes with an orifice that looks exactly like her luscious pussy lips and a unique texture for your penis to explore.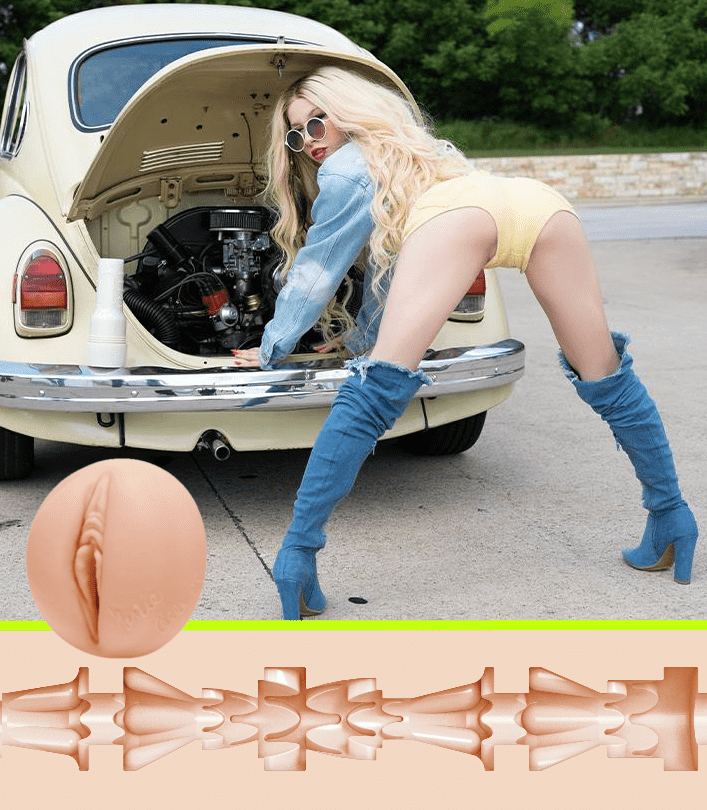 The entrance of the sleeve is pretty narrow and the first small chamber that you enter will get your penis excited.
The following texture of the sleeve is ribbed and tight which ensures intense sensations. The sleeve is made in a very clever way to work in providing you with maximum pleasure.
The sleeve starts to repeat most of its texture from 6.5 inches, so if you're around that size – it's perfectly enough to get the most out of it. However, I could say that the best part of it is between 3.5 to 5 inches deep.
The Creampuff sleeve is among some of the best sleeves that I have tried and I could easily recommend it to new users as well as advanced ones. However, due to intense suction, it could be a bit too much at the very beginning.
Kenzie Reeves Fleshlight: Cupcake Sleeve
The second sleeve from the Kenzie Reeves collection is called Cupcake. It features an orifice that looks exactly like her butthole and will intrigue men that are passionate about experiencing her from the back.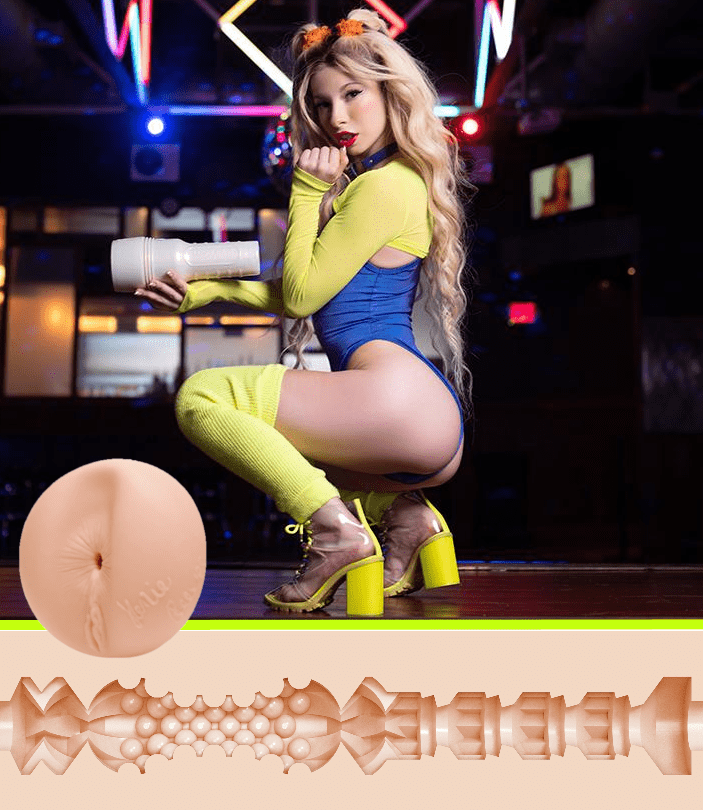 Just like you would expect from an anal sleeve – it starts with a narrow entrance that will get you immediately excited.
Unlike the first sleeve, it won't have that much triangles. Yet, this sleeve is all about those dense pleasure bumps to hit the right note.
The second part of the sleeve is full of narrow ribs and bumps that will squeeze your penis in a unique manner that you probably won't expect. Since the texture will be the same from 6 to 8.5 inches, you don't need to be very big to get the most out of the sleeve.
Overall, the texture of the sleeve is intense and exciting, those pleasure dots are something worth experiencing.
Kenzie Reeves Fleshlight Alternatives
Even though Kenzie Reeves Fleshlight sleeves are brilliant in my opinion, at least, there's still a chance that you might be looking for something else. Since Kenzie Reeves is now one of my favorite Fleshlight choices, I can only suggest alternatives that are on a similar scale.
Janice Griffith – for a lot of time, she has been my favorite Fleshlight. It's a super-balanced sleeve that is neither too intense nor too loose. Also, Janice herself is super hot, so it makes the whole experience that much more intriguing.
Eliza Ibarra – one of the newest additions to Fleshlight girls, however, the Ethereal sleeve is simply brilliant. It's super balanced, intense, and exciting. It's one of the few sleeves that have the edge above others and are definitely worth a try.
Fleshlight STU – the Stamina Training Unit is an all-time classic that you can never go wrong with. It's intense and will help you become a better lover as well as last longer in bed. Training has never been so pleasurable.
Fleshlight Care Tips
If it's your first Fleshlight, make sure to follow these simple tips that will help you ensure proper use of the sleeve as well as hygiene. Worry not, taking care of a Fleshlight sleeve is very simple and won't cause you difficulties.
#1 Be Generous With Lube
Always use lube and make sure that you're being generous with it. Not using lube can result in friction. Friction happens when two dry objects are rubbing against each other.
If you don't use lube, you can accidentally rip the sleeve. Not only that, you can hurt your skin and even cause bruising. Remember that the skin on your private parts is a lot more sensitive than in most of your body parts.
#2 Clean The Sleeve Properly
Proper hygiene is a must when it comes to any sex toy. So, your Fleshlight sleeve is not an exception. This means that you need to properly wash it after each use.
Otherwise, it will get infected with various nasty bacteria that could actually cause mold. I'm sure that it's not something you want to touch your penis. So, do yourself a favor, clean the toy and protect your private parts.
What's In The Package?
Here is a full list of items that you'll be getting when ordering Kenzie Reeves Fleshlight:
Brand new Creampuff or Cupcake texture sleeve (depends on order)
Unique Kenzie Reeves Lady / Butt orifice (depends on order)
Luxurious Fleshlight case that comes with an extended protective cover
Detailed instructions for proper use and care
As you can see from the list – the only missing thing is the lube. As I mentioned before, never go inside dry. If you try to use the sleeve without lube, there will be a lot of friction that could accidentally rip the sleeve.
Additional Items For Your Fleshlight
While Fleshlight sleeves are brilliant as you use them on their own, there are several additional accessories to make those experiences even more exciting. There are also, some high-quality products from Fleshlight to keep your toy in mint condition and protect it from damage while in use.
As I mentioned above, proper hygiene is a must with sex toys. So, another very important thing that you need to get is Fleshwash and Fleshlight Powder. They're essential for keeping your Fleshlight clean and fresh after each use.
Sleeve Warmer – using the Fleshlight sleeve warmer, will make the warming up to human body temperature process pretty effortless. It will take you only a few minutes, yet make a huge difference. The experience is just that much more realistic.
Shower Mount – if you are a fan of long hot showers – you're about to make them even steamier. There's nothing better than a hands-free orgasm under a stream of warm water.
However, if you want something ultra-special – you should consider getting Fleshlight's Universal Launch. In general, it's very similar to the previously famous Fleshlight Launch, however, the new version is compatible with more Fleshlight models. Also, it can stroke the penis faster.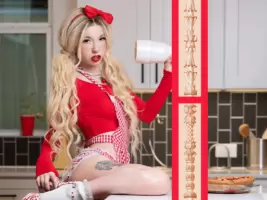 Order Now
Overall Verdict
Overall, the Kenzie Reeves Fleshlight sleeves were yet another brilliant surprise from Fleshlight. They're intense, orgasmic, and simply excellent. However, if I had to choose only one, I would go with the Creampuff option. First – the orifice, I prefer vaginal ones. Second, the texture for me seemed better balanced, more exciting, and overall – more satisfying.
I could easily recommend it to beginners as well as more advanced users. While for beginners it may be too intense at first, you can always consider that stamina training.