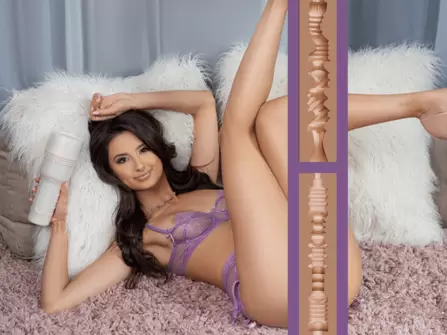 Eliza Ibarra
Overall Rating
4.43 out of 5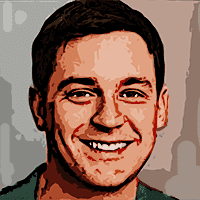 Written by
on , updated on
Eliza Ibarra Fleshlight
It's been a while since I laid my hands on a new Fleshlight. Maybe because I was cheating with Kiiroo FeelStars. However, recently I ordered all the new models and gave them some good testing. The Eliza Ibarra Fleshlight immediately caught my attention and you'll soon find out why. So, that's why I decided to start my Fleshlight review spree with her.
Eliza Ibarra's and Fleshlight's collaboration resulted in two sleeves: Ethereal and Enchanted. Ethereal comes with an orifice that looks like Eliza's vagina and Enchanted comes with an orifice that looks like her butt. Each sleeve has a unique and very exciting (I must add) texture.
However, one of them has the edge and quickly became my new favorite Fleshlight. So, without any further ado, let's find out which one it is.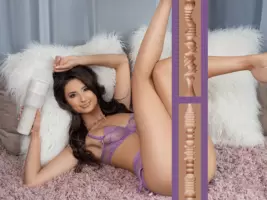 Order Now
How Eliza Ibarra Fleshlight Feels?
Since there are two Fleshlight sleeves from Eliza Ibarra, naturally I had to try both of them. Let's review in detail them one by one.
Eliza Ibarra Fleshlight – Ethereal
Ethereal is the first sleeve of Eliza Ibarra. It comes with an orifice that looks exactly like her luscious vagina and an exciting new texture.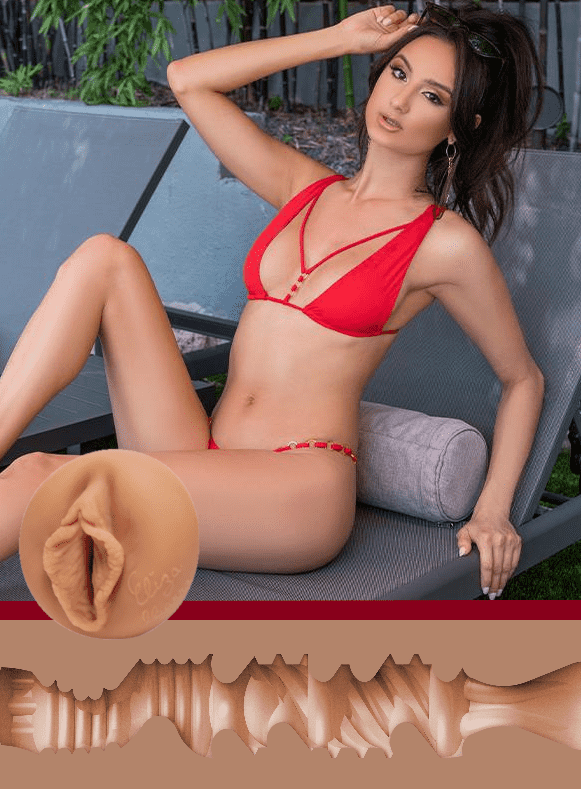 It's hard to divide this texture into sections since it comes with many twists and turns. So, let's talk in inches.
The entrance of the sleeve has a perfect width. It's not too narrow so you should worry about ripping the sleeve. Also, it's not wide so you can't enjoy the sleeve from the first millimeter.
The first 3.5 inches of the sleeve are twisted and full of ridges which make the sleeve very realistic, intense, and light at the same time.
From 3.5 to 7 you get a whole new level of pleasure that's pretty hard to describe. On the one hand – it kinda resembles the tightness of an anal sleeve, however, texture-wise, it feels very vaginal.
The sleeve is very intense and exciting, so having a simple ending to it (from 7.5 inches and up) balances it out very well. So, I could say that this sleeve is made in a very smart way, has a great balance, and has an exciting texture. Good for stamina training as well as experienced users-friendly.
Enchanted by Eliza Ibarra
Enchanted is the second sleeve of Eliza Ibarra. It comes with an orifice that looks exactly like her butt and features an exciting unique texture.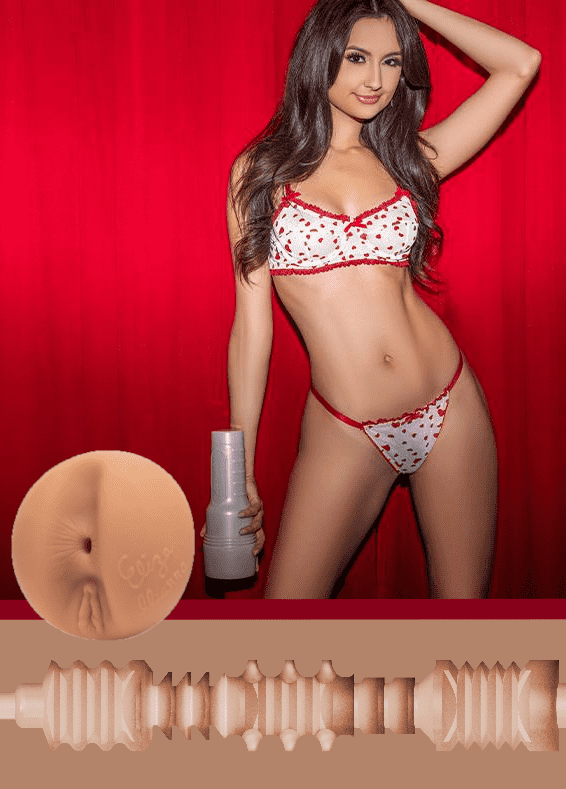 The second sleeve starts with a narrow entrance. So, if you have a wider penis, might as well be careful and use extra lube.
The sleeve itself is a pretty standard anal sleeve. If you own a Fleshlight or two – you probably understand what I'm talking about.
The texture is ribbed throughout the sleeve with mixed narrower and wider sections. The experience is pretty balanced and the sleeve is not overwhelming.
So, it's intense but not too much. Even though it may seem like that from the image. However, if I had to pick from two, I'd g with the Ethereal sleeve.
Eliza Ibarra Fleshlight Benefits
If you read my reviews frequently, you may skip this section. All Fleshlight sleeves have basically the same benefits. However, if it's the first time you're reading – don't skip and find out why it's worth investing in a Fleshlight.
Unique Textures
Each Fleshlight comes with a unique texture. So, each will give you different sensations that you won't experience elsewhere. Since there are hundreds of Fleshlight, the selection is very vast. On the one side, it's brilliant, since you have a lot of choices. On the other hand – it gets pretty tricky to choose which one to buy (that's why I get all of them).
Fantasy Element
Even though there are some simple Fleshlights, the ones that are made in collaboration with porn stars have the edge. Why? Because of the fantasy element. After all, orgasms happen in the brain first. Eliza Ibarra Fleshlight will make you fantasize about her even harder. Or any other Fleshlight Girls that you choose. That actually does make orgasms more intense and exciting.
Quality Materials
Fleshlight uses only the highest quality materials for its products. The sleeves are very durable and will last you a while. If you treat them right, of course. That's why it's very important to use lube each and every time you play with your sleeve. Otherwise, you could break it.
Real Feel
Fleshlight uses a special and unique material that feels very realistic. Especially if you warm the sleeve up to human body temperature. That can be done with a special sleeve warmer or simply by putting it in a sealed plastic bag and soaking it in warm water. However, don't go overboard and don't put it in boiling water. This way you could break the material and burn your skin.
Discreet Shipping
Fleshlight values your privacy. That's why each and every item that you order from them will be packed and shipped discreetly. No one will be able to tell what's actually hiding inside. Your box will be plain and won't have any flashy signs that scream ATTENTION!!! THERE'S A FLESHLIGHT INSIDE.
Eliza Ibarra Fleshlight Alternatives
While Eliza Ibarra Fleshlight sleeves are great, some of you might be searching for something a little different. Here are some great alternatives to Eliza Ibarra from Fleshlight.
Janice Griffith – she is among my favorite Fleshlight for quite a while already, however, sometimes something better comes up. However, she might be right for you, if you think that Eliza Ibarra is too intense, Janice might be the right choice for you.
Maitland Ward – ultra-exciting, unique and intense sleeves. What more can I say?
Kiiroo FeelStars Alternative
If you don't mind switching brands – consider getting a Kiiroo FeelStars Girl. Why? Because of KEON – a super-advanced automatic male masturbator that is VR-compatible and can bring pleasure like no other toy can. It's a masterpiece.
Nicolette Shea is the most exciting FeelStars girl that I have tried. The sleeve is intense and exciting. Is she better than Fleshlight Girls? Well, that's for you to decide.
Fleshlight Care Tips
Taking care of a Fleshlight is pretty simple. So, you won't have any trouble doing that. There are only a few rules you need to follow:
#1 Always Lube It Up
Always use lube when you're playing with your Fleshlight. This way you will reduce the friction and the risk of accidentally ripping the sleeve.
When it comes to lube – use a water-based one. It's perfectly compatible with SuperSkin that Fleshlight is made of.
#2 Hygiene Is a Must
You need to clean your Fleshlight inside and out after each use. It's a must. Not cleaning your sex toys can result in a lot of nasty bacteria or even mold growth.
I'm sure it is not something you want near your private parts. It could cause a nasty infection that's not only skin-deep.
What's In The Package of Eliza Ibarra Fleshlight?
Here is a full list of items that you'll be getting along with your Fleshlight sleeve:
Brand new Ethereal or Enchanted texture sleeve (depends on order)
Unique Eliza Ibarra Lady / Butt orifice (depends on order)
Luxurious Fleshlight case that comes with an extended protective cover
Detailed instructions for proper use and care
When you know what's inside the package, you can prepare if any additional items are necessary. In this case, all that's left to do is taking care of lube. The best lube for Fleshlight is a water-based one. You can get the one made by Fleshlight or any other of your choice.
Additional Items
Fleshlight sleeves give you quite the pleasure on their own. However, there are several cool accessories to make those experiences even more exciting. Also, some high-quality cleaners to keep your toy in mint condition for as long as possible.
Sleeve Warmer – using the original sleeve warmer, makes warming up the sleeve to human body temperature pretty effortless. It will take you only a few minutes, however, the difference is huge and the experience is just that much more realistic.
Shower Mount – if you like long hot showers – you're about to like them even more. There's nothing better than a hands-free orgasm under a stream of warm water.
However, if you want something even more special – consider getting Fleshlight's Universal Launch. In general, it's very similar to the previously famous Fleshlight Launch, however, the new version is compatible with more Fleshlight models. Also, it can stroke the penis faster.
As I mentioned before – hygiene is super important. Another very important thing that you need to get is Fleshwash and Fleshlight Powder. They're essential for keeping your Fleshlight clean and fresh after each use.
Overall Verdict on Eliza Ibarra Fleshlight
Overall, Eliza Ibarra Fleshlight sleeves are among the greatest sleeves Fleshlight has created. When you think that they can no longer surprise you – some great sex toy (or a few) pop up and knock you off your feet.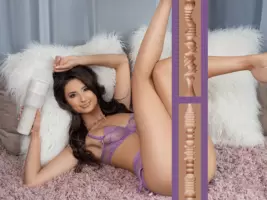 Order Now
I could easily recommend both Eliza Ibarra Fleshlight sleeves. However, the Ethereal sleeve has an edge over Enchanted. The texture simply seems more excited and better stimulating.
Both sleeves are suitable pros, or if you're new – stamina training is always good.