Tenga Spinner Review: Yay or Nay?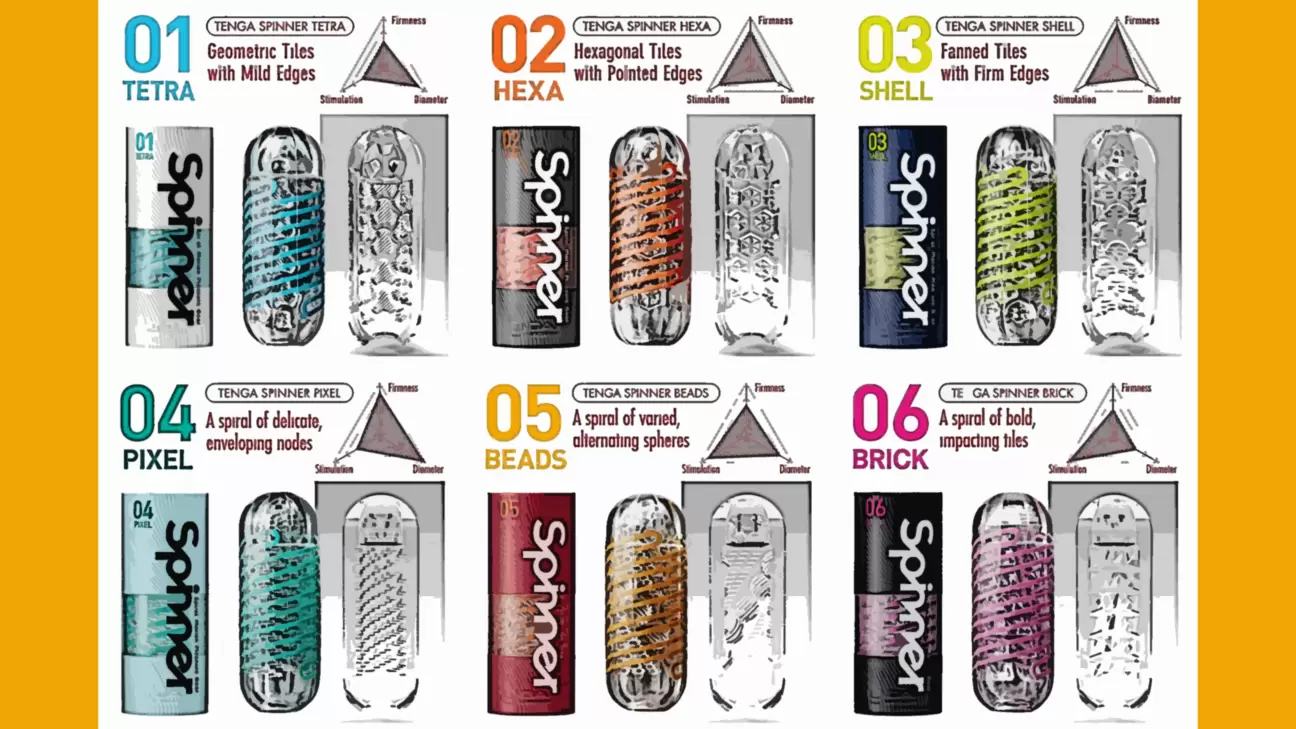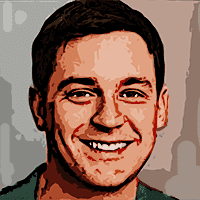 Written by
on , updated on
Tenga has been in business since 2005. They dominated the Asian markets and now are becoming wildly popular worldwide. You probably already heard about Tenga Egg – one of the most popular single-use male masturbators. However, that's not all Tenga has to offer. Let me introduce you to the winner of the Red Dot Design award – Tenga Spinner. It's a popular male masturbator, designed to mimic a blowjob experience.
Tenga Spinner comes with 6 different textures and contrary to Tenga Eggs are fully reusable. In this Tenga Spinner review, I will talk about all six of them and will help you to find the best one, based on what you are looking for.
Choosing Tenga Spinner Textures
The manufacturer defined each Tenga Spinner texture by three features: Stimulation, Diameter, and Firmness. Each quality has a value from 0 to 5. The higher the number – the more pronounced the quality. The maximum width of the Tenga Spinner is 2.15 inches. Therefore if you're anywhere above 2 inches or close to it – you might find the masturbators underwhelming.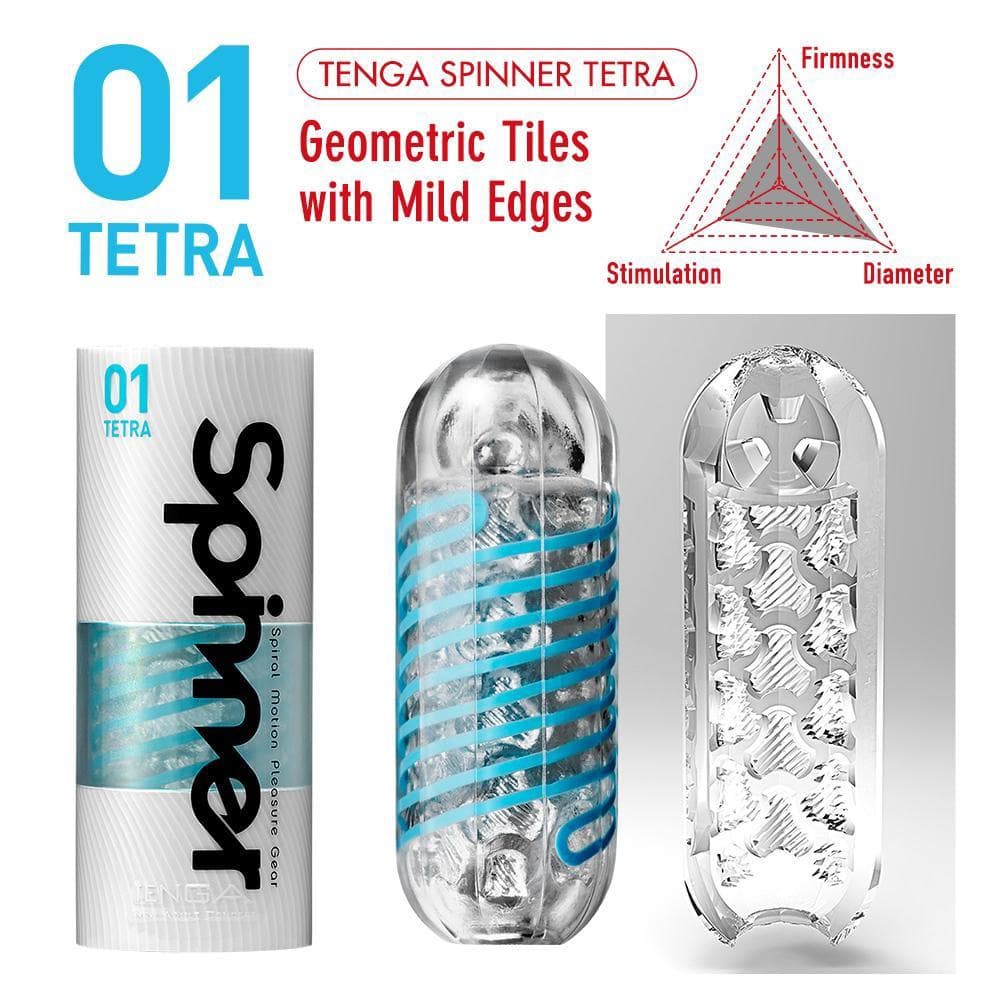 01 Tenga Spinner Tetra
Stimulation: 3/5
Diameter: 4.5/5
Firmness: 3/5
Perfect User: someone who doesn't like intense stimulation and tends to cum quick if aroused too much.
How It Feels: this Tenga Spinner comes with a texture of geometric tiles with mild ridges. The word mild is actually perfect to describe it, as the sleeve is not intense. For those who enjoy the stimulation that is on a more intense side, you should consider other Tenga Spinner sleeves. Otherwise, you may be disappointed. However, if you are more on the sensitive side and tend to reach orgasms effortlessly – this could be the best choice among these sleeves.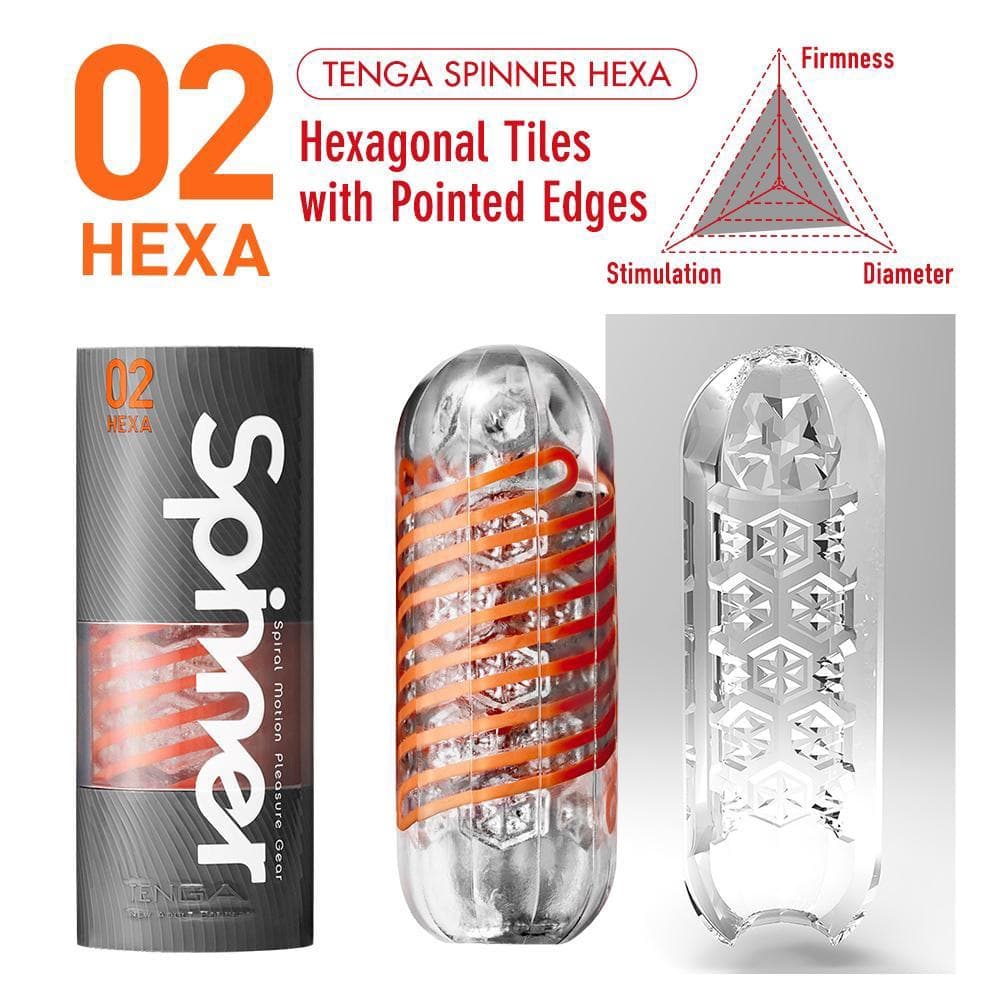 02 Tenga Spinner Hexa
Stimulation: 4/5
Diameter: 3.5/5
Firmness: 4/5
Perfect User: someone who already tried a pocket pussy and knows what to expect from them, yet hasn't tried anything too intense.
How It Feels: this Tenga Spinner comes with a texture of hexagonal tiles with pointed edges. Compared to the 01 Tetra texture, this sleeve is more intense and the bumps are more pronounced. The tip of the sleeve is where you will get the most action from. Also, the sleeve is on the narrower side, so if you have a wider penis and want something slightly intense, this could simply be too tight.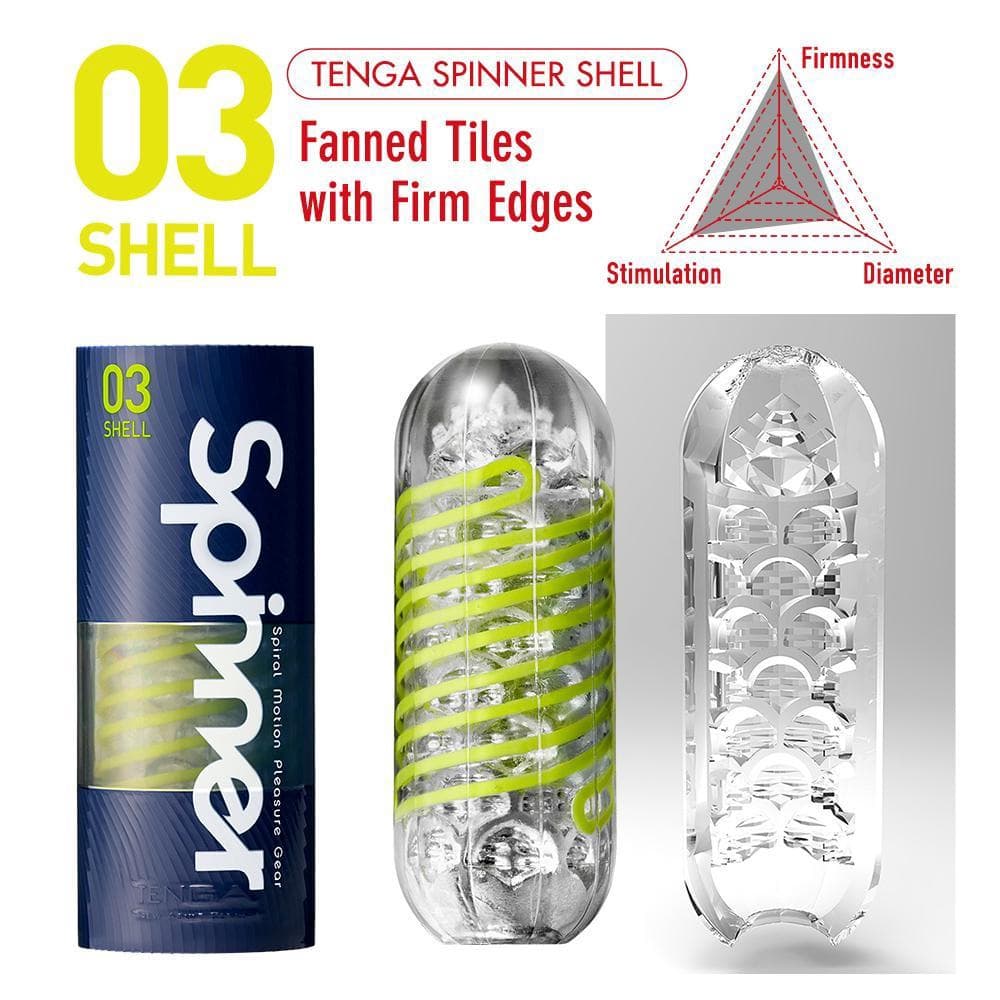 03 Tenga Spinner Shell
Stimulation: 4/5
Diameter: 3/5
Firmness: 4.5/5
Perfect User: someone who really enjoys their penis getting sucked. Or to put it in other words – those who like blowjobs that involve higher intensity sucking.
How It Feels: this Tenga Spinner comes with a texture of fanned tiles with firm edges. The word firm is a great way to describe this sleeve. Compared to the previously mentioned one, it has the combination of highest stimulation + firmness. That's why when you're using it, you're getting the most intense experience that very well mimics your penis actually being sucked. However, the only downside is that sometimes, this particular sleeve makes little fart noises due to air that gets trapped inside. Other than that, so far it's my favorite out of these three and one I could actually recommend buying.
04 Tenga Spinner Pixel
Stimulation: 3/5
Diameter: 5/5
Firmness: 4.5/5
Perfect User: someone with a wider penis and who enjoys light stimulations, for evenings when you want to be treated gently.
How It Feels: this Tenga Spinner comes with a delicate spiral texture with enveloping nodes. This sleeve feels delicate and gentle against the penis and is perfect for those evenings when you want something comforting. Or something that would treat your private parts with care. Due to its delicate texture and width, this sleeve is perfect for guys with wider penises. Such dense textures are great for men with larger penis girth. Usually, the denser the texture, the more difficult it is for it to disappear when a wide object is inserted.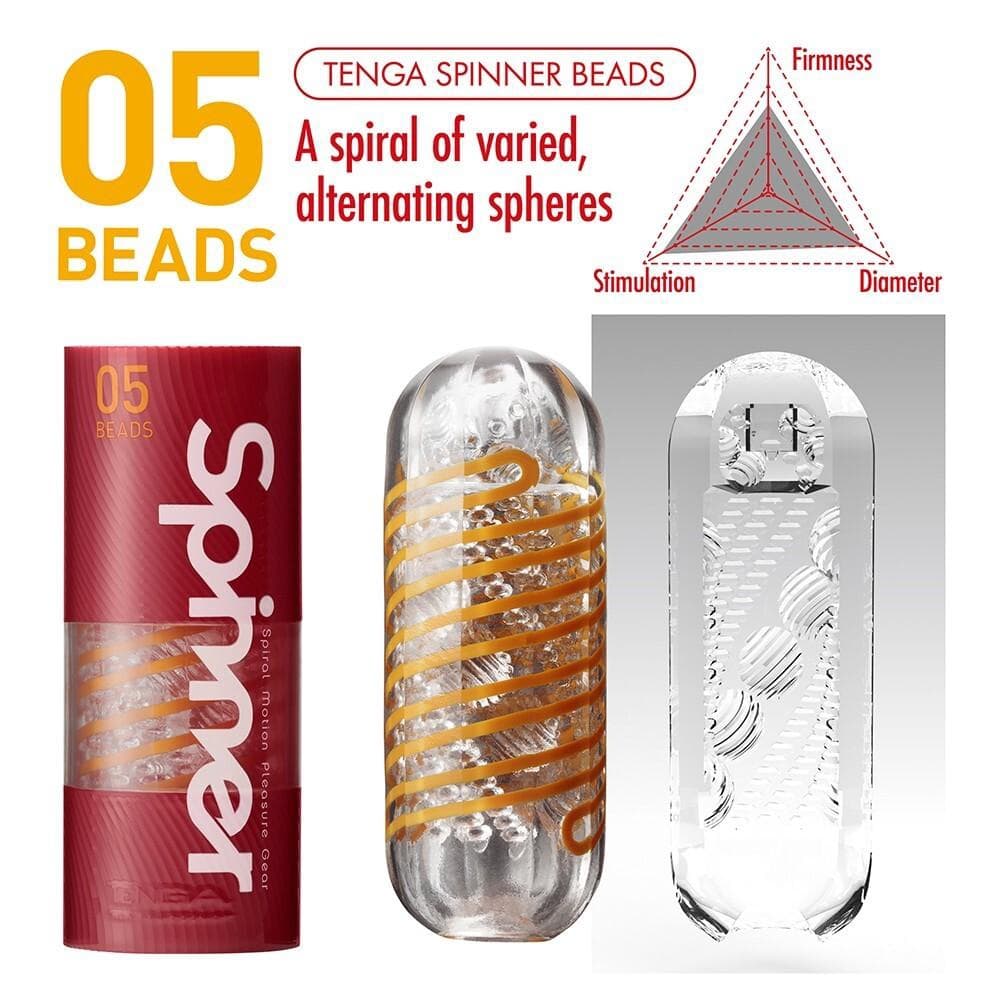 05 Tenga Spinner Beads
Stimulation: 4.5/5
Diameter: 4/5
Firmness: 3.5/5
Perfect User: someone who wants to last longer in bed and is ready to start his stamina training.
How It Feels: this Tenga Spinner comes with a spiral texture with varied, alternating spheres. This sleeve has a strong suction effect and is the next step to take after the 03 Hexa model. When lubed up properly, this Tenga Spinner sleeve feels very realistic and mimics an intense blowjob. If you are someone who wants to last longer in bed and gain control of your penis, Beads should catch your attention. Even though it may seem too intense at first, that's what stamina training is all about – you need to get used to more intense sensations so that real-life penetrative sex wouldn't feel intimidating and overwhelming.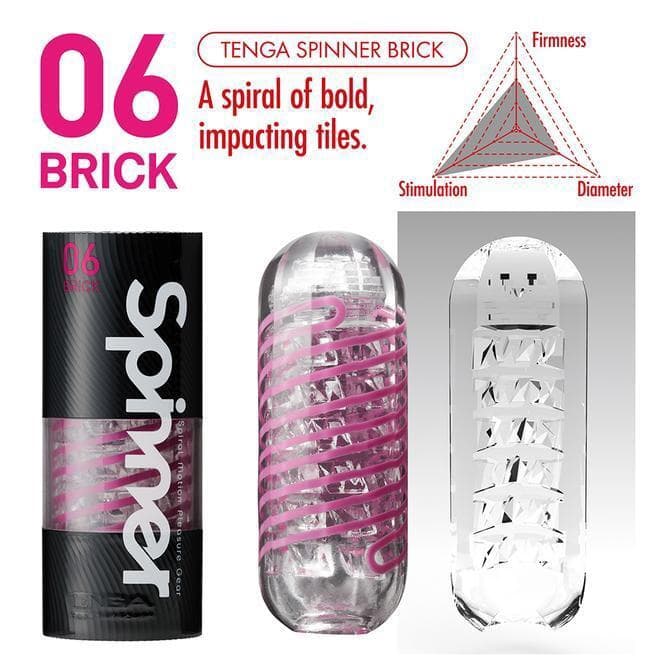 06 Tenga Spinner Bricks
Stimulation: 5/5
Diameter: 3/5
Firmness: 3/5
Perfect User: someone who has experience with strokers and enjoys intense stimulation.
How It Feels: this Tenga Spinner comes with a texture of a spiral, filled with bold, impacting tiles. This Tenga Spinner is the most intense one out of the six. However, compared to what you can get out of a Fleshlight, it is a lot lighter. This texture is good for more advanced users, who have already tried a masturbator or two. The texture of this sleeve is very pronounced compared to the other five. This is the most intensity you can get out of Tenga Spinners, so if this one is not enough for you, then you should consider Fleshlights or Kiiroo FeelStars.
How The Spinner Works?
In general, Tenga Spinners work just like any other masturbation sleeves do. You lube them up and enjoy. However, there are several tips I would like to share with you that would make your experience even better.
The Prep
First, before you use it, I would recommend warming up the sleeve to body temperature. You can put the sleeve in a bag, press out the air, and use warm water. However, never use boiling water or hot water, as that could ruin the sleeve and you could burn yourself. So, no matter what you do, always be mindful.
Second, make sure that you have enough lube. Using a lot of it makes the whole experience smoother and more pleasurable. My recommendation is water-based lube. It is perfectly compatible with the toy's material and the texture is just right.
The Action
Since the Tenga Spinners don't come with a firm case, it means that you have more control over it. You can squeeze it, twist it, or simply stroke it.
When it comes to squeezing, you can use one or both hands. Keep in mind that squeezing it in different places brings different sensations. Squeezing and twisting at the same time? Yes, please.
What You Get In The Package?
Here is the full list of items that you will be getting with any Tenga Spinner sleeve:
The Spinner Sleeve of choice
Sampe pack of lube
What I particularly like about Tenga, is how they always include a sample pack of lube with each of their masturbators. This means that whenever your order arrives – you can give it a go. However, it will only be enough for one round and you still need to get some more water-based lube to enjoy it other times.
Don't make the mistake of using it without lube. this way you will be risking accidentally ripping the sleeve and turning your money into waste. Also, only use water-based lube. Other lubes, like oil-based ones, could compromise the material and therefore ruin your toy.
The Verdict
Overall, the Spinners are fun toys, if you find the ones that work for you. While they're not perfect for experienced users who like a lot of intensity, Spinners are great for beginners and those who owned a toy or two.
If you find Spinners to be not intense enough – consider Fleshlights. The same goes if you're a bigger guy who simply doesn't fit the 2.15 maximum width of Tenga Spinners. If you're anywhere above 2 inches wide, I wouldn't go for a Spinner. Other than that, they're high-quality toys built solely for your pleasure.