Tenga Egg Review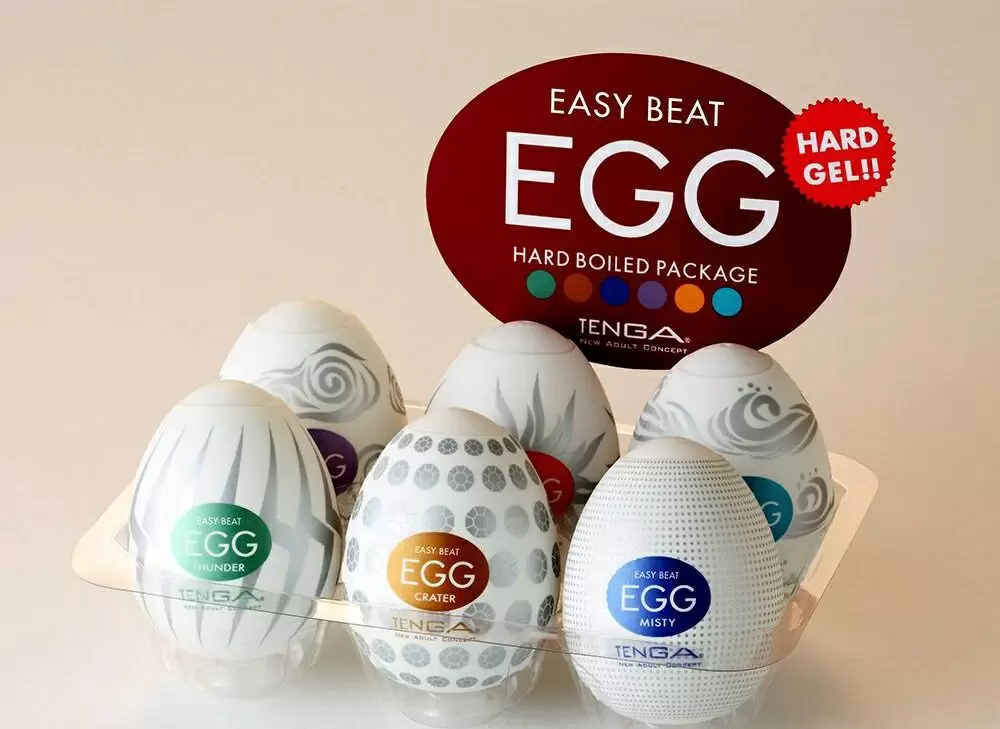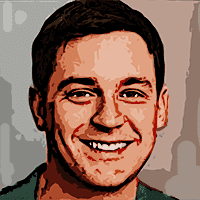 Written by
on , updated on
In this Tenga Egg review, I will discuss the pros and cons of this pocket-sized male masturbator. Could it be your best budget male masturbator?
Even though it's colorful, Tenga Egg is definitely not your typical Easter egg and is not designed for kids to play with.
Despite their unusual appearance, Tenga Eggs are pocket-sized male masturbators that are budget-friendly. As there are 20 different eggs with different textures, Tenga Eggs can give you 20 different sensations.
You can buy them alone or in packs, choose from different intensity textures and dispose of once you're done.
Most likely you'll be disposing of your egg after the first use, so it's also a masturbator that leaves no long-term evidence at home.
Tenga Egg Pros
Even though this masturbator looks like an Easter egg, it is way more than that. Cracking this egg comes with numerous benefits. Let's look into them.
20 Different Sensations
Tenga Eggs come in 20 different textures. So, this means 20 new and exciting sensations for you to explore. From regular to hard-boiled (extra intense) any dude will definitely find an egg he enjoys cracking.
Another great thing about Tenga Eggs – you can buy them in packs. So, just like you get a six-pack of eggs in the store, you can get a pack of sex eggs from Tenga.
No Evidence
In general Tenga Eggs are designed for one-time usage. So, basically it's your ideal one-time fucking session with no evidence. Use it and lose it – simple as that.
However, even though they're originally designed for one time ride, I found some reviews online that say if properly cleaned and preserved – it can be used more than once. I, personally, used it once and threw it away as it seemed the proper thing to do.
Small and Discreet
Tenga Eggs are small and can fit into your pocket. They're literally the size of an average chicken egg and if ordered in packs, come in egg boxes. However, even though the eggs themselves are small, they can accommodate nearly all penis sizes.
Since these sex eggs don't look like your average male masturbators – they're really discreet. So, if you leave one behind, people won't be able to tell the difference between it and Easter decoration. However, since it attracts the eye – if someone decides to give it a closer look – they will definitely find out what it actually is.
All-in-One Package
Another great thing about the Tenga Egg is that you get everything already prepped for your solo time. Each sex egg comes with a pack of lube, so there's no need for any additional preparation or shopping. Just crack open one of those eggs, lube it up and enjoy your time.
Low Price
On the one hand – Tenga Egg is very budget-friendly. Just for as low as 6.5 USD, you get a perfectly good sex toy that is indeed worth the price. On the other hand, one masturbation session costs you 6.5 USD.
So, if you use it as a treat once in a while, it's totally worth it. However, if you want to use it on a daily basis – the price, in my opinion, is too steep. Better then invest a couple of hundreds of dollars into a high-quality and long-lasting male masturbator. Even though it may seem expensive at first, I never regretted buying one.
How Tenga Egg Works?
Each Tenga Egg works the same way. The only difference between the 20 sex eggs is their inner texture. Basically, all you need to do is crack open the egg, lube it up, and enjoy your time.
20 Different Textures
As mentioned before, Tenga Eggs come in 20 different textures. Each of which has different gripping points for different intensity of pleasure.
New Standard
This category features 6 brand new Tenga Eggs. Some of them have completely new textures while some are updated versions of previous editions.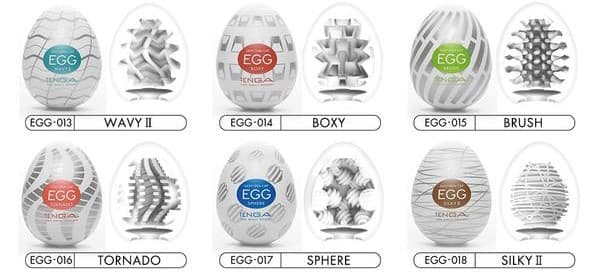 WAVY II – updated version of the original WAVY egg. This egg has wavy vertical and horizontal lines for extra stimulation.
BOXY – box-like texture gives you different stimulation when moving upwards and downwards. Different intensity from different angles.
BRUSH – spiral ribs, designed to sensually brush against your penis with every stroke for extra pleasure.
TORNADO – stroke it vertically for pleasure, twist it for extra sensations. There's a reason why this egg is called Tornado.
SPHERE – dynamic stimulation for advanced and intense sensations for your penis. Orbit-like texture will give sensations like no other.
SILKY II – updated version of the original SILKY egg. Extra thick and very smooth stimulation lives up to the silk name.
Regular Strength
Under this category, you will find all of the Tenga Eggs classics. With regular strength, these sex eggs are a great addition to your weekly self-pleasure routine.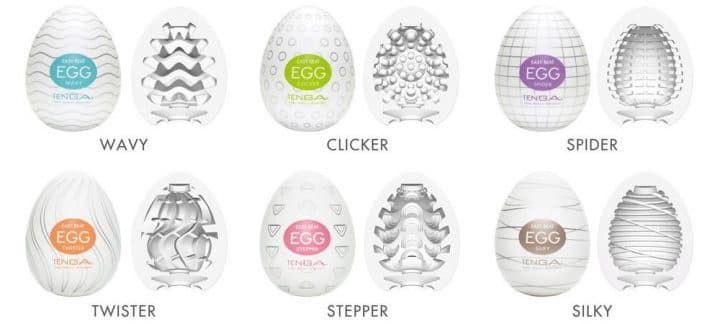 WAWY – classic waves-like texture to remind you of vaginal or anal stimulation.
CLICKER – dynamic texture for diverse pleasure. Squeeze, twist and stroke for new and intense sensations.
SPIDER – vivid 360 degrees action for your penis. An intense spider-web for some amazing sensations.
TWISTER – rippling corkscrew effect to drive you and your penis wild. Give into some twisting sensations.
STEPPER – two different sensations in one. The special texture of this egg will give some intense and diverse feels when stroking up and down.
SILKY – smooth around your penis, the silky sex egg will certainly live up to its name. Perfect for comforting sensations.
Hard Boiled For Intense Sensations
These 6 sex eggs are designed for dudes who want to experience some extra intense sensations. With extra ribs and intense textures, these Tenga Eggs will give some intense cum experiences.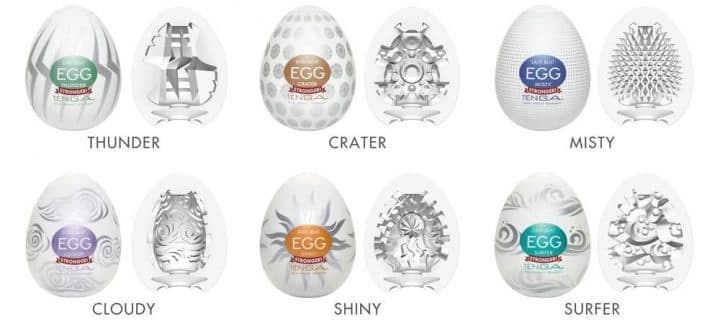 THUNDER – intense vertical ribs will give you some tornado-like experience. Be ready to cum fast.
CRATER – cratered nubs will intensely stimulate your penis from 360 degrees angles in ways you never felt before.
MISTY – microscopic numbs, designed to build you up with every stroke and leave with an intense cum.
CLOUDY – the most intense Tenga Egg out there. Cloud -like numbs and ribs will definitely take you to cloud 9.
SHINY – big central nub with radiating ribs will give you intense sensations that will certainly leave a shiny smile on your face.
SURFER – accentuated wave-like textured ribs and numbs will gently and intensely stroke your penis until you cum.
The Specials
Under this category, Tenga currently has two sex eggs, out of which, each will give you very unique sensations. I doubt that you've ever experienced anything like this before.
LOVERS EGG – heart-shaped ridges and transparent material simply screams love that you might want to share with your special someone.
COOL EGG – as the name suggests, you're in for a cooling experience. This egg comes with menthol lubricant that will help you cool down on a hot day.
What's in Tenga Egg Package?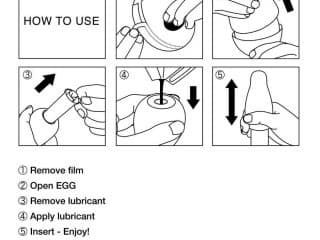 It doesn't matter whether you buy a solo egg or a pack of 6, all Tenga eggs come with the same packaging and additional items inside. When you unwrap your Tenga Egg, you will find:
Tenga Egg with selected texture
Pack of lube
Instructions how to use
As you can see, Tenga Eggs have everything solved for you. There's no need to buy any additional items. Simply crack your egg open, lube it up and enjoy.
Tenga Egg Cons
Even though Tenga sex eggs come with many benefits, there are some downsides to it. Here are the biggest problems I was able to identify with this male sex toy:
Similar Textures
Since I've ordered several packs of these sex eggs, I had the pleasure of trying out the bigger part of them.
To tell you the truth, some of the eggs had very unique sensations, while others seemed very similar. Similar to the point that I wasn't able to identify the difference. However, they still felt very good.
Non Reusable
Tenga Eggs are designed for one-time-only fun. So, on the one hand, you have fun and you dispose of the evidence. On the other hand, you have to order quite a lot of them.
In such a case, it's easier to simply buy a more expensive, yet long-lasting sex toy. However, they're fun for special occasions, when you feel like treating yourself.
The Price
Even though the general price is very affordable, only 6.5 USD, for a single masturbation session it is quite steep. So, if you enjoy using male masturbators regularly – go for a long-lasting and durable sex toy. If you want to enjoy an egg or two for special occasions – these sex eggs are a great investment.
Frequently Asked Questions
Here you will find answers to the most common questions about Tenga sex eggs.
What is Tenga Egg?
Tenga Egg is a male masturbator. Shaped like an egg, it comes with 20 different textures designed for different sensations.
This one-time use sex egg is a great choice to spice up your solo time. The great thing about Tenga sex eggs is that they come with a pack of lube, so you don't need to purchase any additional items.
Also, since they're a one-time thing after you dispose of the egg, there's no evidence of it left.
How does Tenga Egg Work?
Tenga Egg is a very straightforward device. All you need to do is open the egg and lube it up. And it's ready for your pleasures.
Remember, each Tenga Egg comes with a pack of lube, so there's no need to purchase extra.
Where can I purchase Tenga Eggs?
You can get your solo egg or a set of them in the official Tenga store. The Tenga Eggs are also available in various online stores as well as physical sex toy stores all over the world.
Is it safe to use it?
Yes, Tenga sex eggs are perfectly safe to use, so you shouldn't worry about it. However, wouldn't recommend using it without lube. This way you could irritate your skin with all the rubbing.
Do I need any special skills to use it?
No, you don't need any special skills to use it. Tenga Eggs are very simple and straightforward. So, even if it is your first sex toy, you will be perfectly capable of using it. If you're still worried – don't, all Tenga eggs come with instructions.
Do I need to purchase any additional items to use it?
No, you don't need to buy any additional items to use the Tenga Egg. Each Tenga Egg already comes with a pack of lube inside of it, so no additional items are required.
Actually, this is one of my favorite things about these sex eggs – they're small, suitable for traveling, and are already fully equipped for your pleasure.
Are there any alternatives to these sex eggs?
Yes, there are alternatives to Tenga sex eggs. Actually, any male masturbator can be an alternative to Tenga egg. If you are looking for some quality male masturbators that are long-lasting, made from quality materials, and will give you an out-of-this-world experience, look at this list.