Tenga Egg Review: Cracking The Hard Shells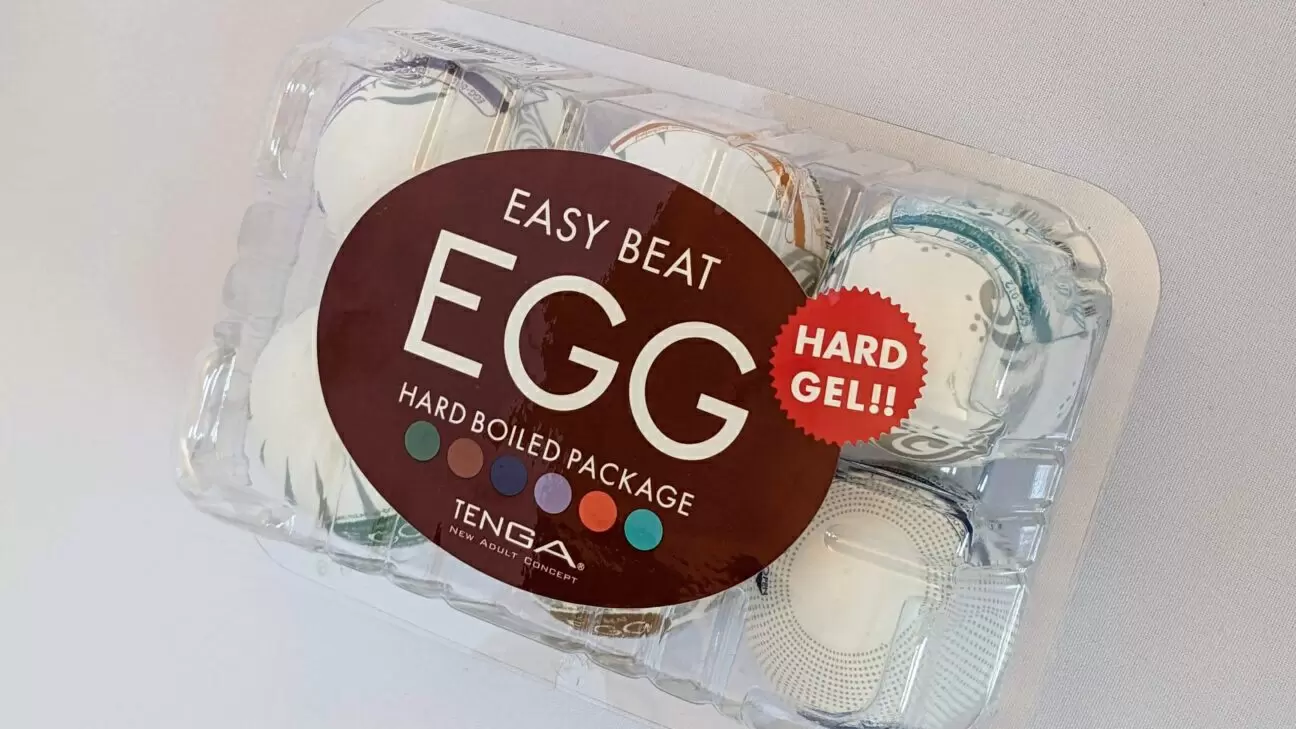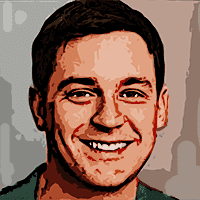 Written by
on , updated on
Even though it's colorful, Tenga Egg is definitely not your typical Easter egg. Despite their unusual appearance, Tenga Eggs are pocket-sized disposable male masturbators.
You can buy them alone or in packs, choose from different textures, and dispose of them once you're done. It's a great budget-friendly option if you have never owned such a toy and just wish to try it out.
Last week I cracked up open a 6-pack of Tenga Eggs. This pack contains the Hard-Boiled collection, designed for intense stimulation.
* The toys were supplied to us by Tenga in exchange for an honest review. Getting the items for free does not impact our judgment.
The Good And Not So Good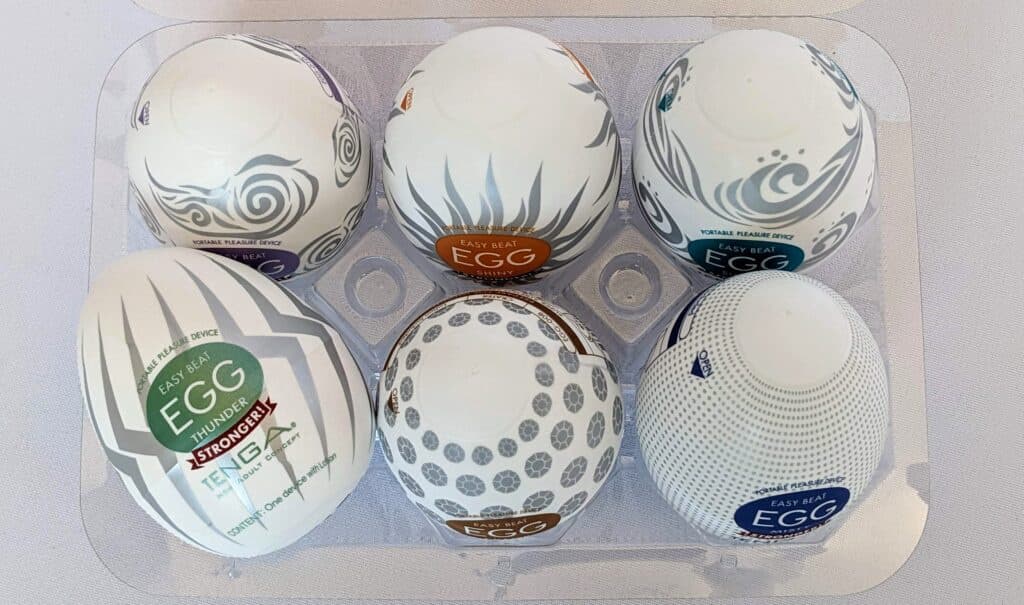 Even though this masturbator looks like an Easter egg, it is way more than that. Cracking this egg comes with numerous benefits. Let's look into them.
The Good
Very discreet
Disposable
Comes with lube
Numerous unique textures
Beginner-friendly
Skin-safe materials
No need to clean after
Travel-friendly
The Not So Good
High price for one time
Not reusable (technically)
Different Sensations
Tenga Eggs come in numerous different textures of different intensities and patterns. You can buy them solo or in packs of 6. It doesn't matter which option you choose, the price per egg remains the same (6.5 USD or 8 EUR).
No Evidence
In general Tenga Eggs are designed for one-time usage. So, basically, it's your ideal one-time masturbation session with no evidence. Use it and lose it – simple as that.
However, even though they're originally designed for a one-time ride, I noticed that if you don't damage the egg, properly clean and preserve it – the egg can be used more than once.
Small and Discreet
Tenga Eggs are small and can fit into your pocket. They're the size of an average chicken egg and if ordered in packs, come in egg boxes. However, even though the eggs themselves are small, they will fit most penises, since they're designed to stimulate primarily the tip.
Since these sex eggs don't look like your average male masturbators – they're really discreet. So, if you leave one behind, people won't be able to tell the difference between it and Easter decoration. However, the question is, what is an Easter decoration doing on your shelf in the middle of October?
All-in-One Package
Another great thing about the Tenga Egg is that you get everything already prepped for your solo time. Each sex egg comes with a pack of lube, so there's no need for any additional preparation or shopping. Just crack open one of those eggs, lube it up and enjoy your time.
Low or High Price?
On the one hand – Tenga Egg is very budget-friendly. Just for as low as 6.5 USD, you get a perfectly good sex toy that is indeed worth the price. On the other hand, one masturbation session costs you 6.5 USD.
So, if you use it as a treat once in a while, it's totally worth it. However, if you want to use it on a more regular basis – the price, in my opinion, is too steep.
Non-Reusable (Technically)
Tenga Eggs are designed for one-time-only fun. So, on the one hand, you have fun and you dispose of the evidence. On the other hand, you have to order quite a lot of them.
In such a case, it's easier to simply buy a more expensive, yet long-lasting sex toy. However, they're fun for special occasions, when you feel like treating yourself.
Tenga Eggs In Action
The eggs are made from soft, stretchy material that is smooth to the touch, and each egg has a different internal texture that can provide different sensations. To better understand what you can expect, each Tenga Egg has its texture drawn on the package.
How To Use a Tenga Egg?
All Tenga Eggs are designed to be used in the same manner. All you need to do is crack open the egg, lube it up, and enjoy your time.
You can see this unboxing and demo video I made to better understand what I'm talking about: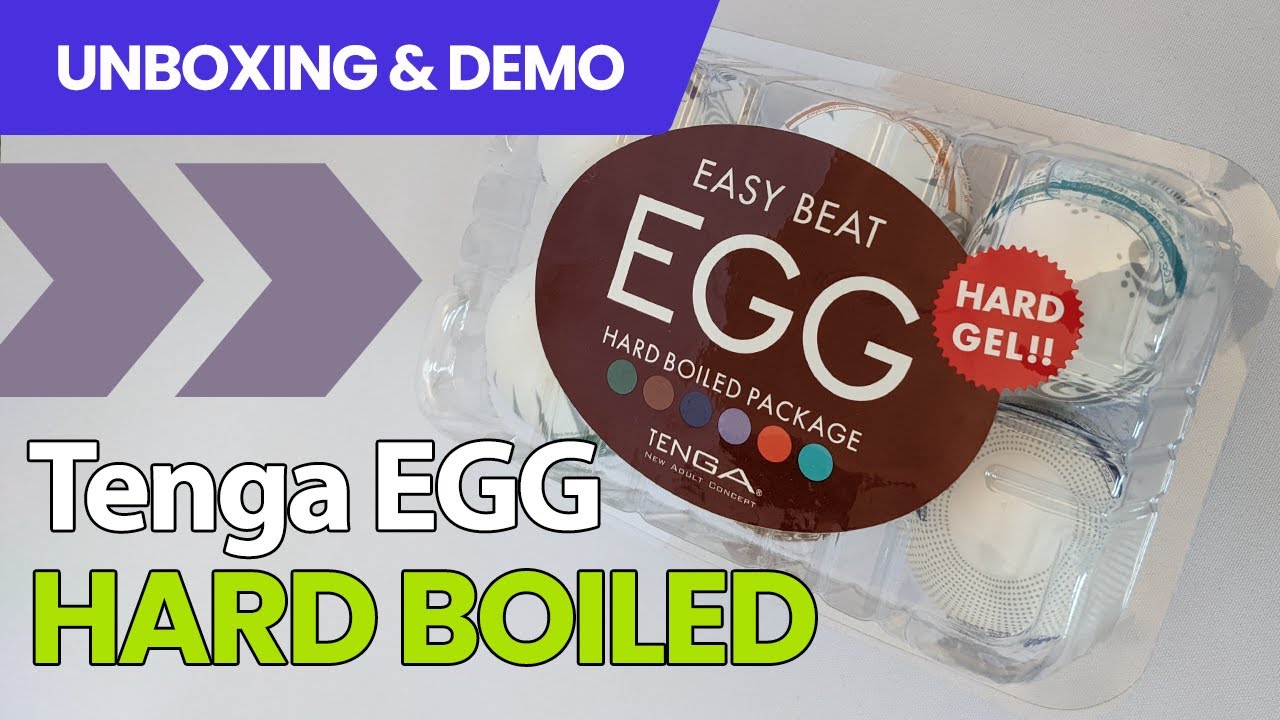 Since the process of using the eggs is very simple, I would like to highlight some key things that I've noticed during my sessions:
It's all about the tip. Since it's a compact toy, the stretch is not infinite. Even though the material stretches well, the more you stretch, the less intense the sensations become.
It can be reused. Even though the toy is originally designed for solo use only, the egg most likely won't have any signs of use after you're done. That's exactly what I noticed after washing it, to be completely honest.
That's why, if you're not too harsh with them, they can definitely be reused. This will reduce the steep cost per masturbation session. However, if you notice any tears in the egg, throw it away immediately as it can start accumulating bacteria that you don't want to be transferred to your private parts later.
The Textures
The Hard-Boiled pack contains six different textured eggs. These sex eggs are designed for those who want to experience some extra intense sensations. With extra ribs and intense textures, these Tenga Eggs will give some exciting experiences.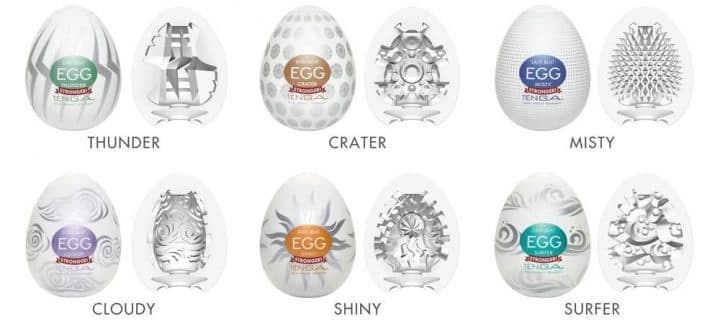 THUNDER – intense vertical ribs will give you some tornado-like experience.
CRATER – cratered nubs will intensely stimulate your penis from 360 degrees angles in ways you never felt before.
MISTY – microscopic numbs, designed to build you up with every stroke.
CLOUDY – cloud-like numbs and ribs will definitely take you to cloud 9.
SHINY – big central nub with radiating ribs will give you intense sensations that will certainly leave a shiny smile on your face.
SURFER – accentuated wave-like textured ribs and numbs will gently and intensely stroke your penis.
My Favorite Tenga Eggs
While I really enjoyed all of those eggs, Shiny and Surfer turned out to be my favorite textures out of these 6. They have very unique patterns and are super fun to use. While the Surfer texture was more intense, the Shiny texture was more distinctive and the most pronounced of all.
You can see the Shiny texture in the unboxing video above, and the Surfer texture is in the images below.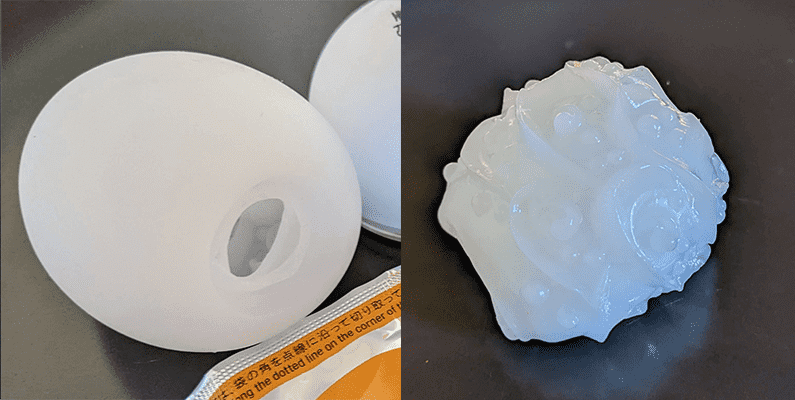 What's in Tenga Egg Package?
It doesn't matter whether you buy a solo egg or a pack of 6, all Tenga eggs come with the same packaging and additional items inside. When you unwrap your Tenga Egg, you will find:
Tenga Egg with selected texture
Pack of lube
Instructions on how to use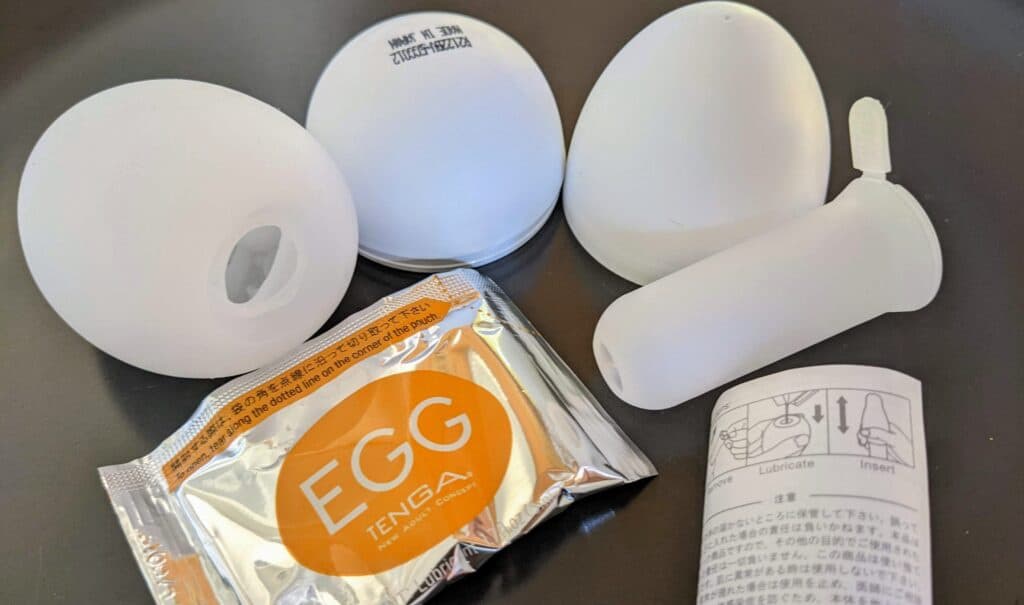 As you can see, Tenga Eggs have everything solved for you. There's no need to buy any additional items. Simply crack your egg open, lube it up and enjoy.
The Verdict
Tenga masturbation eggs are small, egg-shaped masturbators that are designed to provide a unique and pleasurable experience.
They are a fun way to blow off steam without the need to clean afterward. They come in numerous different textures of diverse intensities.
While they are technically disposable, you may find that they are sort of reusable. They're not built to last long but should be good for two-three rounds.
I could easily recommend it to anyone who wants to spice up their casual routine every once in a while. However, using them often comes with a pretty steep price tag. That's why something like Tenga Flip Zero is a better option for daily sessions.

Get 15% Off (USA)
Use this link and TECHYSEX code at checkout get 15% off Tenga products.
Use Offer

Get 10% Off (Europe)
Use this link and TECHYSEX code at checkout get 10% off Tenga products.
Use Offer